Blues CD Reviews 82


AG Weinberger
"Reborn"
Bigfoot Records
Publicity: Blind Raccoon
By Peter "Blewzzman" Lauro © April 2019

Since it still holds true today, some twelve years and several releases later, I thought I'd share the opening paragraph from a review I did of an AG Weinberger CD back in January of 2007.......... "Anyone out there remember a singer - and I use the term loosely - by the name of Bobby Pickett? Here's a hint - the band's name was Bobby "Boris" Pickett & the Crypt Kicker Five. Well back in 1962, and every Halloween since then, he's had a hit with a song called "The Monster Mash" - the dance that irked Dracula for replacing his "Transylvania Twist". Well, they're still dancing in Transylvania, but AG Weinberger - "The Transylvanian Blues Man" now has them doing the boogie-woogie to the blues. Apparently, over the last few years, the blues have taken Romania by storm. After listening to "NASHVILLE CALLING", my bets on AG having a lot to do with that"..........
Although he's often referred to as a blues musician, AG Weinberger prefers his music to be described as "related to the blues". "Reborn", AG Weinberger's ninth release, is a testament to that. It features twelve tracks - of which ten are originals - that explore a wide range of styles yet never deviating that far from the blues.
On "Reborn", AG Weinberger - on all guitars, lap steel guitars and vocals - is joined by: Cseke Gabor on keys, organ and piano; Pusztai Csaba on drums and percussion' Hars Viktor on bass and double bass; Voga Viktoria and Pusztai Kabelacs Rita on background vocals; and special guest Bob Margolin on slide guitar.
The disc opens with a song on which the lyrics will be quickly recognized but the music most likely won't. AG and the band took Willie Dixon's classic "Wang Dang Doodle" and successfully wanged, danged and doodled a modern jazz sound into it. The track's highlighted by Cseke, Pusztai, and Hars beautifully sounding like a three-piece combo you'd hear in your favorite local jazz lounge, and AG keeping it very bluesy on the vocals while laying down some quite jazzy guitar chords. This interpretation was perfectly pulled off.
The jazzy groove stays right in place on "Sweet Little Number" but AG gets a little down and dirty on some hot and bluesy guitar leads. You may think you recognize the song but be careful as you attempt to sing-along here. Just as you're about to say "she's barefootin", you'll be stopped in your tracks.
For AG, which side of the tracks he was born on isn't an issue but being born "On The Wrong Side" of the blues is. Kind of makes you wonder if being born on the wrong side of the tracks may have changed that. As they've been all along - and unquestionably will continue to be, Cseke, Pusztai and Hars are magnificent on the piano, drums and bass and along with some heartfelt and melancholic vocals, AG does a fine job of channeling some of that pain he's feeling right through his lap steel guitar.
If you want to highlight one of the tracks on your album with a slide guitar then use Bob Margolin and make it just that - a highlight! Hearing Bob's masterful sliding throughout the track, culminating into a sparring session with AG on some closing licks, turns "The Fool's Lucky Day" into the listener's lucky day.
Since you already know my take on the outstanding musicianship involved here, and with this track individually highlighting all of them, let me simply say that "Slippery Slope" will most likely be six minutes of some of the best jazz-blues fusion you may ever hear. End of story!
Being from Detroit could have been a reason Johnnie Bassett knew a thing or two about a Cadillac, and anyone who ever heard him play and sing certainly knows he knew a thing or two about the blues. Doing Johnnie's song justice, AG knows a thing or two about those "Cadillac Blues", as well. This one isn't at all "blues related", it's straight up blues and you can feel comfortable calling AG a "blues musician" on this one.
Other tracks on what I'm calling a must have CD include: "It Wouldn't Be Enough," "Just One Minute," "Shoot," "Caroline," "Reborn" and "I Am The Water."
To find out more about AG Weinberger just go to www.agweinberger.com and if you've not yet received a copy of "Reborn" for airplay, please contact Betsie Brown at www.blindraccoon.com. Regardless of whom you contact, please tell them the Blewzzman sent you.


Peter "Blewzzman" Lauro
Blues Editor @ www.Mary4Music.com
2011 Keeping The Blues Alive Award Recipient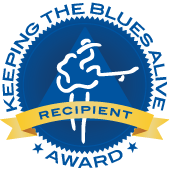 Carly Harvey
"Kiss & Ride Vol. 1"
Self Released EP
By Peter "Blewzzman" Lauro © April 2019

Carly Harvey's music is a good balance between blues, jazz and soul and she is said to have a sound that brings to mind the likes of Ella Fitzgerald, Etta James, Bonnie Raitt, and Nina Simone. She is based out of Washington, DC and is a two-time International Blues Challenge representative of the DC Blues Society (2016 & 2019). In 2016 she was proclaimed "DC's Queen Of the Blues" by Dr. Nick Johnson of WPFW Radio. That's a pretty impressive appellation, even if it only pertains to a small geographical area.
It was at that 2019 IBC, in which she advanced to the semi-finals, where I had the pleasure of meeting Carly. She signed up for an appointment with me (Mary4Music) at the Blues Foundation's "Speed Dating Clinic" in which IBC participants were given a ten-minute opportunity to meet with industry representatives for some one-on-one mentoring. When the bell rang and Carly walked off to her next mentor, I remember having been very impressed with this young lady's enthusiasm and confidence and thought to myself that if she sticks with it, she just might go somewhere in the genre. I now know why Big City Blues Magazine listed her as "One of the youngest blues artists to watch". To that, Mary4Music says ditto.
The Musicians on "Kiss & Ride Vol 1" include: Carly Harvey on vocals and piano; Holly Montgomery on bass; a long time friend of mine - Jose Ramirez on guitar; David Gorozdos on keys and backing vocals; and Sol Roots on guitar. Being an EP, the disc only contains four tracks - all of which are Carly Harvey originals.
"She Ain't Me", kicks things off with a very good first impression. It opens with Holly and Andy in a deep rhythm groove on the bass and drums - in which David soon adds to with an equally deep organ groove - which the three of them stay locked in throughout the track. Right there with them is Jose, sounding smooth on the rhythm and sharp on the lead guitar, and with all this wonderful music going on behind her, Carly's working her magic on the vocals, showcasing her sassy style and roving range.
It took all of this tracks opening two seconds for me to know I was about to be in slow blues heaven. With a tight and smooth organ led rhythm fueling him, right off the bat Jose gets into a killer sixty-second slow blues riff and from then on there was no looking back. As soon as Carly starts soulfully and emotionally belting out the songs' melancholy lyrics you get the feeling that Dr. Nick Johnson's proclamation may have hit the nail right on the head. Take it from me, if this kind of blues doesn't excite the hell out of you then "You Ain't Living Right".
"You Don't Have To Buy Me" features Carly roaming all over the vocal charts. From the highs to the lows, with everything in between - including stretching and holding notes - she's nailing it all. Musically, it's another excellent performance with Jose and David once again stepping it up on the guitar and organ highlights.
Also on the disc is a track titled "Either Way".
If you'd like to find out more about DC'S Queen of the Blues, check her out at www.carlyharvey.com. When you do, please tell her the Blewzzman sent you.


Peter "Blewzzman" Lauro
Blues Editor @ www.Mary4Music.com
2011 Keeping The Blues Alive Award Recipient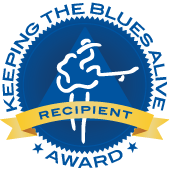 Kenny Parker
"Hellfire"
Rock-a-while Records
Publicity: Blind Raccoon
By Peter "Blewzzman" Lauro © March 2019

At the close of all my reviews, I always list the artist's website and suggest to the reader that if they'd like to find out more about the artist I'm reviewing, they now know how to do it. Occasionally - and this is one of those times - I need to do just that myself. That's where I learned that Kenny Parker not only was influenced by Albert King but he also took Albert's advice and got a job on the "Cadillac Assembly Line". Full-time autoworker by day, part-time blues man by night, could very well be the reason that "Hellfire" is only Kenny's third release in approximately twenty-five years. That said, from what I'm listening to, I'm sure that's all about to change.
On "Hellfire", the Kenny Parker Band consists of: Kenny Parker on guitar and bass; Dan Devins on vocals and harmonica; Mike Marshall on bass; Dave Marcaccio on drums; and Jim McCarty on guitar and slide guitar. Additional musicians for the project include: Leonard Moon and Chris Codish on piano and organ; Bill Heid on piano; and Brian Miller on harmonica. Of the disc's twelve tracks, eleven are Kenny Parker originals.
So I'm really curious here - does telling a woman "I can have any girl in the world I want but "I've Got My Eye On You"' make you the complimenter or the complimentee? I'm guessing a slap in the face may be a more expected response than a "thank you". In either case, this rockin' shuffle features Mike Marshall and Dave Marcaccio laying down a real tight foot stompin'/knee slappin' rhythm; Kenny Parker and Jim McCarty sparring on smokin' guitar leads; Bill Heid with rollicking piano leads; and Dan Devins blowin' the hell out of the harp and sounding so smugly confident on the vocals that maybe he can have any girl in the world.
While addressing the possibility of losing your lover to another, can you take the proverbial "I'd rather go blind" line and make it even more profound? On "Blind And Paralyzed", Kenny Parker did. This very bluesy Muddy Waters sounding, baby please don't ever leave me type song, features some serious blues guitar and blues harmonic licks by Kenny and Brian Miller.
Alrighty then! Things just went from "I'd rather be blind and paralyzed than to have you leave me" to kicking out the cheatin' bitch and saying "Bye Bye Baby." This one's a rhythm fueled rocker with a Chuck Berry meets Jerry Lee Lewis type guitar and piano slug-fest highlighted with vigorous slide guitar work from Jim.
According to the Kenny Parker Band, the definition of "Hellfire" is: noun - a woman (most likely a redhead) who's so fine she'll set your heart on fire, but if you get too close your soul will surely burn; a woman who'll make a preacher man roll and tumble and even make a blind man cry, she can make you happy then make you want to die; In other words she's pure hellfire! Musically, it's as compelling as the story about Ruby Red.
"Dance With Me" is exactly what the crowd will say to each other when this one comes on at the band's live shows. With It's powerful and relentless rhythm; it's aggressive and rocking guitar leads; and it's exuberant and adrenaline-inducing vocals; if you're not out on the dance floor you probably need your pulse checked.
"I'm Missing You" is a tender ballad on which Dan Devins soulfully and emotionally sings - and talks - his heart out. The song has a bit of a country vibe and if you put it in the hands of a Chris Stapleton or a Blake Shelton, I'm calling it a huge hit. Musically, with its soft rhythm and soothing piano and guitar leads, it's as beautiful as it is lyrically.
This is one of those tracks that has a few of those things, that when combined, generally make a song my favorite of the lot - slow, scorching and gut-wrenching blues with stinging guitar leads and many minutes of it. That said, "Back Up Plan" was seven minutes of pure unadulterated blues bliss. Right now, the Blewzzman is a very happy man.
Other tracks on this must have CD include: "Baby Come Back To Me," "Goin' In Circles," "But Then We Danced, " "Half Crazy" and "Hard Times In The Land Of Plenty" (D. K. Dykes).
Although this release may have been a bit late for the 2019 Blue Music Awards nominating process the timing is perfect for the 2019 Blues Blast Awards. If it was submitted, I won't be surprised to see it get a nod.
To find out more about Kenny Parker just go to www.kennyparkerband.com and if you've not yet received a copy of "Hellfire" for airplay please contact Betsie Brown at www.blindraccoon.com. Regardless of whom you contact, please tell them the Blewzzman sent you.


Peter "Blewzzman" Lauro
Blues Editor @ www.Mary4Music.com
2011 Keeping The Blues Alive Award Recipient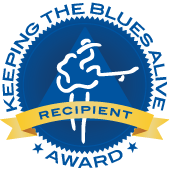 Laurie Jane & The 45s
"Late Last Night - Elixir Of Sara Martin"
Down In The Alley Records
By Peter "Blewzzman" Lauro © March 2019

Although I'm not a big fan of doing this, every once in a while something is written in a one sheet or at a bands website that is worthy of repeating word for word. That said, the best way to describe Laurie Jane and the 45s is to use their own words....."Laurie Jane and the 45s are Louisville, Kentucky's rising blues sensation. Laurie Jane Duggins' vocals carry a torch for classic singers of the 40's and 50's while the band delivers Chicago blues swagger infused with the raw energy of early rock pouring out of Memphis. Their soulful originals and unique interpretations of classics delight any blues-hungry audience."
"Late Last Night - Elixir Of Sara Martin" is the band's second release and its mission was to pay homage to Louisville's own, Sara Martin. As Cort Duggins tells it on the disc's liner notes, Sara could very well have been blues music's most noteworthy unknown artist. A singer/songwriter, who recorded on the Okeh record label, Sara never quite reached the popularity level of contemporaries such as Bessie Smith and Ma Rainey. Do yourself a favor and do some research on her.
Laurie Jane And The 45s consists of Laurie Jane Duggins on vocals; Cort Duggins on guitars and piano; Jason Embry on bass; and Scott Dugdale on drums; Guests include: Brian "Boss" Hogg on saxophones; Screamin' John Hawkins on guitar; and Eric Snyder on trumpet. "Late Last Night - Elixir Of Sara Martin" includes twelve old school cover tracks - some of which were penned by Sara herself - that fit right into the disc's M. O.
"Blind Man Blues" (E. Green/B. McLauren) sounds like something you'd hear coming out of a speakeasy during the roaring twenties or a honky-tonk on Bourbon Street during any era. It's a lazy shuffle that features Laurie vocally stepping back in time to a period she would have easily been a star in. She's a natural when it comes to that slow, sultry singing style that was so prevalent of the time. Musically, with a relaxed rhythm highlighted by Eric's steamy trumpet leads and Cort's easy-going ivory tickling; and Screamin' John's subtle yet stinging guitar leads; the band's got the mood set just right.
Not really knowing what Sara Martin sounded like, I'm guessing that Laurie Jane nailed her style and sound on a song of hers titled "Strange Lovin' Blues". Scratches included, the disc's producers deserve kudos for perfectly re-creating the sound of a very old 33 1/3 RPM record. Actually, so do Laurie Jane and the guys.
On another Sara Martin track, the emphatic tone of voice in which Laurie Jane says he's "My Man" makes it pretty obvious she's serving notice to all other women. Don't even think about it ladies! With Scott and Jason laying down deep rhythm tones behind him, this one features some amazing pickin' and slide guitar work by Cort.
"Pleading Blues" is the third of five Sara Martin tracks. It's also another of the three tracks that my late father might recognize from his younger radio listening days. It's a duo featuring Laurie Jane and Cort - a.k.a. Mr. & Mrs. Duggins - working their magic on vocals and acoustic guitar.
"I'm Gonna Be A Lovin' Old Soul" (S. Martin/C. Hayes) is the disc's most contemporary track and my personal favorite. It features the beautifully voiced Laurie Jane showcasing some very nice range; Hubby Cort showcasing some very nice slide guitar and fiery piano leads; smoking rhythm by Jason and Scott; and Brian at disc's best on the sax. Good stuff!
Other tracks on this very impressive release include: the title track, "Late Last Night" (Sara Martin); "Achin' Hearted" (C. Williams/S. Williams/C. Johnson); "Sugar Blues" (C. Willaims); "Joe Turner" (W. C. Handy); "Can't Find Nobody To Do Like My Daddy Do" (S. Weaver); "Atlanta" (W. C. Handy/D. Elman); and "'Taint Nobody's Bus'ness If I Do" (Clarence Williams).
In addition to purchasing "Late Last Night - Elixir Of Sara Martin" at the record labels website -www.downinthealleyrecords.com, you can also get it through CD Baby, I-Tunes, and Amazon. Also, I highly recommend checking out Laurie Jane & The 45's at www.lauriejaneandthe45s.com. As usual, please tell Laurie Jane and/or Mike Suttles that the Blewzzman sent you.


Peter "Blewzzman" Lauro
Blues Editor @ www.Mary4Music.com
2011 Keeping The Blues Alive Award Recipient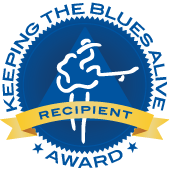 Click Here To Return To The CD Review Index
Click Here For The Blues Portal
Click Here For The Indie Portal
Click Here To Visit Our Music Gift Shop


---
Want your CD reviewed?
Click HERE to email us for information.






*All logos and trademarks in this site are property of their respective owner.
Additional content © 1998-2020 Mary4Music.com. All Rights Reserved.