Blues CD Reviews 59



The Red Wagons Blues Band
"Jumpin With Friends"

By Peter "Blewzzman" Lauro © April 2013
The Red Wagons are a blues band from Rome, Italy and "Jumpin With Friends" is their second release. The CD, which was recorded in various studios and took several years to complete, is a compilation of jam sessions with some of their special "friends". Ovviamente, gli azzurri sono vivi e vegeti in Italia.
The core members of The Red Wagons include: Marco Meucci on piano; Simone Crinelli on baritone sax; Roberto Marocchini on tenor sax; Riccardo Boni on alto, tenor & baritone sax; Alessandro Angelucci on guitar; Lucio Villani on upright bass; and Carlo Del Carlo on drums. And those friends they're jumpin' with are: Mitch Woods on piano & vocals; Junior Watson on guitar & vocals; "Sax" Gordon Beadle on tenor sax; Lynwood Slim on vocals; "Sugar" Ray Norcia on vocals & harp; Igor Prado on guitar; and Mario Caporilli on trumpet.
It didn't take long at all to get things "Jumpin". "Huckleboogie" - the discs opening track - is a swingin' instrumental, and I do mean swingin'. It features all the regular members of The Red Wagons along with Igor Prado on guitar and Mario Caporilli on trumpet. As for passing out the compliments I'm clueless as to where to start. The rhythm - led by Lucio on the upright bass - is beyond phenomenal, the horn section - led by Mario on the trumpet - is ridiculously good and Igor is an absolute monster on guitar. Without exaggeration - I've listened to this track a dozen times before completing the paragraph and I may go back for a few more. WOW!
When the next track - "Big Mamou" - came on, I thought to myself that this was one of the songs that featured Sugar Ray.....until I looked at the track's credits. It's actually Marco, with the beautiful singing voice so reminiscent of Mr. Norcia. This time it's Junior mastering the guitar and Gordon leading the horn section on tenor on another very impressive number which also features harmonious full band backup vocals.
OK, now this IS Sugar Ray singing "My Baby's Quit Me". By far one of the smoothest and coolest vocalists ever to sing a song, and he's living up to it right here. Another great track highlighted by Marco killing it on piano. There are still thirteen tracks to go and I'm already thinking I'm listening to the best CD I've heard in years.
"Blue Light Boogie" features Mitch Woods on piano and infamous ad-libs. Leave it to Mitch to sneak words like Mama Mia, Ruffino Chianti, Lasagna, Limoncello, etc into a song he's performing in Italy. Mitch takes the expression "When in Rome.............." to new heights. Oh yeah - the track did feature his signature exceptional piano playing as well.
"Girl From Idaho" is another track with Sugar Ray on vocals and it's the only track that features the harp. That right there makes it one of the discs highlights.
"I Want A Little Girl" is one of only two tracks that feature just the members of The Red Wagons and inasmuch as it's fun having "friends" perform with them this is one hell of a band without them as well. Listening to Marco sing and play piano on the same song makes it impossible to decide which he's more talented at and ditto for Riccardo on the tenor and baritone saxes. Another beautiful song.
Put this one on at a party and everyone will "Jump With You Baby". Another of many great dance songs on "Jumpin' With Friends". This one features excellent guitar leads from Alessandro, deep rhythm from Lucio and Carlo on the bass and drums and suave vocals from Lynwood Slim.
Some of the discs best guitar work can be heard right here on "I Want To Love Somebody". Flip flopping lead solos, Igor and Alessandro create one hell of a guitar shoot out.
Other songs on "Jumpin' With Friends" include: "Let's Get High", "All Of My Life", "Party Girl", "Congo Mombo", "Mess Around", "Kidney Stew", "Hey Bartender" and "Chicago Cha Cha".
Short of offering to pay for it if I should be wrong, I'm guaranteeing any blues fan will love this disc. As a matter of fact let me just say it's "must have music". Right now, go to www.redwagons.it and buy it. While you're there, Please tell my Amici Italiani che vi ha mandato il Blewzzman.


Peter "Blewzzman" Lauro
Blues Editor @ www.Mary4Music.com
2011 Keeping The Blues Alive Award Recipient





Brandon Santini
"This Time Another Year"
Swing Suit Records

By Peter "Blewzzman" Lauro © March 2013
One of the highlights of my many trips to Memphis is having made friends with, and becoming a fan of, several of Beale Street's finest local blues artists. Besides friendship and music, Blues Music Awards are another of their common denominators. One of them - Billy Gibson - has already won a Blues Music Award, another - Victor Wainwright - is a 2013 Blues Music Award nominee and this one - Brandon Santini -was a 2009 Blues Music Award nominee as part of his long time band, Delta Highway.
On this, his second release, Brandon Santini displays the harp ability of a Hummel, the soul of a Salgado, and the pizzazz of a Piazza . The way I see it, that could all add up to several Blues Music Award nods "This Time Another Year".... oh, say 2014 to be exact.
On "This Time Another Year", Brandon Santini, on vocals and harmonicas, is joined by: Jeff Jensen on electric & acoustic guitars and hand claps; Bill Ruffino on electric bass and hand claps; James Cunningham on drums, tambourine and hand claps; Victor Wainwright on piano and vocals; Chris Stephenson on organ; and Preston McEwen on hand claps. Of the discs twelve tracks, ten are written or co-written by Brandon.
The title track, co-written with Charlie Musselwhite, is about Brandon wondering just where he might be "This Time Another Year". Although no one ever knows the exact answer to that, I'm hoping that wherever it is it involves him belting out some blues and blowin' the hell out of a harp.....which he's doing right here.
On "What You Doing To Me", Brandon joins the list - led by the fat man himself - as one of my favorite performers singing a song about one of my favorite places. This one brought back fond memories of Fats Domino singing "Walking To New Orleans". Highlighted by some of the discs best harp and piano playing from Brandon and Victor, along with them nailing it as a vocal duet, this one absolutely blew me away.
I always love when one of my favorite style of blues songs also happens to be the longest song on the disc. "Late In The Evening" is over seven minutes of down and dirty blues at it's best. Brandon's harp leads and vocals are saturated with soul, and the guitar and piano leads by Jeff and Victor are completely absorbing.
Backed by a soft rhythm groove coming from Bill, James and Chris on the bass, drums and organ and mellow guitar leads by Jeff, this shuffle highlights Brandon's vocals skill. Oh yeah, he also blows the hell out of the harp, but it's his cool, smooth singing style that steal the show on "Things You Putting Down".
As far as pure coolness goes, it's my opinion that it doesn't get any cooler than Rod Piazza. C'mon, he looks cool, sounds cool, acts cool and basically defines cool. Listening to Brandon on "Been So Blue" has me believing I'm listening to the heir apparent.
When Brandon says "Help Me With The Blues", the band immediately gets on it. Turn this one way up then hold on real tight. This one's a lightning fast race to the finish and from the sounds of it, no one wants to finish second. Bill, James and Victor are delightfully delirious on this three alarm, rhythm fueled smoker.
"Fish is Bittin'" are words you might hear at a back woods hoedown full of country bumpkins.. Hmmmm.... that's exactly what I thought of the song as well. Fun stuff that you just might catch yourself singing along to. Brandon and Jeff, on harp and acoustic guitar, work this out real well together.
More tracks on "This Time Another Year" include: "Got Good Lovin'", "Dig Me A Grave", "Bye Bye Bird", "Coin Operated Woman", and "Raise Your Window".
Brandon Santini will be in my area in just a few short weeks and I'm stoked about it. You can check him out at www.brandonsantini.com/. While you're there, in addition to telling him the Blewzzman sent you, also thank him for going to the Middle East and entertaining our troops as part of Bluzapalooza.


Peter "Blewzzman" Lauro
Blues Editor @ www.Mary4Music.com
2011 Keeping The Blues Alive Award Recipient





Andre' Bisson
"Till The Real Thing Comes Along"

By Peter "Blewzzman" Lauro © March 2013
"The more things change, the more they stay the same." That proverb certainly holds true for Andre' Bisson's music. It's been exactly four years since I wrote about his first release - "Rhythm And Blues Experience" and now he's back with his fourth release and a totally new band on "Till The Real Thing Comes Along", and yet - other than the names - nothing has changed. As a matter of fact, I'm going to use the same line I used to open the first review by saying "If soulfully sung blues, backed up by hot rhythm, with a full, and very funky, horn section do the trick for you, then "Till The Real Thing Comes Along" by Andre Bisson will surely work some magic for you."
This time around Andre' Bisson - on vocals, guitar and piano - is joined by: Matt Burns on drums & percussion; Brad Cheeseman on bass; Jesse O'Brien on B3 organ & Wurlitzer; Loretta Hale on trumpet; Francis Smith on alto, tenor & baritone saxophones; and Darcy Hepner on tenor saxophone. "Till The Real Thing Comes Along" features ten songs of which eight are written, and all are arranged, by Andre'.
Kicking things off - and I do mean kicking, as is kicking ass - is the title track, "Till The Real Thing Comes Along". This one's a funk filled, rhythm fueled, smoker. With Jesse leading the way on the B3, Matt, Brad and full horn section are all in hot pursuit.
You might not get "One More Chance", so you'd better hurry to the dance floor when this one comes on. This jazzy, swinger will surely have everyone jumpin' to their feet. Matt on the drums and Brad, possibly at discs best on the bass, are absolutely on fire here. So are Francis and Loretta who's horn blowing are absolutely blowing me away - be it on solos or in rhythm. Of course, with all this going on behind him, Andre's sizzling on vocals and getting in a few strong guitar licks. This is easily the discs best - or as I often call it - the "replay track".....I've already lost count.
It's a "Real Bad Feelin'" when your baby loves you no more, and sadly, that's what Andre's feelin'. The upside to all that is it makes for a great blues song and that's just what this one is. Andre's gut wrenching, heartfelt vocals clearly reinforce his melancholic mood. This time it's Darcey's tenor leads highlighting the horn section.
"Leave The Light On" is a tender, relaxed ballad which Andre' nails. I get that up tempo, rhythm driven, funk filled songs with driving bass lines and electrifying horns are what this band is all about but damn, this one was really good. All those soft horns, faint organ chords and light percussion sounds worked so well behind Andre's beautiful voice. Put the headphones on for this one.
OK, wasn't I just talking about up tempo, rhythm driven, electrifying horn songs with driving bass lines? Bingo! Enter the instrumental called "Melting Pot". This one's got all that going on - in spades - with Andre' leading the way with his best guitar work thus far. Yeah, I guess this is what this band does best.
Other songs on "Till The Real Thing Comes Along" include: "Save Your Love For Me", "Two Way Street", "Ode to Mr. Jangles", "Don't Mess With Cupid" and "You Give Love A Bad Name". You can check Andre' out at two different websites: www.andrebisson.ca (and) www.andreandthejtones.com At either one you'll be able to tell him the Blewzzman sent ya.


Peter "Blewzzman" Lauro
Blues Editor @ www.Mary4Music.com
2011 Keeping The Blues Alive Award Recipient





Andrew "Jr Boy" Jones
"I Know What It's Like"
43RD Big Idea Records

By Peter "Blewzzman" Lauro © March 2013
If you haven't yet heard of Andrew "Jr Boy" Jones, you might just be listening to too much rap and not nearly enough blues. "I Know What It's Like" is his sixth release and during his 50 years in the business he's been the lead guitarist for many other musicians as well. As a matter of fact, during his stint with Charles Musselwhite, the band won a Blues Music Award in the "Band Of The Year" category. What I'm wondering is why haven't I heard the name Andrew "Jr Boy" Jones.....on a hell of a lot more blues festivals' lineups?
Along with Andrew on guitar and vocals, the musicians appearing on "I Know What It's Like" are: Kerrie Lepai on vocals; Lewis Fluellen, Jr on keyboards; Chris Gipson and Christole on bass; Larry Clemon, Jr and Jamil Byrom on drums; Cheryl Arena on harmonica; Larry Clement on trumpet; and Ron Jones on sax. The CD consists of all original music - of which eleven of the tracks were penned by Andrew and the other two by Kerrie - that cover all styles of blues.
The discs opener is the title track - "I Know What It's Like" - and that knowledge is exactly what's giving Andrew the blues. Sadly, all of the situations he refers to are those I'm sure he'd rather not know what it's like. This very impressive opening track certainly does its job of leaving the listener wanting more. Backed by a strong rhythm section featuring both horns and some awesome organ leads by Lewis, Andrew kills this one on vocals and guitar.
When "Whiskey Drinkin' Blues" came on, she wasn't done with her opening line and I was already doing an Internet search for more information about Kerrie Lepai. Damn, this gal can sing. With its four and a half minute length being just a tease, this one deserved several replays. Sorry guys, I know you're all back there doin' your thing, but on this one it was a struggle to hear past Kerrie's attention commanding voice.
Now "G Thang" is a whole other story. On this instrumental, all the applause - of course - goes out to the four guys creating this wonderful sound. This jazzy tune features some of the discs best rhythm from Christole and Jamil on bass and drums, along with prominent piano leads by Lewis, and smooth guitar riffs from Andrew. Musically, this is one of the discs best tracks.
"Moving From The Dark Side" is one of the slower, more straight up blues tracks of the bunch. It's pretty much Andrew belting out some very soulful and emotional blues - both with his voice and his guitar.
On this particular track Kerrie, and everyone else as well, are pumped up and "Ready To Play". This smoker is your basic all out jam. Christole and Jamil are rockin' out the rhythm, Cheryl and Lewis are wailin' away on harp and piano, Andrew's tearin' it up on guitar and Kerrie, along with lots of help from everyone with back up vocals, is knocking it outta the park. As the song ends a voice can be faintly heard in the background saying "Man that was fun". My thoughts exactly.
"Midnight" is another instrumental that's four minutes of musical bliss. It's a guitarist, a bassist, an organist, and a drummer, making magic out of music. The researchers who discovered that music is therapeutic may very well have been listening to something just like this. Sit back, close your eyes, take a deep breath and let this one soothe your soul.
Apparently, Andrew, Kerrie and the band agreed with me that four and a half minutes of "Whiskey Drinkin' Blues" IS just a tease, because here they are closing out the disc with a very pleasing eight minute version. That's double the dose of Kerrie's volatile voice, double the dose of Andrew's scorching guitar, and double the dose of our listening pleasure.
Other tracks on "I Know What It's Like" include: "I've Got You On My Speed Dial", "Let The Child Be Wild", "You Gotta Be Foolin' You", "Younger Women", "The Party Is Getting Started At Midnight", and "Mixed Beans".
To get your hands, and your ears, on a copy of "I Know What It's Like", just give Jr Boy a shout by going to www.andrewjrboyjones.com. Once you're there, you know the drill, ya gotta tell him the Blewzzman sent ya.


Peter "Blewzzman" Lauro
Blues Editor @ www.Mary4Music.com
2011 Keeping The Blues Alive Award Recipient





Pam Taylor
"Hot Mess"

By Peter "Blewzzman" Lauro © March 2013
That ever growing group of young women that are making a splash in the blues pool has another well qualified participant. Her name is Pam Taylor. Had you not heard of her yet, give it some time... and I'm thinking a very short time, at that. Talent like this can't stay a secret too long.
Pam Taylor's a singer, songwriter and guitarist from the northern part of South Carolina who's got music in her genes. With a grandfather who wrote music and played guitar and a father who's been playing sax since the age of thirteen, it's obvious this leaf did not fall far from the Taylor family tree.
On her debut CD, "Hot Mess", Pam Taylor - who wrote nine of the discs ten tracks - is on vocals and guitar. She is joined by Mike Taylor on sax, Kyle Phillips on guitar, Rusty Gilreath on bass, and L. A. Freeman & Gerry Hagstedt on drums.
Being a huge Alvin Lee & Ten Years After fan, the opening track made me "Smile Again", as it reminded me of their version of "Schoolgirl". The track's a perfect intro to the band. L. A. and Rusty are all over the rhythm, Kyle's killin' it on lead guitar, Mike's sax leads are ear opening and Pam's flat out tellin' ya she can sing the hell out of a song. Good start.
This song describes the type of woman some of us guys may have spent some time messing around with. She's out every night, she wears her dresses way too tight, she's out on the town until the morning light and she's not living her life right.... so what exactly is the problem? Just as the women it's describing, this one's a smoker. There's no question that this fills the dance floor at the Pam Taylor Band's live shows. I'm just wondering who's the lucky guy dancing with the "Hot Mess"?
Those tiny little hairs on the back of your neck should be standing before "It's So Easy" makes it fifteen seconds into the song. That's what happened when I heard Mike's sax intro. And from there it just keeps getting better. This "Stray Cat Shuffle" sounding, song is another of many well done tracks. Strong rhythm, fierce sax and guitar leads, and sexy, sultry vocals sung with sass all highlight this one.
On "The Next Time You Think Of Cheating", Kyle's opening guitar intro had a similar effect on me that the sax did on the above track. Just because it's exactly the type of song that light's my blues fire - slow, raunchy, low down blues - this is by far the bands best work. It should be mandatory listening for any young women who want to learn how to sing the blues. Vocally and musically everyone's at discs best right here.
The only cover on the disc is a song that, I don't care how many people do, I'll never refer to it as an overdone cover. As long as it's done well - and Pam and the band nailed it - I will always welcome hearing "I'd Rather Go Blind". Pam's vocal range and emotional deliverance on this rendition are impeccable. This, as is often the case, is one of those great songs that adding a sax to makes it even greater. The flipping of the leads between dad on sax and Kyle on guitar is spine tingling. As I'm ending this part of the review it's no lie when I tell you I've already listened to this song more times than there are lines in the paragraph.
The five other tracks on "Hot Mess" are all tracks I could have easily had something wonderful to say about as well. But you'll just have to hear them for yourself. They are: "Whatcha Doin", "Not The Only One", "All The Same To Me", "I Ain't The One" and "All I Got Left".
Here I am, having not yet announced the winner of the 2012 "Blewzzy Award", and I'm already thinking this is the one to beat in 2013.
If you'd like to get your hands, and your ears, on a copy of "Hot Mess" - and I believe you should - look Pam up at www.pamtaylorband.com. When you do, in addition to telling her the Blewzzman sent ya, tell her I said "WOW!"


Peter "Blewzzman" Lauro
Blues Editor @ www.Mary4Music.com
2011 Keeping The Blues Alive Award Recipient





Kevin Selfe
"Long Walk Home"
Delta Groove Music

By Peter "Blewzzman" Lauro © February 2013
Big congratulations go out to Kevin Selfe. This is his first, of at least three releases that will be on one of the best blues labels in the genre - Delta Groove.
"Long Walk Home" features eleven tracks of all original music. Along with several members of the Tornadoes - his nucleus band - Kevin invited quite a few recognizable guests to sit in on the project. The players are: Kevin Selfe on vocals & guitars; Jimi Bott on drums & backup vocals; Allen Markel on bass & backup vocals; Mitch Kashmar on harmonica; Gene Taylor and Steve Kerin on piano; Doug James and Brad Ulrich on baritone sax; Joe McCarthy on trumpet; Chris Mercer on tenor sax; Lisa Mann on backup vocals; and Dover Weinberg on organ. To me, that sounds like a lot of good music.
It doesn't get more low down and dirtier than it does on "Moving Day Blues" - the bluest track of the bunch. Kevin doesn't take too kindly to being dumped right after helping his woman move. As he puts it, she broke his heart right after she broke his back. The lyrics and the emotion with which he sings them tell how much pain he's feeling, but it's his guitar that makes you feel that pain as well. Not that this one needs it but excellent piano and horn highlights help make it one of the discs best.
"Dancing Girl" is another one of my favorites. It's the only track on which Kevin doesn't sing but his highly capable replacement - Mitch Kashmar - belts this one out of the park. All while Kevin, Jimi and Allen are tearing it up behind him.
There could be several reasons for "Walking Funny" - one of which could be listening to this rhythm driven smoker while you're doing so. However, Kevin's thinking she's doing so for that more logical, other reason, if you get drift. Jimi, Allen and Kevin basically go instrumentally insane on this one.
I think some of Kevin's best efforts can be heard on "Too Much Voodoo". I love the way he sings this song and his lead and rhythm guitar playing are equally outstanding. Additionally, on his only appearance, Dover does a heck of a job on the organ here.
If ya liked Boz Scaggs and Georgie Fame's version of "It Should Have Been Me (With That Real Fine Chick)" - and who didn't - then you're going to love this track. The songs and the singing style are quite similar but "Second Box On The Left" kicks it up a notch with the awesome horns of Joe, Chris and brad. Fun stuff.
What the heck would make someone actually say "Put Me Back In Jail"? How can that be the lesser of the evils? You'll just have to listen to find out. And while you do, you're going to hear some fancy slide guitar from Kevin as well as Steve Kerin rockin' out with some of the disc's fiercest piano playing. Hot stuff right here.
I believe that this hook up of Kevin Selfe with Delta Grove could be a match made in heaven. Kevin's talent is a nice fit into their stable of thoroughbreds and they could be a vehicle to a broader fan base. I wish them both well.
Check them both out at www.kevinselfe.com and www.deltagrooveproductions.com. When you do, please tell Kevin and Randy that the Blewzzman sent ya.


Peter "Blewzzman" Lauro
Blues Editor @ www.Mary4Music.com
2011 Keeping The Blues Alive Award Recipient





Zoe Schwarz Blue Commotion
"Good Times"
33 Records

By Peter "Blewzzman" Lauro © February 2013
Exactly 40 years ago, in 1973, a record was released that featured many British artists - most of whom went on to become legends in several music genres, all while keeping in touch with their blues roots. That recording was called the "History Of British Blues" and Long John Baldry, Eric Clapton, John Mayall, Peter Green, Mick Fleetwood and Steve Windwood are just a few of the approximately sixty musicians who participated on the recording.
Now I'm not quite ready to put Zoe Schwarz Blue Commotion in with those music masters just yet, but "Good Times" is surely some of the best blues I've heard come out of Great Britain in decades. As a matter of fact, this group would certainly fit into the category of the "Future Of British Blues".
The band consists of Zoe Schwarz on vocals, Pete Whittaker on Hammond organ, Si Genaro on harmonica and backup vocals, Rodney Teague on bass, Paul Robinson on drums and percussion, and Rob Koral on guitars. Several tracks also include Ian Ellis on saxophone and Andy Urquhart on trumpet. "Good Times", the bands debut recording, contains fourteen tracks of which nine are band originals.
One of the few covers is a nicely done version of Billie Holiday's "Fine and Mellow". It's six minute length is the perfect amount of time for featuring everyone in the band. Being rich in rhythm with a mind blowing organ lead by Pete, with piercing harp and horn interjections, amazing guitar riffs and vocals by Zoe that are sometimes soft and sultry and at other times powerful and commanding, this is easily one of the discs best. Hearing this as an audition song, I'd immediately hire the band.
The appropriately titled "Beatitudes" is the most beautiful song of the bunch. The song's moving lyrics, Pete's heavenly sounding Hammond and Zoe's angelic voice come together and just carry you away. The notes she hit closing out the song gave me goosebumps. This track's proof that you can get high on music - I just did.
Unfortunately, I'll never know if there's such a thing as being "Too Darn Rich To Be Happy". Then again, the way Zoe tells it, I may actually be quite fortunate in not knowing. The rhythm section smokes on this one. Rodney, Paul and Pete - as he's been on every track so far - are all on their mark, and Si's right with them wailing away on harp. Great dance song.
It's been so long since I heard Koko Taylor's version of this song I just went and gave it a quick listen to on You Tube. I was curious as to which version of "Voodoo Woman" was more funky - this cover or the original. And the winner is......Zoe Schwarz Blue Commotion, by way of Pete Whittaker on Hammond organ. Give him the chance and I'm betting he could funk up Irish folk songs - what a talent!
Zoe's best vocal performance can be heard on "I'm Leaving You". The range she covers, along with the style changes she makes are remarkable. Be it soft, high notes or low down, growling low one's - she's all over this one. Lots more great organ, guitar and harp leads highlight this one as well.
"There's Only You" is another of the disc's best. It features the rhythm section tightly tuned in while Rob and Si get in several strong harp and guitar leads. Of course, Zoe's doing what she's been doing all disc long - belting the hell out of some blues.
Other tracks on "Good Times" include: "If I Didn't Sing I'd Cry", "Take Me Back", "You Shook Me Baby", "I'll Do Anything", "That's Why I'm Crying", "Blues Get Off My Shoulder", "Give Him Up Girl" and a shorter radio friendly version of "Beatitudes".
Take this statement to the bank - Zoe Schwarz Blue Commotion are about to create a big commotion on the blues scene.
To find out more about the band just go to www.bluecommotion.com. While you're there, do yourself a big favor and get a copy of "Good Times". Do me a favor as well and tell Zoe that the Blewzzman is her newest biggest fan.


Peter "Blewzzman" Lauro
Blues Editor @ www.Mary4Music.com
2011 Keeping The Blues Alive Award Recipient





The King Bees
"Carolina Bound"
Original High John Records

By Peter "Blewzzman" Lauro © February 2013
Twenty Five years! That's a long time, right? Well, it might not be that long a period of time based by blues standards, but it's a hell of a length of time for getting some dues paid. That's how long The King Bees - husband and wife team Hound Dog Baskerville and Queen Bee Zamagni - have been at it. Traveling the highways and skyways of the world, they've performed in venues from the back woods juke joints of the south, to the Lincoln Center For The Performing Arts in New York City, to stages and festivals all over Europe, and all types of venues in between. I guess you might say the family that makes good music together stays together.
According to the King Bees, "Carolina Bound" is a collection of songs "celebrating 25 years of stingin' & swingin". On it, they are joined by some of the many notable friends and music associates they've made along the way. Joining Queen Bee, on bass and vocals and Hound Dog, on guitar are: Phil Stinson on piano, Chuck Cotton, Mark Henderson, and David Barbour on drums; with special friends Roy Roberts on guitar solos, Jerry McCain on harp; Nappy Brown on vocals; Carey Bell on harp & vocals; and Chick Willis on guitar & vocals.
"Carolina Bound" is a collection of ten songs - of which seven are originals - and six of them that include their very notable friends.
Without even knowing what words may precede or follow the words "You Were There", those three words convey an obvious acknowledgement. And hearing Queen Bee sing the rest of the song will clearly validate that thought. These are the kind of lyrics that make you wish you had someone in your life like the person she's singing the song to. Sandwiched between two very emotional and heart warming vocal verses are some very nice guitar leads by Roy.
"Run Your Reputation Down" is a hot number that features Hound Dog, Phil and Jerry joining forces to kick some blues ass on guitar, piano and harp... sometimes individually and sometimes collectively. Of course the rhythm sections' smokin' along with them.
"Natchez Burning" features the late and incredibly great Nappy Brown on vocals, need I say more? Those of you who know Nappy know I don't. This one was recorded live which means Nappy was up to his usual shenanigans. Hound Dog and Queen Bee sounding real good on guitar and bass as well.
Featuring none of the legendary guest stars, "Send Me To The Jailhouse" is actually one of the discs better tracks. Instrumentally and vocally, Hound Dog and Queen Bee are at their best. This is one of those low down dirty blues songs that once you feel the groove you never want it to end. Great stuff!
Featuring another late and great blues man - one of the original Chicago Blues Allstars - Carey Bell, it's basically needless to say "What Mama Told Me" is the most traditional and most serious blues track of the bunch. The band is doing just what it's supposed to do, get into a tight rhythm and just sit back and let the master do his thing. Hearing Carey belting out the blues vocally and blowing the hell out of his harp is what this one's all about. After this track you'll be looking for an old Carey Bell CD to put on.....but try to wait till this disc is done.
"Yonder Wall" features the vocals and guitar of fifty plus years blues veteran, Chick Willis. Being another live track and being another performer who steps it up several notches in front of a live crowd, Chick's magnificent on this one.... in spite of keeping the lyrics clean. What makes this track even more enjoyable is it's nearly seven minute length.
Other tracks on "Carolina Bound" include: "Carolina Bound", "Under My Skin", "It's Tight", and "Party Shoppe".
To find out more about Mr. & Mrs. Baskerville, The Hound Dog & The Queen Bee or as they are more commonly known - The King Bees, just look them up at https://www.facebook.com/penny.zamagnikingbees. As usual, don't forget to tell them the Blewzzman sent ya.


Peter "Blewzzman" Lauro
Blues Editor @ www.Mary4Music.com
2011 Keeping The Blues Alive Award Recipient





Shaun Murphy
"Ask For The Moon"
Vision Wall Records

By Peter "Blewzzman" Lauro © January 2013
When TC Davis - the producer of the CD and operator of Lonesome Road Agency - called me up to tell me he was sending me a copy of Shaun Murphy's latest release, "Ask For The Moon" he included a disclaimer in the conversation. Knowing what a blues snob I am, TC felt the need to warn me that "the disc is not all blues".
Now there's no question in my mind that I'll probably enjoy the tracks that are blues the most, but having listened to Shaun Murphy sing, and having worked on several of her earlier releases, I also know that with her voice and vocal abilities - I'd enjoy hearing her sing nursery rhymes.
Joining Shaun on this project are: Johnny Neel on keyboards; Jim Horn on sax; Kenny Greenberg and Shawn Starski on guitar; Daryl Burgess on drums; Boyd LeFan on bass; Tim Gonzalez on harp; two duets are shared with Bekka Bramlet and Burton Gaar, Jr; and along with Shaun, Bekka Bramlett and Vickie Carrico contribute with the background vocals. Additionally, Bekka & Shaun - with five and four respectfully - combine for having written sixty percent of the discs fifteen tracks.
Now let's go listen to these good songs - regardless of what genre they may be...
Now if you heard an attractive woman singing a song called "Ugly Man Blues", you might think it was being sung out of the frustration of having one, right? Maybe! You see, this versions being sung in anticipation of actually finding one. That's right, us ugly guys do have a chance. According to Shaun, "there's nothing sweeter than the love of an ugly man". Based on her reasoning it does make sense. With excellent rhythm work behind them, Shaun on the vocals with an attitude, and Tim on the harp, highlight this one.
The title track, "Ask For the Moon", is surely one of the crossovers. To use a phrase I know I've heard somewhere before - "It has a good beat and is easy to dance to". Due to it's funky nature, Johnny, Boyd and Daryl are the heat makers on this one.
"Let's Talk About Love" has all the ingredients of a pop / soul hit. It's a vocally skillful duet between Shaun and Bekka that gets extra help from the well placed background vocals. With Daryl adding just the right amount of powerful bottom and perfectly timed sax and piano interjections it all comes together quite nicely. You can tell from the chuckle at the end that the ladies were happy with it. I was as well.
The first indication that I was going to like this track came with the ear perking opening guitar chords from Shawn Starski. Then Shaun Murphy chimed in with a powerful vocal verse that stole my attention. Seconds later Johnny rolled in with some good ol' barrelhouse piano blues, the rhythm section then kicked in and bam - Jim starts wailin' away on the sax. Need I say more? Oh yeah - the name of the song - "Mighty Long Road", and it's easily the discs best track.
I'm a sucker for slow, bluesy, ballads with sultry sax and/or piano interludes that are sung by a powerful female vocalist, so you might say I'm having a good time right about now. "It's My Own Tears" is the kind of song I can listen to Shaun Murphy sing all day long. Not since the late great Koko Taylor have I heard anyone make those growling, squirming, gasping, raspy sounds sound so good. This is great stuff.
Some of the discs best vocal harmony can be heard on the song called "Big Wheels". Adding the collective background vocals of Bekka, Vickie and Shaun to the power of Shaun's own lead vocals and this one takes on the sound of a Gospel song being sung by a full church choir. Amazing!
Other tracks on "Ask For the Moon" Include: "Just Enough", "Heartless Man Blues", "Forget About Me", "When It Rains", "Go Home", "Chained", "Why You Hurt Me So Bad", "What's In It For Me?" and "Get Away".
If you'd like to learn more about Shaun Murphy - and you should, because her biography is amazing - check her out at www.shaunmurphyband.com. While you're there please tell her not only did that blues snob the Blewzzman send you but that he loved the disc as well.


Peter "Blewzzman" Lauro
Blues Editor @ www.Mary4Music.com
2011 Keeping The Blues Alive Award Recipient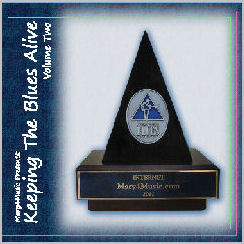 Various Artists
Mary4Music Presents:
"Keeping The Blues Alive" Volume 2

By Peter "Blewzzman" Lauro © November 2012
Larry Griffith
"Help I Don't Need"
Larry Griffith is no stranger to us here at Mary4Music. Back in 2006 his "High Wire Walkin'" disc was the recipient of our website's "Blewzzy Award". The Blewzzy is an award I personally bestow upon my favorite of all the CDS I reviewed that year. "Help I Don't Need" is everything I'd expect from Larry. His guitar work is as good as anybody's and his vocals are even better. This is one of those songs that you just can't accept it ending..... and I haven't. That's the good part of listening at home and not on the radio - I can play it over and over and over........
Jook Bourke
"Ain't Nobody Knows"
Jook Bourke is another Mary4Music alumni. As a matter of fact, back in 2007, the title track off of his "Just A Minute" CD was the recipient of a "Blewzzy Award" in the Best Song Category. Well, Jook's back at it again with another amazing song titled "Ain't Nobody Knows". This one's got it all going on. If Jook's guitar playing and vocals don't knock you out, the fierce rhythm and smokin' saxophone interludes will.
Mama Groove
"Soul Distraction"
Mama Groove is another of seven of the ten bands familiar to us here at Mary4Music. It was just about six months ago when when Mama - Ysabell Gagnon - was blowing me away with amazing vocal range. Trust me when I say that you shouldn't have a sole distraction while listening to "Soul Distraction". It's a compelling opening track that just commands attention. The driving rhythm, the guys tearing it up on guitars and organ, and the dominance of Ysabel's vocal artistry will all blow you away as well.
Memphis Gold & The Scrap Iron Band
"Preacher Blues"
Memphis Gold and I have been working together so much over the years and as far as I'm concerned, every minute of it has been an absolute pleasure. In addition to being a heck of a guitarist, singer and songwriter, he's a heck of a person as well. I could literally spend hours here telling you about him but instead I'll just suggest you research him and find it out on your own. Do it, you'll be impressed. Although preachers are usually there to help and guide you through your periods of the blues, Memphis seems to have found one that's causing him some instead. You see, his woman running off with the preacher has given him a bad case of the "Preacher Blues". With the horns blaring, the organ wailing and the rhythm pounding behind him, Memphis does some serious testifying on this one.
Reverend Freakchild
"A Day Late And A $ Short"
Reverend Freakchild? Got you wondering? Can't say that I blame you. However, inasmuch as some of his other work tends to border on the wild side, "A Day Late And A $ Short" is all about the blues. I'm sure there's not a one of us who hasn't used the title of this song at least once in your lives. The song sounds like it was recorded at a party and features good guitar and organ highlights.
Stan Erhart
"One Of These Mornings"
The opening guitar licks tell you right off the bat that you're gonna love this one. Then the rhythm section gets going, Stan starts singing, the sax chimes in and.....BAM!.....before you even realize it, your feet are tappin', your fingers are snappin', your head is bobbin', and your body swayin' and your smack dab in the middle of one hell of a blues song. Here's what I had to say about this track when I did a full review of the CD....."Wanting to hear about twenty more minutes of "One Of These Mornings", I just replayed this three and a half minute song about five or six times making it louder each time. It's not a coincidence that Stan's at disc's best on guitar on the disc's best track. This is really good stuff... I'm going back for another listen."
JC Crossfire
"Blues Blues Blues"
So, does the title of this song leave any doubt as to what it's about? I didn't think so. No matter what, JC and the guys just can't seem to shake those "Blues Blues Blues". They've got 'em so bad they had to tell ya three times. This one's got all the ingredients of a great song. Good vocals and vocal harmony, tight rhythm, and excellent guitar, harp and piano highlights.
Blues Dragon
"Bottle of Gin"
The title of this track is about a place that may sound familiar to some of us - the bottom of a bottle. Be it a bottle of Scotch, a bottle of Bourbon, or in this case a "Bottle Of Gin", it's not a nice place. Blues Dragon will testify to that. From the title of the song, to the way it's sung and performed everything about this track reflects intensity. I'd expect nothing less from a band that won a Mary4Music "Blewzzy Award" for their "Living On Death Row" song back in 2009.
Darren Jay & The Delta Souls
"Workday Blues"
"Workday Blues" is rhythm driven blues at it's best. Take some ferocious drumming and chest thumpin' bass, throw in an organ and a bunch of horns and you're now listening to a full throttle smoker featuring excellent vocals from Darren and guitar by Darren Jay. Right after working with Darren back in March of this year, his USN Reserve Unit got deployed to Kuwait. As of this writing I'm happy to know that he's doing well and will be home in January, 2013.
Lisa Cee
"What Good Am I"
Although a stranger to me, Lisa Cee is certainly not a stranger to the music scene - at least not on the country's west coast . The list of artists she's played with sounds like a lineup from the Doheny Blues Festivals and from what I'm hearing, several of those talented players may very well be backing her up on "What Good Am I" Blues with an attitude is about the best way of describing Lisa'a energetic and vibrant vocal style.


Peter "Blewzzman" Lauro
Blues Editor @ www.Mary4Music.com
2011 Keeping The Blues Alive Award Recipient





James "Buddy" Rogers
"My Guitar's My Only Friend"
Blue Wave Productions

By Peter "Blewzzman" Lauro © November 2012
Reading the one sheet that accompanied the disc, I'm somewhat shocked that "My Guitar's My Only Friend" is James "Buddy" Rogers' debut CD. Although a child by blues standards, this thirty-six year old musical talent has been at it since he was a child. By age eleven, his band was already gigging; by age thirteen, he was a regular at local blues bars in his area; by age fifteen, Canada's top agency was booking him into concerts; and by the time he turned nineteen, he was a veteran who had shared the stage with many blues headliners. And from what I'm hearing, he's well on his way to becoming one himself.
On "My Guitar's My Only Friend" - which features all original music - James "Buddy" Rogers, on lead guitar and vocals is joined by Bill Hix and Ivan Duben on drums, Bill Runge and Tony Marryatt on bass, Mike Kalanj on Hammond organ, and Tom Lavin on rhythm and bass guitar.
On the opening and title track,"My Guitar's My Only Friend", it doesn't take very long for James to introduce us to one of his influences. His very impressive guitar highlights scream out Albert King...and that's always a good thing. Inasmuch as we all know that he's got other friends, James and his guitar do have a thing going on. Add some great vocals and intense rhythm from Ivan and Tony and this one's a real winner.
"I'm On The Road Again" is a smoker that features that hard driving, relentless style of rhythm reminiscent of ZZ Top. Once again, it's Ivan and Tony dispensing the heat. Real good stuff.
Going somewhere with your lady then watching her leave with someone else can't be fun. From the sound of things, this is exactly the situation that caused James to come down with a severe case of the "Disappearing Baby Blues". After what pursued, as a result of pursuing her, James now offers this advice - just do some disappearing yourself. As sullen as it sounds, this is actually a fast paced track that will surely make the dancers happy. James and Tom are all over their guitars and, as it appears to be the case regardless of who the rhythm guys are - this time it's Bill Hix and Bill Runge - it once again scorches.
Pretty much every song I've heard with this name in it was from the good ol' days of Rock N Roll and "Guitar Sue" fits right in with the rest of 'em. This hot one will have you thinking Chuck Berry.
I'm sure that James "Buddy" Rogers does not remember American Bandstand, but this baby boomer sure does. And one of the things I'll never forget about the show is it's theme song - "Bandstand Boogie". From the opening note, that song made you want to do just that - BOOGIE! Ditto for James' "Lovin', Kissin', Huggin'". This somewhat reminiscent smoker will have you hitting replay.....between dances.
The CD closes with it's only instrumental - "Buddy's Walk". With Tom, Mike and both Bills polishing up the rhythm, James and his "friend" shine on this one. This is a stupor inducing shuffle if there ever was one.
Other songs on "My Guitar's My Only Friend" include: "Let's Get Loose", "Sweet Little Girl", "Blame It On The Blues", and "Dawg".
With the new year just just about five weeks away, it shouldn't be much longer than that before we'll be hearing about the 2013 Blues Music Award Nominations and it wouldn't shock me in the least if I saw "My Guitar's My Only Friend" by James "Buddy' Rogers as a nominee in the Best New Artist Debut Category. Be that as it may, I do know for sure that it's a contender for a "Blewzzy".
To introduce yourself to James, purchase the disc and tell him the Blewzzman send his regards, just go to www.jamesbuddyrogers.com.


Peter "Blewzzman" Lauro
Blues Editor @ www.Mary4Music.com
2011 Keeping The Blues Alive Award Recipient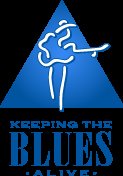 Click Here To Return To The CD Review Index
Click Here For The Blues Portal
Click Here For The Indie Portal
Click Here To Visit Our Music Gift Shop


---
Want your CD reviewed?
Click HERE to email us for information.






*All logos and trademarks in this site are property of their respective owner.
Additional content © 1998-2012 Mary4Music.com. All Rights Reserved.