Contact Info
(Scroll Down For Link Exchange Info)

Link Exchange Info:
Link exchange instructions and banners can be found HERE.

For all website business, questions, comments, link additions/deletions/updates, advertising info: Email Mary.

CD Review Info:
For Blues CD review info: Email Pete the Blewzzman

Advertising Rates and Info:
Interested in advertising on our website? Click HERE for info.


---




Link Exchange


Interested in exchanging links?

Please link to us, then send us an email with the following information:

a) URL to where you've placed our link or banner
b) Your site URL
c) Your site title
d) A short description of your site (20 words or less)
e) Which section on our site you'd like your link placed.

Once you've added our link to your website, your link will be featured in BOLD TEXT.

---


For text links:

Title: Mary4Music.com
URL: https://www.mary4music.com
Description: Since 1998, Your Internet Portal for Blues and Indie Music Links,
Musician's Resources, Band Links, Club & Festival Listings, CD Reviews and Music Gifts.

(Feel free to modify the description to suit your website)


Banners:


Copy any of the images below by right clicking on the
banner and saving it to your hard drive....
Do Not Link Directly To Our Images, Save Image To Your Hard Drive
Please link the banner to: https://www.mary4music.com/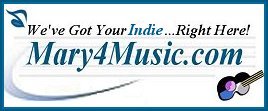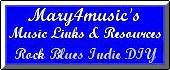 ---
We Need Your Help
To Keep This WebSite Growing

Simply click on the Paypal button to make a small donation.
100% of every dollar donated goes towards the operation of this website.
If you prefer mailing us your donation, email us for our mailing address by clicking HERE.
---

Click HERE to Return to the Blues Portal
Click HERE to Return to the Indie Portal
Mary4Music.com Home






Copyright ©1998-2016 Mary4Music.com. All Rights Reserved.