Recommended Blues


BOOK: Sam Myers: The Blues Is My Story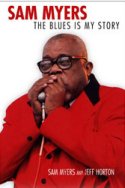 "A house-rocking blues life from the Mississippi-born front man of Anson Funderburgh and the Rockets"
Click the link below to purchase this book from Amazon.com






---

BOOK: "Memphis Blues"
Birthplace of a Musical Tradition
Book By Willian Bearden
Promo By Peter "BLEWZZMAN" Lauro


This is a book about the up, down, up again and down again, ever fluctuating Memphis Blues scene. It covers the very beginning of it all, the heydays and the rebirths. And what's really great about it is "MEMPHIS BLUES" reads the way I like a book to read - it's all pictures. If you've ever stepped foot on Beale Street, be it for a souvenir from TATER REDS, a walk through SCHWAB'S General Store, a stroll in HANDY PARK or one of the many places for good BBQ, then you need to get this book.


Purchase a copy of "Memphis Blues" from Amazon.com:


---

---



Last Updated


© 1998-2010 by Mary4Music.com. All Rights Reserved. Do not copy or reprint without permission.