Live Performance Reviews
Page 9




DUKE ROBILLARD
MAY 27, 2006
SEBASTIAN BEACH INN, MELBOURNE BEACH, FL
BY PETER "BLEWZZMAN" LAURO ©2006



Unless you're rich and can afford to have a house on A1A, the SEBASTIAN BEACH INN is at least an hour from everywhere. However, it's even further than that from the house of Blewzz. On the other hand, so are just about all the other good places to see live blues. Usually, the musical rewards are very worth the trip and this was indeed the case on May 27th.

Having been teased by short one or two song performances by the DUKE at past W C HANDY AWARD presentations, I was looking very forward to seeing my first full fledged DUKE ROBILLARD show in a very long time. I'd have driven three hours each way for this.

For this evening performance, DUKE, on Guitar and Vocals was joined by his long time friend and long time band mate in ROOMFUL OF BLUES, DOUG JAMES on Tenor and baritone Saxes; JON ROSS on Bass and Stand Up Bass; and MARK TEIXEIRA on Drums.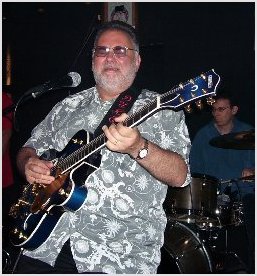 The opening track was a very nice instrumental which was a good fusion of jazz and blues. It was a great song for the band to warm up to, however, with this band, no warm ups were necessary. The band quickly fell into a tight groove and never left it for the rest of the night. I was very impressed with DOUG'S interesting use of the baritone Sax as a lead instrument. I could have easily listened to this number for an hour.
The next track was "LOVE SLIPPED IN", a cut off of "DUKES BLUES", one of his few discs that were truly all blues. This one got the crowd howlin', because when DUKE decides he's playing the blues, it just doesn't get any better.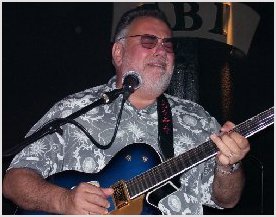 Up until now, a sitting Duke had seemed to be easing into the set. Apparently warmed up and now ready to kick a little ass DUKE set his stool aside and did just that. He played a tune called "I'M GONNA BUY ME A DOG TO TAKE THE PLACE OF YOU". As DUKE introduced the song, those familiar with it were all howling their dog calls.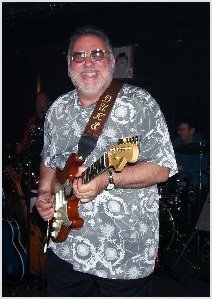 By now, the DUKE was standing and in full swing. It was officially show time as he went into a T-Bone Walker cover called "YOU DON'T LOVE ME AND I DON'T EVEN CARE". From here on out it was just DUKE doing what the DUKE does and that's exactly what we were all there to see. The man is virtually perfect. He approaches each song - much like a novice would play at an audition where only one song per person is allowed - like his life depended on it.
After a short break, DUKE, DOUG, JON and MARK were ready to take up right where they left off. Unfortunately, by now, the only two non-smokers in this smoke filled juke joint - your's truly and Mrs. Blewzzman - had to call it an evening.
Click here for more information and upcoming shows at the SEBASTIAN BEACH INN.....Sebastian Beach Inn






"THE FT. PIERCE JAZZ & BLUES SOCIETY'S STREET PARTY"

09/17/05 - FORT PIERCE, FL
BY PETER "BLEWZZMAN" LAURO, ©2005



On Sept 17th, 2005, THE FT. PIERCE JAZZ & BLUES SOCIETY threw a party to celebrate their "Annibirthary". OK, now, that I have you all scratching your heads and wondering what the heck an "Annibirthary" is, let me explain. You see, at the same time that THE FT. PIERCE JAZZ SOCIETY was celebrating it's ninth anniversary, it was also celebrating the birth of their new name - the FT. PIERCE JAZZ & BLUES SOCIETY. Hence the word "Annibirthary".

OK, enough of the nonsense, clever as it was, and on with the party - and what a party it was - a good old fashioned "STREET PARTY". Held on one of the most beautiful days of the year weather wise, with Second Ave closed from Orange Ave to Ave A, approximately 900 party goers danced in the streets, while they ate, drank and genuinely acted merry, all while being entertained by five outstanding bands.

The event was an absolute smash hit for all involved: For a mere $8, the attendees had a heck of a time and were treated to a show that would have still been a bargain at double the price; The vendors jubilantly filled their cash boxes as their customers hungrily filled their bellies; The Downtown Merchants saw many new and potential new customers; The City of Ft. Pierce got to show off and be proud of Downtown; And, THE FT. PIERCE JAZZ SOCIETY had the pleasure of not only being the force behind the whole happening, but they were the "Belle of the Ball" as well. The Treasure Coast's premiere music organization has many more events being planned, but I'll tell you about them later. I'm just busting to talk about the music.

Since I am the BLEWZZMAN, I will focus mostly on the three smokin' blues bands, but before I do that, I do want to say a few words about the two excellent jazz bands. A staple at all of the musical events put on by the FT. PIERCE JAZZ & BLUES SOCIETY - and rightfully so - are "THE FT. PIERCE JAZZ & BLUES SOCIETY JAZZ ENSEMBLE". Led by SID COLE on jazz guitar, this talented group of society members never disappoints it's audience. Playing a mix of jazz standards, show tunes and jazz-blues fusion, these seasoned veterans of music appeal to a wide range of listeners.

The second jazz band, led by society member OSSIE WRIGHT on piano, was "OSSIE WRIGHT & THE GROOVE DIVISION". OSSIE, a long time Ft. Pierce resident and retired music teacher is renowned for his ability to assemble a mixed bag of jazz musicians and lead them at putting on an all star performance. Once again, he did just that.

And now to the music, that in my heart, makes life worth living - the blues. Kicking off the blues section of the show were "BLUE HOUSE", a blues trio from Ft. Lauderdale. Consisting of ROBBIE ALTER on lead vocals and guitar, RICHIE GOLDMAN on bass guitar and bass fiddle (aka Big Bertha) and BOBBY "BBG" GOLDMAN on drums and spoons, this band could appropriately be called "POWERHOUSE" as well as "BLUE HOUSE". Their performance was relentless. ROBBIE'S stroll through the crowd as he laid down searing guitar licks, RICHIE'S beating up on Big Bertha and BBG'S frenzied flailing on the drums were just a few of the bands highlights that drew roars from the crowd. Other than myself, and a handful of their fans that made the trip up here from Ft. Lauderdale to see them, BLUE HOUSE was virtually an unknown band to this crowd. Since then, however, our organization has had many requests to bring them back for future shows.

Also on the blues bill were the Treasure Coast's own - "THE SHAKERS". With this band, the situation was reversed. Everyone in the crowd, except maybe the handful of people from Ft. Lauderdale, knew who this band was. Having been together for what seems like an eternity and having played every venue, every event and every benefit on the Treasure Coast, "THE SHAKERS" are perhaps the areas best know and favorite band. The band consists of PETE QUIGLEY on lead guitar, GENE OLIVERI on sax, GLEN WHALEN on keyboards, MIKE HOWARD on bass and MIKE LACHAVO on drums. Be it blues, soul, R&B or funk, the shakers do it all just right. Watching front man GENE on sax is a treat all in itself.

Following "THE SHAKERS", which was not an enviable task, was the events headliner - "BEAUTIFUL BOBBY BLACKMON". As BBB was taking the stage, it was pointed out to me by Vern Melvin, one of our band selection committee members, that "BOBBY had better have his A game with him having to follow that", as Vern referred to the hot set "THE SHAKERS" had just put on. As it turned out, "BEAUTIFUL BOBBY BLACKMON had his A+ game with him. BBB confidently took the stage and did what he always does - he tore the place up. His vocals were sharp, his guitar playing was blistering and his stage presence was energetic. BOBBY had the 500 or so people that were still present all on their feet and shaking in the street. Had BOBBY not put a 30 year white collar career ahead of his music, the two top names in the blues today may very well read like this... B.B. and B.B.B. Joining BOBBY on vocals and lead guitar were the rest of the "B3 BLUES BAND" - His longtime friend and band mate JACK BUMGARNER on piano, JOHN CHARCARA on bass, and JAMES "CADILLAC" CARDARELLI on drums.

As BEAUTIFUL BOBBY BLACKMON'S set, and the whole night came to an end, it was apparent that this end was also a beginning - the beginning of THE FT. PIERCE JAZZ AND BLUES SOCIETY. As I said earlier, the organization has many more musical events in the planning stages. One of those events, "WATERSIDE JAZZ & BLUES, will be taking place on April 2nd, 2006. Along with several great jazz bands, we will be featuring Blind Pig Recording Artist "MITCH WOODS & HIS ROCKET 88'S", featuring TERRY HANCK on Sax and ALBERT CASTIGLIA on guitar and Northern Blues Music Recording Artist "CHRIS BEARD.

If you'd like to see pictures of the "STREET PARTY", please go to www.Mary4Music.com. While there, you'll find many more interesting articles, CD reviews and literally hundreds of music resources and links - all blues related of course. I welcome any comments or suggestions or if you're a blues fan and just want to say hi, I can be reached at Blewzzman@aol.com. I am the Blewzzman and "THE BLUES IS MY PASSION AND THERAPY".



Click HERE to visit the BLUES MUSIC SECTION at Amazon.com







Click Here To Return To The CD Review Index
Click Here For The Blues Portal
Click Here For The Indie Portal
Click Here To Visit Our Music Gift Shop


---




Copyright ©1998-2008 Mary4Music.com. All Rights Reserved.