Live Performance Reviews
Page 8




This is an article about one hell of a week in Memphis, TN and it's surrounding areas. It could be called Memphis in May........The Beale Street Music Festival........Gamblers Blues........A Rainy Day with Sonny........The Blues Music Awards........or even Bluesin' on Beale Street. However, I'm going to refer to it exactly as it was.......

"ONE HELL OF A WEEK IN MEMPHIS"

05/06/06 THRU 05/13/06 - MEMPHIS, TN
BY PETER "BLEWZZMAN" LAURO, ©2006



ACT I
"THE BEALE STREET MUSIC FESTIVAL"




This was our seventh consecutive trip to what are now called the BLUES MUSIC AWARDS (formerly the W. C. Handy Awards). Some of those trips have ranged from being short, three night, fly in on the morning of the awards type things, to long 10 day treks starting out at a casino in Biloxi, MS, winding through New Orleans, LA, with a "Blues Crusade" through Clarksdale and other areas of MS. Regardless of the length and regardless of the route, every trip has been nothing short of wonderful, with the awards ceremony always being the highlight amongst highlights.

This year, for the second of those seven years, we started out our trip right in Memphis at the BEALE STREET MUSIC FESTIVAL. This festival is traditionally the first weekend in May and it kicks off a month long, city wide celebration known as MEMPHIS IN MAY - which affectionately and accurately is referred to as MEMPHIS IN MUD. Having been here twice now, and both times having it rain quite a bit, I decided that I would poll some fellow festival goers to see if this events nickname was so deserved.

After asking pretty much everyone that sat or stood next to me over the next two days, I discovered that just about every person that has attended this event more than once has experienced rain at a percentage ranging from a very miserable 90 - 100%. The worst report happened to come from a personal friend of mine from South Florida. BBG, as he is know to his fans, a drummer with the BLUE HOUSE BLUES BAND in Ft. Lauderdale, claimed to have been to the BEALE STREET MUSIC FESTIVAL 10 out of the last eleven years and that of those 10 years, it has rained 9 of them. Hmmmm, have the promoters ever wondered how "MEMPHIS IN MARCH" may sound?

Anyway, on the ticket it says "the show will go on, rain or shine" and on it did go. Once again, the lineup for this event was staggering. Headliner after headliner, from every music genre, were present. There were Handy Award Winners, Grammy Award Winners and even Oscar Award winners on the bill. There were approximately 65 acts appearing that I could categorize as 'Musicians I grew up listening to and loved', 'Musicians I currently listen to and love', 'Musicians whose names I can't pronounce', and 'Musician's who you couldn't drag me to see'. Basically, what I'm trying to say is there was something for everyone.

Arriving on Saturday, we unfortunately had to miss THREE 6 MAFIA, but we didn't mind, because still ahead were CAKE, GOMEZ, SLIGHTLY STOOPID, THE DISCO BISCUITS, and STAIND - which when all used in a sentence sounds something like this - "I felt slightly stoopid when I slipped on a disco biscuit and spilled my cake all over gomez which caused his pants to get staind." Oh my God, point me to the blues tent please. Ah yes, the blues tent. Quite frankly, as boring as this may sound to the rockers, the hip-hoppers, the cloggers and the twisters, this is where we spent the whole weekend, and we loved every dry minute of it.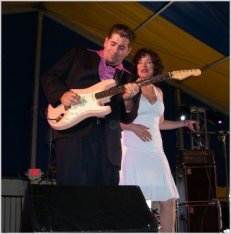 Matthew Stubbs and Janiva Magness
Why go anywhere when the likes of LAZY LESTER, HONEYTRIBE, RICHARD JOHNSYON & JESSIE MAE HEMPHILL, BIG JACK JOHNSON, JOHN LEE HOOKER JR, ERIC SARDINAS, SHEMEKIA, COPELAND, JANIVA MAGNESS, ROBERT "WOLFMAN" BELFOUR, HUBERT SUMLIN, G. E. SMITH, SAFFIRE and JOHNNY WINTER are on the bill. (Not to mention BILLY GIBSON, DUWAYNE BURNSIDE, RONNIE BAKER BROOKS and ROD PIAZZA & THE MIGHTY FLYERS, who appeared on Friday).


ACT II
"TWO DAYS IN TUNICA"
Deciding that we had way too much money to carry around with us, we decided to lighten our load a bit. You see, SAMSTOWN CASINO was running a special that "Gambling Rose" and I could not pass up. They were giving away a FREE night at the casino, with FREE breakfast, FREE lunch, FREE dinner and FREE drinks and all you had to do was lose about $500 a day. With a deal like that, we booked a two day package. Hey, if it weren't for stories like these, there'd be none of those cool gambling blues songs


ACT III
"TO HELENA AND BACK"
There are very few things that can top spending an afternoon with "SUNSHINE" SONNY PAYNE, and having him ask you to sit in live on his radio show is one of them. This was certainly one of the most memorable moments of this trip, and probably one of the most memorable moments in my life. Appearing on "KING BISCUIT TIME", the worlds longest running blues radio show, and being interviewed by the legendary "SUNSHINE" SONNY PAYNE on KFFA in Helena, AR, is a thrill of a lifetime.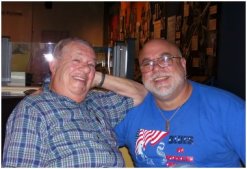 "Sunshine" Sonny Payne and Blewzzman
Meeting SONNY PAYNE for the first time was no different than visiting my favorite uncles house several hundred times. You can just feel the love. The man is so full of warmth and kindness and he is so real and down to earth that he just makes everyone he meets feel like they have known him all of their life.
SONNY, if you're reading this - and you'd better be, because I did email it to you - let me once again say "Thank You My Friend". The world is a better place with people like you in it.


ACT IV
"2006 BLUES MUSIC AWARDS"
(FORMERLY THE W. C. HANDY AWARDS)
This is it, the purpose of the whole trip - THE 2006 BLUES MUSIC AWARDS, held at the MEMPHIS COOK CONVENTION CENTER, MEMPHIS, TN. I have written so much, so many times about this event that at the risk of being redundant, this rendition will be scaled down a bit. I've raved about the dedication and hard work that the understaffed and overworked people of the Blues Foundation muster up to make an event of this magnitude happen. I've thanked and blessed all of those involved.....the volunteers.....the crews.....the stage hands.....the sound people.....the light people.....the cooks.....the servers.....and last year, I even went as far as to spend a whole paragraph on the potato salad. I've praised the winners.....the losers.....the presenters......the labels......and of course all of the great writers.....singers and musicians. To keep it simple, short and sweet, let me just say this to everyone involved - the magnificence we've come to expect from you exceeded itself.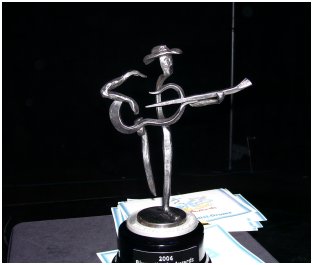 Blues Music Award

One of the more memorable moments of the evening was watching, listening to and feeling PAT CAMPBELL as she accepted several awards won by her late husband, LITTLE MILTON CAMPBELL. "Emotional" can't even describe the feeling that was in the air. I don't think I'm alone when I say that every time (three) MRS. CAMPBELL took the podium, I had just started to compose myself from the previous time and before you knew it, I was a mess all over again. PAT'S wishes for MILTON'S music to never be forgotten will surely be granted.
Entertainment wise, the performances put on by so many present and future blues legends was absolutely outstanding. With respect to each and every one of them I'd like to mention that from this viewers point of view, the evenings highlight was when NORA JEAN BRUSO joined ZAC HARMON and his band. ZAC had just gotten done blowing the roof off of the Convention Center with two powerful numbers when NORA JEAN strolled onto the stage as if to say "Oh yeah? Now watch this". With ZAC and the band backing her up, NORA let loose and tore down the remainder of the building. Unquestionably, this was a happening in the making.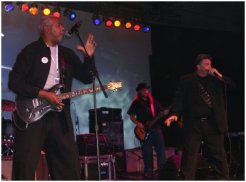 Zac Harmon on guitar and Jeff Stone on harmonica
I'd like to end this act by sending kudos out to ALEX COLEMAN, the evening news anchor at WREG-TV, Memphis. ALEX did an excellent job of hosting the evenings event. Being someone who's familiar with a TelePrompTer made a huge difference. Not only that, he seemed to be genuinely excited to be a part of the festivities. As a matter of fact, as I was getting ready to go to the Convention Center for the ceremony, I happened to catch his TV news broadcast. Right on the air he mentioned that he would soon be on his way to the Blues Music Awards and that he was looking very forward to it. Should we be on the look out for "COOL ALEX COLEMAN and the BLUES NEWS BAND" anytime soon?


ACT V
"THE DELTA GROOVE PRODUCTIONS EXTRAVAGANZA"
If you have not heard of DELTA GROOVE yet, you shouldn't have even been reading this article - you are obviously not a fan of the blues. They only had close to a dozen nominees on the Blues Music Awards ballot. Some of their artists might just ring a bell with you. Do the names KIM WILSON, THE MANNISH BOYS, MITCH KASHMAR, JR. WATSON, THE HOLLYWOOD BLUE FLAMES, PAUL OSCHER, FINIS TASBY, KID RAMOS, KIRK FLETCHER, RUSTY ZINN, JOHNNY DYER, LEON BLUE, AL BLAKE, RANDY CHORTKOFF and ROD PIAZZA sound familiar? Well yes, that does sound like a hell of a blues festival lineup, but it isn't.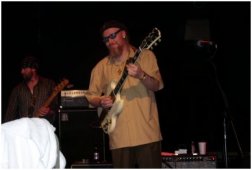 Rusty Zinn
These are just some of the artists that are now recording with DELTA GROOVE PRODUCTIONS. As a matter of fact, the night after the Blues Music Awards, every one of them -with the exception of ROD - appeared at a monster show at the New Daisy Theater. What a hell of a way to end a hell of a week in Memphis.


---
Click HERE to view Blewzzman's Pictures from the Blues Music Awards show and his week in Memphis
Click HERE To Return To The Live Show Reviews Index
---


Click HERE to visit the BLUES MUSIC SECTION at Amazon.com
Or simply click the links below








Click Here To Return To The CD Review Index
Click Here For The Blues Portal
Click Here For The Indie Portal
Click Here To Visit Our Music Gift Shop


---




Copyright ©1998-2009 Mary4Music.com. All Rights Reserved.