Live Performance Reviews
Page 5 - Our First Road Trip






E G KIGHT and BLEWZZMAN/LADY'S 21ST Anniversary Party
At The Blue Bayou Club - Hillsborough, NC

June 26TH, 2004
BY PETER "BLEWZZMAN" LAURO, © 2004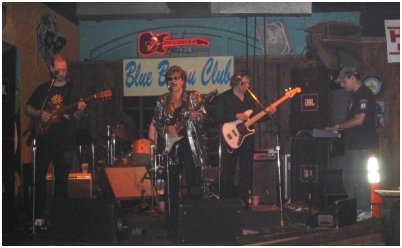 Living in a small town, I have become quite accustomed to driving long distances for good blues entertainment. My regular hang out here in Florida, The BAMBOO ROOM, is 75 miles away and I am there about 2 - 5 times a month. However, driving 722 miles and eleven hours in each direction may be just a bit too much......then again it just may not.
About two weeks ago, as I do every few weeks, I received my usual E G KIGHT email newsletter. As I looked at her upcoming shows there was one in particular that jumped right out at me. Saturday, June 26th, The BLUE BAYOU CLUB, Hillsborough, North Carolina. Now I have never been to the BLUE BAYOU CLUB, I have never been to Hillsborough, NC, and I have never even heard of either the club or the town. So why was this show intriguing me so much? Well, it just so happens that Saturday, June 26th was the 21st wedding anniversary for my wonderful wife Rose and myself. So, the wheels in my head started to spin.
I immediately went to mapquest and did a search. As it turned out, yes indeed, Hillsborough, NC was 722 miles and approximately 11 hours away. No big deal right? We could leave Friday afternoon, spend the night half way, arrive early Saturday, then drive home on Sunday morning - PHEW! But wait, I still wasn't done, the wheels were still spinning, so I did several other mapquest searches. One from my wife parent's house in New Jersey and one from our good friends house in Baltimore. When I saw that those trips were a mere 8 hour and 5 hour drive, the invitations went out, everyone accepted and the road trip was on.
Rose and I would be celebrating our 21st. anniversary by going to Hillsborough, NC, to see one of our best friends and favorite blues bands - E G KIGHT; Her parents from New Jersey and our good friends from MD were joining us; Gary, the BLUE BAYOU CLUB owner promised us the best table in the house and on top of that arranged to have a cake sent to the table for us; It was all falling into place so nicely and all of this was a total surprise to Rose and to E G KIGHT.
As we arrived at our hotel in Hillsborough, Rose was still clueless. After checking into our room, I went to get ice and returned to our room with her parents, who had already been checked in. The look on Rose's face when her parents walked in the room in front of me was priceless. After a few drinks, Mary and Mike from MD called my cell phone. They had just arrived and were checked in. I sent Rose and her parents to get a pizza and while they were out Mike and Mary, with all their goodies, snuck into our room. They had cheese and veggie platters, shrimp dip and homemade bourbon "slurpies" - WOO HOO! When Rose returned, she was so shocked to see them in the room she started crying. Then, after lots of hugging and kissing we started eating and drinking. Already this trip was turning out to be worth it and the real fun hadn't even started yet.
Rose, by now had figured out that we would be seeing E G KIGHT. She knew we were going to a show and to put it in her words, "there wouldn't be anyone that we would travel this far to see other than E G". So, after a very nice dinner, we all headed to Historic Downtown Hillsborough to the BLUE BAYOU CLUB. It was now showtime.
As we entered the BLUE BAYOU CLUB, E G KIGHT was sitting at a table with her back to the door. We quietly approached her from behind asking "do they play blues in this joint"? As E G turned and saw Rose and I, she let out a joyful scream and confessed that "I can't figure out what state I am in". At that moment, we were all in a state of excitement. So, after more hugging, more crying and more kissing, we started doing more drinking and as the song goes, "Let the good times Roll".
Prior to E G and her band taking the stage, the crowd was warmed up by a heck of a piano player - CLARK STERN. This was quite a nice little show in itself. CLARK really tuned up the audience with a nice mix of ballads, lyrically comedic originals and some serious Bourbon Street boogie woogie. CLARK himself is no stranger to the big stage. As a matter of fact I recently saw him, right here in Florida, playing piano for BIG BILL MORGANFIELD.
Now it was star time. Having seen E G KIGHT at least a dozen times, Rose and I were still quite excited. Repeatedly seeing her is like falling in love all over again. It was an extra thrill to have family and friends with us who had never see E G, because we knew what they were in for. As a matter of fact, since this was her first appearance in Hillsborough, NC, I believe no one in the club besides Rose and I had ever seen her. It took exactly one song and one soliloquy and this crowd was turned into a veteran like audience. This is the magic this women possesses. As soon as she takes the stage she owns the audience. I guess it has to do partly with her smile, partly with her innocent cuteness, party with her handsomely picked outfits, partly with her darling accent, partly with her self confidence and largely with her realness. This is the patented E G KIGHT style.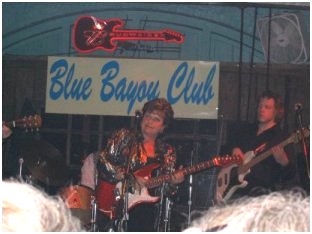 E G opened the show with one of my favorite songs, an original called "LET THE BLUES MOVE YOU" . This is the closest song there is to a slogan that I have been using for many years - "The Blues is my Passion and Therapy" - in which I basically state that the blues makes me feel good no matter what the situation is. In this song, the line goes exactly like this....."let the blues move you to a real good mood, let the blues move you to a better attitude". The similarity is uncanny. In addition to some very relatable lyrics, this song also happens to be a smoker musically. The guitar work is top notch with a tempo that makes you shake.
For the next ninety minutes it was more of the same. E G played a real nice mix of music from her three blues CD's "COME INTO THE BLUES", "TROUBLE" and "SOUTHERN COMFORT", the CD that was responsible for getting her three W C Handy Award Nominations.
A song that always gets the crowd hooting and hollering, "THE QUEEN", did just that. This is a song that starts out with a real up beat, twangy, country style that without notice becomes a slow, sultry, bluesy song. It's a tribute to and a story about the Queen of the blues - KOKO TAYLOR, E G's blues influence. Prior to hearing and meeting KOKO, E G was a country star.
Other favorites which kept the audience in awe were "SAD, SAD SUNDAY", "IF YOU EVER TOUCH ME", "ANGEL FROM MONGTGOMERY", "SOUTHERN COMFORT", "TROUBLE" and one of the best versions of "AT LAST" that I have ever heard performed.
By the time this set was over, the name E G KIGHT was now a household name in Hillsborough, North Carolina. After a short break and a bunch of CD sales and autograph signings later, it was time for a very interesting second set. E G invited CLARK STERN, the pianist, to join her band for the whole set. Obviously she was as impressed with him as we all were during the opening act. After a one song warm up, E G threw CLARK to the lions and said to him "OK young man let's see what you've got" and goodness gracious, the band started playing "GREAT BALLS OF FIRE". CLARK stood tall, gave it his all and put on a piano performance that would have put a smile on JERRY LEE's face. Right there, a new musical friendship was born.
The rest of the set was a lot of fun with the band doing more covers than usual, possibly for the sake of the unrehearsed guest. E G did play one song from an upcoming CD that she promises will be out soon. I am greatly looking forward to hearing it. Stay tuned to www.Mary4music.com for a complete review.
Sunday was a bit of a drag having to deal with the 11 hour drive home, but Rose kept telling me that this was the best anniversary she has ever had and hearing that made the whole trip worth while.
The road trip was a complete success. All the surprises were truly surprises, everyone had a load of fun, the BLUE BAYOU CLUB is a great place with a great owner, the table we had was the best, the cake was delicious, the waitress was fantastic, the company was the best, the entertainment just doesn't come any better and the home made bourbon "slurpies" were umm umm good.


Photos from our night at the Blue Bayou Club can be found HERE!

Visit EG Kight on the Web by clicking HERE
Visit Clark Stern on the Web by clicking HERE

Click HERE To Return To The Live Show Reviews Index






Click Here To Return To The CD Review Index
Click Here For The Blues Portal
Click Here For The Indie Portal
Click Here To Visit Our Music Gift Shop


---




Copyright ©1998-2008 Mary4Music.com. All Rights Reserved.