Live Performance Reviews
Page 3




Main Squeeze Citrus Festival & Jazz Week
February 28, 2004 - Fort Pierce, FL
BY PETER "BLEWZZMAN" LAURO, © March, 2004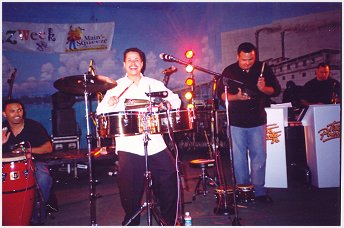 Latin Jazz Maestro Tito Puente Junior
Performing at the Main Squeeze Citrus Festival


OK, the first thing you may already be wondering is how does a citrus festival tie in with a week of jazz events, culminating with a big jazz and blues fest? Well, we are still trying to figure that one out ourselves, but hey, this is South Florida. In any case, Saturday's all day fest was an awesome array of very talented performers eclectically entertaining the crowd. There literally was something entertaining for everyone, regardless of age or gender.

The day started out with an outstanding performance by a local high school jazz band. The LINCOLN PARK ACADEMY JAZZ BAND showed the enthusiastic crowd that they will be happy to assist in keeping jazz alive. Extinction, as sad as it sounds, is a severe threat to this, and other genres of music. However, this group of young ladies and gentlemen had most who watched their performance feeling it's future is in good hands.

Having set the mood for the day, there was lot more jazz in store. Just as hard as the youngsters are working it, their predecessors, the FORT PIERCE JAZZ SOCIETY ENSEMBLE is also working hard at keeping jazz alive. This ensemble led by Mr. SID COLE is a bunch of older, seasoned jazz veterans that always attract and please a crowd. Today was no different. Jazz continued to fill the air as SID and the guys played many of the standards and show tunes they have become so famous for.

By now, everyone was in a musical frame of mind and it was time for some dancing. OZZIE WRIGHT AND THE GROOVE INJECTORS saw to that. Joined by local sax great RON McCODE of BOBBY AND THE BLISTERS, OZZIE and the gang got the whole crowd on their feet. With the band playing a cool blend of hip hop jazz and funk fusion and the crowd in a similar groove, a good time was had by all.

Right about now I was ready for some blues and by the way ALBERT CASTIGLIA (Ka-steel-Ya) was received by the crowd, so was everyone else. ALBERT is a bluesman with everything going for him. Like me, he is young, handsome and talented......OK, OK, but HE really is. ALBERT broke into the blues at a very young age by being the lead guitar player for a legend, the late JUNIOR WELLS. Having picked up JUNIOR'S talent for wooing a crowd, ALBERT has a bright future ahead for himself. His guitar licks, facial expressions and on stage mannerisms make him a sheer delight to watch. This crowd certainly thought so.

After ALBERT'S performance anything but the main act would have been unacceptable. It was now show time. Usually, KENNY NEAL and DEBORAH COLEMAN each tour with their own respective bands, but for this particular show, The KENNY NEAL BAND was joined by DEBORAH COLEMAN. Seeing either of these artists alone, in itself, is a treat but together they just tore this venue up. After a ninety minute set of non stop, straight up, in your face, hard-core blues, KENNY and DEBORAH came out and did a 15 minute encore that, had this been the only 15 minutes of entertainment you had seen all day, it would have alone been worth the price of admission. Leaving DEBORAH on the stage to blow us all away with some of the best guitar work this crowd has ever experienced, KENNY brought the crowd to a frenzy while simultaneously dancing with everyone as he wailed on his harmonica. This was going to be one hell of a tough act to follow.

With the crowd still breathless and in awe, it was now time to feature some of our very own, very talented local musicians. With just about every one in the crowd having seen every one of the next performers in their respective bands, it was the first time they were going to see them all in the same ensemble. Billed as the TREASURE COAST BLUES STARS, RICHARD MAC of HIGHWAY 41, BARRY BARNES of SWS, JOHN STRATTON of THE REIGN, NEIL SANTELL of SWS and RON Mc CODE of BOBBY AND THE BLISTERS collectively thrilled the local crowd as they individually so many times in the past have in the past.

Having had three consecutive blues bands perform, it was time to swing it back to some jazz, and this next band really did get this crowd swinging. TITO PUENTE JUNIOR & HIS LATIN ORCHESTRA, absolutely set the stage on fire. A twelve piece band from Miami showed the Treasure Coast area of Florida what all the musical fuss is about down south. Latin music has pretty much become the staple of entertainment in the Miami are but for us up here on the Treasure Coast, seeing this very energetic and enthusiastic big Latin band was a rare treat. TITO and the guys had everyone in the place doing cha-cha's, mambo's and rumbas and I have to admit it, they had me yelling "babbbbbbaaaaaa looooooooo".

With TITO PUENTE JUNIOR having us all on our feet and howling, what better way than for the evenings final performer to take the stage? BEAUTIFUL BOBBY BLACKMON sent everyone home feeling the blues. Yes, they were feeling the blues because a wonderful day of fun and music was coming to an end, but they were also feeling the blues because that is what BEAUTIFUL BOBBY BLACKMON does, he makes you feel the blues. BOBBY is, to say the least, an astounding bluesman. As a young man, had he chosen the blues for a career, his name would now be used in the same conversations as B. B. KING, BUDDY GUY and LUTHER ALLISON. However, BOBBY chose a career in technology and now has retired to the blues. Considering his late start, it won't be long before BEAUTIFUL BOBBY BLACKMON catches up.

Despite the disappointing attendance because of very unusual cold weather, I thought this was one hell of a day. From the children being entertained by RADIO DISNEY and RICK HUBBARD AND HIS KAZOO BAND to the delicious culinary exhibitions put on by CHEF CURTIS AIKENS of the FOOD NETWORK to all the great JAZZ and BLUES bands that performed.



You can see pictures from this event by clicking HERE






The 17th Annual Fort Lauderdale - Sound Advice Blues Festival
October 31st thru November 2nd, 2003
BY PETER "BLEWZZMAN" LAURO, © November, 2003



This column is dedicated to my wonderful wife Rose, who in over 20 years of marriage has not once given me the blues. With the Fort Lauderdale Blues Festival just several days away, the Blewzzlady came down with a severe case of bronchitis, sidelining her from one of her very favorite annual events. The doctor gave her a bad case of the blues when he told her to keep her body home to rest and not take it to boogie at the fest. In spite of her absence, the show did go on and what a show it was.

The music and festivities got off to an early start with a pre-festival pool side party at a nearby lodge. Friday afternoon, BOB WEINBERG, President of the SOUTH FLORIDA BLUES SOCIETY hosted a welcome party for the over 70 members of the BALTIMORE BLUES SOCIETY that were in town for the festival. Local South Florida blues legend JOEY GILMORE provided the afternoons entertainment. Soon after THE JOEY GILMORE BLUES BAND got the party started, MICHAEL BURKS showed up and jammed with the band. This set the tone for what the next three days were going to be all about -- good people, good times and good blues.

Friday evenings lineup consisted of several of South Florida's hottest local blues bands opening the show. SONNIE AND THE ROAD KINGS featuring THE NEW YORK HORNS, DAVID SHELLY AND BLUESTONE, and THE REGULATORS all put on excellent performances and got the costume clad crowd into a howling frenzy. The setting was perfect for the headliner that was about to take the sage - MICHAEL BURKS. Having a reputation for putting on long, powerful, blistering blues performances, MICHAEL BURKS did just that. Experiencing his passion as a performer is equally as gratifying as hearing his music. At about 11:20 PM, the stage hands thought that turning off the stage lights would finally get Michael to end his 9:30 - 11:00 PM set. NOT! Michael played for another 20 minutes, to a very enthusiastic crowd, in the dark. This was a clear indication that this was going to be one heck of a festival.

Saturday's Lineup really had me shaking and moving -- and I don't mean just to the music, I also mean getting to it. With three stages and something constantly happening at least two, I had to keep on the move.

JASON RICCI AND NEW BLOOD were the first act I caught, and what an act it was. Coincidentally, in 1995 Jason beat out MICHAEL BURKS to place first in the SONNY BOY BLUES SOCIETY contest in Helena, Ark. Having lived in Ft. Lauderdale for several years and playing harp with a popular local band, THE NUCKELBUSTERS, JASON RICCI has a loyal following in the area. Fresh off of several national tours with BIG AL AND THE HEAVYWEIGHTS, Jason's now put his own band together - NEW BLOOD consists of JASON "KINGFISH" MADARIS on guitar, MAKI BERGARA on drums, TOM "SLIM" LOUIS on bass and JASON RICCI on harmonica. NEW BLOOD is touring extensively and you can check out their itinerary at www.jasonricci.com

The ALBERT CASTIGLIA BLUES BAND was another big hit with the local crowd. Settling in the South Florida area after touring with SANDRA HALL and the late great JUNIOR WELLS, ALBERT CASTIGLIA has become the areas hottest guitar player and bluesman. As a matter of fact, as I sit here writing this article today, the SFBS is holding their "Battle of the Blues Bands" to pick who they will send to represent them at this January's INTERNATIONAL BLUES CHALLENGE in Memphis, TN. My money is on Albert.

The national acts that I caught this day just happened to be several of my personal favorites. LITTLE CHARLIE AND THE NIGHTCATS never cease to amaze me. This bands on stage antics make it hard to take them serious yet their music makes it impossible to not. RICK ESTRIN and CHARLIE BATY are the ABBOTT & COSTELLO of the blues. Watching CHARLIE BATY do his thing with his guitar is like watching a professor. In my opinion he may very well be the best guitar player on tour.

BOB MARGOLIN AND FRIENDS, put on not one but two great performances. In an early afternoon acoustic session, on a small stage in the woods, BOB MARGOLIN and HUBERT SUMLIN on guitars, were joined by CAREY BELL on harmonica and RICH DELGROSSO on mandolin. It doesn't get any more down home that that. This session alone was thrilling enough but two hours later they were back at it again. This time, on the main stage, BOB MARGOLIN assembled CAREY BELL on harmonica, HUBERT SUMLIN on guitar, PINETOP PERKINS on piano, WILLIE "BIG EYES" SMITH on drums and his long time friend, MOOKIE BRILL on bass. I tip my hat to MR. BOB MARGOLIN for his ability, ambition and dedication to keeping these legends together keeping the blues alive. You could almost feel the presence of MUDDY and WOLF. This act should have been billed as "Legends - Past, Present and Future." Unquestionably this was my festival highlight.

ANA POPOVIC, best new artist nominee at this years W. C. HANDY AWARDS, seems to have a promising career ahead of her. Although she had to share a set with label mate MICHAEL HILL, and her performance was short, the crowd seemed to be very pleased with her. It was hard to tell if it was her hot licks on guitar or hot looks and outfit that had the crowd howling. This young lady has it all going for her.

Not staying to see Sundays show which consisted of COCO MONTOYA, OTIS TAYLOR, BOBBY RUSH, THE DOWNCHILD BLUES BAND, SOLOMON BURKE and others was a bit of a disappointment for me. On the other hand, the several hour drive home combined with missing my ailing Blewzzlady made my decision to leave a lot easier.

I'd like to thank all of the performers, all of the volunteers, SOUND ADVICE and THE CITY OF FT. LAUDERDALE for putting on one of the best festivals ever. Remember to support live music.


I am the Blewzzman and "The Blues is my Passion and Therapy."
You may reach me at BLEWZZMAN@aol.com and visit my website at www.Mary4Music.com.





NICK MOSS & THE FLIPTOPS
Bamboo Room, Lake Worth, FL.
BY PETER "BLEWZZMAN" LAURO, © November 15, 2003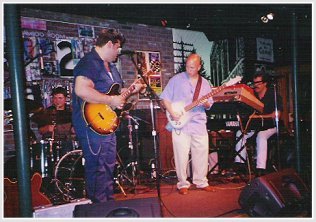 Having recently reviewed NICK MOSS's new CD, "COUNT YOUR BLESSINGS", I was looking very forward to seeing this show from the minute I saw it was booked.
Since the age of twenty, NICK MOSS has toured with such blues greats as JIMMY DAWKINS, WILLIE "BIG EYES" SMITH and JIMMY ROGERS. Not bad for a so called "newcomer". That's what the BLUES FOUNDATION considered him when they nominated him as BEST "NEW ARTIST" at the 2003 W. C. HANDY AWARDS. That's also what the crowd at the BAMBOO ROOM considered him. Most of those in attendance, that I had talked with, admitted to not knowing much about NICK and were quite frankly, unsure of what to expect. Having assured all that had asked that they were in for one hell of a blues show, it did not take long, after the band had taken the stage, for the crowd to agree.
NICK MOSS on guitar; BARRELHOUSE CHUCK on piano, organ and Hammond B-3; JASON STERMAN on bass; GREG "SMOKEY" CAMPBELL on drums all took the stage by storm and at the end of the night the newcomer moniker was shed and NICK MOSS & THE FLIPTOPS were a house hold name for this audience.
As I said in the CD review, I am a blues purist and I like my blues authentic, straight up and in my face, and from the time this band took the stage until the time they got off, that's exactly what was dished out. NICK & CHUCK were relentless together. Taking turns on vocals and taking turns tearing up their respective instruments they kept the very large crowd constantly in awe. The guys were so tight and so into a never-ending groove that it seemed to me like it was four instruments being played by four bodies that were being led by one brain.
What a great night, what a great show, what a great band!



~This article also appears in the Oct/Nov issue of Big City Blues magazine~

BIG BILL MORGANFIELD
BY PETER "BLEWZZMAN" LAURO, © September, 2003



So you're a little kid growing up in one of the best blues cities in the world - Chicago, and your daddy just happens to be Muddy Waters - one of the best blues musicians in the world........how cool is that? As you are sitting around the house on a Saturday afternoon, trying to watch cartoons, your dad and a few of his CO workers - Little Walter, Junior Wells, James Cotton, Buddy Guy, Otis Spann, Jimmy Rogers, Luther Tucker, Pinetop Perkins, Paul Oscher, Calvin "Fuzzy" Jones, Willie "Big Eyes" Smith, Bob Margolin, Carey Bell and a few hundred other elite bluesmen are in the next room rehearsing and talking shop. A situation like that would make it easy for any young boy to absorb enough talent to eventually become a star himself right? Call it "musical osmosis" so to speak.

In actuality, as good as this all sounds, the above situations never took place. Although BIG BILL MORGANFIELD is indeed Muddy's son, it wasn't until his teenage years that he ever met his dad. BIG BILL grew up in Ft. Lauderdale, not Chicago and he never met any of his fathers band members and CO workers until after Muddy had died. Throw out the "osmosis" theory and enter the "inheritance" theory. That's exactly how my friend Doctor Mike, being the eternal science major, described it. As I leaned over and commented to him on how each time I see BIG BILL he seems to more and more look like, sound like and act like Muddy, "genetics in action" was the blues doctors response. Call it what you will, but BIG BILL MORGANFIELD'S desire to be have a relationship with his dad, even just through his music, is a blessing for blues music and Muddy fans.

The sold out audience at the BAMBOO ROOM agreed. BIG BILL MORGANFIELD, joined by MAX DRAKE on guitar, ROBERT "FREIGHT TRAIN" PARKER on bass and TIM GUNTHER on drums, repeatedly drew standing ovations. The show started out with the band doing a few soft, rootsie type, acoustic/electric blues numbers and then continuing on into some serious electric Chicago blues. The crowd seemed to particularly enjoy the long jam style grooves the band constantly fell into - the kind that made every hand in the place tap every knee in the place while heads bob back and forth and feet all tap all in time.

BIG BILL certainly proved to this audience why he was worthy of winning the W. C. Handy Award for "Best New Artist" in 2002 and he made it clear that he will be a force to be reckoned with in the blues world. You can check out BIG BILL MORGANFIELD at his website - www.bigbillmorganfield.net - Support the band, support the blues and support live music.



Shop for BIG BILL MORGANFIELD's music by clicking HERE.
Shop for MUDDY WATERS' music by clicking HERE.





LADELL McLIN & THE LAZY AMERICANS
BY PETER "BLEWZZMAN" LAURO, © August, 2003



Out of the blue one day, or maybe I should say out of the 'blues' one day, I got an email from someone I had never heard of before. She introduced herself as WENDY OXENHORN. As it turned out, WENDY was contacting me to invite me to the performance of LADELL McCLIN, also someone whom I had never heard of before.

Wendy explained to me that she had discovered me through this website, and her and LADELL would love to have me as their guest at the show. She further explained to me who her and LADELL were and told me a little bit about the two of them.

I must admit, that although her reference to LADELL McCLIN as "being the next BUDDY GUY and JIMI HENDRIX" aroused my curiosity and excited me, it simultaneously scared me. If WENDY was inviting me to see LADELL play the blues like BUDDY & HENDRIX could play the blues, then I was excited. On the other hand, if WENDY was inviting me to see LADELL play "THE STAR SPANGLED BANNER" like HENDRIX or "fake it" as BUDDY so commonly now does, then I was scared.

In any event, I accepted the invitation and made the hour plus drive, in the pouring rain, to see the next BUDDY GUY & JIMI HENDRIX. As the band took the stage both my wife and I looked at each other with "oh no, we made a mistake" looks on our faces. The Drummer - "SWISS" CHRIS FLUECK - looked like he belonged to Eminem's Band, the bass player - JEREMIAH HOSEA was right out of a Jamaican Posse, and LADELL McCLIN looked like he and the Sharks were ready to take on the Jets in a remake of West Side Story. Thankfully the band went into a scorching version of "GOING DOWN", followed by an excellent interpretation of "RED HOUSE". My wife and I, now smiling, were very relieved to have had the wrong first impressions.

Musically, the show was quite good. LADELL McCLIN is indeed a very talented guitar player and unquestionably has a shot at possibly being the next BUDDY or JIMI. Unfortunately, on this night he played a little too much JIMI and not enough BUDDY.

"SWISS" CHRIS on the drums was nothing short of amazing. His obvious hip-hop experience which he took with him to this show made him extremely entertaining and a lot of fun to watch. His energy is endless.

The surprise of the evening was when WENDY OXENHORN took the stage and played harmonica. Although she didn't play long enough and seemed a bit timid on stage, this lady is one heck of a harp player and was the highlight of the evening for me.

This month's issue of JAZZIZ MAGAZINE, their once a year SPECIAL BLUES ISSUE, features a very nice article on WENDY & LADELL-check it out it is quite interesting...
https://www.jazziz.com/pages/current_issue/feature/v20n08feature.asp







~This article also appears in the June/July issue of Big City Blues magazine~

ANSON FUNDERBURGH & THE ROCKETS featuring SAMMY MYERS
BY PETER "BLEWZZMAN" LAURO, © June, 2003



Although the Blue Note Cafe' in Jupiter, Florida has been featuring blues music as it's main attraction, up until very recently the music was only provided by the local talent. However, the past few weeks, proprietor Tom Dooley has decided to give some national acts a try. This is excellent news for the local blues community.

Anson Funderburgh & The Rockets, featuring Sam Myers provided the new venture with some excellent momentum. On a recent Friday night, they performed to a very enthusiastic packed house. I guess the way to try something new and make it work is to start with the best. Anson Funderburgh & The Rockets are perennial nominees for the "Best Blues Band of the Year" award at the W.C. Handy Blues Awards. As a matter of fact, they even won the award a few years back along with a second award for "Best Blues Song" for "Change In My Pockets."

I don't know how many of you will be able to relate to this, but if you can, then you'll understand the magnitude of this band. Anson Funderburgh & The Rockets are the kind of band that just take you to the next level.

Several times during the evening they had such a grip on me that I thought to myself "Just lock me in here and throw away the key." From the very first note, Anson Funderburgh (guitar), Sam Myers (vocals/harmonica), Eric Przygocki (bass), Doug Swancy (drums) and John Street (keyboards) immediately get into a groove and never once leave it.

Anson Funderburgh may very well be the smoothest and best guitar player out there today. It seems to come so natural to him. He uses no tricks and no foot pedals. The Washington Post once did a story on him and write that "Funderburgh seems far more interested in playing just the right note than a blistering series of the obvious ones" and I agree. The band seems to thrive on just jamming, and when they do, they do it so well.

Sam Myers, who played harmonica for the late great Elmore James has been with the Rockets since 1984. With his statuesque size and his legendary status, Sam exudes a persona of blues royalty. The Encyclopedia Of The Blues by Gerard Herzhaft lists Sammy's "Sleeping In The Ground" to be among the blues standards "most famous and most interpreted in blues history."

Anson Funderburgh & The Rockets should be on everyone's must see list.
Catch them as soon as you possibly can and be sure to check out their website at: www.ansonandtherockets.com


Shop for Anson Funderburgh & The Rockets cd's at Amazon.com by clicking HERE

Click HERE To Return To The Live Show Reviews Index






Click Here To Return To The CD Review Index
Click Here For The Blues Portal
Click Here For The Indie Portal
Click Here To Visit Our Music Gift Shop


---




Copyright ©1998-2011 Mary4Music.com. All Rights Reserved.