Live Performance Reviews
Page 2



~This article also appears in the Apr/May issue of Big City Blues magazine~

MARCIA BALL
BY PETER "BLEWZZMAN" LAURO, © April, 2003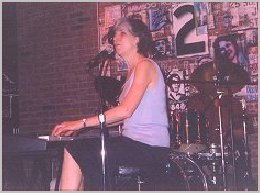 The first time I saw MARCIA BALL perform was many years, a bunch of CD's, several Handy Award nominations and two Handy Award wins ago. One of the things that stands out in my memory about that night, aside from the incredible performance she put on, was the way that Marcia and the crowd bonded. As soon as the first set had ended, Marcia stepped to the side of the stage and a line to greet her immediately formed, almost as if rehearsed. As I sat there watching the joy on her face and on the faces of her fans as she greeted and chatted with each person in the line, I knew that I was watching a performer who enjoys her work and one that would achieve success and longevity in a business that rarely allows those goals. Since that time, I have had the pleasure of seeing her perform many times, and it was a real treat for me to be in the audience last year when her new CD, PRESUMED INNOCENT won the Handy for Blues Album of the Year.

Recently, MARCIA BALL performed to a sold out crowd at the BAMBOO ROOM, in Lake Worth, Florida. To say that she raised the roof on the building would be an understatement. As soon as she took the stage, the long, lean, lovely legged lady had the crowd in the palms of her hands. She opened with a raucous version of ROCK IS WHAT WE DO, and it took all of 30 seconds to get the whole place rocking. After that, there was no looking back. Marcia and the band, which consisted of PAT BOYACK on Guitar, BRAD ANDREW on sax, DON BENNETT on bass and MARK WILSON on drums, used just the right blend of serious boogie woogie, soft soulful ballads and raunchy roadhouse blues to thoroughly entertain the crowd and never let them from their grasp.

As the first set came to a close, I found myself looking forward to the break, simply to watch Marcia mingle. Sure enough the line formed, Marcia took her spot at the side of the stage and the love affair continued to blossom. Some things never change.....how wonderful!

Once again this year, MARCIA BALL has been nominated for Handy Awards in the categories for Best Contemporary Blues Female Artist Of The Year and Best Instrumentalist - Keyboard. I'll again be there in the audience, hopefully Marcia will again be there accepting an award.

Recently, Marcia teamed up with ALLIGATOR RECORDS, and this should and will be a milestone in her career. She admits to "be thrilled to be with Alligator," and BRUCE IGLAUER, Alligator record's president has said "I have been a fan of Marcia's for years, and I have watched her grow from being a terrific interpreter of New Orleans and Texas blues and R&B into an excellent songwriter who can deliver a ballad that really touches your heart. She's got one of the biggest, most devoted cult followings of any roots music artist, and she earns it by delivering some of the best party music and the most soulful, deepest blues and ballads night after night." Alligator and Marcia will be the proverbial 'match made in heaven.' Marcia's next CD SO MANY RIVERS, will be available on April 22.



You can purchase MARCIA BALL'S CD's at Amazon.com by clicking HERE

You can visit her website at: www.marciaball.com
Check Marcia out at Alligator Records website at: www.alligator.com





~This article also appears in the Dec/Jan issue of Big City Blues magazine~

THE 16TH ANNUAL SOUND ADVICE / FORT LAUDERDALE BLUES FESTIVAL
BY PETER "BLEWZZMAN" LAURO, © December, 2002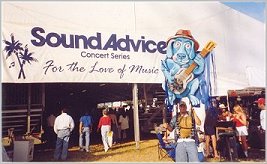 The FORT LAUDERDALE SOUND ADVICE BLUES FESTIVAL takes place the first weekend in November each year. Last years event, which occurred just 7 short weeks after the horrible happenings of 9/11 and with a hurricane just several hundred miles away and threatening to strike the area, was a real bust. This led to the city and it's main sponsor - Sound Advice - to attempt to write a song called 'BLAME IT ON THE BLUES'. Several months before the event, word came from the festival organizers that this years 16th annual event would not be a blues fest but rather a generic music fest. The blues community was up in arms. However, after some strong persuasive battling from committee member "Memphis" Mark Fodera, South Florida Blues Alliance President Bob Weinberg and the Downtown Blues Alliance of the Treasure Coast (of which I am president), we were able to make the powers that be see the light. Happily, the city abandoned their thoughts of abandoning the blues and put on one heck of a festival. The acts included Shemekia Copeland, Jeff Healy, Paul Reddick and the Sidemen, Richard Johnston, Anthony Gomes, Ronnie Baker Brooks, Colin James, Sonny Landreth, The Fabulous Thunderbirds, Eric Sardinas, Lucky Peterson, E. G. Kight, Chief Chris and His Nairobi Trio, Teresa James, Lucky Peterson, Delbert McClinton, a slew of excellent local bands and presentations from renowned photographer Dick Waterman and Alligator records founder Bruce Iglauer. Quite impressive for what was almost a non-bluesfest.
Since space in this column is limited, I will not be able to review each act. At events of this type I try to take notice of bands that catch the audience by surprise and I will concentrate my review on two such acts. Although fast becoming a national act, Paul Reddick and the sidemen are still relatively unknown to the blues population in certain areas of the country. From the size of the crowd that gathered at the auxiliary stage and their response to this bands performance, that is not the case in South Florida anymore. Watching and listening to Paul Reddick sing and blow harp, Robert "Freight Train" Parker on bass and an almost show stealing performance by amazing guitarist Shaun Kellerman. it became quite clear as to why this band was nominated for a Best New Artist award at this years W. C. Handy Awards. On the web you can check them out at www.thesidemen.com
Another act that achieved receiving overwhelming response from the crowd was Albert Castiglia. Although living in Miami and playing with a local bar band, Albert has had his share of experience and could be the next break out blues artist. One night in 1997, at a now defunct blues club called the Back Room, Albert was fortunate enough to get to jam with the late great Junior Wells. Junior was so impressed with this young mans work that three months later, when he found himself needing a guitarist, he asked Albert to join the band. For the rest of that year and until Junior got too sick to perform, Albert Castiglia was part of the Junior Wells Blues Band. Prior to moving back to South Florida, Albert also toured with Sandra Hall. Albert is one of those performers that seems to hypnotize you during his performance. You key in on him and you just can't take your eyes off of him. His good looks, his smile, his facial expressions, his energy and his enthusiasm make him a sheer joy to watch. Check him out at www.albertcastiglia.com.
Of course, musically speaking the highlight of the fest was The Fabulous Thunderbirds. Even without Jimmy Vaughn and without Kid Ramos, this band is just phenomenal, especially since this nights performance was all pure blues. There is no need to go into detail here, just saying KIM WILSON says it all. I happened to be lucky enough to be right on stage as Kim went into a 10 minute solo and I, as well as everyone in the crowd, was in awe. Obviously you can visit their website at www.fabulousthunderbirds.com.
I cannot end this article without giving a nod to Dick Waterman, a member of the Blues hall of fame, and probably the most interesting person ever to have anything to do with the blues. If you have not experienced a presentation of his photographs make it a point to do so whenever the opportunity arrives. Aside from having close ups of every bluesman spanning 6 decades, he has an equally interesting story about each and every one of them. I walked away from his presentation with a very heart warming, fulfilled feeling and with a whole new found knowledge of the blues. Dick, you are an incredible man, keep up the good work. Check out Dick Waterman on the web at www.thehaven.net/watermanrs.htm
I also feel that I cannot end this article without giving a great big thank you to Sound Advice, the City of Fort Lauderdale, and festival organizer Debbie Dunbar for not "blaming it on the blues" and putting on an extraordinary festival.



GOV'T Mule
BY PETER "BLEWZZMAN" LAURO, © November, 2002



The first time I saw GOV'T MULE was 3 years ago, when ALLEN WOODY was still alive, and they played some excellent blues. The second time I saw them was 2 years ago at the W.C. HANDY AWARDS, they were backing up LITTLE MILTON, and again they played some excellent blues. My third time seeing them was last night and I am trying to figure out exactly what happened..........was I just getting flashbacks, or did I make a wrong turn on I-95 with the time machine and end up at the FILLMORE EAST?

As soon as the band took the stage, everyone in the audience stood up (and never sat back down) and immediately 'lit up'. Besides not being able to see, I was barely able to breathe without getting 'second hand stoned'. I wish my sense of hearing would have been as equally impaired as my other senses were, but no such luck there. Unfortunately I was still able to hear the noise......errrrrr excuse me, I mean the music. After about 30 - 40 minutes, with the crowd still standing and still puffing, and still having not heard one lick of blues yet, I had to leave. As I gasped my way through the crowd that was now standing in the aisles, my only concern would be that the time machine would return me from this era of a rock concerts back to MY BLUES HEAVEN..............



You can purchase GOVERNMENT MULE'S Music at Amazon.com by clicking HERE





~This article also appears in the Oct/Nov issue of Big City Blues magazine~

EG Kight - In Concert
BY PETER "BLEWZZMAN" LAURO, © October, 2002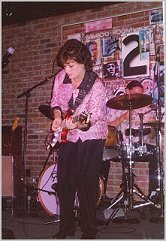 EG Kight. Remember that name because there is no doubt in my mind that you will soon be seeing it on W.C. Handy Award ballots. And when you do, don't be surprised if you see it in several categories. EG, a.k.a. the "Georgia Songbird," is an extremely talented singer, guitar player, songwriter and performer. She writes most of the songs she sings and has also written songs for Sapphire the Uppity Blues Women and for the Queen herself, Miss Koko Taylor.

On her recent four club tour of Florida, I was fortunate to have caught two of the shows. The first was at a sold out BAMBOO ROOM show. Having seen her in the past at the Ft. Lauderdale Blues festival, I knew the show was going to be great and indeed it was. From the time EG takes the stage you just absolutely fall in love with her. You immediately feel her well bred, southern mannered, natural persona fill the room. And then she starts to sing, and from that moment on you are under her spell. She has such an astounding vocal range and uses that in tandem with a superb song selection to really keep the crowd in awe. She will sing a version of "At Last" that will leave a tear in every eye in the room, then jump to "The Queen," which starts out as a twangy country song and ends up turning into a real low down blues song. This song by the way is a true story about how she used to be a country singer then she met Koko Taylor, and was inspired to sing the blues.

When you think of some of this genders legends, whose style of belting out great songs leaves an everlasting impression, names like Etta James, Ruth Brown and of course the Queen of the Blues - Koko Taylor come to mind. But when I watch and hear EG sing, when I feel what she was feeling as she wrote the song, when I experience the performance and when I see the way the crowd reacts to her every song, it is clear to me that I may be very well watching the heir apparent to the throne. She certainly has the credentials, and once she gets the recognition she deserves, there is every reason to believe that the "Georgia Songbird" will leave her own lasting mark on the blues.

EG's band this evening consisted of Lee Anderson on lead guitar, Johnny Fountain on Bass and an absolutely phenomenal drummer by the name of Gary Porter. The unanimous buzz around my table, which consisted of 10 of us, was that this was perhaps the best performance by a drummer that any of us have seen. Gary was making me sweat just watching him. I swear he was popping six inches off his stool every time he hit a cymbal.

The following evening was a wonderful replica performance. However, it was in my very own tiny little home town of Port St. Lucie, FL. EG played to another full house and it may have very well been the best entertainment this town has ever seen.

Be sure to check out EG if she appears at a venue near you.



Purchase EG KIGHT'S music at Amazon.com by clicking HERE

Visit EG on the Web at: www.egkight.com





~This article also appears in the Aug/Sept issue of Big City Blues magazine~

Pat Ramsey - In Concert
BY PETER "BLEWZZMAN" LAURO, © July, 2002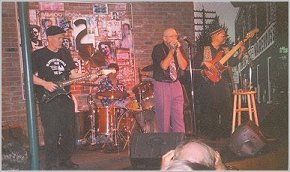 Every time I see Pat Ramsey and the Blues Disciples, I get 'blown away' and 'baffled' at the same time.
I'll explain the baffled part later.

When I stop and think of the abundance of tremendously talented harp players out there, it confuses me to have to use the term 'favorite' in conjunction with any of their names. However, if I had to narrow down the list, the name PAT RAMSEY would be on it. Pat can blow a harp as well as any of the best I have seen, and combined with his very dynamic, soulful, bluesy vocals, his performances are always memorable. He'll do a rendition of LOVE HER WITH A FEELING that will bring tears to your eyes, then blow you away with I'M ALLERGIC TO WORK.

Most bands, during a live performance, will feature a 'follow the leader' type stint between two instruments. Pat, with his long time guitarist and best friend Dave Renson, take such a stint to new levels. Several times during the evening they got into quite extensive exchanges. From the looks on their faces it is very obvious that they are enjoying it and that portions of it have not been rehearsed. They will exchange the lead many times, actually trying to lose the follower, but neither one of them ever misses a note. Taking part in this musical banter seems as enjoyable to them as it is to their audience. Accompanying Pat and Dave are the rhythm section of Dennis Cedeno on bass and Al Piccininni on drums. Together these four gentlemen form one heck of a blues band.

As amazed as I am at this bands great performance level and their musical talent, I am as equally baffled as to their obscurity. Sure Pat Ramsey is best known for his work on the Johnny Winter album WHITE, HOT AND BLUE, but beyond that, he nor his band are getting the recognition they deserve. Unfortunately, they may very well be the blues' best kept secret. This band should be a national touring act, a festival headliner and have their CD's in record stores around the country - I feel they have the necessary credentials. Too bad, some big record company is missing the boat leaving Pat Ramsey and the Blues Disciples unsigned.

Check them out if they happen to appear at a venue near you.


You can order their CD's - IT'S ABOUT TIME" and LIVE AT THE GRAND - at their website: www.patramsey.com





Beautiful Bobby Blackmon - In Concert
BY PETER "BLEWZZMAN" LAURO, © May, 2002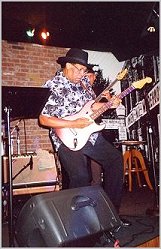 Seeing BEAUTIFUL BOBBY BLACKMON at the Bamboo Room in Lake Worth, FL. a few weeks ago, is without question the surprise show of the year, thus far, for me. I use the term surprise, because just how good this show actually was indeed did surprise me. Please allow me to explain. I had heard B.B.B.`s new CD entitled "I'm Dialin' 911", and even wrote a favorable review of it. However, as well done as the CD was - vocally and musically - it was not bluesy enough for my particular taste. Everyone that reads any of my reviews knows that I much prefer straight up blues over the R& B style of blues. BOBBY'S guitar playing on the CD did tease me enough to know that he could be extremely capable of the stuff that I like and I was hoping that at a live performance I'd get more of a taste of it. Well, let me tell you, I was not disappointed.
BEAUTIFUL BOBBY BLACKMON can play the blues along side any of the best I have seen. The show was tremendous! Not having the notoriety of a national act was not a problem for BOBBY. By the end of the night he had the very large crowd hooting and hollering for more. Joining BOBBY were JACK BUMGARNER - Keys/Organ, CHUCK NEWCOMB - Bass and DARNEL KELLY - Drums. The band is based out of the ORLANDO, FL area which could be a good thing for you Florida visitors. On your next trip to the area's theme parks, be sure to pick up a local newspaper and see where BEAUTIFUL BOBBY BLACKMON will be playing and go see him. It will definitely be an enjoyable evening, this I can promise. The only thing that I still haven't quite figured out is who gave BOBBY the nickname BEAUTIFUL. It had to be either STEVIE WONDER or RAY CHARLES...........just joking BOBBY, you know I know you're beautiful - Best Wishes to you and the band.



Darrell Nulisch - In Concert
BY PETER "BLEWZZMAN" LAURO, © April, 2002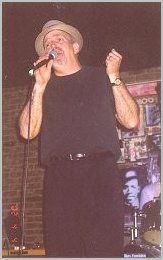 I first became a fan of DARRELL NULISCH while listening to a HUBERT SUMLIN CD called "HEALING FEELING." A song titled "PLAY IT COOL" came on and I was awed by the vocals on this cut. As the song ended I immediately hit replay and reached for the CD to see who it was that was blowing me away with his voice. It was DARRELL NULISCH, and from that moment on, he became and has remained my personal favorite vocalist. His style of singing the blues is so smooth and so soulful that it sends chills through you as you listen.

As I anticipated seeing this past Thursday nights show at the BAMBOO ROOM, in Lake Worth, Fla. I knew that I would be in for a real treat and indeed a treat it was. Not only did DARRELL blow the room away with possibly one of the best singing performances that I have ever seen and heard, but he also had a quite excellent band with him. JOE KAPP on the Hammond B-3 and DAVID EARL on guitar were extremely impressive. They habitually drew very enthusiastic acknowledgment from the audience after every one of their solos. From the smiles on these two young musicians faces throughout the performance you could easily tell that they were having as good a time playing as we were watching and listening. Joining them were SCOTT STUMP on drums and DARRELL'S long time bassist STEVE GOMES (also on that HUBERT SUMLIN CD). Together these four fine musicians just seemed to get into a groove from the first song and never left that groove. This combined with DARRELL'S premiere vocalizing indeed made this one of the better shows that I have seen.

I highly recommend catching DARRELL NULISCH and company when they play a venue near you.



Purchase DARRELL'S CD's at Amazon.com by clicking HERE

You can visit Darrell Nulisch on the Web at: /www.severnrecords.com/nulisch/order.html





Pinetop Perkins and the Nighthawks - In Concert
BY PETER "BLEWZZMAN" LAURO, © March, 2002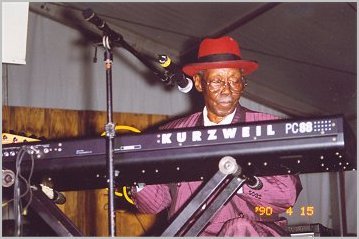 This months review is about a show that could very well have, and appropriately so, been billed as "100 YEARS OF BLUES IN ONE EVENING." That's what you get when you put PINETOP PERKINS and the NIGHTHAWKS together. PINETOP, who will turn 90 next year, has been playing the blues for eight decades -- before switching to piano, he started out as a blues guitar player in the 30's. On the other hand, the NIGHTHAWKS have been together for 30 years. Between them they have probably put out or played on virtually hundreds of records. If you ever wanted to write an "A--Z" or a "who's who of the blues" type book, just ask PINETOP and the NIGHTHAWKS who they have performed with over the years and your research would be over.

As for the evenings performance, it was as expected -- EXCELLENT. The NIGHTHAWKS, a.k.a. "The Worlds Greatest Bar Band" started off with their usual blistering, in your face kind of blues that they are famous for. About 40 minutes into the set, MARK WENNER the great harp player and lead singer of the NIGHTHAWKS, invited PINETOP to the stage and the shift was made, from the 'legendary band' to the 'legendary man' taking the helm. It seemed as if PINETOP, a.k.a. "The Worlds Greatest Piano Player," hasn't let the decades slow him down as much as you'd expect. He still plays his heart out and pounds out some great authentic Chicago style blues.

When the set ended, the sold out crowd at the BAMBOO ROOM were all on their feet hooting and hollering for more......and this was just the first set! What a great evening of blues entertainment this truly was. Seeing a ninety year old man and a band that has been together for a generation still drawing standing ovations was such a thrill.

Check out the BAMBOO ROOMS website at bamboorm.com or call them at (561) 585-BLUE for information on future shows.
I am the BLEWZZMAN, and I welcome any comments on the blues.


Visit THE NIGHTHAWKS on the Web at: www.thenighthawks.com/hawks.htm
Learn more about PINETOP PERKINS by visiting BLIND PIG'S Website at: www.blindpigrecords.com/

You can purchase PINETOP PERKINS' music at Amazon.com by clicking HERE

Click HERE To Return To The Live Show Reviews Index






Click Here To Return To The CD Review Index
Click Here For The Blues Portal
Click Here For The Indie Portal
Click Here To Visit Our Music Gift Shop


---



Copyright ©1998-2011 Mary4Music.com. All Rights Reserved.