Live Performance Reviews
Page 18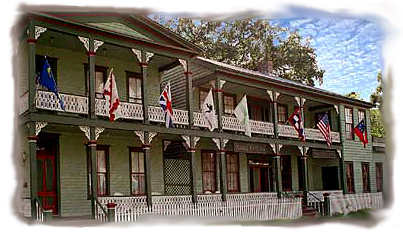 "Bed, Breakfast, Blues And Boos"
The Florida House/The Frisky Mermaid
BY PETER "BLEWZZMAN" LAURO © DECEMBER 2007



Having driven from New York to San Francisco and back, from New York to Los Angeles and back, from Florida to San Francisco and back, having made countless round trip drives from Florida to New York, and having gone on many road trips to wherever there was a blues festival, you can bet I've spent my share of nights at various places of lodging. However, I never really looked at it as "lodging". To me it was just another obstacle that wasted my time and my money, while on my way from point A to point B. I never really gave two thoughts as to how good - or worse yet, to how bad the place was. Like a gas station, it just needed to be near the highway and cheap. Having said that, I can now tell you - from experience - that the Bates Motel was not just a place in an Alfred Hitchcock's tale. It exists. As a matter of fact, it may very well be a chain, because I've stayed in lots more than one.

Of course, there were those times while on various vacations, that I did need to be in a particular place of lodging for several nights or longer. On those occasions, although not the primary one, quality and comfort were an issue. Those were the times I felt it necessary to step it up a notch and usually made reservations at an "Inn". Of course the Inn did have the word "Sleep", "Day's, "Knights" or "Holiday" in front of it, but what the heck.....at least I never had to slide the dresser in front of the door.

Heretofore, it's very safe to assume that I'm not your typical Bed and Breakfast kind of guy. You see, about the only way you'd ever get me to spend a night at a Bed and Breakfast is to find one that had a blues club in it. A place where I might be able to catch such national touring acts as BOB MARGOLIN, ALBERT CASTIGLIA, KENNY ACOSTA, KING MUDDFISH, WILLIE "BIG EYES" SMITH or LI'L RONNIE & THE GRAND DUKES, to use a few examples.

Well, lo and behold, such a place exists. As a matter of fact, all of the above names, and many more have played there. The place is called 'THE FRISKY MERMAID" and it's located inside "THE FLORIDA HOUSE INN BED AND BREAKFAST". It's on Amelia Island in the very heart of the Fernandina Beach Historic District, it's Florida's oldest surviving hotel, and it's listed in the National Register of Historic Places. Although they didn't come for the same reason I did - the blues, the ROCKERFELLER'S, the CARNEGIE'S, ULYSSESS S. GRANT and LAUREL & HARDY are just a few of the INN'S earlier guests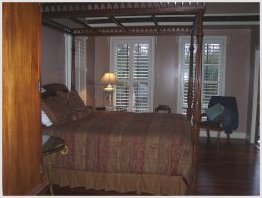 Our absolutely beautiful room
During our visit, we were very fortunate to catch STORMY WEATHER, a blues band from the Jacksonville, FL area. The very tight six piece band consisted of DAVE HOBER on piano and organ, MIKE BESECKER on sax, GEORGE FLEISHCER on drums, KEVIN GLOVER on bass, RICK BERERTI on guitar, and front man GEORGE LENZI on harp, vocals and wise cracks.
Had anyone but the band members themselves told me this, I would have called them a liar. You see, it was explained to me that the band had not been together all that long and that a few of the guys were actually newcomers. Not according to what I saw and heard. STORMY WEATHER was such a tight, extremely professional, well tuned ensemble of musicians, that one would have bet this was a veteran, seasoned band.
The guys played several sets - of which the last one we enjoyed from our room, which was right above the stage - of covers by Paul Butterfield, Albert Collins, Freddy King, Eddie "Cleanhead" Vinson and other notable blues acts. The show left us looking forward to seeing STORMY WEATHER again - especially after they've had time to get even more comfortable with each other.
I highly recommend that if the FRISKY MERMAID / FLORIDA HOUSE INN, which is located at 22 South 3rd Street, Fernandina Beach, FL 32034 is within your realm of travel, you consider checking them out, especially if you're a member of the blues community - which you are or you wouldn't be reading this. The facility offers blues, bluegrass, and local singer/songwriters every night. In addition to casual overnight stays, they specialize in wedding and family reunions.

| | |
| --- | --- |
| | |
| The Frisky Mermaid With A View of the Courtyard | The Frisky Mermaid With A View Of The Inn |
So now you might be thinking, "OK Pete, that covers the bed, breakfast and blues part, but what are the "Boos"? Well, as legend has it, the FLORIDA HOUSE INN has another interesting feature - it's said to be haunted. Dwellers have allegedly seen the ghost of a man, a young boy and a madam who operated the inn during it's era as a brothel.
This made for an interesting evening. Both my wife and I intentionally slept very lightly - me in hopes of meeting the madam and her to keep it from happening. Although we were spared any sightings, we did notice several things in our room were not as they were when we had left for our night of entertainment.
I'm already looking forward to my next trip back. I'm hoping that if the place is really haunted and that if I am ever going to see a ghost there, that it's the ghost of Muddy Waters, John Lee Hooker or Willie Dixon. What better place than for that to happen?
Check out the FRISKY MERMAID and the FLORIDA HOUSE INN at..... www.FriskyMermaid.com and www.FloridaHouseInn.com and please be sure to tell owners Joe and Diane Warwick that Pete the Blewzzman sent you for a bed, breakfast, some blues and hopefully a few "boos".


---


Mohawk Valley Blues Festival
New York, June 30, 2007
Brian Cornish, Secretary, Mohawk Valley Blues Society ©2007



How do you begin to talk about a miracle? We had so many questions and worries for so many months, NO government funding at all, or philanthropic grants, and no idea if anyone would show up for our first festival - and look at what happened! The passion that everyone involved has for the music, and for their community, is what carried us through. From the local sponsors and media support, to the number of people who traveled from far and wide to attend, to the pride of the fairgrounds staff and festival volunteers, to some of the greatest live music I've ever heard, I think we got the recipe right! I just hope someone remembers all the ingredients!



I could write a book of all the wonderful things that happened on June 30, 2007, but I'll keep it manageable by listing just some of my own personal highlights. I'll let song titles and lyrics help tell the story:

Sun Gonna Shine On My Backdoor Someday
The weather, despite frying my face and dome, was spectacular. By alternating stages, the music kept flowing, and with the tents and pavilion, people enjoyed moving in and out of the sun as they wished.

Come On In My Kitchen
Rave reviews for the food vendors, from the catering to everything offered to the festival goers. Can I get some more stuffed shells or a Chicken Caesar wrap?

You Gotta Help Me, I Can't Do It All By Myself
There were many, many comments about how friendly everyone was, from the parking lot guys to all of the volunteers, to the stage and production crew. We also had a great number of our sponsors attend the event, and many expressed how pleased they were to be associated with us.

It's a Long Old Road, But I Know I'm Gonna Find The End
The number of people who took the time to travel from so far away was mind-boggling. People came from Buffalo, Ontario, Long Island, New Hampshire, Vermont, Massachusetts, Virginia, Maryland, and Pennsylvania. And they not only took the time to drive here, they took the time to come up to the MVBS tent or to one of the board members or volunteers and offer thanks and a few kind words – very gratifying.

I Wonder When I'll Get To Be Called A Man
At 22 years of age, Dave Gross is a bluesman, hands down. He has an expressive voice, an engaging, swinging, fluid guitar style, and the wisdom to surround himself with top-notch band members. He has shredded many misconceptions about how many years you have to play, or where you have to be from, or who you have to learn from to make your bones in the blues. Also, harp maestro Dave Gruenling got several votes for the "Coolest Guy of the Day" Award (just ahead of the Elvis Presley dude). I mean, did you see those boots??!! The fact that the entire band came back to jam with the Lomeo Bros. on a cool, late night, several hours after their own performance, and share the spotlight with Gina Sicilia, made them many new friends in the Mohawk Valley.

Turn Me Loose
Fans got their first taste of the festival's local flavor as we unleashed Bernie Clarke & the Rhythm Sharks. After grabbing a quick beverage and bite to eat, people settled in and truly enjoyed the performance, just like we hoped they would.

Don't Want To Get Caught Up In You, Baby
How could you not get caught up in Roxanne Potvin? She has a special knack for both writing and recognizing songs with great hooks that stick with you long after you've heard them. With a million-dollar smile, and being so disarmingly charming and down-to-earth, she won the hearts of hundreds with her presence and her music.

Howlin' For The Wolf
Local axeman Jimmy Wolf got a huge response from the crowd for an all-out assault with his guitar and vocals. I've never heard him any better than that. Also, he had the best nickname of the day in his band, "Whoopin' Cough Johnny" on bass guitar.

O, Say, Can You See?
Not through the teary eyes of many fans, as Jimmy Thackery closed his incredible set with one of the most energized versions of our National Anthem many of us have ever seen and heard. Jimmy has said that when he performs, he tries to put his senses on hold and find the connection between his heart, his head, and his hands. Rather than cranking out the same note-by-note set list every show like some jaded veterans, it takes a special musician to be smart enough to figure out what he's feeling and have the skill to express it through his instrument. In a word: unforgettable.

Do You Call That A Buddy?
Al Nathan, Dan Porter, and Darryl Mattison clearly enjoyed having old friend Mark Evangelos come in from Rochester and join them for the day.

No Sorrow No More
On the Severn Records website, bassist Michael "Mudcat" Ward writes of Sugar Ray & the Bluetones latest CD, "Have a seat and listen to the far-reaching music on this disc. If you're anything like us, you'll find yourself thoroughly transported, by blues-playing professionals, and finding multiple joys in the journey." It can't be described any better. These guys are as good as it gets, and if anyone thought blues was just a bunch of down-on-my-luck songs, this group demolished that notion with groove, swing, backbeat, barrelhouse piano, some serious honkin' on the old tin sandwich, and one of the sweetest voices in all of blues music. A festival highlight, to be sure.

Feels Like Rain
During a poignant rendition of John Hiatt's "Feels Like Rain", precipitation both started and then stopped, in the same damn song! If Carl Weathersby didn't already have everyone in the palm of his hand, (his earlier crowd walk with a wireless guitar had the fans on their feet) he surely did after witnessing that amazing turn of events. He closed with an emotional version of "Hold On" a song of his that never got recorded, as Hurricane Katrina hit a recording studio in New Orleans, and all of his work was washed away. Afterward, I witnessed 8-year old boys, teenage girls, and fans of all ages line up to simply shake the man's hand. A consummate showman, with soulful vocals, Carl closed the main stage in great style.

Must Be Jelly, Baby, 'Cause Jam Don't Shake Like That
The Lomeo Brothers finished things up the day jamming with Dave Gross and friends. Despite the cool weather and late hour, many diehards stayed to get one last dose of great blues music.

But That Don't Mean Nothin' If I Feel Good All The Time
Late in the afternoon, I had an elderly gentleman hobbling with a cane approach me, and say, "I just had to tell you that I've been very ill for the past year and a half, in and out of hospitals, struggling with my health, and this is the best I've felt in all that time." Wow! I can't find the words to describe how I felt right then, but that was all the confirmation I needed that we had a successful event.

You can visit The Mohawk Valley Blues Society by clicking HERE







Click Here To Return To The CD Review Index
Click Here For The Blues Portal
Click Here For The Indie Portal
Click Here To Visit Our Music Gift Shop


---




Copyright ©1998-2008 Mary4Music.com. All Rights Reserved.