The 10th Annual
CAROLINA DOWN HOME BLUES FESTIVAL
October 5, 6, 7, 2006
CAMDEN, SC
BY PETER "BLEWZZMAN" LAURO ©2006



My quest to attend twelve blues festivals this year took me to Camden, South Carolina, the ninth leg of my national journey. Being a mere eight hr drive from the "House of Blewzz" this was clearly one of the logical locations to be placed on the list of events to attend.

However, tossing convenience and logic aside, there were many other reasons that the "CAROLINA DOWNHOME BLUES FESTIVAL" appealed to my senses. Truly on top of the list was the fact that inasmuch as Camden was a mere eight hours to the north from me, it was indeed the same mere eighth hours to the south from the "Music Box" - the home of my best friend and partner at www.Mary4Music.com - Mary Roby. Discovering that we stumbled upon a blues festival, that was the exact distance from Port St. Lucie, Florida as it was to Baltimore, MD, the road trip was on. Wooooo Hooooo!

Another interesting, as well as astounding phenomenon associated to this festival was the fact that I had - possibly with the exception of BRUCE KATZ - never seen any of the acts billed on this festivals lineup. Amazing! Granted, this was not one of those festivals where every act is a headliner, but nevertheless, the talent was outstanding. There were no Rod Piazza's, but there was a hell of a harmonica player (MIKE NAZARENKO)......there were no Roomful of Blues, but there was an act as powerful and as entertaining (MIGHTY LESTER)......there was no Shemekia Copeland, but there was a knockout, soulful blues singer (MISS WANDA JOHNSON)......and there was no B B King, but this festival was certainly not legend-less (NAPPY BROWN). As I said the talent was outstanding and it was certainly abundant.

The "CAROLINA DOWNHOME BLUES FESTIVAL" bills itself as a "crawl". Should you not be familiar with that term, it's a bunch of different performances, by a bunch of different performers, simultaneously taking place in a bunch of different venues, and one admission price entitles you to "crawl" from venue to venue.

This particular "crawl" included thirteen different venues, featuring approximately forty performances, by about twenty different performers, in thirteen different venues, spanning three fun filled evenings and one afternoon. All for the bargain price of $15 per day.

Although we didn't catch every act and didn't enter every venue, I'd like to acknowledge all of the participants and give everyone their due. The venues that made this event possible and offered the friendliest of service in a truly southern comfort atmosphere were: FINE ARTS CENTER OF KERSHAW COUNTY; BLUES KIOSK; THE POTTERS HAND; DAVIS & SONS GUITAR SHOP; TEN ELEVEN GALLERIA; THE SOUTHERN CONTESSA; THE CRESCENT GRILLE; THE VENUE; THE COURTYARD STAGE; LA FIESTA; GADGETS OF CAMDEN; BRE'S RESTAURANT; and PLUM'S RESTAURANT & LOUNGE inside THE CAMDEN INN.

The stars that made this a thoroughly enjoyable weekend are: NAPPY BROWN; THE KING BEES; BRUCE KATZ; ALEXIS P. SUTER; MISS WANDA JOHNSON; BALTIMORE RED JONES with WAYNE WERNER; ROBERT LIGHTHOUSE; MIGHTY LESTER; MOTHERLESS CHILLIN'; JEFF NORWOOD & LIL' JIMMY; SHANE PRUITT; TERRY ROBB; SHRIMP CITY SLIM; DRINK SMALL; GEORGE STANCELL & THE WONDERFUL ONES; TOMMY THUNDERFOOT AND THE ACCELERATORS; JON BOLIN; COTTON BLUE; RUSTY DAVIS; and "JERSEY MAN", the non-waiter who served us at the SOUTHERN CONTESSA.

"JERSEY MAN", who as he approached our table quickly proclaimed "I am not a waiter", just as quickly started backing up that statement. It wasn't really his fault though, he just received too many cell phone calls as he attempted to take our order. If there was ever a pilot for a situation comedy, one was about to unfold. I was beginning to think we were on Candid Camera. We all couldn't help but to fall in love with this retired Jewish man from New Jersey, who was as entertaining as any of the musical acts. Shecky Green, Henny Youngman and David Brenner have nothing over "Jersey Man". If this gentleman, who was obviously here helping out family in an emergency situation - because no one in their right mind would ever allow him to wait on a table in their establishment, should ever want to come out of retirement, I'm booking him on the club circuit in the Jewish Alps.

OK, ready to hear about some music? Good, 'cause here it comes. The festival kicked off early Thursday evening with an indoor/outdoor show at the FINE ARTS CENTER OF KERSHAW COUNTY. The back of the building has a double wide garage door that opens to an indoor stage, as the crowd watches the show from a grassy outdoor area. Talk about the back yard effect, it was surely captured here.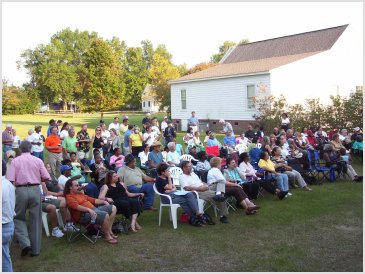 It was quite fitting that the person responsible for booking all the music for this event, GARY ERWIN, a fine musician himself, was the opening act. Better known as SHRIMP CITY SLIM, the band performed a few hot blues numbers to get the crowd ready to party. When the mood was right, GARY introduced MISS WANDA JOHNSON, and bingo....... THE 1OTH ANNUAL CAROLINA DOWNHOME BLUES FESTIVAL was in full swing.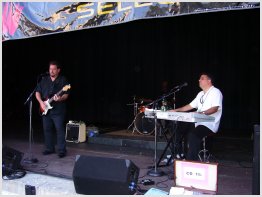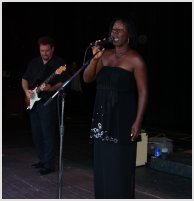 With GARY pounding out the blues on piano, "SOLID" EDDIE PHILLIPS laying down smoking licks on blues guitar, and LAMONT GARNER beating up the drums, MISS WANDA was working her magic.
By now she had stepped down from the stage and was singing as she danced with audience members. The party was now in full swing. The ninety minute set of great music and vocals, aided by a beautiful evening with free beer & hors d'oeuvres was a magnificent opening to what was going to be a heck of a festival.
SLIM & MISS WANDA had us in the mood for more blues, so we crawled on over to the SOUTHERN CONTESSA, where JERSEY MAN was not the only entertainment. MOTHERLESS CHILLIN' performed a nice mix of covers and originals - Piedmont style. This blues roots duo consisted of JEFF LIBERTY on guitar and MIKE NAZARENKO.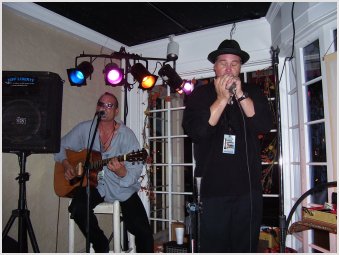 This excellent mix of great musical entertainment, a completely relaxed and enjoyable atmosphere, good food and friendly people made it hard for us to crawl on, but this was NAPPY BROWN'S only night in town.
We made it over to the TEN ELEVEN GALLERIA just in time for the start of the second set. The KING BEES, featuring Penny "Queen Bee" Zamagni on bass and vocals, Houndog Baskerville on guitar and keyboards and Mo-Joe Orr on drums, were doing an excellent job of warming up the crowd for the great NAPPY BROWN. NAPPY took the stage, proudly strutting out, in a fine and sharp looking tailor made outfit. He was lookin' good and feelin' even better. This big-voiced blues shouter belted out tunes as easily and as enthusiastically as he did during his heyday in the early fifties. NAPPY was happy and so was the crowd. This was certainly one of this festivals highlights.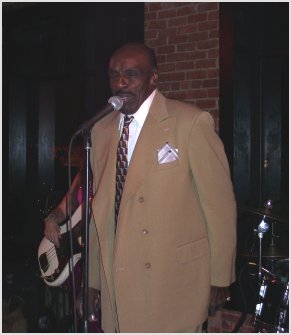 Having enjoyed the previous nights opening act as much as we did, we decided to kick off Friday evening catching an early set of SHRIMP CITY SLIM & MISS WANDA JOHNSON at POTTER'S HAND.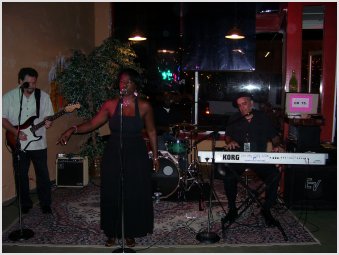 This show, in a more intimate and relaxed atmosphere, allowed the small audience to closely appreciate the bands musical talents. The guys were very tight and WANDA seemed to really enjoy performing a string of soulful ballads. Once again, another great way to start the night.
As we started this evenings crawl, the blistering chill in the air caused us to quicken our pace a bit. At this point crawl gave way to jog and we sought indoor versus outdoor entertainment.
As we entered the TEN ELEVEN GALLARIA, it didn't take long for the chill to leave our bodies. MIGHTY LESTER made sure of that. Their set absolutely set the place on fire. This eight piece ensemble, sounding more like double that, consisted of TODD DEWBERRY on vocals, LENNY TERENZI on guitar, JON NEWELL on piano and B3, RAY BOYCE on bass, JEFF THOMAS on tennor sax, JOE SUNSERI on baritone sax, ALEX ALMASY on trumpet and ERIC WEAVER on drums. I hate to say it because I know it's utterly redundant by now, but then again, how can a band ever tire of a compliment like this? MIGHTY LESTER is very reminiscent of the great Roomful of Blues. As I write this, I have already had an eye on there website in anticipation of my next encounter with this cast.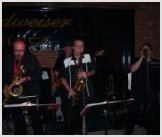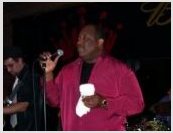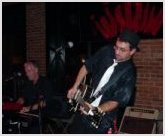 As the evening progressed, the temperature decreased and outdoor venues were no longer an option. This being the case, many indoor venues were at capacity and only letting people in as people left. All this was leading us to call it a night. There was plenty more tomorrow with shows starting in the afternoon.
Saturday we took in a complete two hour set of the SHANE PRUITT TRIO, which of course featured SHANE on guitar and vocals, BILL FLETCHER on drums & vocals and JIM PETERMAN on B3 & vocals. This was an afternoon set which had everyone hoping that other musicians would stop by and an all out happening might erupt. That never quite materialized, but these three guys really didn't need any support. Although SHANE'S style of play never has been, and never will be, my cup of blues, I will admit to being extremely impressed with this young man's talent. In a room full of people, of which SHANE'S style of play IS their cup of blues, he gave them just what they knew they were in for and I must say, the kid had me shaking my head in amazement. Just as Chris Duarte and Kenny Wayne Shepherd drew the rave reviews they did in their earlier years and just as Joe Bonamassa is drawing them now, I think the fans of these type of blues guitar slingers should keep their eyes and ears open for SHANE PRUIT, he very well could be the next one out of the gate.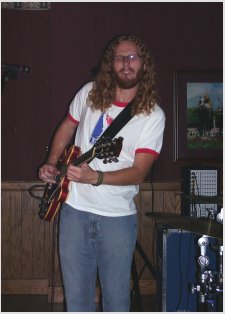 Later in the evening, as we headed to the crawl zone, the blues got to us before we got to it. As a result of windy, chilly and rainy weather, all outside acts had been canceled, causing us to never see some of the acts we had been hoping to.
This led us to take refuge inside the very beautiful, very warm and very comfortable WOOD AUDITORIUM, inside the FINE ARTS CENTER OF KERSHAW COUNTY. Here we caught a very wonderful performance by BRUCE KATZ on piano in a duet with vocalist extraordinaire ALEXIS P. SUTTER which was followed by an outstanding performance by singer, songwriter and guitar virtuoso, TERRY ROB.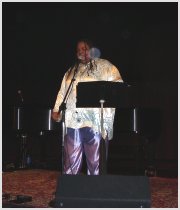 Deciding not to deal with the elements and venues which would certainly be overcrowded and knowing we all had an eight hour drive home on Sunday morning, at this point we were quite content in having the CAROLINA DOWNHOME BLUES FESTIVAL come to it's end.
A great big thank you goes out to Kristin Cobb, the Marketing Director of the Fine Arts Center Of Kershaw County, for the wonderful job she did of organizing and putting this festival together and for allowing Mary and myself the access we needed to not just put this article together but to have a wonderful time as well.

We have made it convienient for you to find out more about the above mentioned performers by listing their websites below:
Alexis P. Suter - www.alexispsuter.com/
Bruce Katz - www.brucekatzband.com/
Cotton Blue Band - www.cottonblueband.com/
Drink Small - www.drinksmallblues.com/
Jeff Liberty - www.jeffliberty.com/
Jeff Norwood - www.jeffsblues.com/
Mighty Lester - www.mightylesterband.com/
Motherless Chillin' - www.jeffliberty.com/Bands.htm#motherlesschillin
Robert Lighthouse - www.robertlighthouse.com/
Shane Pruitt - www.shanepruitt.com/
Shrimp City Slim - www.shrimpcityslim.com/
Tommy Thunderfoot and the Accelerators - www.tommythunderfoot.net/
Wanda Johnson - www.wandaj.com/



Click HERE to visit the BLUES MUSIC SECTION at Amazon.com







Click Here To Return To The CD Review Index
Click Here For The Blues Portal
Click Here For The Indie Portal
Click Here To Visit Our Music Gift Shop


---




Copyright ©1998-2008 Mary4Music.com. All Rights Reserved.