7 TH ANNUAL CULLODEN CHICK WILLIS BLUES FESTIVAL
SATURDAY, 09/02/06
ELLIS FIELD - CULLODEN, GA
BY PETER "BLEWZZMAN" LAURO ©2006



Ya know that town that you hear people refer to when they say "don't blink, or you'll drive right through it"? Well, I found it.....after backtracking of course. Ya see, the first time I drove through it I made a mistake and blinked, and indeed, I drove right through it.

Welcome to Culloden, GA. - home to approximately 264 Cullodenites and the "ANNUAL CHICK WILLIS HOMECOMING BLUES FESTIVAL". As the story goes, CHICK grew up and went to school in this area and pays tribute to his hometown by coming back and participating in a blues festival each year - this one being the seventh year running.

When I got wind of this festival, something inside of me told me I needed to attend it. Passing through the area as I drove from South Florida to Atlanta for a few days, made it actually happen and now I, as well as CHICK, am already planning on attending the eighth go around.

Arriving at the festival early, my wife and I immediately sought out LILLIAN DAVIS, the blood, sweat and tears of this event. When we found her, a new friendship was immediately born. Lillian is one of those people who after knowing them for only five minutes you feel like you've known them for years. LILLIAN, who had granted me her best wishes when I told her I wanted to do this article, not only provided me the access I needed, but she turned over the emcee duties to me as well. This town may not even have a red carpet, but they certainly know the chivalry associated with rolling one out.

The festival got underway with a robust performance by the FLOYD CHAPEL GOSPEL GROUP with PASTOR EDWARD COCHRAN accompanying. Regardless of the genre of music, the type of festival or the festival venue, the opening act is a tough spot. With the majority of the people coming in for the later acts, most of the times the band winds up playing for the staff, the volunteers, the vendors and the handful of diehards - like myself - who like to get there from the start. Today was no different. The FLOYD CHAPEL GOSPEL GROUP with PASTOR EDWARD COCHRAN, consisting of 12 members, may have actually had more people on the stage than in the audience. This didn't seem to matter to KENETH GOLDEN, RONNIE FRANKS, BRUCE ROBINSON, FRED DAISE, ANTHONY STODGHILL, BOBBY PLEASANT, TIM DAVIS, EDWARD HUNTER, DARRYL PRUITT, RICHARD BRYANT, CHRISTOPHER MILLER and EDWARD COCHRAN as they performed a very inspirational set full of spiritual and Gospel sounds.....they were singing to a higher power audience.

The next act up was a band from nearby Macon, GA. They consisted of four 17 year olds and called themselves TOM'S HAYLOFT. This clean cut foursome of D. J. POPE on Lead Guitar, JONATHAN SEALE on Bass & Lead Vocals, MICHAEL COLE on Rhythm Guitar and HAMPTON VERNON on drums, brought back memories of the very early BEACH BOYS. The guys played a very nice blend of soft rock, blues rock and down home blues, of which were mostly band originals. There's no question in my mind that somewhere down the road I'll be hearing some of these names again.

VERONIKA JACSKON, a blues/folk singer/songwriter was the festivals next performer. In the style of ODETTA, BONNIE RAITT, JAMES TAYLOR, LEDBELLY and BESSIE SMITH - all of whom she claims provided her the inspiration to believe in her music and herself - she pleased the crowd with a solid performance consisting of many originals.

Unfortunately, I did not get to catch the performance of JONATHAN BLANCHARD. The several hour drive combined with already being in the heat of the blistering sun for a few hrs was taking it's toll on me. In order to make it through the rest of the festival, I now needed to seek out the comfort and coolness of the Blewzzmobile for an hr or so.

Before giving way to the BREEZE KINGS, CHICK WILLIS and his band took the stage for a short 30 minute set. This was apparently a way of setting up the stage and getting in a good sound check before the upcoming showtime. It took all of 15 seconds into the first song before CHICK jumped from the stage and started roaming through the audience. Of course he made his way to just about every lady in the crowd. While tearing it up on guitar, and singing "YOUR PRECIOUS LOVE, "he jumped from lap to lap soaking up lots of kisses along the way. I'm not too sure how many, but I heard a few proposals from some of them gals. This mini set was a great little tease and left us all - especially the ladies - thirsting for more.

Since reviewing one of their CD's, about a year and a half ago, I had been looking very forward to catching the BREEZE KINGS live. The day had now come. Things got turned up a notch as CARLOS CAPOTE on harmonica, JIM RANSOME on guitar, MATT SICKLES on bass and THERON PETERSON on drums took the stage. As the BREEZE KINGS got into a groove, the first dancers of the day took to the front of the stage and there was no doubt about it, it was party time.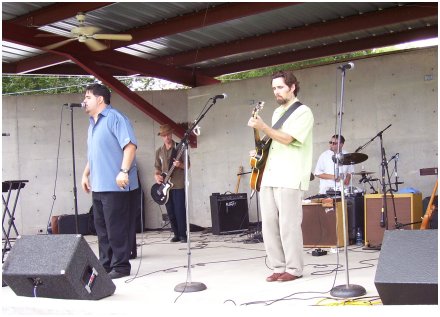 The Breeze Kings from Atlanta
At the end of a very long, hot and very bluesy version of "I'M READY", CARLOS announced to the very responsive and enthusiastic crowd that he was enjoying the solid groove the band was locked into so much, that he could have played that song for his whole one hour set. That would have been quite fine as far as this listener was concerned, and judging by the roar of the crowd, I had company. When I'm in a blues club and the band gets into one of those extended grooves I often turn to my friends and say "lock the door and throw away the key" - this was one of those moments. Feeding off of the crowds enthusiasm the rest of the BREEZE KINGS set was one crowd pleaser after another. CARLOS and JIM were masterful on their instruments and they steadily passed the lead back and forth.
By now, whoever was coming had arrived and the small crowd of several hundred were making the noise of five times that many. The next act, a shared set by JIMMIE ROBINSON and PETE PETERSON had an already warmed up ready to party crowd as their captive audience, and the energy that these two individually dispensed kept them just that way. Backed by RICK HOUESROCKER, JIMMIE and PETE took turns belting out a mixture of soulful, funky and blues filled hits. Thus far, my search for more information on theses two performers has come up blank. However, I believe they may be discoveries of CHICK'S and I'm hope that he has plans for doing some work with them in the very near future.
For the finale, MR CHICK WILLS, joined by CARLTON "FROG" MC WILLAIMS on guitar, BRIAN KING on guitar, JOHN (no last name given) on drums, ROYAL "BIG ROYAL" JOINER on organ and POINDEXTER "BARNEY" EVANS on bass, took the stage for the second time. This time, the star of the show, the man for whom the event is named after, did manage to stay onstage, but still he wasn't. For the next 45 minutes, this 70+ year old bluesman acted like he was 30. CHICK, the band and the audience as well, jumped and boogied through a blistering set of blues, bringing the 7TH ANNUAL CULLODEN CHICK WILLIS BLUES FESTIVAL to a roaring close.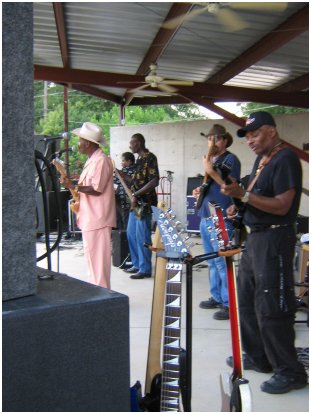 Chick Willis
Photo By Victor Jones
I absolutely fell in love with this town, it's people and this festival. Although I am not in a rush to personally increase it's population, I may be a permanent fixture at upcoming events. I am looking very forward to not only attending the next festival, but possibly assisting wherever LILLIAN may see fit.
Click this link see many more pictures from the festival. https://www.mary4music.com/Page11.html