Live Performance Reviews
Page 10




2006 RED BANK JAZZ & BLUES FESTIVAL
JUNE 2, 3 AND 4, 2006
MARINE PARK, RED BANK, NEW JERSEY
BY PETER "BLEWZZMAN" LAURO ©2006



I have been to the Crossroads in Clarksdale, MS at least 3 - 4 times. Up until now, all of those trips were as a tourist on a Blues Crusade. However, I think the time may be coming when my next trip may have to be to meet, and do some business with, the legendary Devil. Yes, that's right, it may just be time to make one of those so called Deals. It looks as if the Blewzzman may just have to sell his soul in exchange for some nice weather at Blues Festivals.

Quite frankly, this is starting to suck. I spend thousands of dollars traveling to several Blues festivals a year, in several different cites, and all it does is rain and, to use a phase I hear all too often, continue to be "unseasonably cold".

Now I've heard that April Showers bring May Flowers, but "May Monsoons" and "Juneau Junes" are starting to piss me off. I can't catch a break. My last two Beale Street Music Festivals found me walking around soaked and in ankle deep mud. My last three Ft. Lauderdale Blues Festivals found me soaked and freezing as a hurricane was just a few hundred miles away one year, another hurricane actually canceling the festival the next year and 35* temperatures were "unseasonably" present during the third year. Ditto on my last two Red Bank Jazz & Blues Festivals. They also found me soaked and cold as well. Located on the beautiful Navesink River when it's nice out and on the nasty Navesink River when it isn't, this years fest was identical to the last. Rain, winds, and "unseasonably" cold temperatures. I wonder what's the exit # on the New Jersey Turnpike for the Crossroads?

OK, I'll stop bitchin' and tell you a little bit about some of the show.......very little that is. You see, unlike the younger people that don't seem to care, and the bands that get paid to play - despite the weather - this out of shape, over aged, body refuses to bump heads with the elements.

Friday evening we were able to catch part of a set by T. J. WHEELER. T. J. is a local musician who enjoys working with the areas youths. His very adequate blues band consisted of what looked like a bunch of teenagers. After the set I asked him if they were his children and that's when he explained his M. O. to me. T. J. played sets all three days and during Saturday and Sunday afternoons, he held two Interactive Blues Educational Workshops.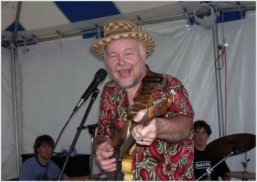 T. J. WHEELER
Ever since I did a review of their CD, a few years ago, I had hoped to one day be able to catch RICK FINK and his GAS HOUSE GORILLAS live. Today was that day. Just taking one look at RICK FINK (vocals), JOE GEARY (drums), JIMMY PRAV (guitar), CRUSHER CARMEAN, (upright bass) and "HANDSOME" DAN ALVARO (saxes and accordion) and you immediately know this is a fun band to watch. These guys are right out of a scene from a "Dead End Kids" movie and remind me so much of Mugsy/Sach and the rest of the "Bowery Boys". The only difference is these cats can swing. The GORILLAS rocked, jumped and boogied so much they may have actually avoided the raindrops.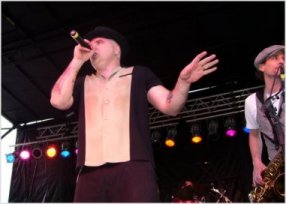 RICK FINK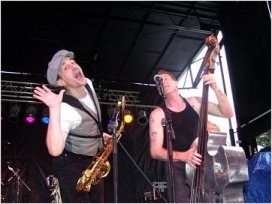 THE GORILLAS
ROXY PERRY, the "NEW YORK BLUES QUEEN", was another one of the show stoppers. Why this woman isn't more prominent and more dominant in the blues world baffles the heck out of me. Her style is varied, her range is very wide, she writes, she plays a hell of a harp, she belts out the blues as good as anyone, she has a way with the crowd and she's backed by one of the hottest guitarists in the business - DAVE FIELDS. Together, these two pack a powerful one-two punch. Most of the songs performed at this particular set were from ROXY'S latest CD, "BACK IN BLUESVILLE", which just happened to win "Best Self Produced CD" at this years International Blues Challenge.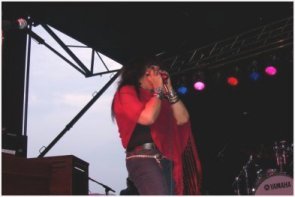 ROXY PERRY
Another group that I had written about in the past and again, was looking very forward to seeing for the first time was SWINGADELIC. In their own words, they refer to their style of music as "a beautiful blend of the classic sounds of BASIE and ELLINGTON, the rockin' rhythms of jump blues masters, a pinch of soul and jazz and a little bit of Latin spice." BINGO!
Unfortunately, this particular show could have been called "one of the best shows that no one saw". This twelve piece band, of which eight are the brass section, performed to about as many people in the audience as were on the stage. And, if I am exaggerating, it's not by more than another dozen. They were the opening act at Noon, on a rainy Saturday morning. I have to tip my hat to these twelve professionals. When they could have come out and faked it, they put on a show worthy of a Carnegie Hall audience. Touche' Gentlemen.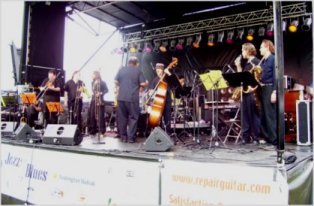 SWINGADELIC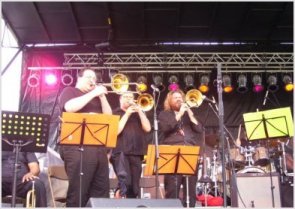 THE SLIDE TROMBONE SECTION
All music festivals have their surprises and this fest was no different. There's always that one act that you catch, get awed by, then think to yourself..... "who in hell is this"? Well, that such person was SARON CRENSHAW. At one of the auxiliary stages SARON drew one of the largest and more enthusiastic crowds of the event (at least of the acts I saw). Until now, this regular player at New York City's "Terrablues" was virtually unknown to me and a lot of the crowd. However, there was no way he was allowing his unfamiliarity to become an obstacle. SARON stood up there and played like he was Buddy Guy (except, unlike Buddy, he finished all of his songs) and the crowd was a bunch of his fans. At one point he even came down into the crowd, strolling between revelers, while playing the guitar with his tongue. This guy was a hell of a showman and more importantly, a hell of a bluesman. That's SARON CRENSHAW, keep your eyes and ears open for him.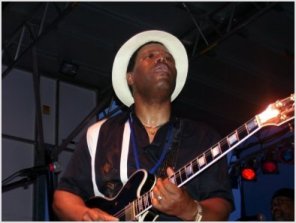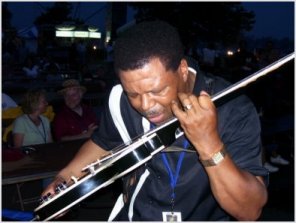 SARON CRENSHAW
Right about here, I'd like to tell you about ROB PAPOROZZI and the HUDSON RIVER RATS, BIG ED and the DIXIE CATS, SOUL PROJECT, TONI LYNN WASHINGTON, TERRAPLANE BLUES, GORDON JAMES, PIECES OF A DREAM, THE ROGER GIRKE BAND, and about two dozen more acts, but it just ain't gonna happen. You see, when given a choice of attending the festival for a third day of rain, or going to the TROPICANA in Atlantic City to play Black Jack, my answer was a very simple......."Hit Me"!



Click HERE to visit the BLUES MUSIC SECTION at Amazon.com







Click Here To Return To The CD Review Index
Click Here For The Blues Portal
Click Here For The Indie Portal
Click Here To Visit Our Music Gift Shop


---




Copyright ©1998-2008 Mary4Music.com. All Rights Reserved.