Live Performance Reviews
Page 1



Dahli Llamas
BY PETER "BLEWZZMAN" LAURO, © March, 2002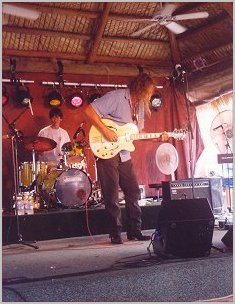 On the local level there are also some great blues bands to see. One of my personal favorites is the DAHLI LLAMAS. If you have yet to catch this band, make it a point to do so a.s.a.p. They appear every Thursday night, and have been doing so for the past eight years, at PINEAPPLE JOE'S in Ft. Pierce, Florida. I guarantee that when you see this band perform you will be saying to yourself such things as..."What is the name of this song?"........."Who did this song originally?"..."Was that blues or was that country?"...."I know I heard that song before, but never like that!"....etc, etc. This is by far one of the most interesting, intriguing, skillful and talented bands playing in this area.
The band consists of MIKE DE REIVRA - lead singer and guitar, ANTHONY DAVIS - keyboards, BEN LANGE - bass, BRIAN MENENDEZ - drums, and TIM O'DONALD - on the craziest instrument I have ever seen -- it is a rotating lap steel guitar that has four sides. You have to see Tim play the instrument and you have to see this band. Check them out, it is a real fun night out seeing the DAHLI LLAMAS perform. As usual, I leave you with my urge to you to support the local bands, the national bands, the clubs that hire them and the blues in general.
I welcome any contact and feedback, I can be reached via email at Blewzzman@aol.com. I am the BLEWZZMAN and "The BLUES is my PASSION & THERAPY."



Anson Funderburgh and the Rockets featuring Sammy Myers
BY PETER "BLEWZZMAN" LAURO, © March, 2002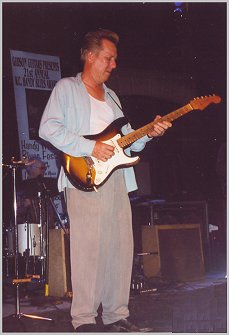 Anson Funderburgh at the "New Daisy" in Memphis

Once again, this past Saturday night took me to the BAMBOO ROOM in Lake Worth, Florida. Seems I go there at least 3 - 4 times a month now........how can I not -- the shows there are just too good to miss. Russell and Karen, the owners of the club are committed to bringing in some of the best blues musicians on tour, and this Saturday night was one of my personal favorites.....ANSON FUNDERBURGH AND THE ROCKETS, FEATURING SAMMY MYERS.

This is one of those bands that as soon as they take the stage, they slip right into a groove and never loose it. For as many times as I have seen them, they still amaze me. ANSON FUNDERBURGH my very well be the smoothest guitar player out there today. The Washington Post did a story on him once and they wrote that "FUNDERBURG seems far more interested in playing just the right note than a blistering series of obvious ones," and I agree. He knows his band is tight, and so does everyone that sees them. They seem to thrive on just jamming rather than featuring long played out solos, and when they do, they do it so well. SAMMY MYERS has been around for quite some time. He has performed with many of the legends and has become one himself. He has mastered the art of singing "off key" and "octave dropping." Only if you have seen him, can you appreciate what I just said.

Together Sammy and the band are a unique combination. Two years ago they won a W. C. HANDY award for best blues song "CHANGE IN MY POCKETS," and this year they are nominated for best blues band of the year.....an award they already have won in the past. Check out this band whenever the next chance arises, and check out the BAMBOO ROOM for some great upcoming shows. Remember to support the clubs and help keep the blues alive.

I am the BLEWZZMAN, and I welcome any comments on the blues.





Click the CD Cover to Purchase Anson Funderburgh's Music from Amazon.com

You can check out Anson Funderburgh on the Web at: www.ansonandtherockets.com/





Larry Garner
BY PETER "BLEWZZMAN" LAURO, © June, 2001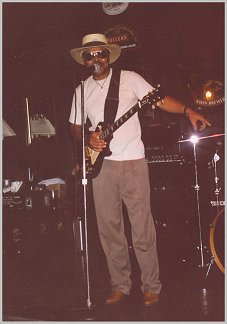 I have had the pleasure, and I do mean pleasure, of seeing LARRY GARNER perform 4 times now and I`m already looking forward to the 5th time. LARRY & THE ROAD LIZARDS performed to a very large and appreciative crowd this past Saturday night at SATCHMO`S in Miami, Fla. LARRY is a real crowd pleaser, on and off the stage. While LARRY is performing, you can`t help but give him your undivided attention. The songs he sings and the stories he tells are all from real life experiences, and the way he delivers them, you just know it`s all from his heart. His guitar is as real as his stories. LARRY doesn`t use or need any of the gimmicks. You won`t see him using any foot pedals, or excessively bending strings, or playing the guitar behind his head, etc, etc. He plays it like he feels it - REAL - and that`s exactly how you feel it.

His vocals are another one of his many talents. Whether singing a song or telling a story, he is just soooooo smooth. After the set, LARRY`S performance does not end. He walks around the club and says hello to each and every audience member. He is happy that you are there, and he personally lets you know it.

As far as the band goes, this is one of the better ensembles LARRY has put together. His right-hand man and senior band member is his keyboardist, CHRISTIAN DOZZLER. Ironically, LARRY was once a member of CHRISTIAN`S band. With the Blues as popular as it is in Europe, LARRY, as well as most other current and past Blues greats, have spent a lot of time touring and recording there. CHRISTIAN, who is from Austria, has performed with just about every Bluesman that has ever stepped foot on the European Continent. The people he has performed with is a real "who's who" of the Blues list. Once you see him play, it is easy to see why so many of the greats wanted him as a band member. He`s excellent on the piano, and can sing the Blues as well.

The newest member of the band, and certainly a welcomed addition, is STONY TRAHAN on drums. Playing bass is MIGUEL HERNANDEZ. At this particular show, and for the next week or so, LARRY had a guest saxophonist with him. His name is JOEL REMY, and he was visiting from FRANCE. LARRY met JOEL on his last European tour and this was his first visit to the United States. I sure hope he decides to come back someday, because this kid can play one hell of a Blues saxophone. I`m sure that one day you`ll see JOEL`s name appearing on CD`s.

This year LARRY GARNER is nominated for a W. C. HANDY award and I wish him all the luck in the world. When his name is announced, I`ll be one of the people in the hall rooting for him. Good Luck LARRY - see ya in Memphis. --"The BLUES is my PASSION & THERAPY"-The Blewzzman (Pete)

Click the CD Cover to Purchase Larry Garner's music at Amazon.com



Debbie Davies
BY PETER "BLEWZZMAN" LAURO, © December, 2001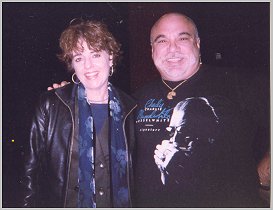 Debbie Davies with The Blewzzman


In my opinion, DEBBIE DAVIES is unquestionably the best guitar player of her gender. I say this with all due respect to JOANNA CONNOR and DEBORAH COLEMAN, whom in the past I have also written favorable reviews of. There is something about DEBBIE'S style of play that seems to separate her from the rest of the female players. I guess she just plays more of the style of blues that I prefer. Having seen her several times in the past, I was somewhat curious as to if last nights show would possibly lose the edge - it didn't. It just took a few minutes of DEBBIE being on stage, a few picks and bends of those guitar strings and a few lines of a song to make me realize why I keep coming back for more of her. It is no wonder that performers such as ANSON FUNDERBURGH, OTIS GRAND, TOMMY SHANNON, CHRIS LAYTON, TAB BENOIT, KENNY NEAL and DUKE ROBILLARD have enjoyed recording and collaborating on CD's with DEBBIE.





Click the CD Cover to Purchase Debbie Davies' music at Amazon.com

Visit DEBBIE DAVIES on the Web at: www.debbiedavies.com/
Check it out and make sure that if DEBBIE DAVIES appears in your town you attend the show.




EG Kight at the Ft. Lauderdale Blues Festival
BY PETER "BLEWZZMAN" LAURO, © November, 2001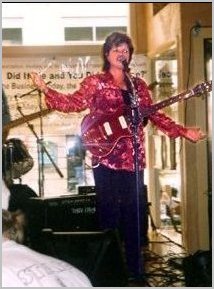 Two weeks ago at the Fort Lauderdale Blues Festival EG KIGHT and her band were by far the "surprise" hit of the festival. I say "surprise", because from my experience with the local Fort Lauderdale Blues Festival (and I've attended all 15 of them), often times a regional act gets lost in the shuffle or just doesn't get the recognition from or hold the attention of the crowd. Everyone runs to the main stage to see the NATIONAL STARS, all the LOCAL BANDS have their throngs of fans supporting them and usually the REGIONAL ACTS get caught in the middle. Well, this was not the case with EG and the band. I have never seen a larger crowd assembled at an auxiliary stage in all the past 15 fest's as I have while EG and the band performed. The crowd got more and more enthusiastic with each and every song.

By the middle of the set I think there were as many people watching, dancing and hooting & howling as there were for any national act that performed on the main stage. When EG sang "AT LAST", she drew a rousing ovation and at the end of the song there was no question that this regional act was not lost in any shuffle. Knowing that she had the crowd ready, she did her song called "THE QUEEN", which EG wrote about her inspiration, KOKO TAYLOR. It is a song that starts out with a country twang (EG was a country star before discovering the blues) and then jumps right into a real down home, nitty gritty bluesy song. That was it, at the end of "THE QUEEN", the crowd went wild and Fort Lauderdale knew they had discovered EG KIGHT.

Having a real tight band consisting of JOHNNY FOUNTAIN on bass, GARY PORTER on drums and an astonishing 17 year old guitarist named MICHAEL PIERCE behind her adds to EG's own excellent guitar playing and great vocals. This band will soon be playing the main stage as a NATIONAL ACT - there is no doubt in my mind.


Click the CD Cover to Purchase EG Kight's music at Amazon.com

Check out the band on the Web at: www.egkight.com/





Hubert Sumlin & Pinetop Perkins
BY PETER "BLEWZZMAN" LAURO, © November, 2001



Hubert Sumlin


This past weekend at the 15th annual Fort Lauderdale bluesfest, of which I've been to all 15, I had the pleasure of seeing Hubert Sumlin & Pinetop Perkins perform together. Considering that Hubert is one of my favorites and having never seen him before, it was an honor and one of the highlights of the fest. These 2 blues greats are approximately 160 years old between them, so what can I say here that has not been said before? If you should be lucky enough to have one CD from each of the musicians these two have played with and worked with over the years, that would be one hell of a blues collection.
These two gentlemen are what the blues is all about. Thanks Hubert and thanks Pinetop.



Purchase HUBERT SUMLIN'S Music at Amazon.com by clicking HERE
You can purchase PINETOP PERKINS' Music at Amazon.com by clicking HERE

Blind Pig's Website: www.blindpigrecords.com/artists/Perkins,+Pinetop.html
Visit Hubert Sumlin on the Web: www.hubertsumlin.com/





Joanna Connor
BY PETER "BLEWZZMAN" LAURO, © August, 2001



Saturday night at the BAMBOO ROOM in Lake Worth, Florida, JOANNA CONNOR put on another of her trade mark shows. I've written reviews of her shows in the past but another one is certainly in order. Although this nights performance consisted of more funk than blues, which I would have preferred reversed, it still was an extremely enjoyable show.

If JOANNA ever wants my recommendation for a name for the band, I'd have to say it should be JOANNA CONNOR AND THE RELENTLESS BLUES BAND. That's exactly how they perform - relentless. On stage, JOANNA is the total package. She can sling that guitar as well as anyone out there, she is a very good vocalist, and her facial expressions (although sometimes outright scary) really tell a story. I had front row seats - "thank you Roland" - and watching her up close is awesome.

Most of the band has been with her for a long time, so they have their act very finely tuned. The drummer, BRYANT T. is a BIG guy with an equally BIG smile, he plays a very BIG set of drums, and puts out a real BIG sound. He played so fast and so hard he actually had the stage shaking. ANTHONY PALMER, the guitar player and longest member of the band, is surely capable of fronting his own band, but he and JO seem to really play off of each other, so I think this team will be together for a long time. STAN MIXON plays the bass guitar like it was a stand up bass, and he makes it sound as good as a stand up bass. He puts on his own little side show slapping and pulling on those strings. During the show he actually broke a string which you don't often see a bass player do.

All in all, this was an excellent show. Especially at this venue. The BAMBOO ROOM is one of the best places in South Florida to see a show. The staff is excellent, the room is gorgeous, the sound is great and the clubs is very well managed.

Visit Joanna Connor's website at: www.joannaconnor.com/

You can purchase JOANNA CONNOR'S Music at Amazon.com by clicking HERE

Click HERE To Return To The Live Show Reviews Index






Click Here To Return To The CD Review Index
Click Here For The Blues Portal
Click Here For The Indie Portal
Click Here To Visit Our Music Gift Shop


---




Copyright ©1998-2008 Mary4Music.com. All Rights Reserved.