Blues CD Reviews 95


Breezy Rodio
Underground Blues
WindChill Records
Publicity: Blind Raccoon
By Peter "Blewzzman" Lauro © July 2022

Underground Blues is the sixth blues release from Chicago Bluesman Breezy Rodio and it is the third that I have had the pleasure of working with. For this project, Breezy - on guitar and vocals - is joined by: Johnny Bradley on bass; Daniel C. Tabion on piano and organ; Lorenzo Francocci on drums; and Josh Fulero on harmonica. Also appearing as a guest guitarist on a couple of tracks is the album's producer, Anson Funderburgh. All fourteen of the disc's tracks are Breezy Rodio originals.
The title track, "Underground Blues", features a well-balanced vocal presentation as Breezy partly sings and partly talks the lyrics that describe his thoughts and experiences on quarantining. With fabulous harmonica leads by Josh; rich rhythm from Johnny and Lorenzo; hot keyboard work by Daniel; and killer guitar leads and vocals from the boss, this smoker does an excellent job of highlighting everyone's musical talents.
Ever since first seeing Anson Funderburgh and the Rockets, featuring Sam Meyers, a large number of years ago, I - like most of us - have been a huge fan. Listening to his dynamic playing on a rhythm driven track titled "Playing My Game Too", is exactly the reason why.
Maybe you're someone who has spoken lyrics similar to these to a dear friend or perhaps you're that dear friend who they were spoken to. If you are the former, you are indeed a good friend and if you're the latter, I hope you realized that, and followed the very good advice to stop using "That Damn Cocaine". Just like every track on the disc, Johnny, Lorenzo and Daniel are dishing out their usual monster rhythm, and Breezy, with his sincere and heartfelt vocals and accompanying guitar work, is doing his best to make this the first ever blues song public service announcement.
As quick as getting hit by a "Lightning Strike", it took hearing all of three seconds of this one for me to think "oh yeah, slow blues". That being said, ya gotta know what's coming next.....yes, it is my favorite track of the lot and yes, it does feature some of Rodio's best guitar work.
With no words to explain it, I'm wondering what was going through Breezy's mind when he called this instrumental "The Asymptomatics". Musically, it features: Josh once again blowing harp, and that's always a good thing; the usual masterful rhythm work from Johnny and Daniel; and midway through it, Breezy morphing into quite a snazzy, jazzy guitarist causing him to giggle and coyly say...."Ahhh, you like it!". Yes, Breezy I did.
This one's called "Hello Friendo" and I'm going to take the liberty of saying "let's 'dance" would have nicely, and appropriately, fit into the title. So, with me praising this rhythm section as I have, you're definitely going to want to hear this one once I tell you that Daniel, Johnny and Lorenzo are at disc's best on the piano, bass and drums on this dance floor filling instrumental. And while all that's going on, ya got the boss and Josh wailing away on smoking guitar and harmonica leads. Wow! Another killer track.

"If I see your house is on fire, and there's no well around;
I will mind my own business, and let your little shack burn down."
Oh yeah, on a song called "Sugar Daddy", Breezy is one pissed off dude. On this powerful vocal performance, there's absolutely no questioning his anger. Damn, even his guitar reeks of it. Lyrically, vocally, emotionally and musically, this is real deal blues. Additional kudos to Daniel for those masterful high end, right hand, blues piano leads.
Closing out the disc is a cleverly title track called "Bluesoned". With the exception of this twelve-word sentence - "When I was a young man, I got poisoned by the blues" - which explains the title, it's another killer instrumental with the usual strong rhythm and Breezy and Daniel once again going toe to toe on blues guitar and piano.
Other tracks on the must have release from Breezy Rodio include: "Half Way In The Devil's Gate"; "C.H.I.C.A.G.O."; "The Murder"; "Let Me Go"; "Gerry Told Me"; and "Why Did You Go?"
If you've not yet received a copy of Underground Blues for airplay, please contact Betsie Brown at www.blindraccoon.com and to find out more about Breezy Rodio, just go to www.breezyrodio.com. Whomever you contact, please tell them their friend the Blewzzman sent you.


Peter "Blewzzman" Lauro
Blues Editor @ www.Mary4Music.com
2011 Keeping The Blues Alive Award Recipient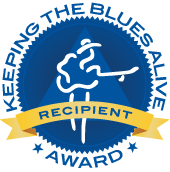 StratCat Willie & The Strays
On A Hot Tin Roof
Eight Days A Week Records
By Peter "Blewzzman" Lauro © July 2022

I ended my review of StratCat Willie's first release, "On The Prowl" - which was fifty years in the making - by letting him know that if it was going to be another fifty years till his next release that I wouldn't be able to review it. Thankfully he did not procrastinate, and here I am just twenty-two months later offering my input on his second release - On A Hot Tin Roof.
Like that first release, all of this one's thirteen tracks are original music and with the exception of a few extra guests, the six-piece nucleus of the band is the same as well. Once again joining StratCat Willie Hayes on guitars and vocals are: Neil Massa on keyboards; John Wisor and Vinnie Burvee on bass; and Dave Fiorini and Dave Salce on drums. The guests include: Rich Graiko on trumpet; Josh Cohen on sax; Jeremy Hummel on percussion; with Mabel Welch and Sing Trece on backing vocals.
The story behind the opening track is that when Willie wrote it back in the summer of 2021, it was meant to be a bust out of quarantine song, and that by the time it was released, it's story line would no longer be relevant.....and yet, some of it still is. As a matter of fact, as I sit here telling you about the song, I'm currently recovering from my latest bout. However, we must all stay optimistic and there's no better way to do that then to "Have A Blues Party"....one like the band themselves are having. The track's very confident vibe features smoking guitar leads, dance inducing rhythm, howling horns, and fabulously frolicking lead and background vocals. Oh yeah, there's indeed a party going on.
Literally speaking, I've never actually been on a "Hot Tin Roof" but I do understand the angst that could be associated with it, and somehow feel like this track musically defines exactly what it would feel like. Now I'm not saying the band is in the middle of an anxiety attack but if there were ever accompanying music for one, this just might be it. With Vinnie and Dave S. laying down such a frantic rhythm pace, just when you think Willie might not be able to keep up with them, he puts his Strat into high gear and all hell breaks loose. Yep, that's why they call him StratCat. Should there still be a need to say this one's a smoker, it's a Smoker with a capital S.
Hey StratCat, let's just agree to disagree - It's my belief that there is no such thing as a woman who is "Way Too Fast". This dance floor filler tells the tale of a poor ol' country boy running into a woman that was just too much for him to handle.....and yet, I get the impression he enjoyed every bit of it. With its swinging rhythm, led by some strong walking bass lines by John, and jumping trumpet leads by Rich, there's no way it'll be way too fast for the dancers.
The opening of this track sounded so familiar that I found myself about to start singing...."I can remember the Fourth of July"......but then I realized these were all originals and it couldn't be a Creedence Clearwater Revival cover. It's another rhythm driven track titled "Redneck Woman" and like the last track, it tells another tale of a woman who's just too tough to tame. StratCat sure knows how to attract them. He sure knows how to play that guitar as well, and some of his best slide and note bending can be heard right here.
While I'm on that train of thought, this is the perfect time to tell you about "Cryin'". With John, Dave F. and Neal in the perfect slow blues groove on the bass, drum and keyboards, StratCat takes this one and runs with it. His emotional and soulful deliverance of the song's sullen lyrics are one of his best vocal presentations and the same holds true for his killer slow blues guitar licks. Yeah, you all know it's coming....this is certainly one of the disc's best songs.
With its pop vibe, fun lyrics, good beat and being easy to dance to, if this were 1952, the kids on American Bandstand would be all over this one. It's called "My One True Love" and it features Willie, with fabulous harmony and backup support from Mabel and Sing, singing about how much he misses his one true love in Memphis; his other one true love in Nashville; and his other one true loves in Chicago, Austin and Phoenix. Great piano and horn leads by Neal Rich and Josh.
Although they are similar, Mezcal and Tequila are two different liquors. Likewise, although they are also similar, "Mezcal" - the title of this song, is different than "Tequila" - the title of that other song. Additionally, whereas "Tequila" was not a true instrumental because it did have a lyric, "Mezcal" is indeed a true instrumental. Aren't you glad I cleared all that up? Of course you are. As if using two different powerhouse rhythm sections on alternating tracks wasn't enough, Willie decided this would be a good place to throw in some extra added percussion. Enter Jeremy and wow - the result was masterful.
Other tracks on this very lively and very entertaining release include: "Let's Dance"; "In The End"; "Guilty"; "Together"; and "Runnin' With The Strays".
To find out more about StratCat Willie just go to his website - www.stratcatwillie.com - and if you haven't yet received your copy of "On A Hot Tin Roof" for airplay, just email Willie at - stratcatwillie@stratcatwillie.com. Once you do all that, please tell Willie that the Blewzzman sent you. BTW, also let him know that if he continues to put a release out every two years, I'm in for the next few reviews.


Peter "Blewzzman" Lauro
Blues Editor @ www.Mary4Music.com
2011 Keeping The Blues Alive Award Recipient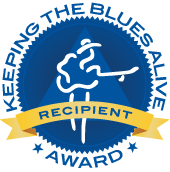 Julian James And The Moonshine State
Live At The Star
Self Released
By Peter "Blewzzman" Lauro © July 2022

Having done reviews of albums from countless countries, with this being the first from the land down under, we now welcome Australia to the worldwide Mary4Music family.
Live At The Star is the fourth release for Melbourne, Australia based Julian James And The Moonshine State. The album was recorded live at the Star Hotel in Yackandandah, AU, and as Julian says - "it features some favorite old timey songs, furious fiddle, porch side finger picking and foot stomping grooves". The disc's ten tracks include three originals and seven covers that pay homage to some blues legends, and modern influences as well. Along with Julian James on vocals and guitar, the rest of the Moonshine State are: Pete Denahy on fiddle; Aron Mclean on bass; and "Rolie" Dwyer on drums.
As the saying goes, 'first impressions are everything' and all it took was the first few notes of the disc's very first track to impress me. Kicking things off with a fabulous rendition of a Muddy Waters number titled "Can't Be Satisfied", there was absolutely no doubt about the band having their self-proclaimed "moonshine-drinking, finger picking country, with the southern swamp wail of a back porch fiddle" down pat. With Aron and Rolie laying down a deep bass sound reminiscent of a jug band behind them, the formidable one-two punch of Julian and Pete on the guitar and fiddle is nothing short of masterful. Great way to kick things off.
Did you know that Jimmy Reed played a fiddle? Of course you didn't - because he didn't play one. That said, on this most creative interpretation of his (Baby What You Want Me To Do) "Let It Roll", Pete - who others might think would be having the unenviable task of filling in the songs well-known harmonica leads with a fiddle - absolutely nails it...WOW! Speaking of nailing it, Julian's all over the song's tricky lyrics as well. At songs end, from the crowd's applause, it's apparent they agree with me. Well done, guys!
How do you do a Howlin' Wolf cover and actually make it your own? Just give this version of (Sittin') "On Top Of the World" a listen and Julian James And the Moonshine State will show you. By far, I believe this will be the most up-tempo interpretation of this song I think you'll ever hear....but hold that thought - the same holds true for "St. James" (Infirmary) (Traditional). This is the first version I've ever heard of this song that would be a dance floor filler - and I'm not talking slow dancing. As the track was moving along, I found myself wondering if Pete would use his fiddle to fill in for the songs famous sax leads, but as it turned out, Julian did that - with mouth sounds. Mouth sounds so realistic I wanted to go back to the instrumentation credits and add that behind his name.
One of Julian's originals, "Silver Spade" is the disc's most traditional blues track. With sullen lyric's like "Dig myself a shallow grave.....hand me down that silver spade....." being melancholically sung, the presentation is similar to that associated with a chain gang's call and response song.
Unlike all of the other tracks, "Broken Man" - another of Julian's originals, is a soft and slow ballad. As a matter of fact, as I attempt to tell you about Pete's musical performance, instead of using terms like "smokin' fiddle", I find myself needing to describe it as "beautifully finessed violin playing". The same feeling holds true of Julian's sensitive vocal description of being a lost and broken man.
So, now that you already know who the three legends were that I referred to earlier in this review, let me now tell you who the modern influence is - it's The Steve Miller Band. Like they do with everything else, Julian and the guys added some heat to their version of "Abracadabra", the disc's closing track. As we all know, when you close out a live show, you do it with a smoker. That said, if you're old enough to remember records and turntables with 33-1/3, 45 and 78 speeds, this version of the song is like the band playing a 45 on the 78 speed but actually making it sound very good. As the track comes to an end, while Julian introduces the band, raucous applause from the audience is given for each of them. This had to indeed be one heck of a show.
Other tracks on this very fun and very well-done release include: "Blue Balls Blues", Julians third original; "Louisiana Blues" (Muddy Waters); and "Swing Low" (Sweet Chariot') (Traditional).
To find out more about Julian James just go to his website - www.julianjames.com.au - and if you haven't yet received your copy of Live At The Star for airplay, just email Julian at - info@julianjames.com.au - keeping in mind that it will most likely be electronically sent. As usually, when you do so, please tell him the Blewzzman sent you. Thanks!


Peter "Blewzzman" Lauro
Blues Editor @ www.Mary4Music.com
2011 Keeping The Blues Alive Award Recipient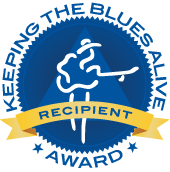 Dave Thomas
Road To The Blues
Blonde on Blonde Direct Records
Publicity: Blind Raccoon
By Peter "Blewzzman" Lauro © July 2022

Back in March of 2021, when I did a review of "One More Mile" - Dave Thomas' first release in five years - I stated that Dave had claimed to have "two more releases soon to come" and here he is, just a short fifteen months later, with the last (*) of the three. It's titled Road To The Blues and it features: Dave Thomas on lead and backing vocals, guitars and harmonica; Steve Jinks on bass, drums & percussion, and backing vocals; James Goodwin on piano; Phil Marshall on saxophone; Gareth Tucker on harmonica; Michael Smith on saxophone and John Thirkell on trumpet. Of the disc's thirteen tracks, eleven are Dave Thomas originals and/or compilations.
When whichever side you get out of bed from turns out to habitually be the bad side; your days start out bad and progressively gets worse; and you feel like you should just stay in bed and pull the covers over your head; you're surely on the "Road To The Blues". On this opening and title track, Dave will tell you about that and then some. Musically, it's a smooth shuffle highlighted by masterful piano playing from James Goodwin; excellent bass and drum work from the one-man rhythm section - Dave's main man and co-producer - Steve Jinks; and an outstanding vocal description of what it's like to travel down the road to the blues.
"The Lady's Not For Turning" is Dave's way of saying "she's a keeper". Once you hear him describe her, you'll get why. With the fabulous rumba groove Steve's got going on with the percussion, and the sexy piano and guitar leads by James and Dave, this one's a sure dance floor filler. Perhaps, like Dave, you'll find a partner whose wiggle stops street cars in their tracks and shimmers like a willow tree.
I'm going off on a tangent here, so be prepared. Having just seen my all-time favorite artist - the great Van Morrison, a lot of what I'm hearing right here on "Eye On The Money" reminded me of that show. Vocally, Dave is as smooth as Van, and on some lines he sounded just like him: lyrically, the song is about getting the band back together and going after a record deal and Van opened the show with "Got My Latest Record Project?", the title song from his new album; and musically, the outstanding saxophone and piano leads by Michael Smith and James Goodwin were reminders of two other things that blew me away from that concert. Go ahead, call me crazy, but I'm just telling it like I heard it. Great track guys!
If you think that a breakup song being sung by a man to a woman can't be a beautiful song, a listen to this one may very well change your mind. Wearing his heart on his sleeve, this emotional and soulful ballad finds Dave exposing his pain as he tells an obviously undeserving woman that he has found himself "Another Girl". Change nothing about this song except for some of the lyrics, and it would indeed be a wonderful love song.
With a bit of a deep, slightly dark and hypnotic vibe, "Last Thing" has movie soundtrack written all over it. Featuring a perfect combination of Dave's best guitar work and tone; Steve's best rhythm and percussion mood; and one of its best vocal presentations with Dave doing a super job of adding his own backing and harmony vocals to his powerful lead vocals. This is easily the disc's best track. Wow!
"After All These Years" is musically the most traditional blues tracks of the lot. It features Steve locked into the perfect slow blues rhythm groove; subtle, background blues harp highlights by Gareth; and some of the disc's best blues guitar pickin' by Dave. Lyrically, hearing Dave melancholically describe "walking down the road with the mist all around me" this one could have very well been titled "Further On Down The Road To The Blues".
Resembling nothing of his style, the disc close out with Dave Thomas's rendition of Chuck Berry's "Memphis Tennessee". Like most of what he does, Dave likes to keep his guitar work closer to sophisticated than scorching making it quite fitting for him to do a beautiful acoustic version of a rock classic. Well done, Dave!
Other tracks on the dynamite disc include: "Everywhere Man"; "Leaving San Francisco"; "Rose Tinted Glasses"; "Pretty In Pink"; "Winnebago Dreaming"; and "Natural State Of Mind".
(*) The second of the three was a joint album made with the great keyboard player Dave Greenslade, which is called G&T. It is much more of a rock album with hints of jazz and blues. It has been released on the Angel Air label and has got some great reviews.
To find out more about Welsh born guitarist, singer and songwriter Dave Thomas, and his long career on the British blues scene, just go to his website - www.davethomasblues.uk - and if you haven't yet received your copy of "Road To The Blues" for airplay, just contact Betsie Brown at - www.blindraccoon.com. Wherever you go and whomever you talk to, please tell them the Blewzzman sent you and that I'll be looking forward to future releases from Dave that I'm told are in the works.


Peter "Blewzzman" Lauro
Blues Editor @ www.Mary4Music.com
2011 Keeping The Blues Alive Award Recipient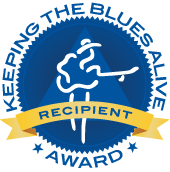 Steve Howell And The Mighty Men
Been Here And Gone
Out Of The Past Music
Publicity: Blind Raccoon
By Peter "Blewzzman" Lauro © June 2022

In addition to being his tenth release, it's my opinion that Been There And Gone is Steve Howell's best and most interesting of the lot. On the one-sheet included with the disc, when Jim George said "the choice of material is intriguing" he took the words right out of my mouth.
The personnel on the project are: Steve Howell on vocals and acoustic, archtop, and electric guitars: Chris Michaels on electric guitar and background vocals; Dave Hoffpauir on drums and background vocals; and Jason Weinheimer on bass, organ and background vocals. The disc contains twelve covers and as soon as I start telling you about some, I believe you'll agree with Jim and I.
The disc opens with a song that was a hit in back to back years - first in 1964 by Dobie Gray and again in 1965 by The Ramsey Lewis Trio. For those of you who already know I'm talking about "The 'In' Crowd" (Billy Page), you're correct. Just as Ramsey and the guys did, Steve and the Mighty Men are also doing it as an instrumental - or as I like to call songs like these, instrumental sing-a-longs. Unlike the Dobie's pop version and Ramsey's jazzy version, I'd call this one more of a laid back easy listening version.
When I saw "Bad Boy" (Lil Armstrong & Avon Long) on the list, I thought I heard the song but couldn't quite place it. Then once I heard Steve sing "I'm just a bad boy-Oy-O-Oy-Oy-Oy-Oy-Oy-Oy-Oy-Oy. Oy-Oy-Oy-Oy-Oy-Oy-Oy-Oy"....a smile quickly came to my face. That said, besides having heard Ringo Starr and Sha Na Na's versions - amongst others - I believe it's the 1956 version by the Jive Bombers that I'm more familiar with. Putting all that aside, with the band locked into a soft, jazzy, slow dance groove and Steve nailing the vo-vo-vo-vo-vocals, this is indeed a most impressive rendition.
Maybe it's because of the fact that Steve Howell and The Mighty Men have been playing "I Believe To My Soul" (Ray Charles) for a very long time that I found it to be one of the best tracks. With a heavy, drum led rhythm, outstanding guitar leads, and powerful and emotional vocals, the guys have this one down pat.
Another instrumental that will have you singing along is the classic Gerry and the Pacemakers' "Ferry Cross The Mersey" (Gerry Marsden). This rendition is highlighted by Steve and Chris teaming up to create so many wonderfully different guitar tones.
As you might expect, being the only track originally done by an actual rock band - with its fast and furious rhythm and smoking guitar leads - "Black Is Black" (M. Grainger, T. Hayes, S. Wadley) is the discs most aggressive piece. Although it's another instrumental, remembering the words from when Los Bravos had a big hit with it in the mid-sixties, you'll most likely being singing along again.
What I have found so interesting about the songs on this album is that just about every one, as familiar as they were, aroused an interest in me to do some follow up research and in doing so, I actually learned a lot more than I thought I knew. Like the fact that "Walk Don't Run" (Johnny Smith), the discs closing track, was written and originally recorded by a jazz guitarist, and a country version of the song was recorded by Chet Atkins. Of course it was The Ventures who had the smash hit with the song, but on the other hand, countless teenage bands thought they all did, as well. Thanks for the memory guys.
Other songs on this awesome piece of work by Steve Howell And the Mighty Men include: "Candy Man" (Rev. Gary Davis); "Such A Night" (Lincoln Chase); "La La Means I Love You" (T. Bell, W Hart); "Jimmy Bell" (William Carradine); "Wild Bill Jones" (Tradtional); and "Willie Mae" (William Broonzy).
To find out more about Steve Howell and his newest release just go to - www.stevehowell.com - and should you have not yet received your copy of Been Here And Gone for airplay, please contact Betsie Brown at - www.blindraccoon.com. Remember, wherever you go and whoever you contact, please let them know the Blewzzman sent you.


Peter "Blewzzman" Lauro
Blues Editor @ www.Mary4Music.com
2011 Keeping The Blues Alive Award Recipient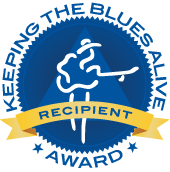 Brad "Guitar" Wilson
Self Titled
Cali Bee Music
Publicity: Blind Raccoon
By Peter "Blewzzman" Lauro © June 2022

This self titled, self produced release is the fourth for Brad "Guitar" Wilson and if it follows in the footsteps of his first three, then this will be his fourth consecutive album charting on worldwide radio. Having already given this one several listens, with a release date of June, 17, 2022, I'm sure it will be just a matter of time before that happens. For this project, Brad Wilson - on guitar and vocals - is joined by: Brian Beal, Jeff Covell, Oscar Huguet and Jack Van Aert on bass; Adam Gust, Peter Wolf, Rod Wilson and Willem Van Kempen on drums; Frankie Vriens on keyboards; and Daniel Guitarra on guitar. With the emphasis on rock blues, the disc's twelve tracks include six originals and six covers.
Paying homage to one of the all time blues greats by covering one of their songs is indeed respectable. On the other hand, honoring that person by writing an original song about them and putting their name in the title definitely raises the tribute bar. That's exactly what Brad did on the opening track titled "Ballad Of John Lee". Now I'm sure there's no doubt as to whom that might be but if there were any at all, it would be erased exactly two seconds into the track when you'd be expecting that all familiar growl of "how, how, how, how". Beyond the idea of the song, it's also a perfect introduction to the band: Brad Wilson, Brian Beal and Adam Gust are indeed capable of boogieing all night long.
Staying in tribute mode, you can't go wrong with tips of the hat to Muddy, B. B., Stevie, Freddie and Willie. Up next is a tribute to Muddy Waters with a cover of his "Walkin' Thru The Park". Right out of the gate Brian (bass) and Adam (drums) are already locked into that perfect rhythm groove and then pow - in comes Frankie with killer organ support. Then there's Brad who's not at all sounding like Muddy - and there's absolutely no need to - this guy, with his own outstanding style, can belt the hell out of the blues both vocally and instrumentally.
On his rendition of B. B. King's "Rock Me Baby", Brad took the liberty of adding not just a little but a lot of juice to the guitar leads, and the outcome is a smoker that may even have had B. B. saying "wow!". Then, on Stevie Ray Vaughn's "House Is Rockin'" the whole band hits fifth gear and all hell breaks out. Warning.....don't even try to keep up with this one if it comes on while driving.
Brad and the guys kept things traditional on their version of Freddie King's "Someday After Awhile" and this purist is happy for that. Not just name wise, Freddie was indeed one of the kings of the blues and Brad more than showed him, and the song, lots of respect. Brian, Peter and Frankie are all over the slow blues groove on the bass, drums and organ, and with his emotional vocals and stinging guitar leads, Brads at disc's best on both. This one had me saying "WOW!".
That same vibe comes into play on a masterful cover of Willie Dixon's "I Can't Quit You". Slow blues, with a bit of a cutting edge, just doesn't get much better than this. One of the biggest impressions this band has made on me is that while unquestionably being a rock/blues band, and while being a trio on most of the tracks, they never go so far over the edge into that so called 'power trio' arena which more often than not - by my taste - takes the word blues out of the equation. Great job guys.
The disc closes with an original tiled "Drivin'", and with the addition of a second drummer (Willem Van Kempen) and a second guitarist (Daniel Guitarra), that's exactly what the band is doing - musically and literally. The song is about what's going through Brad's mind while driving to a gig and here's a sample:
"Drivin' down the highway, going to the show,
and how it's gonna be, I really don't know.
I hope the people like what the band plays,
we come to play the blues for you......there's nothing I'd rather do".
Brad, don't worry about a thing. Take it from me, "you got this!
Other tracks on this totally well done album include four more originals: "You're The One For Me"; "All Kinds Of Fools", "Hang With A Bang" and "Avatar"; plus a cover of Eric Clapton's "Tales Of Brave Ulysses."
To find out more about Brad "Guitar" Wilson and his newest self titled release just go to - www.bradwilsonlive.com - and should you have not yet received your copy of Brad "Guitar" Wilson for airplay, please contact Betsie Brown at - www.blindraccoon.com. Remember, wherever you go and whoever you contact, please let them know the Blewzzman sent you.


Peter "Blewzzman" Lauro
Blues Editor @ www.Mary4Music.com
2011 Keeping The Blues Alive Award Recipient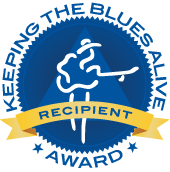 Jonny T-Bird & The MPs
Play Time
Neon Grub Jeer Music
By Peter "Blewzzman" Lauro © June 2022

I guess Common Cents (not a typo, but the name of his fourth release) had something to do with it when Jonny T-Bird thought he shouldn't wait too long between releases, because here he is - just thirteen months later - with his fifth. It's titled Play Time, and it features ten all originals songs. For this project the band consists of the trio of "Jonny T-Bird" Neuberger - on lead & rhythm guitar, ukulele, harmonica and lead vocals are: Jenna Kopitske on Wurlitzer piano, Hammond B3 organ and drums & percussion; and "Cadillac" Craig Carter on bass; Additional guests include: Ryan Carter on drums; Jenny Abbott Goodell on lead guitar; Steve Streator on tenor & soprano saxophone; Julia Lewandowski on alto saxophone; Lauren Sperry on baritone saxophone; and Monica Barden on harmony vocals.
The disc opens with "I Came To Play" and it's very cool introduction type track that appears to be a song that was originally performed at a live performance. From start to finish it features Jonny cleverly addressing the audience on, among other things: that his name is Johnny T-Bird and although he's here to play what they'd like to hear, they shouldn't expect "Freebird"; and that they should be sure to check out the bands' merchandise because it's all worth the reasonable price. Musically, as he shouts out "Hey Cadilac Craig and Jenna Kopitske, are you ready to play?" both respond with an enthusiastic "Oh Yeah" and then all hell breaks out on rhythm and percussion while Jonny - as he says it - makes his guitar scream. Great opener.
"Take Me Home With You" starts off with some background chatter that sounds like a conversation taking place in a bar or a club. As it turns out, that conversation turns out to be Jonny explaining to a lady friend that his landlord changed his locks and he's got no place to go. Right about there is where the song's title comes into play and as you listen to him plead, although she never answers him, you kind of hope she says yes. This dance floor filling shuffle features smooth and sincerely sung vocals and more fabulous guitar work from Jonny, profound rhythm led by really rich bass lines from Craig and enhanced by solid sax blowin' from Steve and Lauren.
This one is titled "I See You" and if that reminds you of a unit in a hospital, hold that thought. Throughout the song you'll hear Jonny say: "I see you, sneaking around; I see you with every guy in town; I see you with my own two eyes; I see you, just when you think I'm not; I see you, now you've been caught; I see you, and I know you lied." Sadly, with all that frustration and anger getting to him, it actually leads up to him harshly saying "I'd rather see you in the I. C. U. than to see you with another man." Remember now, it's just a song.
This one is titled "No Guarantee" but I will guarantee that it is one of the most beautiful and most beautifully performed songs on the disc. It's a soft ballad that features a soothing rhythm led by Jenna on the B3 organ; guitar work so stunning that it had me wishing this wasn't Jenny's only appearance; flawlessly heartwarming and emotional lead vocals by Jonny and heavenly harmony vocals by Monica. Excellent track!
If you all had a penny for every time you heard me say this you'd have well over a dollar. That said, you can now have another penny 'cause here I go... It's no secret that very long, slow and low down blues tracks are what floats my blues boat and with "Love Is A Four Letter Word" being just that, it's high tide here at the House of Blewzz. For over seven minutes you will happily hear the Carters - Craig (father) on bass and Ryan (son) on drums - lay down the slowest most mood setting rhythm; Jenna giving the songs it's steady heartbeat on the B3; and Mr. T-Bird - while singing his heart out - at disc's best on scorching, blues guitar licks. Yep, when it comes to these type of songs you also heard this over a hundred times as well - this one was worthy of several replays.
As a matter of fact. since I'll be listening again, this is a great place for me to just tell you that other tracks on this excellent release include: "Grown Man Blues"; "Flightless Bird"; "Quittin' Time"; "Plank Tone"; and "Rockin' In Waukesha".
To find out more about Jonny T-Bird and the MPS, and to get your hands on a copy of "Play Time" for airplay, just go the bands website - www.jonnytbird.com. When you do, please tell Jonny that the Blewzzman sent you.


Peter "Blewzzman" Lauro
Blues Editor @ www.Mary4Music.com
2011 Keeping The Blues Alive Award Recipient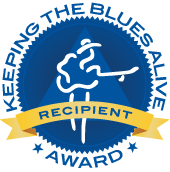 Click Here To Return To The CD Review Index
Click Here For The Blues Portal
Click Here For The Indie Portal
Click Here To Visit Our Music Gift Shop


---
Want your CD reviewed?
Click HERE to email us for information.






*All logos and trademarks in this site are property of their respective owner.
Additional content © 1998-2022 Mary4Music.com. All Rights Reserved.