Blues CD Reviews 92


Jon Spear Band
"B-Side Of My Life"
Self Released
Publicity: Blind Raccoon
By Peter "Blewzzman" Lauro © November 2021

As they get ready to celebrate their tenth anniversary at the turn of the new year, my partner Mary and I would like to be some of the first to say "Happy Anniversary" to the Jon Spear Band. Additionally, with the band's fourth release - "B-Side Of My Life" - being the third consecutive release of theirs that we've had the pleasure to work with, we'd also like to say "Thanks for all the good music".
Along with longevity, the Jon Spear Band has had success with stability, as well. Going back to 2015, when I first reviewed "Old Soul", the band has - and still consists of: Jon Spear on lead vocals and rhythm, acoustic, baritone and lead guitars, Dara James on lead vocals, rhythm and lead guitar, and harmonica; Andy Burdetsky on lead vocals and bass; John Stubblefield on drums and backing vocals. Their latest project also includes guest Skip Haga on keyboards. "B-Side Of My Life", which pays homage to the flip side - or as Jon calls it, the "underdog" side - of the old 45 RPM records, consist of eleven new originals and two covers.
On the title track - "B-Side Of My Life" - referencing "Rock Around The Clock"; "Green Onions"; "Tequila"; "Be-Bop-a-Lula"; and "Unchained Melody"; all top ten hits that were released as the B side of a 45, believin' he'll start winnin' when his life starts spinnin' on the B side - Jon's wishing he could put his life on a record and flip it over. Be careful what you wish for Jon, as the saying goes - "the grass isn't always greener on the B side." One thing for sure is that since this is an album and not a 45, with Andy & John's rockin' rhythm; Skip's frolicking piano leads; Dara's smokin' harp blowing; Jon's wailing Johnny Be Goode type guitar licks and vibrant vocals; track #4 is a smoker for sure.
With a frightening title like "Snakes and Spiders", the opening strumming of Jon's relaxing acoustic guitar work seems to temporarily take away some of that edge created by the title. That is until Dara jumps in with jarring vocals and jolting guitar as he descriptively belts out the song's lyrics, which actually require some reading between the lines.
One of the most fun and very relatable (in many ways) songs is "My Old T-Shirts". Having reached the stage of his life where most of his clothes are out of style and undersized, Jon's about to give most of the stuff that he doesn't wear enough to his local Good Will store. On the other hand, there's a stack in the back of his closet he's gonna keep till it hurts, and those of course, are his old T-Shirts. The ones from: the shows he's seen; the places he's been; the festivals and saloons; Beale Street, Bourbon Street and everywhere he's put his feet; and even the one from his football team that hasn't won a big game since 1992. These, and many more, are pages in his book of memories that will never be forgotten, 'cause they're printed on cotton on the T-Shirts in his room. Musically, the tandem guitars - this time with Dara on lead and Jon on rhythm - are fabulous, as usual; and along with Skip's lively piano leads, the Rhumba style rhythm Andy is laying down on the bass and drums, this one's a sure dance floor filler.
Being one who not only enjoys sharing the guitar work, as we've seen by having three different vocalists take the lead on many of these songs, Jon Spear enjoys sharing that duty, as well. Having said that, on his rendition of Bruce McCabe's "Darker Side" - a song that Johnny Lang introduced us to on his first release - Dara James just outright nails it. With his powerful and emotional vocal presentation and his stunning and masterful guitar leads, this one's all him.
Oddly enough - for me anyway - "The Muskie Grind" is a song about a fish and the trials, tribulations and addictions of those trying to catch them. Should you happen be one of those who does go after the ferocious Muskellunge, with the advice and equipment instructions Andy's giving, this one might be considered mandatory listening. As Rick Bowen so playfully said on the one sheet, "The Muskie Grind" could very well be the anthem for the Fishing Channel.
The disc closes with a song about everyone's favorite time - "Time For The Blues". It's a swinger about a little juke joint on the edge of town where people go when they're feelin' down. That said, before they go, they make sure they've put on their dancin' shoes. The jumpin' vibe the band's got goin' on, along with the names all the vocalists are dropping, give the song an old school feel; and while you're shaking along to it, the catchy chorus line will have you singing along, as well. Another real fun song.
Other songs on yet another outstanding release by the Jon Spear Band include: "Big Talk"; "Heartbeat Like A Samba"; "The Shaman"; "Yellow Moon" (A. & J. Neville); "Follow The Light"; "Kick In The Head"; and "Can't Have Nothing".
Having already garnered a Blues Blast Award Nomination back in 2016, I'm thinking "B-Side Of My Life" is not only worthy of repeating that, but opening some eyes of the Blues Music Award nominators, as well. Best of luck, Jon.
To find out more about the Jon Spear Band, just go to - www.jonspearband.com - and should you have not yet received your copy of "B-Side Of My Life" for airplay, please contact Betsie Brown at www.blindraccoon.com. Remember, wherever you go and whoever you contact, please let them know The Blewzzman sent you.


Peter "Blewzzman" Lauro
Blues Editor @ www.Mary4Music.com
2011 Keeping The Blues Alive Award Recipient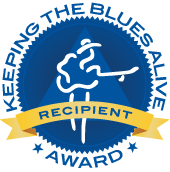 Zac Harmon
"Long As I Got My Guitar"
Catfood Records
Publicity: Blind Raccoon
By Peter "Blewzzman" Lauro © October 2021

Prelude
As is known, when Zac Harmon jumped into the blues pool back in 2005, he didn't just make a splash - he created a tsunami. His debut release - "The Blues According To Zacariah" - not only won "Best New Artist" in the XM Radio Awards, but the release also brought home the gold in the "Best New Artist Debut" category at the 2006 Blues Music Awards. With that said, it was well before all that when he blew the Blewzzman away. That happened on May 1, 2004, at the Beale Street Music Festival during the Memphis In May festivities. As the 2:00 PM opening act in the Blues Tent, with a lineup that also featured; Delta Moon; Robert "Wolfman" Belfour; Renee Austin; Ellis Hooks; Eric Sardinas; and Bernard Alison; Zac Harmon & Mid South Blues Review put on a powerfully energetic and incredibly entertaining performance that I actually believe may have stole the show. As the set ended, I'll never forget the tribute he paid to his then right hand man - harmonica player Jeff Stone. After the last song, Zac walked over to Jeff and putt his arm around him as he told the crowd "This man is to me what Junior Wells was to Buddy Guy." What a classy compliment from and to a real class act. From that day, until this day, I'm still a big fan of these fine artists and gentlemen.
Review
That was a seventeen years, hundreds of shows, and a lot of albums ago. Now, Zac is back with what I believe is his ninth release - the one he says "Is probably the most memorable record of my career" - "Long As I Got My Guitar". Eight of the disc's ten tracks are originals with seven being penned by Zac and label owner, executive producer, and bassist, Bob Trenchard; and one written by Zac and Corey Lacey.
On nine of those tracks, Zac Harmon - on lead guitar and vocals - is joined by Bob Trenchard on bass; Richy Puga on drums: Jimmy McGhee on guitar; and Dan Ferguson on keyboards. Collectively, they are known as The Rays. Appearing on the other track are Zac's touring band: Chris Gipson on bass; Jamil Byron on drums; and Corey Lacey (on other tracks as well) on keyboards and background vocals. Other performers include SueAnn Carwell on background vocals and Munyungo Jackson on percussion.
Just hearing the name of the opening track kind of lets you know there isn't much explaining to do here. The song is called "Deal With The Devil" and anyone who knows anything about blues folklore knows how that turned out. Musically, it's a rhythm fueled blues rocker with Bob, Richy and Munyungo in a progressive groove on the percussion and Zac - who while flirting with a falsetto vocal style- nails a handful of stinging guitar licks. Nice opener.
Simply because of it is old school fifties style R&B type presentation, "Crying Shame" is surely one of my personal favorites. Everything about this toe tapping, head bobbing song just reeks of smoothness. Had I been seeing this one done live, I'd be stretching my neck looking all around the stage for the accordion player. Since none was credited, I'm just going to assume that Dan is baffling me with some masterful organ work.
Before I get to the real title of this one, its alias could very well be "The Axman's Anthem", and here's why.....
"I had to pawn my watch, I had to pawn my ring;
I don't care what time it is, it don't mean a thing...
"I lost all my money, there went all my friends;
They didn't care for me, it was all just pretend...
"They cut off my cable, and repossessed my car;
Knocked on my door, I can't take it no more...
"But I'm still a star, '"Long As I Got My Guitar'".
Now that you know some of the title song's lyrics, it's the song's guitar work you really need to hear. After all, Zac still has his guitar and is still indeed a star.
"New Year's Day" - it's not just the song's title but it's a day that most of the world thinks will suddenly and magically change everything. Break it to them gently, Zac:
"It's New Year's Day and nothing's changed;
everything remains the same.
I got no plans, I got no solution;
I got no New Year's resolutions."
And there you have it. On the other hand, the song does make some cool musical changes: with Zac's scorching guitar intro - and several times throughout the song as well - it's got a strong traditional blues vibe; the soulful lead and backing vocals give it a definite soul blues vibe; and with the rhythm and percussion groove the rest of the band have going on you'll surely feel the funk.
The disc closes out with a ballad on which Zac pretty much lays out his own epitaph. Wanting to be remembered for his good deeds more than his sins, since he won't be passing this way again he's requesting to scatter his "Ashes To The Wind". From Zac's somberly sung opening lines; to his mid song spoken words; to the songs powerful crescendo; and the addition of SueAnn's heavenly sounding background voice, as well; this one is all about the vocals. Other tracks on "Long As I Got My Guitar" include: "People Been Talking"; "Soul Land" (Sandy Carroll); "Love For You Baby"; "Waiting To Be Free" and "Imagine A Prayer" (Sandy Carroll & the album's producer, Jim Gaines).
To find out more about Zac Harmon, just go to - www.zacharmon.com - and should you have not yet received your copy of "Long As I Got My Guitar" for airplay, please contact Betsie Brown at www.blindraccoon.com. Remember, wherever you go and whoever you contact, please let them know The Blewzzman sent you.


Peter "Blewzzman" Lauro
Blues Editor @ www.Mary4Music.com
2011 Keeping The Blues Alive Award Recipient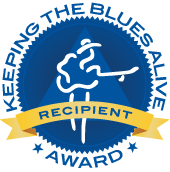 Robbin Kapsalis & Vintage #18
"Soul Shaker"
Bird Song Records
Management: The Galaxie Agency
Publicity: Jill Kettles
By Peter "Blewzzman" Lauro © October 2021

"Soul Shaker" is the second release for Robbin Kapsalis and Vintage #18. The band, who have been playing together for eight years now, consists of: Robbin on vocals; Bill Holter on guitar; Mark Chandler on Bass; Alex Culdell on drums and percussion; Ron Halloway on saxophone; and Thomas Williams and Vince McCool on trumpet; The album features eleven tracks of which seven are band originals.
Having emceed several shows that featured Robbin and the guys I can honestly say that this act is a force to be reckoned with; and from her custom made all white mic and stand, to her all white tasseled outfits, to the way her gyrations wildly toss those tassels around, Robbin simultaneously raises both the flair and energy bars to a whole other level.
On the one-sheet that accompanied the album, Robbin claims that the bands goal was to "Bring that live energy we're know for to each and every song". That said, it wasn't very long into the disc's opening track, "Shake It Baby" (Blackmore/Guy), before that statement was validated. The track opens with Mark - laying down some seriously deep bass grooves; Alex - having no mercy on the drum kit; and Bill - tearing off smokin' guitar riffs; basically it's a three-way musical slug fest. Then, shortly after the boss lady starts singing and howling the blues, Ron and Vince hit the ground with their horns running and yes, all hell is now breaking loose. Absolutely no further explanation necessary.
On a track titled "Boogaloo", the chorus line features Robbin sassily singing "I want you, to show me how to boogaloo". As I pretty much testified to already, Robbin Kapsalis does not need any one to show her how to boogaloo - or for that matter, any other dance, as well. The song actually finds Robbin singing it to a dance floor full of movers and shakers and not only is she encouraging them to show her how they boogaloo, she and the guys are also providing them with the vehicle to do it with.
"Living Large" (Deb Ryder) is one of the the slower tracks of the bunch. With Mark and Alex in a sweet rhythm groove and Bill getting in some scorching slow blues licks, the song pretty much features Robbin putting on a vocals 101 class. Showing you don't need to be a soprano to hit the high notes, Robbin - with that deep voice her family teased her about as a kid - showcases her absolutely fabulous range.
From very well known vocalists to local lounge acts of any genre of music, if you had a dollar for everyone - male or female - who has ever sang this song you'd be able to put a large dent in the national budget's deficit. That said, the versions that gives me a "Fever" (Coolkey/Davenport) are the jazzy one's performed by a sultry sounding woman like a Sarah Vaughan or a Peggy Lee - the one who pretty much started it all. Speaking of sultry singers, Robbin is indeed doing the song justice on this hybrid version. Hybrid in that she's got the steamy and jazzy thing going on with the vocals; Mark's bass lines sound as good as any jazz bassist I've ever heard; Alex's edgy drum work has a bit of a rock vibe; and there's no questioning that the way he's bending those strings, Bill's playing the blues.
So the next time I see Robbin live, I will be looking very forward to hearing this one. It's a smoker called "The Cannonball" (Williams) and with the band in pedal to the metal mode and the attitude Robbin's belting this one out with, I just can't wait for the sizzling, visual effects.
The disc closes with it's second performance of "You Don't Deserve Me". It's officially called the "Extended Groove", but for all intensive purposes let me just say it's the twice as long, steroidal version of the first performance. Not being the type of woman you'd want to piss off, if you're the kind of man who stays out so late that the only things open are a bottle of gin and a pair of legs that don't belong to her, it's probably in your best interest to just never come home at all.
Other tracks on on "Soul Shaker" that will get more than your soul shakin' are: "Lost Souls"; the shorter version of "You Don't Deserve Me"; "Jukin'"; "From The Hearts Of One"; and "Silver Spoon".
To find out more about Robbin Kapsalis & Vintage #18 just go to their website - www.vintage18.net - and if you haven't yet received your copy of "Soul Shaker" for airplay, please contact Jill Kettles at Jill@missjillpr.com. Also, make sure you check out the Galaxie Agency, as well, by going to www.thegalaxieagency.com. Of course, whomever you contact, please make sure you tell them their friend, the Blewzzman, sent you.


Peter "Blewzzman" Lauro
Blues Editor @ www.Mary4Music.com
2011 Keeping The Blues Alive Award Recipient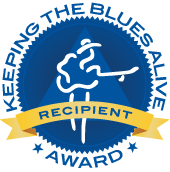 The Porkroll Project
"Papa Didn't Raise Me Right"
Roadhouse Redemption Records
Publicity: Blind Raccoon
Peter "Blewzzman" Lauro © October 2021

The Porkroll Project has been part of the Mary4Music family for well over fifteen years now. Since 2005, we have reviewed several of the bands releases; in 2012 they had a song on the very first volume of our nine "Mary4Music Presents: Keeping The Blues Alive" compilation CDs; and Neil Taylor, the bands front man and producer has been a constant endorser of ours with his many referrals.
Taking some time off for regrouping, The Porkroll Project are back with their fourth release titled "Papa Didn't Raise Me Right". With some old and some new, the members of the band include: Neil Taylor on guitars, banjo, percussion and vocals; Walter Runge on organ, piano and gang vocals; Anthony Pieruccini on bass and gang vocals; John "JT" Thomas on drums and gang vocals; David Renz on sax and horn arrangements; Chris Neal on trumpet; Andrew Whisler on trombone; guest vocalist Paul Matecki; Jesse Taylor on bass; and Buddy Cleveland on harmonica. At nearly an hour long, the recording contains two covers, nine originals and - in true Porkroll Project form - a whole lot of wit.
The disc opens with the title track, "Papa Didn't Raise Me Right". It tells a mournful tale of a man lamenting over the abandonment of his father before he was even three. Makes you think his father didn't raise him at all. With a strong organ presence, the rhythm is as intense and the songs subject matter and the guitar leads are as stinging as some of it's lyrics.
Because of the quick education I just got, I'd like to thank Neil Taylor for including a cover of Leiber and Stoller's "Down In Mexico" on this recording. Not realizing that it was the first release by The Coasters, back in 1957, I just had to give the original a listen. Unlike "Yakety Yak", "Charlie Brown" and other of the bands hits, I was surprised to hear a bit of blues, a bit of funk and a whole lot of percussion from the guys. That said, from every aspect - especially Neil's scorching guitar runs - The Porkroll Project took the recording and moved it from the "Oldies" section of the record shop into the "Blues" bin.
Trying to get away from a place, and possibly a person who's driving him crazy, this track finds Neil "Going To The Station". However, he won't be buying a ticket, or paying any fare; he won't be checking any baggage, because he's not really going anywhere. Sadly, he won't even be getting on a train, he'll be getting under one. He's going down to the station, he's leaving that place behind, he's gonna jump down on the railroad tracks and ease his troubled mind. That said, hearing Neil's frolicking vocal presentation, the rest of the songs lyrics, and it's uptempo vibe will easily expose its satirical nature. As a matter of fact, with the assertive rhythm Anthony and John are laying down on the bass and drums; the vibrant piano leads being added by Walter; and the ambitious guitar leads Neal's laying down, the song is a sure dance floor filler.
Being over seven minutes of slow scorching blues, it should surprise absolutely no one when I say that "Crescent Moon" is easily one of the disc's best. Stepping away from his often jovial romps on cleverly written creations, with a powerful, soulful and heartfelt performance, Neil absolutely nails the vocals on this one. Additionally, with David's torrid sax leads; Anthony and John comfortably settled into that laid-back rhythm groove; Walter's bewitching B3 vibe; and Neil's masterful and mesmerizing guitar licks; it's a musical masterpiece.
Bringing some of that previously mentioned wit into play, "Better You Than Me" spins a yarn involving a dog, a monkey and a cheetah in a survival of the fittest type situation. Now before you go placing your money on the cheetah, beware of a little reverse psychology and that myth about not being able to teach an old dog new tricks. This just might not be the slam dunk it appears to be.
For similarly creative, humorous and witty Porkroll parodies make sure you give a listen to "Mama Put The Gun Down", "Dancing With The Angels" (Peter Rowan), "Nothing Yet", "The Next Thing Smokin" and "A Taste Of Malt Liquor".
Here's a tough one - is being "Sentenced To The Blues" a punishment or a reward? If it meant I had to be subjected to listen to stuff like this for any length of time, then bring it on. It's another blues smoker with plenty of wind fueling its flames. It features composer Buddy Cleveland showcasing some serious blues chops on harp, Andrew blowing a few stinging trumpet leads and David wailing away on sax. BTW, there won't be any appeals coming from me.
For information on The Porkroll Project go to - www.porkrollproject.com - and should you have not yet received your copy of "Papa Didn't Raise Me Right" for airplay, please contact Betsie Brown at www.blindraccoon.com. Remember, wherever you go and whoever you contact, please let them know The Blewzzman sent you.


Peter "Blewzzman" Lauro
Blues Editor @ www.Mary4Music.com
2011 Keeping The Blues Alive Award Recipient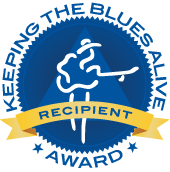 Rusty Ends Blues Band
Self Titled
Earwig Music Company
Publicity: Blind Raccoon
By Peter "Blewzzman" Lauro © Sept 2021

As Michael Frank, the disc's Executive Producer and CEO of Earwig Music, tells us on it's liner notes, he and Rusty Ends met on a phone call that had absolutely nothing to do with the recording. Fast forward through a few more conversations and an in depth interview, Michael - who was impressed with Rusty on so many levels - decided he'd like to reissue his 1996 "Rusty Ends Blues Band". For that, being someone who had never heard of Rusty or any of the other musicians on the recording, I'd like to say "Thank you, Michael". This surely is one hell of a recording.
The Rusty Ends Blues Band consists of Rusty Ends on vocals and guitar; special guest Robbie Bartlett on lead and background vocals; Dave Zirnheld on bass and background vocals; Gene Wickliffe and Danny Kelly on drums; Rod Wurtele on electric piano and Hammond B3 organ; Jim Rosen on harmonica; Gary Hicks on trumpet; Kelly Bechtloff on saxophone; and Barry Shaw on percussion. "Rusty Ends Blues Band" the CD, consists of seventeen songs all penned by Rusty and was originally released on Rollin' & Tumblin' Records in 1996.
The disc opens with "What Next?" and right off the bat - at just over two minutes long - this smoker validates Michael's impressions of Rusty's knowledge of, commitment to and natural ability for playing the blues. Besides his gritty vocals and rhythm guitar technique, the track features a thunderous rhythm coming from the hands of Dave and Gene on the bass and drums, and impressive powerful harp leads by Jim. Great intro to the band.
"A Man Can't Understand A Women" is the shortest song of the lot, and that could be for one of three reasons: The men who are listening already know what he's talking about; The women who are listening wouldn't make it too far into the song anyway: or his wife heard the first few verses and smacked him upside his head. Gotcha wondering, huh? Musically, it's got a bit of a jazzy rhythm with some killer harp leads.
It's probably good that "Sinner's Strut" is an instrumental because after hearing some of the lyrics on a few other tracks, I'd be wondering about what this crazy guy might say on this one. Actually, that's an exaggeration, but Rusty can indeed be a handful. With some of Barry's extra added percussion - and this time with Danny pounding the skins - it's a rhythm forward smoker with Rusty showcasing a few fancy guitar styles.
Everyone knows the importance of self love and on "High Powered Loving Man", using lines like: "You know how to move, you know how to dress, a woman like you deserves the best. So c'mon baby give yourself a treat, I'll turn up your thermostat and I'll supply the heat"; "I'm more man than you've ever seen, if men were cars I'd be a limousine"; and other equally egotistical gems; Rusty gives new meaning to the term. Musically, there's lots of 'high powered' things going on as well: As is always the case, the rhythm section is going full throttle; Rod is rockin' 'n' rollin' on some crazy Jerry Lee like wailing on the piano; and the 'loving man' himself is going nuts on some wild Chuck Berry like guitar runs. Phew!
"Something Wrong Going On" and whatever it is, it's making for a killer blues song. With the rhythm section, boosted by the beat of the B3, in that perfect slow blues groove behind him, this one's all Rusty. Along with belting the hell out of the blues with one of his best vocal presentations, his scorching, slow blues guitar leads have me in my blues heaven. Being the kind of stuff I can't get enough of, this three-minute plus, track got many replays.
"Broken Dreams For Sale" is one of two tracks that feature the fabulous lead vocals of Robbie Bartlett, and it's pretty easy to see why Rusty chose her to do this one. Her soft, sultry, jazzy style of singing the blues is a perfect fit for this laid back melancholic ballad. Also perfect for the track was the calming, yet prominent rhythm being laid down by Dave and Gene and the easygoing, melodic harp leads by Jim. This impressive performance of Robbie's has me now hoping Michael will consider reissuing her twenty year old CD.
"The One Wish" I'd make if I could, would be that all the releases I listen to have one or more tracks like this. Just like slow scorching blues songs and steamy ballads sung by female vocalists ring my blues bell, so do these old school, fifties style blues songs. There's just something about them that stops me in my tracks and puts me into a trance. That said, this being Rusty's one wish and not mine, I've got to tell you that it's one of the most beautiful things I've ever heard. I actually thought of typing out the songs complete lyrics but you need to hear them sung with his emotion and sincerity for it to really work its magic. Lyrically, vocally and musically, this might just be the most beautiful song I have ever heard. Thankfully, this was the last track on the disc because had it not been, I'd have had to end this review anyway. I can't think of anything I'd want to follow it with and apparently, neither did Rusty.
Other tracks on "Rusty Ends Blues Band", a re-release that could very well land on the "Best Historical" or "Best Reissue" categories of the different awards ceremonies include: "Secrets In The Street"; "Blue Shadows"; "I Wanna Know"; "Don't Call It Love"; "Heart Stealer"; "Sloppy Joe Blues"; "I'm Searching"; "Whips And Chains"; "One Step Forward"; "High Beams".
For information on Rusty Ends and other Earwig recording artists, just go to - www.earwigmusic.com - and should you have not yet received your copy of "Rusty Ends Blues Band" for airplay, please contact Betsie Brown at www.blindraccoon.com. Remember, wherever you go and whoever you contact, please let them know The Blewzzman sent you.


Peter "Blewzzman" Lauro
Blues Editor @ www.Mary4Music.com
2011 Keeping The Blues Alive Award Recipient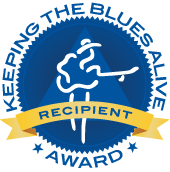 Tony Holiday
"Porch Sessions Volume 2"
Blue Heart Records
Publicity: Blind Raccoon
By Peter "Blewzzman" Lauro © Sept 2021

As you have probably figured out, by either being familiar with the 2019 Blues Blast Award nominated "Porch Sessions" or from the very hint giving words "Volume 2" in the title, this indeed is Tony' Holidays second release of this series.
Recorded by Tony Holiday, JD Taylor, Jon Atkinson and Matthew Wilson in six different cities "Porch Sessions Volume 2" features sixteen tracks, with fifteen different special guests and close to forty different musicians. As is generally the case with recordings of this nature, it's difficult to comment on all the songs and even more difficult to mention all the players, as I usually like to do. With that said, I'll stick to my usual format and tell you about some of my personal favorite tracks.
The disc opens with "She's Tuff", a Jerry "Boogie" McCain composition that is best associated with Kim Wilson and The Fabulous Thunderbirds. It features special guest Victor Wainwright on piano and vocals, his rhythm section - bassist Terrance Greyson and drummer Andres McNeill, and Tony Holiday on harmonica. As you'd expect, adding multi blues music award winner Victor Wainwright to anything can't not sound great. His piano playing and Wilson-esque soulful vocal swag made for a great match with Tony's outstanding harp playing.
Speaking of The Fabulous Thunderbirds, with Muddy's "Honey Bee" featuring special guest Wille Buck on vocals, along with Kim Wilson on harmonica, Rusty Zinn on guitar, Troy Sandow on bass, Marty Dodson on drums and Robert Welsh on piano, I could almost say I'm hearing them right now. Needless to say, from a great rhythm groove, to killer lead and slide guitar licks, to fabulous (no pun intended) harp blowin', this one's got all the bases covered.
Along with this album being dedicated to him, "Going To Court 2" features Tony's best friend and hero, the late, great James Harman as the songs special guest and vocalist. On what was one of his last recordings, James was joined by Kid Ramos and Landon Stone on guitar, and Tony Holiday on harmonica. It's a six-and-a-half minute smoker with a dynamite meld of lead and rhythm guitar, killer harp leads and Mr. James Harman belting out his so cool/So. Cal style of blues vocals.
"Everyday I Have The Blues" (Peter Chatman) is an acoustic track done by a duo of legends who I can't ever recall playing together - Chicago bluesman Lurrie Bell on vocals and guitar and California harmonica guru Mark Hummel on the harp. Here I am thinking of this as an unlikely pairing and here they are blowing my mind with killer Sonny Terry and Brownie McGhee type stuff.
Being very familiar with his father Snooky, this is my first - and quite pleasing - exposure to vocalist Richard "Rip Lee" Pryor, the special guest on his own "Brazilian Brothel". With his most impressive vocal performance and killer harp blowin' skills, this leaf did not fall far from the tree at all. Being backed by Danny Michel on rhythm guitar, Jon Atkinson tearing it up on the slide guitar, and Ronnie Smith on drums and Troy Sandow on bass being in the right rhythm spot, this all added up to one hell of a track.
Having worked on a few of his releases, this special guest is someone I'm very familiar with - "Rockin" Johnny Burgin. Playing guitar and singing the vocals on an original of his titled "Bad Bad Girl", Johnny is joined by Tony Holiday on harmonica, Landon Stone on guitar and with this track actually being recorded on the front porch of his Greaseland Studio - porch provider, Kid Andersen on bass. With Kid creating the great rhythm vibe, Johnny and Tony sound as tight as lifelong band mates.
This one is titled "Find Me When The Sun Goes Down" and it features powerhouse Rae Gordon belting the hell out of the vocals on a song that she co-wrote. Short of calling her performance intimidating, let me just say that when Rae tells you to find her when the sun goes down, keep in mind that she isn't asking....got that? Along with Jake Friel blowin' harp, making the magnificent music behind Rae are Portland homies Ben Rice on guitar and Dave Melyan on drums.
Performing a song he wrote, the disc's co-producer - JD Taylor - is the special guest on "Family Tree". Along with Alex Taylor on guitar, JD - on vocals and harmonica - put on what I would call the quintessential porch performance: gravelly voiced, slow and moody singing of melancholic lyrics; drawn out blues chords blown on the harp; and laid back pickin' on what you might hear the picker call the geetar.
There could not have been a more perfect way to close out this production than to hear Bobby Rush perform "Get Outta Here (Dog Named Bo)" (Emmett Ellis). On an absolute solo, the man who people can sit and listen to for hours on end, puts on one of his patented, attention commanding, smile inducing, jive talking, storytelling, performances. Ya just gotta love it.
Other tracks and guests included on "Porch Sessions Volume 2" are: "Change Is Inevitable", written and performed by AJ Fullerton; "Recipe For Love" (Emmett Ellis) by Bobby Rush; "Smokestack Lightnin" (Chester Burnett) by Watermelon Slim; "Go", written and performed by Jon Lawton; "That's How I Learned", written and performed by Ben Rice; "Cake Walk", written and performed by Mark Hummel and Dennis Gruenling; and "Peace Will Come" (Jackson/Naftaly) by Southern Avenue.
To find out more about this and other projects by Tony Holiday, just go to - www.tonyholidaymusic.com - and should you have not yet received your copy of "Porch Sessions Volume 2" for airplay, please contact Betsie Brown at www.blindraccoon.com. Remember, wherever you go and whoever you contact, please let them know The Blewzzman sent you.


Peter "Blewzzman" Lauro
Blues Editor @ www.Mary4Music.com
2011 Keeping The Blues Alive Award Recipient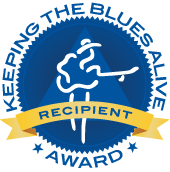 Teresa James & The Rhythm Tramps
"Rose-Colored Glasses Vol 1"
Blue Heart Records
Publicity: Blind Raccoon
By Peter "Blewzzman" Lauro © Sept 2021

Wondering exactly how long I've been reviewing Teresa James & The Rhythm Tramps' music, I took a peek at the archives section of our website and discovered that it had been February, 2008 since I did my first, and it was of "The Bottom Line" - the bands fifth release. Reminiscing a bit, here is how that one opened up... The quality of music that has been sent to www.Mary4Music.com since the beginning of this year has been absolutely stellar. Therefore, it was just a matter of time before we'd be hearing from our first Blues Music Award Nominee, and that time is here. Having said that, let me now congratulate and wish the best of luck to TERESA JAMES, nominee for 2008 "Contemporary Blues Female Artist of the Year"... Being at that event, it was also the first time I had the pleasure of meeting Teresa James and band/soul/life mate Terry Wilson.
Fast forward some thirteen-and-a-half years later and here I am to say a few things about "Rose-Colored Glasses Vol 1", the bands twelfth release. Along with a few long time members and some special Rhythm Tramps, the players on this project are: Teresa James on vocals, piano and Wurlitzer; Herman Matthews and Jay Bellerose on drums; Billy Watts on guitar and backing vocals; Kevin McKendree on B3 organ and piano; Darrell Leonard on horn arrangements and all brass; Paulie Cerra on baritone and tenor saxes; Terry Wilson on bass, backing vocals, slide guitar and guitars; Richard Millsap on percussion and backing vocals; Lucy Wilson on backing vocals; and featuring: Yates McKendree, Anson Funderburgh, Johnny Lee Schell, Dean Parks, Snuffy Watson and David Millsap on lead guitar; James Pennebaker on guitar; Nicki Bluhm on backing vocals; Lee Roy Parnell on bottleneck slide and lead guitar; and Michael Starr on violins, violas and cellos... Having read those names, some of you may already be wanting to go to the bands' website to buy a copy, so go ahead while I continue.....
In addition to having co-produced "Rose-Colored Glasses Vol 1", Teresa James and Terry Wilson also wrote and/or co-wrote all of the disc's twelve tracks. Being Volume 1 leads me to believe that in the not so far future I'll be back here telling you about subsequent volumes, but for now I'll just tell you about some of my favorites from this one.
What do you get when you combine one of the blues genre's most skillful guitarists - Anson Funderburgh, one of any genre's most skillful keyboardists - Kevin McKendree, a monster bassist and drummer - Terry Wilson and Jay Bellerose, and a horn section worthy of being in any of those world class horn bands - Darrell Leonard and Paulie Cerra, to create an ensemble to back up a vocalist able to nail any style of song - Teresa James? The answer to that - which you all already know - can be heard while listening to "Takes One To Know One".
Being able to say "I Got A Love That I Want to Hold On To" are words that everyone deserves to be able say during their lifetime. When you can, it will indeed be a wonderful feeling. Teresa can, and on this track she's more than happy to tell you all about it. With the move inducing rhythm Terry and Jay are laying down on bass and drums and the tandem trumpet and sax leads of Darrell and Paulie, this is a sure dance floor filler.
Although I've not witnessed this first hand, I've seen enough of the classics that include a scene from a dimly lit, smoke filled cabaret featuring a glamorous doll in a sexy, form fitting outfit, softly and seductively singing jazzy ballads like "All You Ever Bring Me Is The Blues". That's exactly where Teresa and the guys took me with this one. Backed by a soothing rhythm; with soft horn and piano support; gently jazzy guitar chords; and sultry trumpet highlights; Teresa, with her fabulous voice and vocal range, is nailing the part of the seductive jazz singer.
Had I not read this on the one sheet (thank you, Rick J. Bowen) I'd have not known that the title of this song "Wish It Into The Cornfield" - derived it's name from an episode of the "Twilight Zone". Combined with the songs melancholic lyrics and somewhat eerie music vibe, it kind of makes sense. It's a song about a homeless vet - two words that when used in conjunction with each other turn this veterans stomach. That said, I appreciate The Rhythm Tramps adding light to the subject.
After the pandemic, or as Teresa so cleverly and truthfully says it - "Once The World Stops Ending", she - like all of us - is looking to "get back into the swing of things". That said, the band's not waiting... with a bit of a funky rhythm going on - this time with Herman on the drums and some extra added percussion from Richard; the horns blowing their usual heat; and Dean stepping in with a few sizzling guitar leads; they're already in the swing of things.
With "Instrumentalist - Vocals" being a relatively new category added to the Blues Music Awards, the way Teresa's belting 'em out on "Things Ain't Like That" - as well as pretty much everything else she sings - this could very well be the category she gets her next nomination in. I know one ballot she'd be on if I were still a nominator. Belting out one of her best vocal performances on the same track that features maestros like Kevin McKendree and Lee Roy Parnell dazzling on the keyboards and slide guitar certainly bring the phrases "crème de la crème" to mind.
The excitement Teresa exudes on "When My Baby Comes Home" is quite similar to the pride she displayed while telling us "I got a love that I want to hold on to". Hearing, feeling and sharing her heartfelt sincerity on this sentimental ballad, might just have you looking forward to that door opening, as well. Along with Teresa's tender vocals, Lucy's delicate backing vocals and Michael's strings add to the songs romantic vibe. Very well done track.
Other tracks on this outstanding release are: "Show Me How You Do It"; the title track, "Rose-Colored Glasses", "Everybody Everybody"; "Rise Together" and "Gimme Some Skin".
To find out more about Teresa James & The Rhythm Tramps just go to - www.teresajames.com, and should you have not yet received your copy of "Rose Colored Glasses" for airplay, please contact Betsie Brown at www.blindraccoon.com. Remember, wherever you go and whoever you contact, please let them know The Blewzzman sent you.


Peter "Blewzzman" Lauro
Blues Editor @ www.Mary4Music.com
2011 Keeping The Blues Alive Award Recipient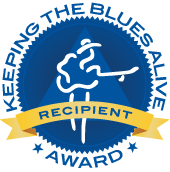 Click Here To Return To The CD Review Index
Click Here For The Blues Portal
Click Here For The Indie Portal
Click Here To Visit Our Music Gift Shop


---
Want your CD reviewed?
Click HERE to email us for information.






*All logos and trademarks in this site are property of their respective owner.
Additional content © 1998-2022 Mary4Music.com. All Rights Reserved.