Blues CD Reviews 92


Tony Holiday
"Porch Sessions Volume 2"
Blue Heart Records
Publicity: Blind Raccoon
By Peter "Blewzzman" Lauro © Sept 2021

As you have probably figured out, by either being familiar with the 2019 Blues Blast Award nominated "Porch Sessions" or from the very hint giving words "Volume 2" in the title, this indeed is Tony' Holidays second release of this series.
Recorded by Tony Holiday, JD Taylor, Jon Atkinson and Matthew Wilson in six different cities "Porch Sessions Volume 2" features sixteen tracks, with fifteen different special guests and close to forty different musicians. As is generally the case with recordings of this nature, it's difficult to comment on all the songs and even more difficult to mention all the players, as I usually like to do. With that said, I'll stick to my usual format and tell you about some of my personal favorite tracks.
The disc opens with "She's Tuff", a Jerry "Boogie" McCain composition that is best associated with Kim Wilson and The Fabulous Thunderbirds. It features special guest Victor Wainwright on piano and vocals, his rhythm section - bassist Terrance Greyson and drummer Andres McNeill, and Tony Holiday on harmonica. As you'd expect, adding multi blues music award winner Victor Wainwright to anything can't not sound great. His piano playing and Wilson-esque soulful vocal swag made for a great match with Tony's outstanding harp playing.
Speaking of The Fabulous Thunderbirds, with Muddy's "Honey Bee" featuring special guest Wille Buck on vocals, along with Kim Wilson on harmonica, Rusty Zinn on guitar, Troy Sandow on bass, Marty Dodson on drums and Robert Welsh on piano, I could almost say I'm hearing them right now. Needless to say, from a great rhythm groove, to killer lead and slide guitar licks, to fabulous (no pun intended) harp blowin', this one's got all the bases covered.
Along with this album being dedicated to him, "Going To Court 2" features Tony's best friend and hero, the late, great James Harman as the songs special guest and vocalist. On what was one of his last recordings, James was joined by Kid Ramos and Landon Stone on guitar, and Tony Holiday on harmonica. It's a six-and-a-half minute smoker with a dynamite meld of lead and rhythm guitar, killer harp leads and Mr. James Harman belting out his so cool/So. Cal style of blues vocals.
"Everyday I Have The Blues" (Peter Chatman) is an acoustic track done by a duo of legends who I can't ever recall playing together - Chicago bluesman Lurrie Bell on vocals and guitar and California harmonica guru Mark Hummel on the harp. Here I am thinking of this as an unlikely pairing and here they are blowing my mind with killer Sonny Terry and Brownie McGhee type stuff.
Being very familiar with his father Snooky, this is my first - and quite pleasing - exposure to vocalist Richard "Rip Lee" Pryor, the special guest on his own "Brazilian Brothel". With his most impressive vocal performance and killer harp blowin' skills, this leaf did not fall far from the tree at all. Being backed by Danny Michel on rhythm guitar, Jon Atkinson tearing it up on the slide guitar, and Ronnie Smith on drums and Troy Sandow on bass being in the right rhythm spot, this all added up to one hell of a track.
Having worked on a few of his releases, this special guest is someone I'm very familiar with - "Rockin" Johnny Burgin. Playing guitar and singing the vocals on an original of his titled "Bad Bad Girl", Johnny is joined by Tony Holiday on harmonica, Landon Stone on guitar and with this track actually being recorded on the front porch of his Greaseland Studio - porch provider, Kid Andersen on bass. With Kid creating the great rhythm vibe, Johnny and Tony sound as tight as lifelong band mates.
This one is titled "Find Me When The Sun Goes Down" and it features powerhouse Rae Gordon belting the hell out of the vocals on a song that she co-wrote. Short of calling her performance intimidating, let me just say that when Rae tells you to find her when the sun goes down, keep in mind that she isn't asking....got that? Along with Jake Friel blowin' harp, making the magnificent music behind Rae are Portland homies Ben Rice on guitar and Dave Melyan on drums.
Performing a song he wrote, the disc's co-producer - JD Taylor - is the special guest on "Family Tree". Along with Alex Taylor on guitar, JD - on vocals and harmonica - put on what I would call the quintessential porch performance: gravelly voiced, slow and moody singing of melancholic lyrics; drawn out blues chords blown on the harp; and laid back pickin' on what you might hear the picker call the geetar.
There could not have been a more perfect way to close out this production than to hear Bobby Rush perform "Get Outta Here (Dog Named Bo)" (Emmett Ellis). On an absolute solo, the man who people can sit and listen to for hours on end, puts on one of his patented, attention commanding, smile inducing, jive talking, storytelling, performances. Ya just gotta love it.
Other tracks and guests included on "Porch Sessions Volume 2" are: "Change Is Inevitable", written and performed by AJ Fullerton; "Recipe For Love" (Emmett Ellis) by Bobby Rush; "Smokestack Lightnin" (Chester Burnett) by Watermelon Slim; "Go", written and performed by Jon Lawton; "That's How I Learned", written and performed by Ben Rice; "Cake Walk", written and performed by Mark Hummel and Dennis Gruenling; and "Peace Will Come" (Jackson/Naftaly) by Southern Avenue.
To find out more about this and other projects by Tony Holiday, just go to - www.tonyholidaymusic.com - and should you have not yet received your copy of "Porch Sessions Volume 2" for airplay, please contact Betsie Brown at www.blindraccoon.com. Remember, wherever you go and whoever you contact, please let them know The Blewzzman sent you.


Peter "Blewzzman" Lauro
Blues Editor @ www.Mary4Music.com
2011 Keeping The Blues Alive Award Recipient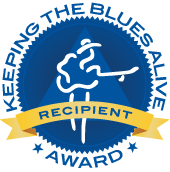 Teresa James & The Rhythm Tramps
"Rose-Colored Glasses Vol 1"
Blue Heart Records
Publicity: Blind Raccoon
By Peter "Blewzzman" Lauro © Sept 2021

Wondering exactly how long I've been reviewing Teresa James & The Rhythm Tramps' music, I took a peek at the archives section of our website and discovered that it had been February, 2008 since I did my first, and it was of "The Bottom Line" - the bands fifth release. Reminiscing a bit, here is how that one opened up... The quality of music that has been sent to www.Mary4Music.com since the beginning of this year has been absolutely stellar. Therefore, it was just a matter of time before we'd be hearing from our first Blues Music Award Nominee, and that time is here. Having said that, let me now congratulate and wish the best of luck to TERESA JAMES, nominee for 2008 "Contemporary Blues Female Artist of the Year"... Being at that event, it was also the first time I had the pleasure of meeting Teresa James and band/soul/life mate Terry Wilson.
Fast forward some thirteen-and-a-half years later and here I am to say a few things about "Rose-Colored Glasses Vol 1", the bands twelfth release. Along with a few long time members and some special Rhythm Tramps, the players on this project are: Teresa James on vocals, piano and Wurlitzer; Herman Matthews and Jay Bellerose on drums; Billy Watts on guitar and backing vocals; Kevin McKendree on B3 organ and piano; Darrell Leonard on horn arrangements and all brass; Paulie Cerra on baritone and tenor saxes; Terry Wilson on bass, backing vocals, slide guitar and guitars; Richard Millsap on percussion and backing vocals; Lucy Wilson on backing vocals; and featuring: Yates McKendree, Anson Funderburgh, Johnny Lee Schell, Dean Parks, Snuffy Watson and David Millsap on lead guitar; James Pennebaker on guitar; Nicki Bluhm on backing vocals; Lee Roy Parnell on bottleneck slide and lead guitar; and Michael Starr on violins, violas and cellos... Having read those names, some of you may already be wanting to go to the bands' website to buy a copy, so go ahead while I continue.....
In addition to having co-produced "Rose-Colored Glasses Vol 1", Teresa James and Terry Wilson also wrote and/or co-wrote all of the disc's twelve tracks. Being Volume 1 leads me to believe that in the not so far future I'll be back here telling you about subsequent volumes, but for now I'll just tell you about some of my favorites from this one.
What do you get when you combine one of the blues genre's most skillful guitarists - Anson Funderburgh, one of any genre's most skillful keyboardists - Kevin McKendree, a monster bassist and drummer - Terry Wilson and Jay Bellerose, and a horn section worthy of being in any of those world class horn bands - Darrell Leonard and Paulie Cerra, to create an ensemble to back up a vocalist able to nail any style of song - Teresa James? The answer to that - which you all already know - can be heard while listening to "Takes One To Know One".
Being able to say "I Got A Love That I Want to Hold On To" are words that everyone deserves to be able say during their lifetime. When you can, it will indeed be a wonderful feeling. Teresa can, and on this track she's more than happy to tell you all about it. With the move inducing rhythm Terry and Jay are laying down on bass and drums and the tandem trumpet and sax leads of Darrell and Paulie, this is a sure dance floor filler.
Although I've not witnessed this first hand, I've seen enough of the classics that include a scene from a dimly lit, smoke filled cabaret featuring a glamorous doll in a sexy, form fitting outfit, softly and seductively singing jazzy ballads like "All You Ever Bring Me Is The Blues". That's exactly where Teresa and the guys took me with this one. Backed by a soothing rhythm; with soft horn and piano support; gently jazzy guitar chords; and sultry trumpet highlights; Teresa, with her fabulous voice and vocal range, is nailing the part of the seductive jazz singer.
Had I not read this on the one sheet (thank you, Rick J. Bowen) I'd have not known that the title of this song "Wish It Into The Cornfield" - derived it's name from an episode of the "Twilight Zone". Combined with the songs melancholic lyrics and somewhat eerie music vibe, it kind of makes sense. It's a song about a homeless vet - two words that when used in conjunction with each other turn this veterans stomach. That said, I appreciate The Rhythm Tramps adding light to the subject.
After the pandemic, or as Teresa so cleverly and truthfully says it - "Once The World Stops Ending", she - like all of us - is looking to "get back into the swing of things". That said, the band's not waiting... with a bit of a funky rhythm going on - this time with Herman on the drums and some extra added percussion from Richard; the horns blowing their usual heat; and Dean stepping in with a few sizzling guitar leads; they're already in the swing of things.
With "Instrumentalist - Vocals" being a relatively new category added to the Blues Music Awards, the way Teresa's belting 'em out on "Things Ain't Like That" - as well as pretty much everything else she sings - this could very well be the category she gets her next nomination in. I know one ballot she'd be on if I were still a nominator. Belting out one of her best vocal performances on the same track that features maestros like Kevin McKendree and Lee Roy Parnell dazzling on the keyboards and slide guitar certainly bring the phrases "crème de la crème" to mind.
The excitement Teresa exudes on "When My Baby Comes Home" is quite similar to the pride she displayed while telling us "I got a love that I want to hold on to". Hearing, feeling and sharing her heartfelt sincerity on this sentimental ballad, might just have you looking forward to that door opening, as well. Along with Teresa's tender vocals, Lucy's delicate backing vocals and Michael's strings add to the songs romantic vibe. Very well done track.
Other tracks on this outstanding release are: "Show Me How You Do It"; the title track, "Rose-Colored Glasses", "Everybody Everybody"; "Rise Together" and "Gimme Some Skin".
To find out more about Teresa James & The Rhythm Tramps just go to - www.teresajames.com, and should you have not yet received your copy of "Rose Colored Glasses" for airplay, please contact Betsie Brown at www.blindraccoon.com. Remember, wherever you go and whoever you contact, please let them know The Blewzzman sent you.


Peter "Blewzzman" Lauro
Blues Editor @ www.Mary4Music.com
2011 Keeping The Blues Alive Award Recipient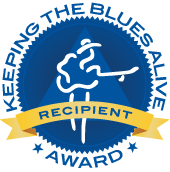 Click Here To Return To The CD Review Index
Click Here For The Blues Portal
Click Here For The Indie Portal
Click Here To Visit Our Music Gift Shop


---
Want your CD reviewed?
Click HERE to email us for information.






*All logos and trademarks in this site are property of their respective owner.
Additional content © 1998-2022 Mary4Music.com. All Rights Reserved.