Blues CD Reviews 80


The Knickerbocker All-Stars
Featuring Darcel Wilson and Thornetta Davis
"Love Makes A Woman"
JP Cadillac Records
By Peter "Blewzzman" Lauro © December 2018

"Love Makes A Woman" is the fourth release of the famed Knickerbocker All-Stars series. With some of the best vocalists and musician in the business appearing on the first three projects, the term All-Stars is indeed an understatement. It's this writer's opinion that the band could very well be called The Knickerbocker Super-Stars.
This time around, things are a bit different though. Oh, the album still features a dozen world class vocalists and musicians but on "Love Makes A Woman", two of those super-stars are ladies. The musicians welcoming lead and back up vocalists Darcel Wilson and Thornetta Davis to the Knickerbocker All-Stars include: Mark Tiexeira on drums; Brad Hallen on bass; Kevin Barry on guitar; David Limina on piano; Rich Lataille on alto and tenor sax; Doug James on baritone and tenor sax; Carl Querfurth on trombone; Doc Chanonhouse on all trumpet solos; Carl Gerhard on trumpet; and Michael DeQuattro on percussion.
Now I'm not going to get into a historical and biographical lesson on Darcel and Thornetta for two very good reasons. The first is that most of you should already know of them and their accomplishments and the second is that there's entirely too much to tell. But I will say this - from the taste for these style of singers I acquired by growing up listening to my father spin Dinah, Ella, Sarah and Bessie (no last names needed) LPs, Ms Wilson and Ms Davis added a special touch to the band.
"Love Makes A Woman" contains twelve cover songs that were inspired by some of the greatest female R&B/Soul singers of our time. Musically, it's a melting pot rhythm and blues, soul, jazz and swing blues.
One of my favorite sing-a-long songs of all time was Jackie Wilson's "Higher & Higher" (Jackson/Smith/Miner/Davis). Most of the times it's a struggle deciding which part I'd prefer to sing, the lead or the backup. On this outstanding rendition, Darcel is killing it on BOTH - and on those high notes, she indeed takes them higher and higher. Equally as powerful are the tracks rhythm and horn sections. Right from the drum solo intro, to the precision rhythm of the shakers, to the ever present vibrant horns and the penetrating trumpet and sax leads.
On "Good Rockin' Daddy" (Bihari/Berry) the band backs off into quite a swingin' rhythm groove with Brad laying down some intense bass lines. And along with the horns - which are habitually profound - David and Kevin are absolutely outstanding on their piano and guitar standouts. Vocally, this one features Thornetta belting out the lead and back up vocals right up there the way her predecessor - the great Etta James did.
The oft covered "Talk To Me" (Seneca) was a big hit in the late fifties that charted high on both the pop and R&B charts. It's a sultrily soulful love ballad and the way Darcel just belted this one out she made me forget what the original version ever sounded like. WOW!
Other than opening with Darcel saying "So you want us to swing? Well here we go!" - "Go Girl" (Austin/Kazanoff) is an instrumental and it surely does swing. It's basically the full band, in serious roaring twenties, speakeasy, swing mode banging out some smokin' and swingin' jazz. If this one doesn't get you moving, what hospital should we send those get well cards to?
You could probably offer a million dollars to someone who could name a female blues singer - or for that matter, any genre at all - who's never covered a Bonnie Rait song, and never have to worry about parting with a dime. That said, I'm also sure not many would even come close to the level of Thorneta doing Bonnie's "Nick Of Time". Showcasing an amazing vocal versatility, the only thing silkier than Thorneta's vocals are her own backup vocals. Musically, the band is in the perfect accompanying groove and Doc - who I believe is the only common denominator on all four releases - shines on a standout muffled trumpet solo.
As far as this track goes, I could probably use the same opening paragraph as above and just substitute the names of Darcel Wilson and Aretha Franklin in place of Thornetta and Bonnie. If there was ever anyone who could do a rendition of "Since You've Been Gone", and sound as phenomenal as the great Aretha did, Darcel's your lady. Of course, the All-Stars are all over it as well.
Other tracks on this fabulous release include: "So Soon" (McCoy), "Love Makes A Woman" (Record/Simms/Davis/Sanders), "Don't Cry Baby" (Johnson/Bernie/Unger) and "Wild Wild Young Men" (Ertegun).
With the Blues Music Awards nominating process in full swing right now, it's this writers thinking that "Love Makes A Woman" has got to be on the minds of many of the nominators.
By now, since "Love Makes A Woman" has been out for a while I'm sure most of you have already received an airplay copy and have been giving it many deserved spins. On the other hand, should you need a copy just get a hold of John Sheerer at www.knickerbockerallstars.com - and as usual, please tell him his friend the Blewzzman sent you.


Peter "Blewzzman" Lauro
Blues Editor @ www.Mary4Music.com
2011 Keeping The Blues Alive Award Recipient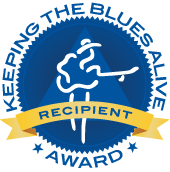 Big Al And The Heavyweights
"World Full Of Trouble"
EllerSoul Records
Publicity: Gina Hughes - The Galaxie Agency
Street Date 12/15/18
By Peter "Blewzzman" Lauro © December 2018

Having been in existence since 1993 (formerly as the Unknown Blues Band), 2018 marks the twenty-fifth anniversary for Big Al And The Heavyweights. During that span the band has released seven albums of original Louisiana Roots Music and having heard them all, I feel qualified enough to say that "World Full Of Trouble" may very well be their very best.
On "World Full Of Trouble", the musicians joining bandleader Big Al Lauro (no relation to this writer) on drums include: Bob Margolin and John Lisi on guitars; Lance Younger on guitars and vocals; Wayne Lohr on vocals and keyboards; former Heavyweight Jason Ricci on harmonica; Destin Thibodeaux on harmonica and bass guitar; Dean Galatas on bass guitar; Dwight Breland on steel guitar; Glenn "Cool" Sears on percussion; Greg "Shatzy" Shatz on piano accordion; Lance Ellis on horns; and Cathy Pace and Donna Slater on background vocals. The disc contains twelve tracks of all original music.
The opening and title track is a smoker that features Big Al and Dean leading the way on a powerful rhythm performance on the drums and bass. It also features: something that's synonymous with this Blues Music Award winners name - Bob Margolin - and that's precision and masterful guitar work; outstanding harp and piano leads by Destin and Wayne respectively; and a formidable vocal performance by Lance as he sings about many of the issues currently affecting the masses on the topical "World Full Of Trouble".
So on "Fool For You", when Wayne so soulfully and confidently boasts "I've got money in my pocket and I'm dressed to kill" he's not only letting us all know he's feeling good but he's looking good as well. That said, let me now tell you that on top of all that, he's also sounding good! Between him and Lance, I'm excited about the very high level of vocal talent on this disc. The same can be said for the guitars as well, and on this track, it's John who's laying down the hot blues licks. And last but certainly not least, on one of just a few tracks he's a part of, Lance Ellis' sax leads are another of this tracks many highlights.
"Testify" features Lance lamenting over a lost love and quite honestly, I can't recall ever hearing heartbreak sound so good. If there was ever a voice made for belting out soulful and heartfelt melancholy lyrics like these, it's Lance's. Throw in some Gospel style backup vocals by Cathy and Donna and this one becomes a complete vocal masterpiece. Musical highlights include Lance also laying down some scorching blues guitar licks and Wayne taking us to church on the organ.
This one's a taste of what music is like when you're living the "Bayou Life". Basically, it's a full-scale Zydeco style, dance-inducing hoedown with turbulent rhythm and percussion (Al, Dean and "Kool"); dueling harmonica and accordion (Jason and "Shatzy"); and sizzling slide guitar (Lance).
How fitting that a track titled "Big Old Rusty Car" is musically reminiscent of the "Sanford and Son" theme song. As a result of this very funky track, I'm now stuck with the vision of Fred and Lamont driving that junky old pick up truck. Very cool tune!
Because of its extremely impressive trumpet leads alone - by Lance Ellis, the one man horn section - "Spanish Moss" is worthy of mention. Then you add in the smooth rhythm behind Wayne singing his heart out and this beautiful ballad becomes another masterpiece.
Fans of Jason Ricci - that means almost everyone - will enjoy "Millionaire Baby" and "Crazy About You Baby". Both of these tracks feature this Blues Music Award winner blowing out some of the disc's best harmonica work.
Other tracks on this fabulous release include" "Love So Fine," "Mother Trucker," "Two Wrongs Don't Make A Right," and "Something Got To Change."
If you haven't already, you should be receiving your copy of "World Full Of Trouble" for airplay any day now. If not, please contact Gina Hughes at The Galaxie Agency either by email - Gina@thegalaxieagency.com - or by phone - 615-351-0485. Also, to find out more about the Big Al And The Heavyweights just go their website - www.bigal.net. Remember, whomever you contact, please make sure you tell them their friend the Blewzzman sent you.


Peter "Blewzzman" Lauro
Blues Editor @ www.Mary4Music.com
2011 Keeping The Blues Alive Award Recipient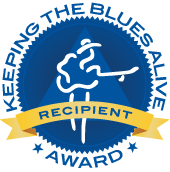 Rit Johnson
"My Kinda Blues"
Self Released
By Peter "Blewzzman" Lauro © November 2018
Throughout his musical career of forty plus years, Rit Johnson has performed many different styles of music. His diversity has allowed his bands to have shared the stage with the likes of Jerry Lee Lewis, Bonnie Raitt, Little Feat, Bachman Turner Overdrive and The Temptations. "My Kinda Blues" is his fourth release, with Rit now wanting to make his home in the blues. The album is a compilation of some of the songs he wrote that were inspired by specific artists from his early days and certainly fit into the genre.
For the project, Rit Johnson, on guitars and lead vocals, assembled quite a talented bunch of musicians and some are names I'm sure you'll recognize. They are: legendary B3 and keyboard player Mark "Muggie Doo" Leach (Buddy Miles/SRV/Taj Mahal/Eric Burden/Peter Frampton just to name a few); Drummer Chris Peet (J. P. Soars & The Red Hots/Southern Hospitality); bassist Dennis Freireich (The Natty Bos); Englebert Humperdinck's former orchestral leader, Jason Buelow on synthesized keys and electric piano; Drew Golden on saxophones (Osprey Band and B-Side Jones); and soloists Jeannie Blake & Jensen Murray on backup vocals.
The CD opens with a most impressive track. It's a smokin', up tempo shuffle that - right out of the gate - features everyone on top of their game. Chris and Dennis are banging out a most pronounced rhythm on the drums and bass; Muggie and Drew are adding monstrous support on the B-3 organ, piano and tenor sax; and Rit's all over it vocally along with his scorching guitar licks. Lyrically, Rit references the happenings between the birds and the bees, cats and dogs and even Adam and Eve, summing them up as "it's just something they do". Eventually, he works it around to himself and the things he does - "singing what he loves and loving what he sings" and stating that "It's Just Something I Do." Rit acknowledges the legendary B. B. King for this tracks' inspiration.
Steely Dan gets the nod from Rit on this foot tappin', finger snappin' track titled "I've Got Something For Ya". With it's usually strong rhythm and guitar leads taking place throughout, this one's highlights include Jason (on his only appearance) working some musical magic on the synthesizer and - like Steely Dan themselves - an outstanding vocal collaboration between Rit, Jeannie and Jensen on the lead, backup and harmony vocals.
"I love My Baby" - inspired by Mike Bloomfield - is done just the way I love my blues...slow and lowdown. You put the rhythm guys in a slow groove with the organ leading the way; you have the guitarist bending out scorching guitar licks; and you let the vocalist emotionally and soulfully belt the hell out of the songs' lyrics; it just doesn't get any better than that. Unless, of course, you let Muggie Doo loose for a torrid ninety second B-3 solo during which he arguably proves he's one of the best to ever sit at the instrument. This one was six-and-a-half minutes of blues bliss at its best.
On the aggressive, hard driving track titled "An Important Man" Rit pays homage to the many blues/rock/boogie bands that were all influenced by John Lee Hooker. From start to finish this one features everyone in all out, full throttle mode with Rit leading the way with a savage slide guitar performance.
The disc's other two tracks are "Love In The Third Degree" which Rit attributes its inspiration to Hendrix's "Electric Ladyland" album and "It's Winter Time" to which Johnny Winter gets the bow.
To learn more about Rit Johnson all you need to do is check him out at www.ritjohnson.com and when you do, please tell him his newest fan, The Blewzzman sent you.


Peter "Blewzzman" Lauro
Blues Editor @ www.Mary4Music.com
2011 Keeping The Blues Alive Award Recipient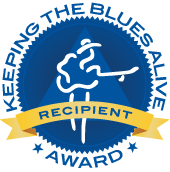 David Lumsden And Friends
"Hues Of Blues"
Self Released
Publicity: Blind Raccoon
By Peter "Blewzzman" Lauro © November 2018
On his new release, "Hues Of Blues", singer, songwriter, guitarist, song arranger, producer and musical director David Lumsden gathered a bunch of his dearest friends (hence the band name David Lumsden And Friends) who each get featured on one or more of the disc's twelve tracks. Those dear friends include: Wayne Carter on vocals and keyboards; Bill "Machine Gun" Evans on vocals and guitar; Reggie "Mr. BMJ" on vocals and drums; Mary Jo Curry on vocals; Steve "The Harp" Mehlberg on vocals and harp; and Andon Davis on guitar. Also joining in are the following additional backing musicians (who I'm sure are also Dave's friends): Gary Davis on bass and keyboards; Arthur Carey Sr., Jim Engel and Jerry Dion Doss on drums; Richard Leigh on bass; Ezra Casey and Tim Bahn on keyboards; and Deborah Melhberg on backing vocals.
The disc's twelve tracks include a few originals and covers of artists who's names - Earl Hooker, Denise LaSalle, Jeff Beck, Memphis Minnie, Hoagy Carmichael and members of Led Zeppelin - will clearly indicate the broad styles of music they encompass. And with David having been the guitarist for the powerful Hurricane Ruth for seven years, expecting most of them to be cutting edge would be a good assumption.
This smoking version of the blues classic "Further On Up The Road" (Robey/Veasey), first recorded by Bobby Blue Bland then by pretty much by every blues band after that, features David and Bill Evans tagging off on vocals and guitar leads while Jerry (drums), Gary (bass) and Tim (organ) are pounding out a fierce rhythm behind them.
When it came to eyebrow raising lyrics, Denise LaSalle wrote her share. Some of which were "You're Ruining My Bad Reputation". This straight forward blues track is highlighted by Wayne Carter belting the hell out of the vocals, David killing it on slide guitar and another powerful rhythm performance - this time with Jim Engle (drums) joining Gary Davis on the bass.
"Brush With The Blues" is nearly a seven minute instrumental that was recorded live at Pop's Place in Decatur, IL. With Gary Davis and Arthur Carey locked into a very cool rhythm groove behind him, David puts on a guitar performance that I'm sure would have even impressed the song's composer - guitar god himself, Jeff Beck.
Grab your partner because on this Memphis Minnie classic, "What's The Matter With The Mill?" the guys have such a hoedown goin' on you won't be able to sit it out. As has been the case on all tracks, the rhythm is again on fire; "The Harp" and Ezra Casey are pleasantly and playfully hitting those very high ends of the reeds and the keys; and "Mr. BMJ" is slammin' it on the vocals as well as the skins. Fun track!
"On Bended Knee" is pretty much all about the Mehlbergs. With an aggressive rhythm going on, Steve Mehlberg (the song's composer) takes charge with a powerfully deep vocal and very sharp harmonica performance while his wife Deborah provides him with timely and melodic backing vocals.
Okay, so maybe no one really does it as good as B. B. did and maybe no one ever will. That said, there are still some other very good renditions of "The Thrill Is Gone" (Hawkins/Daenell) out there and I'm listening to one as I type. David Lumsden and Wayne Carter are quite on the money with the scorching guitar licks and the heartfelt, soulful vocals. Gentlemen, you did the king right! As they did above, David and Wayne nail another oft recorded cover. As I stated about B. B. the same holds true for Ray Charles and "Georgia" (Carmikchael/Gorrel). On the other hand it's not about that. It's about having the talent, the skills and the courage to take on songs of this caliber and to do them at a level that would put a smile on these legends faces. Great job guys, I see Ray smiling form here.
The disc closes out with a beautifully done rendition of Led Zeppelin's "Rain Song" (Page/Plant). It's nearly six amazing and blissful minutes of David and Andon Davis working their magic on acoustic and slide guitars.
Other tracks on the aptly titled "Hues Of Blues" include: "You Get To Lose" E. Hooker), "Raised Me Right" (Lumden/Curry), "Cut You Loose" (Landon) and "Rollin' And Tumblin'" (Newbern).
To find out more about David Lumsden just go to www.davidlumsdenguitar.com and if you've not yet received a copy of "Every Soul's A Star" for airplay, please contact Betsie Brown at www.blindraccoon.com. Whomever you contact, please make sure you tell them the Blewzzman sent you.


Peter "Blewzzman" Lauro
Blues Editor @ www.Mary4Music.com
2011 Keeping The Blues Alive Award Recipient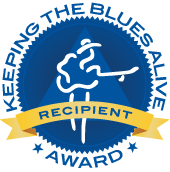 Dave Keller
"Every Soul's A Star"
Catfood Records
Publicity: Blind Raccoon
By Peter "Blewzzman" Lauro © November 2018
With several prestigious achievements and award nominations already under his belt, I have a feeling that - like his good friend, mentor and frequent bandmate, Johnny Rawls - Dave Keller could easily become a perennial "Soul Blues" nominee as well. Since he's no longer New England's best-kept secret, as long as he keeps putting out releases of this caliber, the name Dave Keller merits being alongside the likes of Johnny Rawls, Wee Willie Walker, Curtis Salgado, Tad Robinson, et al.
With about half a dozen releases to his credit "Every Soul's A Star", is Dave's first on Catfood Records and his first with Grammy Award winning producer Jim Gaines at the helm. The album consists of ten of Dave's originals and a cover of an Aretha Franklin hit.
On this project, Dave Keller - on vocals and guitar, is backed up by The Rays - A. K. A. the "Catfood Records House Band." The Rays are: Bob Trenchard on bass; Johnny McGhee on guitar; Dan Ferguson on Hammond B3, Wurlitzer and keyboards; Richy Puga on drums; Mike Middleton on trumpet; and Nick Flood on tenor and baritone sax. Also joining in are Janelle Thompson and Shakara Weston on background vocals; and Christopher Serrano on percussion.
The title track, "Every Soul's A Star", is a dedication from Dave to each and every one of us. As he says, "as unique individuals, there is a beauty in each of us" and this is his way of "honoring that star in us all". In my opinion, the same can be said for each and every song and on this one, each and every performer is a star. Mike, Nick, and Dan - on the horns and Hammond - are magnificent; same for Bob, Richy and Christopher on the rhythm and percussion; Janelle and Shakara are like silk on the background and harmony vocals; and Dave - well, he's doing everything with the lead vocals that are worthy of those imminent "Soul Male Artist" nominations.
Although there are so many outstanding renditions of this song, Aretha Franklin is the first to ever record "Baby I Love You" (Ronnie Shannon) - a song that was written exclusively for her. The rhythm and horn sections, which I'll probably have praise for on each track I mention, are giving this one a bit of a funky feel; the ladies, whom "I do declare" I'll also repeatedly be complimentary of, are marvelously melodic; on the guitar solos, which aren't always present, Johnny's making me happy they were right here; and the maestro himself is showcasing some very impressive range on the very skillful and soulful vocals.
Ahhhhhh ballads! Have I ever told you how much I love them? Yeah, I know, every time I mention one, right? Well, here I go again. "You Bring The Sunshine" is such a beautifully written love song that I really do hope it was actually written for someone in particular. If it was, that's one heck of a special person. This whole track is one continuous highlight: Dave's killing it with his powerful and sincerely emotional vocals; Dan, first on the Hammond then on the piano, blew me away twice; Mike and Nick are soulfully sublime on the horns, and Bob and Richy are rhythmically right where a song like this requires them to be. Easily disc's best with song of the year credentials going on right here.
"If you're gonna kiss me, 'Kiss Me Like You Miss Me'; if you're gonna hold me, don't let go; if you're gonna give me that love, I need it right now; don't make me wonder, I need to know." Having been away for a while, Dave seems a bit insecure as to if his lady missed him as much as he missed her. With those and the rest of the tracks heartfelt lyrics being so beautifully sung to her, I'm sure she did.
"When Are You Going To Cry?" is another outstanding track. It's soulful, slow blues at it's very best that features Dave not only singing his heart out but laying down some scorching blues licks on the guitar as well. Being the slow blues ballad junkie that I am, this one got many replays.
Other songs on this "must have" CD include: "Don't Let Them Take Your Joy," "Old Tricks," "Freedom Is Ours," "This Is Gonna Hurt," "It's All In Your Eyes" and "Ain't Givin' In."
To find out more about Dave Keller just go to www.DaveKeller.com and if you've not yet received a copy of "Every Soul's A Star" for airplay, please contact Betsie Brown at www.blindraccoon.com. Whomever you contact, please make sure you tell them the Blewzzman sent you.


Peter "Blewzzman" Lauro
Blues Editor @ www.Mary4Music.com
2011 Keeping The Blues Alive Award Recipient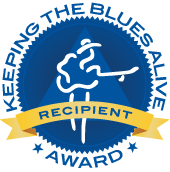 Diane Durrett & Soul Suga
"Live"
Blooming Tunes Music
Publicity: Blind Raccoon
By Peter "Blewzzman" Lauro © November 2018
I could paraphrase Rick J Bowen's opening paragraph on the one sheet but, since he did such a perfect introduction of the artist and the album I'm just using it word for word: "Delivering an evening of music and stories is the commission of a troubadour and the life chosen by Atlanta Soul Blues singer-songwriter Diane Durrett. Her eighth album and second with backing band Soul Sugatitled "Diane Durrett & Soul Suga Live" captures Durrett in her element; on stage with songs and stories of life, love, redemption, and celebration. All her skills are on display on this 25 track set captured at two shows at Eddie's Attic in Decatur, GA in July of 2017".....Well said Rick, thanks!
Of the twenty-five track listings, twelve are actually songs, with eleven of them being Diane's originals and the other thirteen are various types of interesting and heartwarming interludes, vignettes and stories.
Backing up Diane, on vocals, spoken pleasures and guitar are the members of Soul Suga. They include: Melissa Junebug on drums and percussion; Yoel B'nai Yehuda on keyboards; Gregg Shapiro on bass; Markham White on guitar; and Adam McKnight and Deborah Reece on background vocals. For this live performance, they were joined by special guests Wes Funderburk on trombone and Kerren Berz on violin.
On this particular song intro, Diane recalls working on a song while watching the wind blowing on some very dry trees in the midst of a drought. Like people, she wondered if the stress on these trees would cause them to "Bend Or Break".
The song that intro refers to is "Wish It Would Rain" and some of its lyrics were directly inspired by that wind. With the band in a very relaxed and light groove, Diane - with the support of strong backup help - puts on an absolutely beautiful vocal performance while showcasing her borderless range. Between the vocal presentation and the song's message - about coping with life's curve balls and learning to bend, not break - the song possesses a hymnal quality.
This particular vignette is titled "Dog Rescue" and it's about Diane - who while driving and eating a sandwich - spots a cocker spaniel confusingly running across four lanes of traffic. Assuming a drastic outcome - which she wouldn't stand for - Diane stops her car, gets out of it and stops traffic in both directions. After unsuccessful attempts by her and other motorists to attract the dog, she used the sandwich as bait and of course, it worked. As the story goes on, it turns out the pup escaped from a house where the dog's owner was having her best friends wake. Having already lost a "best friend", Diane prevented it from happening again.
When you write most of the music you perform it's stories like these that inspire songs and "Be Somebody's Angel" was inspired by that lost and hungry cocker spaniel and the people who loved it. With a similar vocal vibe as the previously mentioned song, and lyrics like: "Be somebody's angel, go out of your way. Do something special, why don't you make somebody's day. It don't take wings to lift spirits, feel how good it feels to be somebody's angel"; the song is wonderfully uplifting and inspirational. All that, along with a masterful organ performance by Yoel, and you'll want to say "Amen" at songs end.
During a short story titled "Grandmother Says" Diane emotionally discusses her mother's medical problems and addresses the tough times a mother goes through when she outlives her daughter.
One of grandma's favorite lines - "All Is Well" - is what inspired this song. It's a tear-inducing anthem on which Diane ranges from softly and sincerely singing the songs melancholy lyrics to absolutely belting the heck out of them. Musically, with a moody rhythm going on, the track features beautiful organ and guitar leads by Yoel and Markham.
When you're listening to one amazing vocal presentation after another, by a singer with such precision, such range and such beauty to her voice, is it crazy to call a performance on a particular track her disc's best vocal performance? If so, then call me crazy. On a song titled "In Between Times" Diane literally stopped me in my tracks. I stopped typing, hit replay, sat back in my chair and tripped out....four or five times. WOW! Kudos to Kerren as well, the string work was satisfyingly scintillating.
If there was ever a title that said it all it's surely "Junebug's Percussion Solo". For the better part of two minutes, it features Melissa going nuts on a drum and percussion solo leading into the next track..... .....which is a seven-minute smoker titled "Sassy Larue". You name it and it's going on on this one: You've got percussion poundin'; rhythm rockin'; horns blarin'; guitars flarin'; hands clapping; sassy scattin'; wicked whistlin'; tweetie tweetin'; and even some mildly melodic finger poppin' mouth action. Then, at the end of all the frivolity, Diane coyly asks the howlin' audience "Are ya havin' fun yet?"
Dating back to when I was a kid and hearing the incredible renditions of this song by Ella Fitzgerald, Dinah Washington, Sarah Vaughn, and many other female jazz/blues singers, "Summertime" (G. Gershwin) has always been one of my favorite songs of all time. The common denominators for perfecting this song are two: first of all, you've got to have a sometimes soft and sometimes powerful, but all times sultry voice; and secondly, you've got to be accompanied by a similarly sultry horn performance. On this version, both Diane and Wes are crushing it.
Other tracks on "Live" include: "Bright Side," "Butters In The Skillet," "It Is What It Is,", "Love Has A Right to be Wrong," "Don't That Bring You Back," "Woohoo." and several other funny, interesting and inspirational spoken pleasures.
Having no idea what the ticket price was for this concert was I'm going to now say that whatever it was, this audience got a bargain. This was one hell of a show.
To find out more about Diane Durrett just go to www.DianeDurrett.com and if you've not yet received a copy of "Live" for airplay, please contact Betsie Brown at www.blindraccoon.com. Whomever you contact, please make sure you tell them the Blewzzman sent you.


Peter "Blewzzman" Lauro
Blues Editor @ www.Mary4Music.com
2011 Keeping The Blues Alive Award Recipient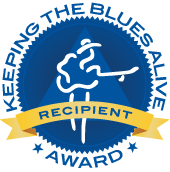 Sandy Carroll
"Blues & Angels"
Catfood Records
Publicity: Blind Raccoon
By Peter "Blewzzman" Lauro © November 2018
On "Blues & Angels", her fourth release on Catfood Records, singer/songwriter/keyboardist Sandy Carroll crosses further into the blues than on the previous three. In her own words, "Returning to the blues is my comfort zone". Of the disc's eleven tracks, all are Sandy Carroll collaborations.
On the project, Sandy Carroll is joined by over two dozen very talented musicians and vocalists. They are: Steve Potts, Derrick Young, Justin Holder and Mario Dawson on drums; David Smith, David Hood and George Moye on bass; Will MacFarlane on bass and guitar; Sid Selvidge, Rocky Athas, Bernard Allison, Mitch Mann and John T. McGhee on guitar; Rick Steff, Mark Narmore and Clayton Ivy on keys; and singers Johnny Rawls, Trey Hardin, Reba Russell, Daunielle Hill, Barbara Blue, Nancy Apple, Lorina McMinn, Trinecia Butler and Rachel Robinson on vocals. When it came to finding a producer to work with, Sandy - a.k.a. Mrs. Jim Gaines - had no problem getting her Grammy Award winning husband on board.
On "Blues All For Myself" Sandy laments about not being able to shake them out, give them away, walk them off, or wash them away. There's always a cloud over her head, even on a sunny day. She seems to have succumbed to the fact that these blues are here to stay. The moody rhythm, led by Rick Steff on the organ, is a perfect accompaniment to the melancholia and Will's stinging guitar leads accentuate her pain.
So on this track, if Sandy follows her own advice she may very well have the above situation under control. In her own words, "when it's out of your control, go on and let it go, "Somebody Gotta Dance". Not only is it the perfect song to dance to - thanks to Steve Potts pounding it out on the drums, but thanks to Sandy, Reba, and Daunielle's very inviting vocals - it's also a perfect sing-a-long. Oh yeah, those blues have been danced away.
This is one of the albums many tracks in which spirituality is the common denominator. As Sandy addresses various situations of distress, the bottom line is that as long as you're "Wrapped In An Angel" none of them will matter. Between her soothing and heartfelt vocals, the beautiful and comforting keyboard work of Mark, and the peaceful background hums of Trineca I can hear this being sung at any Mass.
This topical track addresses the "me too" movement. You see, mama likes it when you treat her like a queen; mama likes it when you don't talk mean; mama likes it when you treat her like a woman; mama likes it when you're real and true; and mama likes it when you show some respect. That said, "Mama Don't Like It" when you do anything but. Once again, the great backup vocal harmonies are a huge highlight here. Now I know why Sandy said this group "give the songs the texture and the power they deserve.
For so many reasons, "Love Is A Wonderful Thing" is an absolutely wonderful track. For starters, before even hearing any of the joyful lyrics, the title alone creates a feeling of bliss. Then, along with some heavenly vocal harmony help from Trinecia and Rachel, Sandy and Johnny Rawls (who she co-wrote the song with) team up for one of the disc's most uplifting and best vocal performances. The track's soothing rhythm is the product of Justin Holder (drums), Davis Hood (bass), Clayton Ivy (organ), and it's highlighted by several standout guitar leads by Will MacFarlane.
The album closes out with "Mississippi Me". It's the "one, and only one, true love song" of the bunch and as you'd expect, it's for and about her husband. The song is a duo performance that features Sandy - sincerely, emotionally and beautifully singing her heart out and Mark Narmore (the songs co-writer) putting on an equally compelling piano performance. Song of the year credentials are everywhere on this one.
Other tracks on "Blues & Angels" include: "Soak Me In The Spirit," "Slings And Arrows," "Headin' Home," "Road Angels" and "Movin' On."
To find out more about Sandy Carroll just go to www.sandycarroll.com and if you've not yet received a copy of "Blues & Angels" for airplay, please contact Betsie Brown at www.blindraccoon.com. Whomever you contact, please make sure you tell them the Blewzzman sent you.


Peter "Blewzzman" Lauro
Blues Editor @ www.Mary4Music.com
2011 Keeping The Blues Alive Award Recipient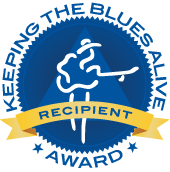 Markey Blue - Ric Latina Project
"Raised In Muddy Water"
Ellersoul Records
Publicity: Gina Hughes - The Galaxie Agency
By Peter "Blewzzman" Lauro © October 2018
From the looks of things, after five years of writing, recording and touring together, Markey Blue seems to have made a decision that Ric Latina is indeed a keeper. Having released several earlier albums under her own name that featured Ric's amazing guitar work, "Raised In Muddy Water" is the first in which they are calling themselves the Markey Blue - Ric Latina Project. In my review of their last release, titled "The Blues Are Knockin'", I referred to the fact that since Ric was a part of the band, that "Markey Blue would indeed become a force to be reckoned with in the blues world". That said, let me now say that the Markey Blue - Ric Latina Project have become a force to reckoned with in the blues world.
On "Raised In Muddy Water", Markey Blue, on the lead vocals and percussion; and Ric Latina, on guitar; are joined by: John Marcus on bass; Marcus Finnie on drums; Shannon Wickline on keyboards; Jim Williamson on trumpet; and Doug Moffet on sax/baritone. Guests artists include Ronnie "Li'l Ronnie" Owens on harmonica; the late and great Eddy "The Chief" Clearwater on guitar and vocals; and, on a bonus live track: Brain Allen on bass, Wes Little on drums and Shannon Wickline on keyboards. The album features eleven tracks that are all Jeannette Markey/Ric Latina compositions.
On the title track, Ric Latina comes out swinging right from the bell. From start to finish, his masterful slide and lead guitar work not only validate him having his name on the wall, it suggests that it should be permanently cemented on it (which I'm sure it is). Then, as Markey takes us on a tour of some swampy and muddy waters, her vocal performance makes it quite believable that she may very well have been "Raised In Muddy Water".
I have forever been a sucker for slow blues and emotional ballads and as long as I keep hearing performances like I'm hearing right now on "A Little More I Die" (Ode To John Prine). they'll forever be my preference. Yeah, with her powerful and commanding voice it sure is great to hear Markey belt the hell out of the blues on a smoking number but this listener would be in heaven hearing that powerful and commanding voice of hers - along with Ric's trance triggering, stinging guitar leads - on a whole album full of these tender and emotionally arousing songs. Heck, I've been listening to this five plus minute song for fifty minutes now - just give me ten of them already.....PLEASE!
And just as I mentioned Markey belting the out out of the blues on a smoker, right on cue, here she is doing just that on "Red Room". The track also features the Grand Duke himself, "Li'l" Ronnie, working his musical magic on the harmonica and a chest thumping rhythm performance led by Marcus' profound drumming.
So can sultry and melancholy be a thing? On "Walking Over This Line" it sure is. This chump Markey is dumping probably never knew the process could actually be turning him on while he's actually being turned off. On this slow and sorrowful ballad Markey is sounding quite torrid in several senses of the word. Of course the scorching guitar chords and sullen rhythm that make these type of songs work so well is present and Shannon's organ is it's driving force.
On "I Like It Like That" there's a lot of flirting going on: Markey and Eddy "The Chief" are offering to show each other a thing or two.....and I think they're talking about making a different kind of music together than they're actually making now; The Chief and Ric have their own kind of flirtin' goin' on with their guitars: the rhythm and percussion are flirting as well; and those horns, especially that deep sexy sounding baritone are doing their own foolin' around. A fun and funky number.
"Come And Go" is a tribute to one of the band's biggest influences - Delbert McClinton. Like most of Delbert's work, It's a dance floor filler that features the whole band in a rockin' rhythm groove.
The disc closes with the bonus live track titled "Drowning In His Ocean". With these quite clever similes: He's the fire to my flame; he's the link to my chain; he's the Cecil to my DeMille he's the vaudeness to my ville; and he's the thunder to my lightening; Markey uses a unique way to tell us about her obviously very cool guy. Musically, because of everyone being highlighted with amazing solos it's easily one of the disc's best.
Other tracks on "Raised In Muddy Water" include: "Corina Shine" (Taj Mahal Tribute), "Mississippi Soul," "Tears All Over The World," and "When I Close My Eyes"
By now, most blues radio hosts should have received and are already spinning your copy of "Raised In Muddy Water" for airplay, but in the event you haven't, please contact Gina Hughes at The Galaxie Agency either by email - Gina@thegalaxieagency.com - or by phone - 615-351-0485. Also, to find out more about the Markey Blue - Rick Latina Project just go their website at www.markeyblue.com. Whomever you contact, please make sure you tell them their friend the Blewzzman sent you.


Peter "Blewzzman" Lauro
Blues Editor @ www.Mary4Music.com
2011 Keeping The Blues Alive Award Recipient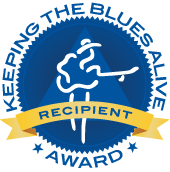 Rod Piazza
The Wizard Of The West Coast Harp
"His Instrumentals"
Rip Cat Records

By Peter "Blewzzman" Lauro © October 2018
Remember those times you were at a Rod Piazza show and he and the Mighty Flyers got into such a mind blowing instrumental groove that you just didn't want it to ever end? I sure do! I also remember saying to the people I was with at some of those shows that "if they locked us in and threw the key away, it would be fine with me." Well, for those of you who know what I'm talking about, here's your chance to once again experience many of those moments - one right after the other, and for the less fortunate who don't know what I'm talking about, here's your chance to find out.
"His Instrumentals" is a two disc set that includes twenty-four tracks that are loaded with those moments. The songs are all originals and they are recordings that appeared on fifteen different albums, which were released on six different labels, spanning from 1986 - 2011. As the saying goes, this is an album of historic proportions.
Because the names of the numerous talented musicians who were involved with these recordings were not credited, and the fact that it would be a bit time consuming to research who they were, other than Rod and Honey Piazza, some of my instrumenetal references will most likely be generic.


Disc One
The opening track is "The Upsetter" from the 1986 Black Top Records release titled "Harpburn". With the band rockin' out behind him, this one features Rod just blowin' the hell out of the harp - as fast and as hard as he can - for nearly four minutes. Nuff said!
From the 1999 Tone Cool Records release titled "Here And Now" comes more of a jazzed up track titled "Stratospheric". Except for a few somewhat relaxed harp leads, Rod pretty much let's the rhythm section run with this one and they ran it to a very cool, jazzy place.
"Ghostin'" comes to us from the 2001 Tone Cool Records release titled "Beyond The Source". The track features several striking harp, piano and guitar leads, that are done in such a relaxing and laid back style that I found it to be absolutely hypnotizing. "Scary Boogie" is not at all scary but it sure does boogie. As a matter of fact, Rod gets so caught up in the smokin' guitar and piano thing going on that he can't stop himself from shouting out encouragement. Oh yeah, he gets in his share of harmonica boogieing as well. By the way, this one's off of the 1997 Tone Cool Records release titled "Tough And Tender".
The tone for this one gets set right from Honey's deep, dark and sultry four word introduction - "West Coast Midnight Blues" from the 2004 Blind Pig Records release titled "Keepin' it Real." From there it goes right into some of the disc's most ass kickin' sounds that feature some of disc one's most amazing guitar work - which I do know was done by Henry Carvajal.
Also from "Keepin' it Real" comes a track called "Devil's Foot." With the rhythm section maintaining a furious pace behind them Rod and Henry spend the next six plus minutes swapping two plus minutes of harp and guitar leads which all lead up to Honey coming in and tearing it up with Rod towards the tracks end. Oh yeah, lock the door and throw the key away.
Other tracks on disc one include: "4811 Watsworth" (1991, Black Top Records, "Blues In The Dark"); "Harpburn" (1986, Blacktop Records, "Heartburn"); "The Bounce" (1992, Black Top Records, "Alphabet Blues"); "Snap Crackel Hop" 2007, Delta Groove, "Thrill Ville"); "Greasy Foot" (1999, Tone Cool Records, "Here And Now"); and "Deep Fried" (1997, Black Top Records, "California Blues").


Disc Two
So with the album's title referring to Rod Piazza as "the wizard of the west coast harp" (which we all know he is), and this track being called "Westcoaster", one might tend to think this one would be full of that so cool SoCal swag. If so, one just hit the nail on the head. This is off of Delta Groove's 2007 released titled "Thrill Ville" and it is signature Rod Piazza and the Mighty Flyers.
"Harp Throb", off of the 1995 Blind Pig Records release titled "Feelin' Good", is an all out smoker. It opens with that familiar locomotive sound skilled harp players seem to be so good at blowin' and it accelerates like a locomotive as well. Of course, these runaway train type songs gotta have a powerful rhythm as well and this one has some serious drumming behind it.
"Eliminator" happens to be the the only track of the bunch that is not off of a Rod Piazza album. It comes from the 2005 Roseleaf Records release titled "Jimi Bott Live - Vol 1 - Cheap Thrills", which features a multitude of west coast heavyweights. Along with Jimi, Rod and Miss Honey, this one features Alex Schultz on guitar, Bill Stuve on bass and Johnnie Rames on second bass. I'm going to let Jimi himself say something about this track, Here is a sentence from the tracks liner notes - "Rod picked this rare chromatic instrumental over fifteen other songs to represent the band and himself.....what I love about this track is that it shows the bands incredible ability to think fast and improvise on the spot." Well said Jimi.
Although "Night's End" doesn't feature any singing, it does showcase Rod telling the audience a story about finding some "fine, fine late night blues radio programs". That said, just listening to Rod's cool, laid back style of conversing is entertaining in itself and when you add in the laid back rhythm, Honey tickling those high end keys and some bottom string pickin' and bending that's going on behind him it all comes together so well. Then, as Rod stops talking and starts blowing his harp, it's once again time to lock me in and toss the key out.
The title "Frankenbop" pretty much says it all. This monster track features everyone in the band doing their thing as fast and as hard as they can. It's got got to be a show closing or encore song 'cause I'm exhausted just listening. The track comes from the 2014 Delta Groove appropriately titled "Emergency Situation"
Also off of "Emergency Situation" is a track called "Colored Salt". Besides some fabulous Mississippi saxophone blowing by Rod, it also features a few dynamite tenor sax leads by Ron Dziubla and Jim Jedeikin as well. At seven minutes in length, there's lots of swinging goin' on right here.
Other tracks on disc two include: "The Teaser" (1977 Tone Cool Records "Tough And Tender"); "Cold Chill" (1986 Black Top Records "Harpburn"); "Ju Ju Cocktail" (2004 Big Mo Records "Live At BB Kings"); "Con-vo-looted" (2011 Delta Groove Records "All Mighty Dollar"); plus "Expression Session" and "Soul Monster" (2009 Delta Groove Records "Soul Monster").
Should you like to purchase a copy of Rod Piazza's "His Instrumentals", or if you're a radio station wanting a copy for airplay, just let Scott at Rip Cat Records know. You can do that by going to www.ripcatrecords.com. Of course, for more on Rod Piazza, all you've got to do is go towww.themightyflyers.com. By now it's kind of needless to say because I know you'll tell them the Blewzzman sent you.


Peter "Blewzzman" Lauro
Blues Editor @ www.Mary4Music.com
2011 Keeping The Blues Alive Award Recipient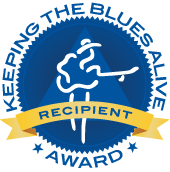 Sister Suzie
(And The Right Band)
"Ain't No Lady"
The Last Music Company

By Peter "Blewzzman" Lauro © October 2018
Although Sister Suzie released a self produced EP a few years back, since signing with The Last Music Company in 2018, "Ain't No Lady" is her first full length release. Of the disc's twelve tracks, six are originals, six are covers of some of her musical influences and most of the twelve totally rock.
On the album, vocalist Sister Susie (Susan Clarke) is backed up by Darren Eddie Edwards on double bass and backing vocals; Matt Jackson on guitars and backing vocals; and Brian Nevill on drums, percussion and backing vocals. Collectively, they are known as The Right Band. Some special guests also making music on the project include: Big John Carter on piano; Nick Lunt on baritone saxophone; and Andy Dummett on tenor saxophone; Al Nicholls on tenor sax and backing vocals; and Lindy Loo McDonnell on backing vocals.
"Knock Knock" (Fran/West), the opening track, starts off with Suzie frantically knocking on a door and crazily shouting something in what I believe may be Spanish. Now I have no idea what she was saying but I gotta tell you that if I was on the other side of that door, there's no way I'm opening it. Musically, it's as hot as Suzie's temper: Darren and Brian have the rhythm on fire; Al's fanning the flames with heated sax leads; Matt's tearing up his guitar highlights; and Suzie's rockin' out on the vocals.
Being a big Elmore James fan, Suzie and the guys do him justice with their cover of his "Can't Hold Out". With Matt cranking out some of the best of Elmore's style of play on guitar and lots more potent rhythm pushing her along, Suzie belts the hell out of this one while displaying a versatile range and showcasing her powerful vocal style. Another smoker, indeed.
On "Ruler Of My Heart" (Naomi Neville), Suzie not only slows things down considerably but she lowers things down as well. Switching to a heavy, lower vocal registry on this ballad, Suzie shows us a whole other side of her vocal skills. Of course, the melancholic mood set by the substantial baritone sax highlights by Nick were the perfect accompaniment.
So there's a mention in Suzie's bio about her infinite love for the city of New Orleans. As a matter of fact, it candidly states that she's actually blown her life's savings from the number of her visits there and yet, Suzie doesn't regret one dollar of it. Some of those Nawlin's musical influences will be quite evident right here on the original title track, "Ain't No Lady" It's a honky-tonker with raucous and bawdy sing-a-long style lead, backing and harmony vocals and a hell of a rollicking barrelhouse piano performance by Big John.
Although she doesn't perform on the song, or anywhere else on the album for that matter, Suzie's Aunty Freda is certainly worthy of mention. It was her introduction of Elvis Presley recordings that instilled the love of rocking music from before her time into her niece. Suzie's rendition of "Just Like An Old Dog" (Scott/Veasy) will have you putting on your blue suede shoes to do some shaking, rattling and rolling.
Because it's an old school, slow and retro style blues number, "Yours", another original, is surely one of my personal favorites. If you're a fan of these type of songs, no explanation is necessary and if your a regular reader of my reviews the following explanation will probably sound redundant. This is one of those dance floor filling tracks that features tenderly sung emotional lyrics; slow and silky soft rhythm; and slow, stinging blues guitar licks. And as if Suzie knew how much I love it when my favorite track is the longest track, she made this one five and a half minutes. Thanks, Suzie!
There's a line in this original track that says "Without desire, there ain't no fire". That said, there certainly was plenty of "Desire" right here 'cause there's a heck of a lot of fire. With everyone following the ferocious lead of drummer Brian Nevill, this one's an all out music and vocal slug fest.
Other tracks on "Ain't No Lady" include: the original "Working Girl," "Stop These Teardrops" (L. White), "Sloppy Drunk" (J. Rogers), and two other originals titled "New Shoes" and "Big Mistake".
For more on Sister Suzie, check her out at www.sistersuzie.co.uk; for more on the label check them out at www.lastmusic.co.uk; and should you need a copy of "Ain't No Lady" for airplay, contact Lisa Best at lisa@lastmusic.co.uk. Whomever it is you visit or contact please tell them the Blewzzman sent you.


Peter "Blewzzman" Lauro
Blues Editor @ www.Mary4Music.com
2011 Keeping The Blues Alive Award Recipient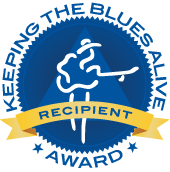 Chris Youlden & The Slammers
"Closing Time"
The Last Music Company

By Peter "Blewzzman" Lauro © October 2018
If the name Chris Youlden rings a bell for you you're probably a baby boomer who is fan of British Blues. Chris is best known for his three year stint, 1967 - 1970, as the lead singer and songwriter for Savoy Brown. After leaving the band to pursue a solo career, the few releases he put out never got much recognition - and for that matter - neither did he.
For a few days in 1987 and then again in 1991, Chris teamed up with various members of The Slammers, a group he had a short stint with in the past. This recording features eighteen previous unreleased tracks from those two short sessions with the first nine recorded in 1987 and the other nine recorded in 1991.
The nucleus of the band for BOTH sessions included: Chris Youlden on lead vocals; Dave Briggs on guitar; Paul Riley on bass; and Malcolm Mills on drums. The earlier session also included Will Stallibrass on guitar and harmonica and Peter Jennings on Hammond organ. The later session also included Geraint Watkins on piano and Hammond organ. All but one of the tracks are covers with the other being a Youlden/Riley collaboration.
Although this particular song was done by many, I don't know that I can recall hearing a better rendition of it. It's a rockabilly number by Allen Bunn - a.k.a. "Tarheel Slim" titled "Number Nine Train". From start to finish, the guys have this train running full throttle.
Similar to what I said above, Chris and the band also do an admirable performance on Mose Alison's "Fool's Paradise". Like Mose himself, Chris sounds quite cool but yet so warming. On his only performance with the instrument, Will does a fantastic job on several harmonica leads and sounding like a full string section, Peter Jennings is absolutely amazing on the Hammond organ.
It's this listener's opinion that "Don't Let Me Be Lonely Tonight" (James Taylor) is the most beautifully sung and beautifully performed song of the lot. With Peter's ever present organ chords leading the sultrily soothing rhythm going on behind him, Chris absolutely sings his heart out on this one.
Sounding very Boz Scaggs-ish, Chris again shines on this rendition of Percy Mayfield's "How Deep Is The Well?" With so many of his vocal performances just blowing me away, something I read in the enclosed ten page booklet just doesn't sit well with me. Apparently, early in his career, a club manager approached the stage where Chris and his band were playing and expressly asked Chris to not sing anymore songs. Say what?
The disc closes with three "bonus tracks" that were recorded during the 1987 sessions and re-recorded for the 1991 sessions. Because of the great piano work of Geraint my preference leaned towards those renditions. They are: "Roll With Me Baby" (Charles) which has a very cool jazzy vibe. With Paul softly working the bass lines and Malcolm delicately brushing the skins, Chris's suave and amiable vocal presentation and Geraint's eloquent and compelling piano playing pretty much steal this show; The next one is "Sugar Coated Love" (Miller) and it's a shuffle that features a tight rhythm groove, several outstanding guitar and piano leads by Dave and Geraint and sweet sugar coated vocals by Chris; The last of the three, and the final track on the disc, is the original "I Wanna Stay Alive". It's a rhythm fueled, foot stompin' smoker with Malcolm leading the way with a dynamic and robust performance on the drums.
Other outstanding tracks on "Closing Time" include: The earlier sessions versions of "Sugar Coated Love," "I Wanna Stay Alive" and "Roll With Me Baby" plus: "Trickbag" (King), "Tell Me What You're Gonna Do" (Brown), "Nervous Breakdown" (Roccuzzo), "I Ain't Got You" (Arnold), "In The Middle Of The Night" (Unknown), "Come On" (McCraklin), "Let's Talk About Us" (Blackwell) and "Sweet Love On My Mind" (Pierce/Walker)
I don't believe Chris Youlden has a website but if you like, you can find him on Facebook and you can find out more about the disc at the labels website - www.lastmusic.co.uk; additionally, should you need a copy of "Closing Time" for airplay, contact Lisa Best at lisa@lastmusic.co.uk. Whomever it is you visit or contact please tell them the Blewzzman sent you.


Peter "Blewzzman" Lauro
Blues Editor @ www.Mary4Music.com
2011 Keeping The Blues Alive Award Recipient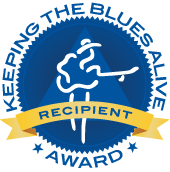 Click Here To Return To The CD Review Index
Click Here For The Blues Portal
Click Here For The Indie Portal
Click Here To Visit Our Music Gift Shop


---
Want your CD reviewed?
Click HERE to email us for information.






*All logos and trademarks in this site are property of their respective owner.
Additional content © 1998-2020 Mary4Music.com. All Rights Reserved.