Blues CD Reviews 79



Maria Muldaur
"Don't You Feel My Leg"
The Naughty Bawdy Blues Of Blue Lu Barker
The Last Music Company

By Peter "Blewzzman" Lauro © October 2018
Although "Don't You Feel My Leg" is Multiple Grammy Award and Blues Music Award nominee Maria Muldaur's first release on the London based The Last Music Company, it is actually the forty-first release of her career. That number, being far from a record, is nevertheless an impressive number indeed.
Unbeknownst to everyone involved, the seed for this recording could have possibly been planted back in 1973 when Maria was recording her very first solo album. That's when Dr. John introduced her to a song called "Don't You Feel My Leg" which she loved, recorded with him and placed on the self titled "Maria Muldaur" album. That release also featured "Midnight At The Oasis" and after that, there was no looking back for Maria.
Fast forward some forty-three years and Maria now gets an invitation to put on a concert paying tribute to Blue Lu Barker as part of the newly created Danny Barker Festival held in New Orleans every January. As the show ended, the awed crowd ultimately led to an overwhelming presence of people at the merch tent, all wanting to purchase the nonexistent CD of what they just heard. And there you have it, the idea was sprung, the project was put into motion and the fruits of that seed are now available for everyone's enjoyment.
"Don't You Feel My Leg", which was produced by Maria, was recorded in New Orleans and the ensemble of talented musicians backing her on the vocals include: the albums musical director, David Torkanowsky on piano: Herlin Riley on drums and percussion; Chris Adkins on guitar; Roland Guerin on bass; Kevin Lewis and Duke Heitger on trumpet; Roderick Paulin and Tom Fischer on saxophone and clarinet; Eric Trolsen and Charlie Halloran on trombone. The album contains twelve naughty, bawdy, blues tracks of which eight were written by and/or collaborated on by Blue Lu Barker and her husband Danny Barker.
The album opens with "Georgia Grind" (Allen/Williams). It's got that familiar sound that anyone who has ever cruised up and down Bourbon Street will surely recognize. David on the piano, Duke on the trumpet and Tom on the sax and clarinet are all belting out some of the best Dixieland Jazz you'll ever hope to hear, and the obviously good time Maria is having being bad, leaves no wonder as to how she was chosen for that festival. This stuff is right up her alley.
On this track, the horns get bluesy and the blues gets hor........errr, never mind. Good lawdy this music's even making me bawdy. This is one of the originals and it's called "Loan Me Your Husband." On it, the band is in a slow and sultry groove with some very steamy sax leads by Roderick. Speaking of steamy, hot damn - Maria's got my temperature rising.
This original swinger is called "Now You're Down In The Alley" and it's actually a song about - and for - dancing.....the kind you do standing up. With Maria belting out lyrics about the popular dances of the forties, fifties and sixties, the band is all over it with just the right groove for swinging to them all. This one flat out rips.
He's good in the saddle; when he mounts, he knows how to rock and he knows just how to bounce; he never gets tired, he knows how to last; he climbs on slow and doesn't get off fast. Hopalong Cassidy? Errrrrr, no! It's her "Bow Legged Daddy" that Maria's talking about, and these are just some of the things he does that keep a smile on her face.... amongst other things. With David, Herlin and Roland already locked into a sweet groove on the piano drums and bass, as soon as Maria gives her "Ohhhh ride me now" cue - Roderick and Eric join and take thinks up a notch with some sharp sax, clarinet and trombone blowin'.
Maria seems proud of the fact that she's never had more than three men in her life, but that somewhat admirable statement somehow loses it's credibility once she says "I'd still have the third one if it wasn't for his wife". That said, it's man number two - that "Trombone Man Blues" focuses on. As Maria tells it - Number two played the trombone and he thrilled her with his slide; he could push it back and forth and he could slide it to the side; but when he switched to the tuba, she had to take her things and hide. As with all these songs, Maria's sassy, sultry, sensuous and seductive vocal presentation do add intrigue to these innuendos. Evidently, being proud this song's about him, Charlie Halloran lives up to his reputation with one hell of a trombone performance.
Here we are, with the song that started it all - "Don't You Feel My Leg". Now I'm a firm believer of "No means no!" and yes, I do understand "What didn't you understand about no?" means. Having said that, I'm kinda thinking that Maria really does want you to touch her "plump yet oh so fine, little old leg." Featuring every musician in the credits, and on top of their game at that, this one's a musical masterpiece.
Other tracks on this wonderfully done CD include: "Leave My Man Alone" (White), "Scat Skunk," "Here's A Little Girl From Jacksonville," "Nix On Those Lush Heads," "A Little Bird Told Me" and "Handy Andy" (Razaf). Also deserving mention is an eight page very interesting and quite informative booklet insert.
For more on Maria, check her out at www.mariamuldaur.com; for more on the label check them out at www.lastmusic.co.uk; and should you need a copy of "Don't You Feel My Leg" for airplay, contact Lisa Best at lisa@lastmusic.co.uk. Whomever it is you visit or contact please tell them the Blewzzman sent you, but if it's Maria, also tell her that I said her legs look great on the disc's back cover.
BTW, please stay tuned for two more upcoming reviews of The Last Music Company's other new releases - "Ain't No Lady" by Sister Suzie and "Closing Time" by Chris Youlden & The Slammers.


Peter "Blewzzman" Lauro
Blues Editor @ www.Mary4Music.com
2011 Keeping The Blues Alive Award Recipient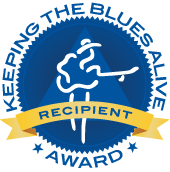 Vanessa Collier
"Honey Up"
Self Released

By Peter "Blewzzman" Lauro © October 2018
So to say that Vanessa Collier, who is still a few years south of the age of thirty, has done it all would be an outrageously ridiculous statement.....or would it? Yeah, it probably would be - but saying she's doing it all would be hitting the nail right on the head. In a genre where recognition usually comes after your social security checks start arriving, the name Vanessa Collier is already common place on many different organizations and foundations awards lists; She's pleasing very large audiences in clubs and festivals all over the world; she's talented enough and, equally as important, confident enough to play alongside, and going toe to toe, with some of the genres giants - as her recent stint on The Blues Cruise just proved; and as "Honey Up", her latest release also proved, besides her already established singing/songwriting/instrumentalist prowess - Vanessa is now quite an accomplished music producer as well. Throw in a glowing personality and and ever present beautiful smile and attitude, and Vanessa Collier's checklist of requirements for success looks like this: check, check check, check, check.....
On "Honey Up", her third release, Vanessa Collier - on: lead and background vocals; alto, tenor and soprano saxes; acoustic and resonator guitars; and snaps is joined by: Nick Stevens on drums, percussion and shuitar; Nick Trautmann on bass; Sparky Parker on electric and resonator guitars; William Gorman on organ, piano, Rhodes, Wurlitzer and clavinet; Laura Chavez on electric guitar; Quinn Carson on trombone; and Doug Woolverton on trumpet. In addition to producing the album, Vanessa also wrote nine of its ten tracks.
On the opening track, Vanessa takes us to church - and I mean that literally, as well as musically. It's an original of hers that describes what it's like to be singing in a choir, in an non air conditioned church down south. That's exactly why the song is titled "Sweatin' Like A Pig, Singin' Like An Angel". Now I'm assuming that since this track was recorded in a comfortable atmosphere at Hearstudios in Maine, that there was very little sweatin' goin' on. On the other hand, between her lead and own backing vocals, Vanessa's sure singin' like an angel. With this being one of the five tracks that feature Quinn and Doug making it a full three piece horn section; Laura, as she always is, killing it on lead guitar; and monster rhythm led by some crazy good piano work by William; it's musically masterful as well.
Featuring the exact same ensemble - with the pace amped up a bit - the music segues into another original track titled "Don't Nobody Got Time To Waste". The only differences are that it's the organ that William's sounding crazy good on and the monster rhythm is being fueled by some fierce drum and percussion work by Nick Stevens. Very hot stuff.
So when something percolates, it permeates gradually and gains energy along the way. If, like me, you're old enough to remember that Maxwell House Coffee commercial where the coffee perks real slow at first them morphs into full throttle percussion, that's a perfect example. So is "Percolatin'", a very funky instrumental that builds up slowly as it goes along. Nick Trautmann's dominating bass lines, William's enthusiastic organ leads and Vanessa'a tenor sax solos all highlight this one.
"Don't call me sweetheart. Don't call me baby. Don't call me anything but my name. You must be foolish, because I ain't your woman, your daughter or your friend. There's a saying in the south and the south's real sweet, bless your heart you poor thing". Now Vanessa may be saying "Bless Your Heart" to this poor dude but with lyrics like those - and the subsequent verses - I'm getting the feeling she really mean "kiss my ass and get the hell out of here!" Although somewhat mellow, with Vanessa on the resonator and Laura on the electric guitar, the guitar work on this one is absolutely beautiful. So is the smooth and sassy way Vanessa's telling this guy to get lost.
The title of this one, "Love Me Like A Man" (Chris Smithers), pretty much suggests it will lean towards a seductive direction and just about every rendition I've ever heard has lived up to that suggestion. So, don't let that innocent smile on that youthful face of hers fool you - Vanessa will give you all the sultry and seductive you can handle - vocally and with her sax. Being one of only three tracks he appears on, Sparky does a hell of a job on an extended lead guitar run midway through the track.
Other tracks on what could be Vanessa Collier's best release yet include: the title track, "Honey Up," "Icarus," "The Fault Line," "You're A Pill" and "You Get What You Get."
By now, most of the blues radio host should already be spinning "Honey Up". With that said, should you need a copy for airplay, or are a fan who'd like to purchase a copy, please go to Vanessa's website - www.vanessacollier.com. When you do, please tell her that her friend the Blewzzman sent you.


Peter "Blewzzman" Lauro
Blues Editor @ www.Mary4Music.com
2011 Keeping The Blues Alive Award Recipient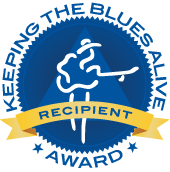 5 Shades Of Blue
"Sweeping Out the Blues"
Self Released

By Peter "Blewzzman" Lauro © September 2018
One of the many things I've learned from doing these reviews for the last twenty years is the fact that there are so many wonderfully talented blues bands in just about every corner of this great big world of ours. Another fact is that the majority of the members in this big blues community we're a part of will probably never get to hear most of them - and that, although understandable - is somewhat saddening. Having said that, one of my biggest pleasures over those years was being one of the fortunate ones who have not only gotten to hear some of these excellent bands but have also gotten to spread the word so that others could, as well.
One of those bands is 5 Shades Of Blue from Edmonton, Alberta, Canada. The band consists of: Jim Snowdon on vocals: Barry Furneaux on guitar; Blair Brown on drums; Tracy Zukiwsky on bass; and Jerry Brown on guitar, vocals and harp. "Sweeping Out The Blues" is the bands debut release and all ten of it's tracks are Jerry Brown originals. For the project, the band was augmented by Dave Babcock on sax; Dennis Meneely on Hammond; Andrew Glover on piano; and Dan Sinasac on hand claps.
Because I like to know more about the band, and the material I'm working with, than the average reviewer does, I sometimes email back and forth with the artists right in the middle of the review. Although this story is a bit too long to tell, when Jerry answered my question about this track, I got a very warm and in depth feeling as to what it was like to hang out "In The Memphis Room" ......a much cooler term - and place - than a man cave. Because of the perfect mix and production, the track turns into a great introduction to each member of the band. The rhythm was so profound I felt like Blair and Tracy were playing right behind me; Dave's sax leads were incredibly sharp and crisp; Jerry's vocals were eloquent and vibrant; and the guitar work was commanding. Great job guys!
"First Love" is one of those songs that takes me all of exactly two seconds to know it's my kind of blues. All I need to hear are those first two to three guitar notes and my ears perk up and that slow blues smile comes right onto my face. There's nothing fancy about it, it's just slow blues being done precisely like it's supposed to be done. Blair, Tracy and Dennis are giving the song just the right heartbeat on rhythm; Jim's soft, soulful and emotional vocals could not have been any more perfect; and Jerry's stinging yet amazingly delicate slow guitar licks are masterful. A most impressive performance to say the least.
Being the sucker that I am for slow blues and ballads, this is another one of my personal favorites. As he so apologetically and so emotionally poured his heart out with these sorrowful and melancholy lyrics, I found myself actually wanting Jim's woman to hear his pleas and give him "One More Night". That's how real he made this one feel. With the rhythm guys in a smooth chill in the background, Jerry's slow burning guitar leads and Andrew's stunningly beautiful piano leads highlight this awesome track.
This swinging shuffle is a story, or most likely a fantasy, about what happened to Jerry at the end of a gig one night. As Jerry tells it, just as the band was ending a late night set, a very hot and sexy lady danced her way to the front of the stage and told him "'Wrap It Up', it's time to make love to you"'. Needless to say, Jerry goes on to tell us he packed his gear up in record breaking time. Musically, this one's a dance floor filler. Several sax leads and timely hand claps, from Dave and Dan, added to the already rich rhythm Blair and Tracy had going on was a big plus. The disc closes with a song titled "Blue" - a track the band claims is "country blues that turned out more country than blues". Call it what you want - I'm callin' it one of those down home, front porch, guitar pickin', vocal twangin', harp blowin', foot tappin' and knee slappin' hoe downs where everyone - including the listener - is having a grand ol' time. Other tracks on "Sweeping Out the Blues" include: "Good Old Shoe," "My Baby, She's Crazy," "Hubble Bubble," "Put Down Again" and "Lady Blues." Since the band is out of Canada and the CD is self produced, I'm sure that most of my radio show host readers have probably not received this disc and you really need to do something about that. You can reach the band by contacting Jerry Brown at jerrywbrown@hotmail.com and by liking the bands Facebook page. Once you find them please tell them the Blewzzman sent you and see if you can get them to tell you about "The Memphis Room".


Peter "Blewzzman" Lauro
Blues Editor @ www.Mary4Music.com
2011 Keeping The Blues Alive Award Recipient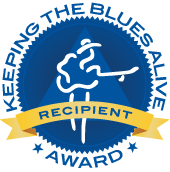 Midnite Johnny
"Long Road Home"
Mosher St. Records

By Peter "Blewzzman" Lauro © September 2018
As the expression goes - "Where does the time go?" I cannot believe that it's rapidly approaching forty years since I first met and became a fan and friend of Midnite Johnny. It was in the early part of 1980, right after my relocation from New York to Florida. One of the first blues bands that I discovered and started following was a group called Kilmo and the Killers. Back then, Midnite Johnny was one of the "killers" and thirty-eight years later not a thing has changed - Johnny is still killing it.
"Long Road Home" is Midnite Johnny's fourth release and his second on Mosher St. Records. On the project, "Midnite Johnny" Morana - on vocals and lead, slide and acoustic guitars - is joined by: Steve Zoyes on B3 organ and piano; John Grillo on drums; Sergio Caizzo on electric and acoustic bass; Stan Waldman on saxophone; Arlene Coutee on backing vocals; and Yoel Hyman on synthesized brass. Additional musicians appearing on some tracks include Walter Williams on bass, James Cotmon on drums and Marc Loren on vocals. Of the album's fifteen tracks, twelve are originals that were individually or collectively penned by John Morana and Steve Zoyes.
The disc opens with a Morana/Zoyes original titled "Your New Occupation". Since their breakup, Johnny's deeply concerned with his vicious ex's new occupation - making a fool out of him. It isn't a good situation to be in but certainly one that makes a good blues song. Frustration is a great inspiration for a powerful and heartfelt vocal performance accompanied by stinging guitar leads and Johnny's all over that. Also, knowing and having seen this amazing rhythm section many times, I'm quite sure that the masterful work I'm hearing right here from Steve (organ), John (drums) and Sergio (bass) will be an album long occurrence. Great opening track.
"Slow Burn Inside" is another original collaboration. It's more of what I just mentioned above with a lot more slow burning blues guitar licks, a profound performance from John on the drums and mellifluous back up vocal support from Arlene.
The original and title track, "Long Road Home", is a full throttle smoker. In addition to tearing it up on slide guitar, Johnny - and Arlene - are belting the hell out of the lead and back up vocals, and the rhythm section - possibly at disc's best - is in a furious and frenzied all out free for all. Phew!
It may be called "Lookin' Good" but it's certainly soundin' good, as well. It's another of Johnny's composition and it's one of its two instrumentals. The earlier part of this one alternates tempos and features some nice individual highlights: John's doing this cool thing with his sticks and snare drum rim shots; "One Night" Stan gets in a few hot sax leads; and Steve takes a few frolicking trots up and down the piano keys. Then, with about a minute left; Johnny switches from soothing rhythm guitar mode into relentless, scorching lead guitar mode; everyone escalates it up four or five notches; and all hell basically breaks out. Another "killer".
"All The Blues", one of Steve's originals, is a number that all of the dancers are going to love. It's a fast paced shuffle that's sure to have you moving and shaking, even if it's in your chair. With John and Segrio laying down some of the album's most serious rhythm grooves; Stan doing likewise with some of the album's best sax leads and highlights; Marc Loren, the disc's producer, singing his heart out; and the boss, killing it on guitar; this is another of the disc's many winners.
One of the disc's three covers is an instrumental titled "Baby Batter" (Harvey Mandell). It features the whole band locked into a tight but very diverse groove. At times it's jazzy; at times it's funky; at times it rocks; at times it grooves; and throughout those different times the only constant is that it's flawless and masterful. Wow!
Another of the covers is the blues standard "Key To The Highway" (Broonzy/Segar). When you look at the names of some of the great rock and blues legends that have performed this song it puts into classic status. Johnny's version is an acoustic solo rendition and it's the kind of performance that could, hands down, win the solo duo category at any blues society's IBC challenge.
Other tracks on "Long Road Home" - what I personally believe is Midnite Johnny's best release to date - include J. J. Cale's "Crazy Mama" and these seven other originals: "Tired Of Foolin' Around," "Motels, Whiskey And Me," "Betcha By Now," "Heard That One Before," "Outta Time," "That's All You Gonna Get" and an acoustic version of "Long Road Home."
If you haven't yet received a copy of "Long Road Home" for airplay, please contact Jerry Blum at www.parklaneprod.com or just email him at geojerry@aol.com. Of course, for more about Midnite Johnny, just go to www.midnite-johnny.com or like his FB page. As usual, tell whomever you contact that their friend The Blewzzman sent you.


Peter "Blewzzman" Lauro
Blues Editor @ www.Mary4Music.com
2011 Keeping The Blues Alive Award Recipient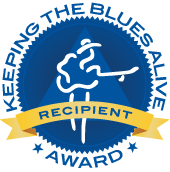 Sister Mercy
"Diamonds"
Self Released CD

By Peter "Blewzzman" Lauro © September 2018
If I were to ever relocate solely based on being able to live in an area with an abundance of very talented blues bands, it would easily be somewhere in the Pacific Northwest - particularly around the Portland, OR area. Spanning the approximately twenty years I've been writing these reviews I can't even begin to tell you how many high quality submissions I've received from that area. As a matter of fact, in one of my earlier reviews I recall saying something about assuming a CD would be good just by seeing a zip code starting with 97 or 98 in the return address on the mailer. That was certainly the case when I recently received a package from Debby Espinor of Sister Mercy.
That package contained "Diamonds", the second release from Sister Mercy - the Portland, OR based band that consists of: April Brown on lead vocals; Scott Garcia on guitar and vocals; Roger Espinor on drums and vocals; John Webb on bass; and Debby Espinor on keyboards and vocals. The disc contains ten tracks of which seven are band originals.
The first impression Sister Mercy made on me took place before the music even started. As I looked at this picture of the band inside the CD jacket.....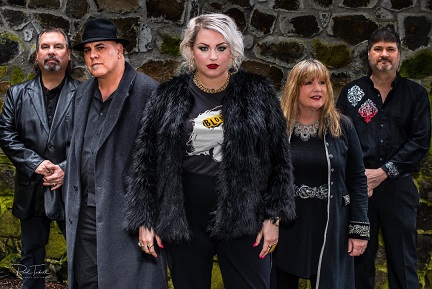 I recall thinking that regardless of the type of songs, or styles in which they were played, that they'd probably be done in a very powerful manner. Sure enough, just like the zip code thing held true, so did the story the band's picture told.
One of the disc's three covers is a very well done version of the traditional "Traveling Shoes". It's a Gospel style smoker that features what I'm going to call the bands trademark - powerful, range roving, attention commanding lead vocals from April with very similar vocal backing by Debby. Throw in the added backup from the guys and you'll swear your listening to a full fledged choir. Speaking of the guys, they're getting in some musical licks as well. The strong rhythm and stinging guitar leads make the whole thing work as well as it does.
On this original track titled "Poison", April - as she does on everything she sings - is once again, very energetically, belting the hell out of the lead vocals; and the back up support - be it in harmony with April or during their melodic background "shoobie do bops" are absolutely fabulous. Musically, there are several standouts worthy of mention; Debby's barrelhouse style piano highlights; Scott's scorching guitar leads; John's profound bass lines; and Roger's constant rhythm leading drumming.
Although "Tell Mama" was written by Clarence Carter the song was made popular by Etta James. Etta's version is best known for being an answer to an earlier song of Carter's called "Tell Daddy". In any event, had Sister Mercy been around during the Motown years, unlike Clarence or Etta versions, this ambitious rendition would have easily topped the R&B charts.
The album's most traditional blues effort is an original titled "Beale Street" - the home to where it all goes down in Memphis, TN. Having been there several times as their blues society's International Blues Challenge representative, and making it to the semi-finals both those times, it's my interpretation that the song is an autobiographical account of the city's merciless seduction of the band: blinding them with the bright city lights; wooing them with the sound of the blues and alluring them with it's charm. Yep, Sister Mercy fell head-over-heals for Beale Street and they'll never, never, never be the same. Welcome to the club! The track features a laid back, tight rhythm groove, several very nice slow blues guitar licks and as usual, the lead, harmony and backup vocals are the songs driving force.
The disc closes with another original titled "Stop Knocking". Calling it a melancholic break up song would pretty much nail the description. Although it's April doing the booting, the obvious pain exuding from her emotional vocals make it evident there will be a torch for her to bear. In spite of the sad subject matter, the duet featuring Debby - with an exquisite piano performance - and April - putting on a flawless, spell binding vocal performance - it becomes an incredibly beautiful song.
Other songs on this awesome project include: "Diamond Doris," "Lay Down With Me," "River Of Tears," Baby I'm No Fool," and "Treat Me Like A Lady".
To experience some of the pleasure I've had listening to "Diamonds", just go to www.sistermercy.rocks and grab a copy. You can also like the bands page by simply searching Sister Mercy on Facebook. Once you contact them, please tell them their new biggest fan the Blewzzman sent you.


Peter "Blewzzman" Lauro
Blues Editor @ www.Mary4Music.com
2011 Keeping The Blues Alive Award Recipient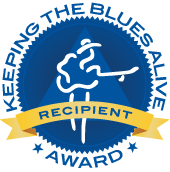 Scott Sharrard
"Saving Grace"
We Save Music
(Release Date 09/21/18
Publicity: Blind Raccoon

By Peter "Blewzzman" Lauro © August 2018
With his connection to The Allman Brothers Band, it's a given that Scott Sharrard - Gregg Allman's guitarist and musical director - knows a thing or three about Southern rock, some of which you'll be hearing on "Saving Grace," his fifth solo release. On the other hand, you'll also be hearing some soul, blues and R&B - with the keyword there being soul - and the influence of that Southern sound will be quite evident in them all.
"Saving Grace" contains eleven tracks with nine being Scott Sharrard originals, another being the last known composition from Gregg Allman and the other being the disc's only cover.
On the project, Scott Sharrard - on vocals, electric and acoustic guitars and claps - is joined by just under my listing limit of thirty musicians; so instead of just referring to them as a "talented bunch of recognizable names", it is my pleasure to mention each and every one. They are: Howard Grimes, Bernard "Pretty" Purdie, Steve Potts and Chad Gamble on drums; Leroy Hodges, Brett Bass and David Hood on bass; Charles Hodges, Alan Gamble and Pete Levin on B-3 organ; Eric Finland on Wurlitzer & electric piano and B-3 organ; Spooner Oldham on Wurlitzer piano; Moses Patrou on percussion, backing vocals and claps; Mark Franklin on trumpet; Art Edmaiston on tenor sax; Kirk Smothers on baritone sax; Jesse Munson, Yennifer Correia and Wen Yih Yu on violin; Jennifer Puckett on viola; Jonathan Kirkscey on cello; Susan Marshall and Pie on backing vocals; Charles A. Martinez, Jesse Guglielmo and the disc's co-producer Scott Bomar on claps; and special guest Taj Mahal on vocals.
"Saving Grace" is one of those albums where I could just go straight down the list of excellent tracks and make positive comments on each and every one but since I just made my point, I'll keep it to a few.
One of the several soft and relaxed tracks is a love song titled "Faith To Arise" (T. Reid). It's a beautifully sung song about a weary traveler looking forward to returning home to his loved ones. With some silky-smooth help from Susan, Scott's not only nailing it on the heartfelt lead vocals, he's doing it on the slide and acoustic guitars as well.
With deep regrets, Scott emotionally and soulfully laments over the loss of the woman who always picked him up when he was down. She knew exactly how to get him through those tough times and bouts with low self-esteem. She was indeed, his "Saving Grace". This, the title track, is the only one on the album that features just the nucleus of the band and in spite of the lack of added horns, and extra percussion, it's still a musical powerhouse. Chad (drums), David (bass) and Eric (B-3 and piano) have the rhythm at a high level of intensity and Scott's laying down some of the disc's most serious blues licks on the guitar.
"Everything A Good Man Needs" is said to be the last song written by the late and great Gregg Allman. Until now, the song had never been recorded and the honor of doing justice to it with the vocal performance it warrants was given to the legendary Taj Mahal. Teaming up for their only appearance on the disc, Bernard Purdie and Brett Bass are putting out the tight rhythm; Also, on his only appearance, Pete Levin - one of the disc's four B-3 players - and Eric Finland on the piano, are totally killing it on the keys.
An obvious common denominator on so many of these songs is how beautiful they all sound and "Words Can't Say" is the cream of that crop. The combination of the majestic strings, the heavenly horns, the pulse of the B-3 and Scott's exquisitely smooth and soulful voice all give this ballad a hymnal feel.
Like a flame thrower, "Sweet Compromise" starts off hot and never lets up. The guitar's smokin', the rhythm's rocking, the horns are howlin' and on an album that has so many monster organ players, I'm going out on a limb and saying Eric's pounding out some of the disc's best B-3 work. If this smoker doesn't get you moving, you've spent way too much time listening to music in a elevator, or worse than that - your pulse may have stopped.
Other tracks on the outstanding release include: "High Cost Of Loving You," "Angeline," "She Can't Say," "Tell The Truth," "Keep Me In Your Heart," and "Sentimental Fool."
By now, those of you who regularly read my reviews surely know that when I'm high on a recording, I generally connect it to some type of comment about future Blues Music Awards. Having said that, let me now say the "Instrumentalist - Vocal" category list just longer....and stronger.
To find out more about Scott Sharrard just go to www.scottsharrard.com and if you've not yet received a copy of "Saving Grace" for airplay, please contact Betsie Brown at www.blindraccoon.com. Whomever you contact, please make sure you tell them the Blewzzman sent you.


Peter "Blewzzman" Lauro
Blues Editor @ www.Mary4Music.com
2011 Keeping The Blues Alive Award Recipient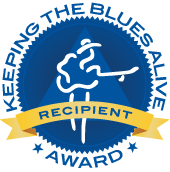 Frank Bey
"Back In Business"
Nola Blue Records
(Release date 09/21/2018)
Publicity: Blind Raccoon

By Peter "Blewzzman" Lauro © August 2018
Prelude
Back in May of 2016, during BMA week in Memphis, I had the pleasure of hanging out with Frank Bey one afternoon in the hotel lobby. At that time, he was being followed around by a film crew who were working on a documentary titled "When You Ask Me How I Feel: The Life And Music Of Frank Bey". When Frank asked me where I got the cool scarf I happened to be wearing my reply was "I sell them, sir" to which he immediately replied "I want some". Fortunately I had several colors of several styles with me and he purchased three. Well, you can imagine how excited I was when that very night, he wore one during his performance at the Blues Music Awards - which, by the way, happened to be one of his last performances before his hiatus.. Here he is below, compliments of Marilyn Stringer at www.mjstringerphoto.com.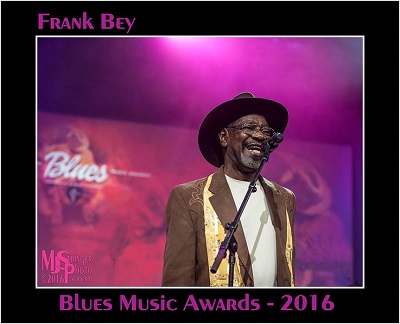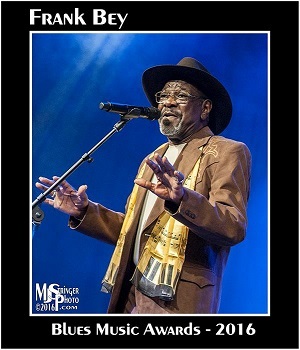 Review
I honestly believe that I can actually say this not just for myself but for everyone in this great big blues family of ours; Some of the best news I/we have heard in a long time is the opening statement made by Mr. Frank Bey on the disc's opening and title track - "Hey y'all this is Frank Bey, I am Back!" To that, I/we say "Welcome Back, Frank."
Although Frank Bey has appeared on many collaboration releases, "Back In Business" is his fourth release under his own name and his first on a label that is becoming a force to be reckoned with in the blues world - Nola Blue Records.
On the project, vocalist extraordinaire Frank Bey is joined by: Tom Hambridge - the disc's producer - on drums, percussion, tambourine and background vocals; Rob McNelly on guitars; Marty Sammon on piano and keyboards; Adam Nitti and Tommy MacDonald on bass; Max Abrams on saxophone; Julio on trumpet; and Wendy Moten on background vocals. "Back In Business" contains eleven tracks of which six are Tom Hambridge/Richard Fleming originals.
As stated above, the album opens with the title track - "Back In Business". It's a Tom Hambridge original and when Tom writes a song for you he indeed writes a song FOR YOU. Sounding as if they are his own words, Frank's not only happy with telling the world he's back in business but he's as excited to be telling it as well. One of the lines on this track states "So many things have happened, it's hard to believe I'm still around" and yet Frank sounds as good and as strong as ever. Musically, it features Tom, Tommy and Marty in a powerful rhythm groove with aggressive guitar highlights from Rob.
Another of the originals is titled "Gun Toting Preacher". Forget confession. If his sermon's don't get you straight, with a cigarette hangin' from his lip, this 300 pound former truck driver will just beat the devil out of you. Damn! I just got a flashback of Sister Mary Joseph back in sixth grade at Our Lady Of Peace Catholic School in Brooklyn. Ouch! With Max and Julio adding vibrant horns to an already funked up rhythm, things get pretty hot on this one.
I've always been partial to slow, torch like ballads and I can listen to Frank Bey sing them all day long. "The Half Of It" - another original - is one of those songs. Nothing makes them sound better than a slow, deep, soulful presentation that's reeking with emotion, and there is no one better at that than Frank Bey. This is that song that fills the dance floor with lovers who are hoping the song never ends. Frank, I'm going on record right now and saying I'd like you to do a sixty minute album with ten of these songs.
As smooth a crooner that he is Frank can belt the hell out of one as well and that's what he's doing right here on "You Better Look Out" - yet another of Tom's masterful writings. It's interesting that just a few days ago I was on social media attempting to make newcomers to the blues familiar with Barkin' Bill Smith and hear I am now, writing about the very similar Frank Bey. It's a baritone kind of week here at the House of Blewzz. With their usually strong rhythm and smoking piano and guitar leads by Rob and Marty, the band's also killin' it on this one.
It seems I'm batting a thousand by touching on nothing but originals so far, so why stop now? On this track, Frank seems to be questioning what causes the mental and physical reactions related to love and emotion. Yeah, good luck with that, Frank. When you figure it out, let us all know, please. In the meantime, just "Blame Mother Nature". Between Frank's powerful, heartfelt and range roving vocals; Tom's compelling drumming and effective tambourine playing (yeah, I said that); Tommy and Marty's mighty bass and organ beats; and Max and Julio's potent horns; it all adds up to this being the disc's most masterful performance. Thank you, gentlemen.
As soon as I heard Rob's scorching, slow blues guitar intro on "Yesterday's Dreams" (K. Frieson) I knew what I was in for. I stopped typing, turned it up, closed my eyes, sat back and eased myself into my blues heaven. A few seconds later Frank started belting the hell out of the blues, Marty drew me in deeper with some mind boggling organ leads and my mind was made up that since I'd need a lot more of this, many replays were in order. Here it comes, my ultimate compliment - it's songs like this are "song of the year" material. Amen!
Other tracks on this incredible album include: "Take it Back To Georgia" (T. Hambridge/R. Fleming), "Cookie Jar" (J. Monjack/K. Frieson), "Where You Been So Long?" (K. Barry/S. McClain), "Ain't No Reason" (J. Monjack/K. Frieson), and "Give It To Get It" (K. Frieson).
In May of 2019, when the Blues Music Award are being handed out at the Cook County Convention Center in Memphis, TN, take it from the Blewzzman, this will be a nominee in several categories.
To find out more about Frank Bey just go to www.frankbeymusic.com and www.frankbeyfilm.com plus you can also check him out on Facebook, as well. If you've not yet received a copy of "Back In Business" for airplay, please contact Betsie Brown at www.blindraccoon.com. Whomever you contact, please make sure you tell them the Blewzzman sent you.


Peter "Blewzzman" Lauro
Blues Editor @ www.Mary4Music.com
2011 Keeping The Blues Alive Award Recipient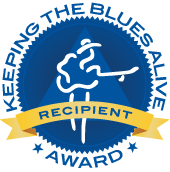 Michele D'Amour & The Love Dealers
"Wiggle Room"
Blueskitty Records
(Release Date 08/24/18)
Publicity: Blind Raccoon

By Peter "Blewzzman" Lauro © August 2018
Although "Wiggle Room" is the fourth release for Michele D'Amour & The Love Dealers, there are several "firsts' that come into play with the project. The album happens to be her first release on her very own Blueskitty Records - and it's also her first release with her new band.
Joining Michele D'Amour McDanel, on lead and backing vocals, are: hubby Patrick McDanel - the only remaining Love Dealer from past releases - on electric bass, electric upright bass and trombone; Jeff Cornell on electric, acoustic and resonator guitars; Dave Delzotto on drums; Brian Olendorf on keyboards; and Noel Barnes on tenor and baritone saxes. Other special guest musicians include: Nora Michaels and John Oliver III on backing vocals; Angelo Ortiz on congas; and Greg Lyons on trumpet.
Having heard all of her previous releases, it's my opinion that the changes Michele made were indeed made for the best because hands down, "Wiggle Room" is the best of the bunch. The disc contains ten, all original tracks.
So with so many songs that use those all too common terms such as loser, cheater, liar, drunk, rotten, abusive, dirty dog, etc, to describe men, it's refreshing to hear one being sung about a "Sweet Lovin' Man". The only problem is that Michele had to go through most of the others prior to finding that sweet lovin' man to come home to every night. Michele and Nora's lead and back up vocals are smooth and sassy, Patrick and Dave have the rhythm right in the pocket and Noel's tenor sax leads are absolutely splendid.
Have you ever thought that one day you might be homeless? Probably not! Although most of us dread the thought of contacting cancer; having a heart attack or even passing a kidney stone (yikes!), most of us don't think we'll ever be homeless - and yet so many unfortunate people are. Just imagine, as Michele has done, that you are:
"Nothing to no one, of no consequence,
his heart's overdrawn, his life makes no sense.
Stands on the corner, holding a sign,
pretend you don't see, pay him no mind.
And nothing to no one, it's dark and it's cold,
the streets are no place to be growing old
He aches all over, keeps moving somehow,
lost and forgotten, no place for him now."
Imagine that - being and meaning "Nothing To No One". Kinda makes you think about those times - as I've admittedly done - pretended I didn't see him and I paid him no mind. Patrick's deep bass lines, Greg's muffling trumpet and Brian's hushed piano leads eerily take you for a walk down a dark alley - a place this unfortunate person most likely calls home.
"Let It Slide" has so much going on it may very well be the disc's best track. The thirty second intro featured such an intense rhythm and percussion thing that I was actually looking forward to it being an instrumental. In that short a time I was just blown away by the hypnotic vibe being laid down by Angelo (congas), Brian (organ), Dave (drums) and Patrick (bass). Then Michele starts singing with this absolutely beautiful, powerful yet soft, note holding voice that instantly commanded my attention......that is until Jeff jumped in with his crazy good guitar licks. Take it from the Blewzzman, if you want to zone out for awhile, put on your headphones, turn the volume up a bit and play this one 4-5 times. Right about here kudos to the disc's producer - Mark Riley - and engineer - Steve Feasley - are in order. You guys earned your fee on this one alone.
On this particular track Michele laments over the useless efforts she puts herself through in her attempts to prove herself "Worthy" to a loser who's not at all worthy of the effort. It is another of the many well written tracks in which she makes strong statements and sends out strong messages. If slow, sultry sax leads perk your ears, midway through this one Noel's got a real nice treat for you.
With a title like "Hard Times", you'd like to think that this was a song about the great depression or some other event you'd like to forget about from the long ago past. In reality, what's greatly depressing is that story the song is telling is taking place right now. It's more about humanitarianism...or lack of it...than it is about politics - but we all know how fine than line is. Michele's heartfelt lead vocals, along with John's soulful back ups as well, do a fabulous job of putting intense feelings into the songs powerful lyrics. Musically, the dark rhythm, the somber sax tones and the solemn keyboard chords perfectly set the tracks melancholy mood.
Other tracks on "Wiggle Room" include: "Falling Down", "Wiggle Room", "Honey On The Side", "Been So Long" and "He Can't Be Wrong".
Between putting her new and best band together, putting out her best work yet and putting it in the hands of one of the best publicists in the genre, Michele D'amour & The Love Dealers have now got it all going on.
To find out more Michele D'Amour And The Love Dealers go towww.micheledamourandthelovedealers.com or just search her on Facebook. If you've not yet received a copy of "Wiggle Room" for airplay, please contact Betsie Brown at www.blindraccoon.com. Whomever you contact, please make sure you tell them the Blewzzman sent you.


Peter "Blewzzman" Lauro
Blues Editor @ www.Mary4Music.com
2011 Keeping The Blues Alive Award Recipient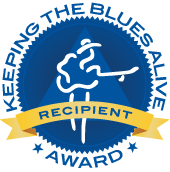 Lawrence Lebo
"Old School Girl"
On The Air Records
(Release Date 08/17/18)
Publicity: Blind Raccoon
By Peter "Blewzzman" Lauro © August 2018
Those of us who know her already knew this, but for those who don't, it shouldn't take much convincing. Just one look at Lawrence Lebo and you'll immediately understand that she is indeed an "Old School Girl" - which by the way, is the name of her sixth album. Furthermore, listening to the album will reinforce the fact.
"Old School Girl" features eight tracks with seven of them being penned by Lawrence.....and as the title of some of her earlier releases warn - "Don't Call Her Larry". On the project, vocalist Lawrence Lebo is joined by: Tony Mandracchia on guitar and banjo; Denny Croy on bass; Steve Mulagin and Ed Eblen on drums; Larry David on organ, piano and harmonica; Phil Parlapiano and Sasha Smith on Hammond B-3; and Wayne Peet on sweetening.
As Lawrence tells it on the title track: Girls today like to get a text, but she'd rather you kiss her on the back of her neck; new school girls like to nay-nay and twirk, but she'd rather swing it and do the jerk; new school girls want to ride in an Uber but you'll see her drivin' her '57 T-Bird; she's an "Old School Girl" from head to toe, look her way baby and I'm sure you'll know. As mentioned earlier, those lyrics only tell part of the story. Lawrence's sultry voice and sassy, swingin' deliverance of them tells the rest. Musically it could easily be one of the disc's best. Denny Croy (Mr. Lebo, if I may say), Ed Eblen and Phil Parlapiano are nailing it on the bass, drums and organ; and although there's a lot more music ahead, I think Tony Mandacchia's smokin' guitar licks could be some of his best work. Killer track!
So you see T-Bone Walker's "Stormy Monday" listed in the song credits and right away you start thinking "Ho Hum". Not this time my friends. Mark my words, this rendition may just have you saying "Hot Damn!" Having heard this song thousands of times by hundreds of artists, I'm pretty sure I just heard the most sensuous, most soulful and most powerful version ever recorded. It's vocal performances like this one that the term "belting the hell out of it" was coined. With another strong rhythm and guitar performance helping him out, it's Larry David deserving the kudos here. His organ and harmonica highlights were absolutely dynamite.
"Stop Shouting Your Business" is something everyone one of us has thought of saying, or possibly has said, to that jerk having a very loud conversation on a cell phone in the grocery store line. Lawrence has surely had it, and is telling it like it is - "nobody cares about your shit, keep it to yourself, don't go telling it". Agreed! From the sounds of things, that grocery store she's in is on Bourbon Street in N'Awlins. With Carl Byron leading the way on his accordion, there's a big time Zydeco thing goin' on here.
There's more that Lawrence has had it with. On "Bad To The Core" she's had it with being good, she's had it with being nice and she's had it with being sweet, but that just ain't happenin' anymore. This one's a smoker with Denny, Steve and the disc's third organist - Sasha Smith - powering the rhythm.
So you're Denny Croy, Lawrence's long time husband, and you have a big night planned for for your thirtieth anniversary. You've got a limo picking you up, reservations at the best restaurant in L. A. and a night of dancing at the city's swankiest club afterwards. All of a sudden, Lawrence starts singing "Happy Anniversary Baby", in the sexiest, sultriest and most seductive way you've ever been sung to and that's it, nothing else is necessary. Cancel the limo, cancel the dinner and just do your slow, grinding right then and there. The slow and smooth rhythm, the relaxed heartbeat of the organ and the stinging slow guitar licks and harmonica leads are just right for it. I can't wait for the Blewzzlady to hear this one.
Although I didn't find any references to her influences I was able to discover that while enrolled in music classes at UCLA, Lawrence Lebo mostly enjoyed studying Duke Ellington. Could it be a coincidence that Dinah Washington, Billie Holiday, Della Reese, Rosemary Clooney, Teresa Brewer, Mae West and Sassy Sarah Vaughan - just to name a few - all have Duke Ellington in common?
Other tracks on "Old School Girl" include: "You've Got A Secret", "Give Me A Try" and an FCC clean remix of "Stop Shouting Your Business".
If you haven't yet received a copy of "Old School Girl" for airplay, please contact Betsie Brown at www.blindraccoon.com and to find out more Lawrence Lebo go to www.lawrencelebo.com or search her on Facebook. Whomever you contact, please make sure you tell them the Blewzzman sent you.


Peter "Blewzzman" Lauro
Blues Editor @ www.Mary4Music.com
2011 Keeping The Blues Alive Award Recipient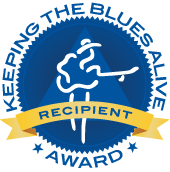 Click Here To Return To The CD Review Index
Click Here For The Blues Portal
Click Here For The Indie Portal
Click Here To Visit Our Music Gift Shop


---
Want your CD reviewed?
Click HERE to email us for information.






*All logos and trademarks in this site are property of their respective owner.
Additional content © 1998-2020 Mary4Music.com. All Rights Reserved.