Blues CD Reviews 78



Don Scott
"Blues And Trouble"
Self Produced
By Peter "Blewzzman" Lauro © August 2018
Prelude
What do the acronyms BMI, IBC, EPK, AIM and WAV have in common with DAV? Absolutely nothing - just like this opening statement has absolutely nothing to do with the review. However, being a veteran of the Vietnam era myself, I feel compelled to write it. As most of you should know, the first five are all music related and as I hope most of you do know, the last one means Disabled American Veteran - of which Don Scott is one. That said, thank you for your service and I'm happy you made it home my brother.


Review
As a solo artist, as a duet, or with a full band: singer; songwriter; guitarist; and harmonica player; Don Scott, a native of Minnesota, has been performing all over the world for very close to fifty years now. His influences include Sonny Terry, Brownie McGhee, T-Bone Walker, Big Bill Bronzy, Count Basie, and more, and just a few of the people he's worked with include Mighty Joe Young, The Legendary Blues Band, James Harmon and pretty much everyone's favorite - the late and great William Clarke.
"Blues And Trouble" is Don Scott's eighth release and of it's thirteen songs, six are his originals. For this project, Don Scott - on the guitar, national guitar, harmonica and vocals - is joined by: Rosanne Licciardi on slap-top cajon, octo-snare cajon and other implements of percussion; Brian Werner on piano; and Karyn Quinn on upright bass.
The disc opens with "Street Walkin' Women" (T-Bone Walker), and like every opening track should do, this one started things off with a great first impression. Having known it or not, hearing Don sing and play just a few notes and chords immediately suggests you're listening to a seasoned blues veteran. That, added to the profound bass lines from that stand up of Karyn's; and the remarkable snare and high hat work from Rosanne; the fact that you're in for a music treat has just been established.
On Aaron Neville's "Devil Ride", with that same excellent rhythm going on alongside him, Don - doing triple duty - pretty much takes charge of the track. His vocals are powerful and passionate; his harmonica highlights are just that - highlights; and listening to his consummate acoustic guitar strummin' and pickin' is a complete joy. Excellent track!
Now, if you've put your earbuds in and are ready for a serious and heart rate rising jog, this might not be the track to play. On the other hand, if you're about to go for a "Lazy Walk", then by all means put it on and stroll along. This original instrumental of Don's will be the perfect accompaniment for it. It should also be mandatory listening for Acoustic Guitar 101 classes.
"Yellow ribbon stickers, plastered on cars, you see them everywhere.
Red, white and blue, support our troops, show them you really care.
Don't show the body bags, maimed or wounded, that'll never do.
We're rough and tough, we always win, God has blessed us to.
But when the troops come home, support's not there, the VA took a cut in pay.
That money went to the rich in last year's tax break, can you come back "Some Other Day"

........and that's just the opening verse on what's very obviously an original track. Ya think Don's pissed? Of course he is - and rightfully so. Just for its powerful lyrics alone, this one deserves several listens. It was during one of them that I realized the polarity of the song. While the lyrics had me as frustrated as Don is, midway through the song an absolutely beautiful and calming guitar and piano performance by him and Brian seemed crazily soothing. From every aspect, this was one hell of a track.
That's okay, I was worried about the same thing. But fortunately for us all, "Cody's Funky Butt" is an instrumental. Phew! I don't even want to know where that would've lyrically gone. On the other hand, this original is another flawless instrumental featuring more extraordinary guitar and piano highlights at the hands of Don and Brian and some lively, funky rhythm and percussion from Rosanne. Another great track.
Another of Don's originals is an instrumental titled "Sunday Cruise", As the name might indicate, it's similar in style to "Lazy Walk" and is somewhat reminiscent of America's "Ventura Highway". Having listened to several of these very relaxed and laid back original instrumentals it's become obvious to me that Don Scott seems to have found peace with himself through the music he creates. If I'm right, I'm very happy for him.
Other tracks on this most impressive album include: "I Don't Want No Woman" (B. Bland); a medley of "Everybody Wants To Go To Heaven/Let The Good Times Roll" (L. Thomas/S. Therad); "Mother-In-Law Blues" (J.Parker); "How Come My Dog Don't Bark?" (P. Partridge); "Black Night" (C. Brown); and two more originals titled: "8 Days Of Hell" and "Glad To Have These Blues".
If - like me - you had not yet been aware of Don Scott, then you need to change that right now by simply going to www.donscottblues.com. He and Rosanne have made it very easy to reach them by listing several contact options. When you do that, please tell them their new friend the Blewzzman sent you.


Peter "Blewzzman" Lauro
Blues Editor @ www.Mary4Music.com
2011 Keeping The Blues Alive Award Recipient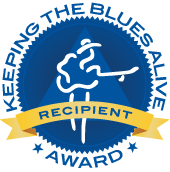 Bobby G
"PHD In The Blues"
Third Street Cigar Records
By Peter "Blewzzman" Lauro © August 2018
"PHD In The Blues" is Bobby G's second release in just about a year. Since he waited till the age of seventy-three to release his first, it appears to me that he just might be trying to make up for lost time. At least that's what I'm hoping - I'd surely welcome a release a year from this powerful soul singer.
Since a line I used in my review of his debut album "Still Standing" - back in July of 2017 - is once again true, I'm simply going to say it again. "With Johnny Rawls - the perennial nominee and often winner of many soul blues awards - having written or co-written all of the disc's ten tracks, you'd be correct in assuming that this one is loaded with soulful blues". That said, let me just add that these are all new tracks written expressly for Bobby. On "PHD In The Blues", lead vocalist Bobby G is joined by: Larry "Entertainment" Gold on guitar; Johnny "HiFi" Newmark on bass; Scott Kretzer on drums; Danny Pratt on harmonica; Ramona Collins and Trez Gregory on background vocals; Cadillac Dan Magers on keyboards; Eric Sills on shakers; Rick Wolkins and Mark Lemle - a.k.a. The Toledo Horns - on trumpet and saxophone; and special guest, the maestro himself, Mr. Johnny Rawls on background vocals, rhythm guitar, keyboards and song compositions.
Sometimes interpretation just doesn't come into play and you've just got to let the song's lyrics tell the story themselves. That's the case right here on the title track.....
"I grew up in Mississippi
didn't have much use for school.
I went on the road with my band
just singin' and playin' the blues.
The blues took me around the world
places I'd thought I would never be,
I met all kinds of people
oh I thought I never would meet.
I don't have a diploma
hanging on my wall.
when it comes down to real life
I learned it all.
I've got a 'PHD In The Blues."'
As Bobby G very soulfully and very sincerely tells it, similar to getting an education at the "school of hard knocks", he learnteverything he knows from the blues. The blues is his teacher, his preacher and his friend. Musically, it's as stellar as the vocals and lyrics. The rhythm work is precision work, the Toledo Horns are heavenly horns and Larry Gold's stinging blues guitar licks are as good as gold.
This opening line of "Just Can't Stop Loving You" - "Oh Man! Boy I'm a mess." - cracked me up. Bobby's in a bad way and as you might expect it's because of being dumped by a woman. Because he just can't stop loving her he stopped smoking; he stopped drinking; he stopped cussing; he stopped gambling; he stopped flirting; he stopped cheating; and although those are indeed great accomplishments - they were all to no avail. You see, the truth of the matter is that although it breaks Bobby's heart, they're much better apart. Once again, the rhythm is right in the pocket, Larry's lead guitar shines and Bobby's vocals - along with smooth harmony and backup support from Ramona and Trez - highlight the track.
This smoker's called "Love Machine", and at the hands of Scott and HiFi putting out some of the disc's most profound rhythm; and the horn section adding fuel to that fire; that well tuned machine is working at full throttle. The dancers will go crazy over this one. It's even got Bobby wanting to scream. "Don't Change Lovin Me" may very well be my favorite song of the batch. With the silky smooth and soulfully sincere way in which he lets his lady know: she can change the color of her hair; she can change the clothes she wears; she can change her point of view; and anything else she wants to - as long as she doesn't change loving him; Bobby is at disc's best on vocals. On top of that, the tracks also features Cadillac Dan putting on a flawless keyboard performance from start to finish with several monster solos in between. This one drew a handful of replays.
I promise you that by the second time you hear Johnny Rawls, Ramona and Trez sing this songs chorus line you'll be singing "Where Did The Blues Go?" right along with them. Paying homage to B. B. King, Albert King, Freddie King and Albert Collins, as Bobby voices his displeasure for today's music he can't help but wonder where the blues has gone. With the rhythm section doing their usual smoking stuff behind them, Danny and Larry light it up with some seriously hot harmonica and guitar leads.
Have you ever been to a show where the band gets into such a groove that you just want them to "Do It All Night"? I have, and this is one of those songs. Put me somewhere with Bobby G and the guys doing this one and you can lock the door and throw the key away. Killer stuff!
Other tracks on "PHD In The Blues" include: "Ain't That A Good Thing", "No More Picking Cotton", "How Can I Miss?" and "Whole Lotta Money".
To get a copy "PHD In The Blues" and to learn more about Bobby G and Third Street Cigar Records, just go to the label's website at www.thirdstreetcigarrecords.com. While you're there, please tell them that the Blewzzman followed Bobby G's message on the liner notes and told all of you about this under appreciated blues artist and his band.


Peter "Blewzzman" Lauro
Blues Editor @ www.Mary4Music.com
2011 Keeping The Blues Alive Award Recipient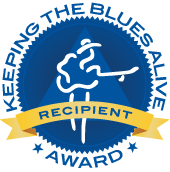 Bruce Marshall Group
"Borrowed Time"
ATM Records
By Peter "Blewzzman" Lauro © July 2018
Of the many things I love about my twenty years of being a part of Mary4Music, the fact that I get exposed to bands I probably would not have been exposed otherwise, has to be very high on the list. Even bands that have been together for many years and have many releases to their credit. The Bruce Marshall Group is one of those bands. The Boston, MA area band has been making music for twenty-seven years now and "Borrowed Time" is their seventh release.
On "Borrowed Time", the Bruce Marshall Group includes: Bruce Marshall on lead vocals and electric, acoustic and Dobro guitars; Dave Cournoyer on electric, acoustic and slide guitars, bass, keyboard and vocals; Steve Roberge on sax and harmonica; Glen DiTommaso on bass; and Pete Premo on drums. Guest musicians include: Denise Cascione and Al Hospers on background vocals; Brian Mass on organ; Andrew Renault on bass.
Covering several styles of blues that emphasize the bands versatility, "Borrowed Time" features eleven Bruce Marshall originals and a cover of Santo and Johnny's timeless masterpiece, "Sleepwalk".
The opening track addresses a situation that I'm sure has happened to more people than it hasn't. It's that sticky situation where very good friends of yours break up and somehow you just can't avoid getting "Caught In The Middle". It's a swinging, rhythm fueled dance number that's powered by some deep bass lines by Glenn; some smokin' drumming by Pete; Jumpin' sax leads by Steve; furious guitar leads by Dave; and outstanding lead and harmony vocals by Bruce, Dave and Al that feature a catchy sing-a-long chorus. Fun track.
Things seriously slow down on the title track, "Borrowed Time". It's songs like this that the term "scorching blues" was conceived to describe. You put the rhythm guys in that real tight place, you create piercing, string bending guitar licks and you belt the hell out the blues vocally and simply put, you've indeed got scorching blues.
This track's titled "Short On Cash" and need I say it contains more very relatable lyrics? It's a tongue-in-cheek story about the American dream turning into a nightmare. Musically, it's a jazzed up shuffle and everything about it says smooth. It's vocals; it's instrumentation; and it's style...smooth, smooth, smooth.
Okay, there seems to be a pattern here. Obviously, Bruce understands what's going on in most of our lives. This one is titled "If Dreams Were Money" - and you know how the rest of that line goes, right? With Glenn, Pete and Brian locked into a rich rhythm groove on the bass, drums and organ, it's the vocals and guitar work that shine on this slow blues burner. The struggle Bruce is going through can clearly be heard, and felt, through his intense and emotional vocals and that pain becomes highly emphasized by the tandem stinging guitar leads he and Dave share. This is how you sing and play the blues. Great track!
Similar to the way I described an earlier track, everything about "Smooth Ride Up" says beautiful. It's a beautifully written, beautifully performed acoustic track with precision pickin' by Bruce and Dave and utterly beautiful vocal and back up vocals by Bruce and Denise.
If you were going to list the bands that have covered this song I'd probably tell you it's easier to list the ones that haven't. Yeah, I'm talking about that ageless song that Santo and Johnny had a number one hit with nearly sixty years ago - "Sleepwalk". Being the ultimate slow dance song made it a staple on Dick Clark's "American Bandstand" but it's also the ultimate Zen song, as well. This rendition the Bruce Marshall Group is doing is as good as any I've heard. Bruce's lead guitar and Dave's Fender Strat slide guitar runs are absolutely flawless; as if the song itself wasn't already transcending, Steve's sultry sax leads seduce you even further; and if the rhythm got any softer, I'd have to stop and finish this review tomorrow. Gentlemen, thanks for the best and most stress-less 30 minutes (yeah, that many replays) of my week. You guys nailed this one.
Other excellent songs on "Borrowed Time" include "Flat Tire Shuffle", "Devil's In The Delta", "Overpaid My Dues", "Victor Talking Machine", "Friday Night Shoes" and "Seeds Of Doubt".
Between his time with this band and his other projects, Bruce Marshall's musical career spans nearly six decades in which he's worked with some names I'm sure you'll recognize. You can learn all that and more by checking him out at www.brucemarshall.com. While you're there, besides looking into purchasing some of his music, please make sure you tell him the Blewzzman sent you.


Peter "Blewzzman" Lauro
Blues Editor @ www.Mary4Music.com
2011 Keeping The Blues Alive Award Recipient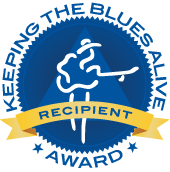 Prelude
Having made quite a name for himself on the British blues scene, Daniel Smith now resides in Spain. To date, he has ten solo releases and he's not only played with many of Great Britain's best musicians but he's toured with many American blues artists as well. As many artists do, Daniel contacted me and asked if I'd be so kind to check out some of his You Tube videos and upon doing so, I was so impressed that I started sharing them on my Facebook page. I'll be happy to share that link with you all, but since I don't want you leaving here right now, I'll do that at the end of my reviews. Yes, I did say reviews because this is going to be a review of Daniel's eighth release titled "Once In A Blue Moon" and his tenth release titled "Keys To The Highway". Enjoy!

**************************************************


Daniel Smith & Friends
"Keys To The Highway"
Pinetop Records
By Peter "Blewzzman" Lauro © July 2018
Once again, "Keys To The Highway", is Daniel's tenth and latest album (2015). Now don't let the title fool you, the CD has nothing at all to do with that blues standard with a similar title, that has been recorded and performed by countless blues musicians - that was called "Key To The Highway". In actuality, the keys to this highway are the piano and organ keys. All nine of the tracks are Daniel Smith originals with five of them being instrumentals.
Joining Daniel Smith on the piano, are: Alan Barnes on saxes; Dave Briggs on guitar and lead vocal; Lester Brown on trumpet; Roger Cotton on Hammond organ; Matt Empson on piano; Alan Glen on harmonica; Andy Jones on bass; Peter Miles on drums and percussion; Jaelee Small on lead and backing vocals; and Alan Vincent on guitar. Now some of you may have noticed three keyboardists in that group and that could very well have has something to do with the titling of the album. As a matter of fact, the very first track I'm going to tell you about features all three. Let's go listen.....
The disc opens with a track called "Three's Company Boogie". Although it's a virtual keyboard orgy, saying it's all about the 88's would be a gross understatement. With Daniel and Matt both playing pianos and Roger playing the Hammond organ, it's more like this one is all about the 243's (or there about). It's a smokin' boogie-woogie number with obviously monster keyboard work and some good percussion support from Peter. If there are any piano teachers reading this, you might want to consider incorporating "Three's Company Boogie" into a lesson. For that matter, probably the rest of the tracks as well.
On "Hey John", with Peter in the driver's seat on the drums and percussion, both Daniel and Roger settle their piano and Hammond more into a rhythm than lead mode. Additionally, the track is one of just four that features the very beautiful voice of Jaelee, who pretty much runs away with it on the vocals.
Although this album is a keyboard rich production, and yes there are several nice piano leads by Daniel on this one as usual, "Forbidden Fruit" turns things over to the guitarist - and in more ways than one. Not only does Dave get some very smokin' guitar licks in but, with a bit of backup and harmony support from Jaelee, he shines on the lead vocals as well.
If the term jazzy lullaby isn't a thing - I'm making it one right now because I can't think of a better way to describe "Some Sunny Day". No, it certainly didn't put me to sleep but it did transcend me into the most relaxed state I've been in all week. It's nearly seven minutes of sensually soothing piano chords by Daniel, sultry sax leads by Alan Barnes, hypnotic bass lines by Andy and calming brush and snare work by Peter. Outstanding performance.
Simply said, "Yo Yo" is the disc's smoker. Jaelee may be disappointed that her life - like a yo yo - is up and down, but the powerful up and down vocal range she's got going on right here is quite satisfying. Throw in Andy and Peter at disc's best on the rhythm, a few monster Hammond leads by Roger, and a couple of killer guitar highlights by Alan Vincent and you're easily listening to one of the disc's best tracks.
Other outstanding tracks on "Keys To The Highway" include: "Forgotten Hero," "Keys To The Highway," "Go With The Flow" and "Boogie Tequila".
As promised earlier in the prelude, here is a link to the You Tube track of Daniel's that blew me away. It's titled "Just Because" and sadly, it's not on either of the above discs - https://www.youtube.com/watch?v=ulyBgS9K94A&index=6&list=PLr-LaMpXAu8FLmmA0hVx-l_9VNNM4Tk1d&t=0s.
To learn more about Daniel Smith, and to purchase a copy of some of his many releases, just go to www.danielsmithbluesband.com. And as always, please tell him the Blewzzman sent you.
***Side note to radio hosts*** For those of you interested in getting your hands on either of the above discs for airplay, Daniel has assured me that in his quest for getting a broader appeal, he'll be happy to mail or email you his music.


Peter "Blewzzman" Lauro
Blues Editor @ www.Mary4Music.com
2011 Keeping The Blues Alive Award Recipient






Daniel Smith & Friends
"Once In A Blue Moon"
Pinetop Records
By Peter "Blewzzman" Lauro © July 2018
As stated above, "Once In A Blue Moon" is Daniel Smith's eighth solo album. It was released back in 2009, almost ten years to the day from when he had his first band gig performing under his own name. Joining Daniel, on piano and backing vocals, are: Alan Glen on harmonica and guitar; Earl Green on vocals; Andy Jones on bass and vocals; Peter Miles on drums and percussion; and Jon Taylor on guitar;
"Once In A Blue Moon" contains eleven tracks of which six are Daniel Smith originals. Additionally, since Daniel Smith is regarded as one of the best boogie-woogie pianists to ever sit in front of the instrument, five of those tracks are smokin' instrumentals you'll surely want to boogie to.
Right out of the gate, the opening track pretty much sets the tone for what you should expect to hear for the next forty-five minutes or so...rock 'em, sock 'em, boogie-woogie blues. It's an original titled "Big Frank's Fish Fry", and with all the catfish, crawfish, whisky and wine being served, it sounds like the place to be. As I'm sure it's going to be on most of the tracks, the rhythm on this one furious. As Daniel leads the way with an accelerated pace of piano playing, everyone, including Andy on the vocals, is in full stride staying right there with him.
Two of the disc's instrumentals are "Once In A Blue Moon" - another original - and "Honky Tonk Train Blues" (M. L. Lewis). Along with some incredible piano mastery by Daniel, the first of the two tracks also highlight some of Peter's tremendous drumming and smokin' guitar leads by Jon. The latter of the two features Daniel running up and down those eighty-eights while spending most of the time on some absolutely amazing right hand high end runs while Alan does some similar runs up and down those harmonica holes. Both excellent tracks.
Considering how popular the song is, and how many greats have had success with it, a lot of artists have made "Ain't Nobody's Business" (P. Grainger) their business. With the way Daniel and the guys nailed this standard, it's certainly their business as well. Falling more into the slow blues part of the genre, you all already know I'm loving this one.
Another standard the guys seem to have down pat is "Rock Me Baby"(J. Josea/B. B. King). Interestingly enough, on an album with about fifty percent instrumentals and featuring masterful piano work on all of the tracks, the vocals have been quite impressive as well. On one of the two tracks he sings on, Earl's doing one heck of a job right here.
The following standard is a boogie, "Pinetop's Boogie Woogie", and if you happen to be thinking about the beloved, late and great Pinetop Perkins, you'd be incorrect. This one was written by an earlier, and possibly even original Pinetop - Mr. Clarence Pinetop Smith (1904-1929). You also might be thinking that this one is all about some fast and furious piano playing and what Daniel's doing right here would prove you correct on that.
Other tracks on "Once In A Blue Moon" include: "Can't Stand Your Evil Ways" (J. B. Oden/ O. Spann); and Daniel Smith's four other originals: "What Do I Want?", "Chewin' The Fat Boogie Woogie", "You And Me" and "Because I'm Worth It".


Peter "Blewzzman" Lauro
Blues Editor @ www.Mary4Music.com
2011 Keeping The Blues Alive Award Recipient






J. P. Soars
"Southbound I-95"
Soars High Productions
By Peter "Blewzzman" Lauro © July 2018
It's always a thrill when I get to do a review of a CD that's not only excellent but it happens to be a CD from a very good friend as well. Living in South Florida for as long as I have, I've had the pleasure of having a long time friendship with J. P. and seeing his live shows more times than I can count - both as J. P. Soars and the Red Hots and as a member of Southern Hospitality.
On "Southbound I-95", his fourth release, J. P. - on vocals; electric guitar; acoustic guitar; slide guitar; two string cigar box guitar; viloa caipira - which is a Portugese folk guitar, and bass; is joined by seventeen outstanding artists of which many should be quite familiar names. They are: his long time friend and band mate, Chris Peet on drums, percussion, electric and upright bass; Travis Colby on organ, piano and Rhodes electric piano; Teresa James on background vocals; Jason Newsted and Greg Morency on bass; Lee Oskar on harmonica; Jimmy Thackery and Albert Castiglia on guitar; Paul DesLauries on slide guitar; Reza Filsoofi on setar, daf and tomback drums; Sam Harrison, Oscar Santiago and Jeremy Staska on percussion; Terry Hanck and Sax Gordon on tenor saxophone; Tino Barker on baritone saxophone; and Scott Ankrom on tenor and baritone saxophone and trumpet. That all adds up to a lot of performers, using a lot of instruments and creating a lot of good music.
Along with an Albert King and a McKinley Morganfield cover, "Southbound I-95" contains a very impressive thirteen J. P. Soars originals. Now let's go listen to some.
Pretty much everyone who spends a lot of time on the road will eventually come down with a case of homesickness and on the opening track - "Ain't No Dania Beach" - J. P.'s got the bug.....big time. I know for a fact that one of his favorite ways to spend a day off is relaxing while searching for shark's teeth on the beach - yep, Dania Beach! As he tells it, now matter how good he has it while away, "it ain't no Dania Beach". Adding Paul DesLauries' slide guitar to J. P.'s masterful play, plus a four man rhythm and percussion section, ya gotta know this is a good one.
If you've ever driven I-95 in Florida, no matter which direction you go, you'd better be going fast because the cars behind you sure as hell will be. As a matter of fact, as crazy as it may sound, the faster you go the safer you just might be. On this particular trip J. P. is heading "Southbound - I-95" and he's flat out flying. That said, so's the track. Chris Peet and Jason Newsted (Metallica) have the rhythm in overdrive; there's a tsunami pushing the surf groove J. P.'s laying down on guitar; and his anxious vocals make it quite clear there's a sense of urgency going on. A no holds barred smoker for sure.
"Shining Through The Dark" is the only track that features multi Blues Music Award Winner Terry Hanck on the sax and for that reason alone (but there are others too) it's worthy of mention. Being good friends, and pretty much neighbors, Terry and J. P. play often and quite well together. It's a catchy, danceable number that features soulful vocals from J. P., very melodious backup and harmony vocals from Teresa James, smooth rhythm from Chris Peet on both the bass and drums, and Terry laying down some of that Junior Walker Motown silkiness he seems to do oh so well. Real good stuff.
My regular readers know that I often say that the best way to make a good band better is to add a saxophone and a piano. On "The Grass Ain't Always Greener", with the addition of Sax Gordon (another Blues Music Award winner) on tenor; Tino Barker (Luther 'Guitar Junior' Johnson) on baritone; and Travis Colby (Roomful of Blues) on piano; the additions done in absolute grand style. Travis' relentless honky tonk style hammering of the keys along with the toe to toe slug fest taking place on the saxophones totally turn this one into a three-alarmer.
So just from the credits above it's pretty obvious that J. P. Soars can play pretty much play any kind of guitar but on top of that he can play any style of guitar as well. At any particular show of his, you'll surely hear doses of rock blues; soul blues; surf-abilly; gypsy jazz; and the style that always perks this listeners ears up - good old, straight up, slow blues - the kind he's killing it on right here with "When You Walk Out That Door" (Albert King). The track opens with a minute long scorching guitar lead by Jimmy Thackery who, after another few smokin' leads settles into a rhythm mode while J. P. takes over and just runs with it while playing and singing his heart out. It's the equation that always works for me - longest song, at seven minutes + most traditional blues song = best song on the disc.
"Deep Down In Florida" (McKinley Morganfield) features J. P. Soars and Albert Castiglia swapping crazy good guitar licks and lead vocals all with some of the disc's best rhythm and percussion - all at the hands of Chris Peet - going on behind them. Nuff said! For those reasons alone you you should right now be looking for a place to buy the disc.
"Across The Desert" is a gypsy jazz style instrumental that just features J. P. on guitars, Chris Peet on drums and upright bass and Lee Oskar on harmonica .....and did I really just say just? This is one that should be mandatory listening in music class. Simply paying attention will be a learning lesson in itself.
Other tracks on "Southbound I-95" include: "Sure As Hell Ain't Foolin' Me," "Arkansas Porch Party," "Satisfy My Soul," "Born In California," "Dog Catcher," "Troubled Waters," "Go With The Flow" and a radio edited version of "Sure As Hell Ain't Foolin' Me."
If you haven't yet received a copy of "Southbound I-95" for airplay, or if you just want to know more about J. P. Soars, hit him up at www.jpsoars.com. When you do, please tell him his friend the Blewzzman sent you.


Peter "Blewzzman" Lauro
Blues Editor @ www.Mary4Music.com
2011 Keeping The Blues Alive Award Recipient







J.T. Lauritsen & The Buckshot Hunters
"Blue Eyed Soul Volume 1"
Hunters Records
By Peter "Blewzzman" Lauro © July 2018
So a Knarr sails across the Atlantic from Norway, heads up the Mississippi River and docks in Memphis. A bunch of Vikings disembark and head toward Beale Street with what appears to be musical instruments on their burly backs. They walk into Club 152, set up their gear and start playing some Memphis Soul music as good as all get out. Ridiculous, right? Not really! Other than the part about the ship, the rest is as real as it gets. Although J.T. Lauritsen and The Head Hunters aren't really Vikings, their statuesque frames and rugged looks could land any one of them a role in a remake of "The Norseman"; during the International Blues Challenge, the band actually did played at Club 152; and their new CD titled "Blue Eyed Soul Volume 1" is full of some downright, damn good Memphis Soul. Of the disc's ten tracks, half are J. T. originals.
The Buckshot Hunters are: J. T. Lauritsen on vocals, Hammond organ, harmonica and accordion; Ian Fredrick Johannessen on rhythm, lead, slide and acoustic guitar; Arnfinn Tørrisen on rhythm, lead and tremolo guitar; John Grimsby on drums, percussion and backing vocals; and Morten Nordskaug on bass, acoustic guitar, baritone guitar and backing vocals. Many special guests on the project include: Dave Fields on lead, rhythm and acoustic guitar, and backing vocals; Paul Wagnberg on Hammond B3; Børge-Are S. Halvorsen on baritone and tenor sax; Jens Petter Antonsen on trombone and trumpet; Mike Zito on lead and rhythm guitar; Jimmy Carpenter on tenor sax; Deanna Bogart on tenor sax and backing vocals; and Ronny Aagren on backing vocals; That's a lot of music in the making right there.
Although the title of this original song might not indicate it, "Back Pain Shuffle" is actually a love song. With the pain being like the devil, J. T. has just the right medicine for it. It's not a pill, it's not a shot, and it's not a massage, it's simply the touch of his lady's hand that just makes the pain go away. You can actually tell how good he's feeling just by listening to this very soulful vocal performance. Musically, it features a powerful rhythm - led by John and Morten on the drums and bass - and lots of backup from the four piece horn section; and some killer guitar work from Mike Zito on lead, and not one, but two rhythm guitarists.
"Nothing Takes The Place Of You" (Toussaint McCall) may very well be the disc's best vocal track. It's an old school, sixties slow blues melancholy ballad that features J. T. absolutely singing his heart and soul out. He may have not written these lyrics but I'm telling you, J. T. is feeling their pain. On top of that, along with the rhythm of Jon and Morten, J. T.'s accordion and organ work wonderfully add to the songs heartbeat. Rounding out this one's' highlights are the magnificently melodic harmony and back-up vocals from Deanna and the masterful horn interludes from Børge-Are and Jens. I've said this in some of my previous reviews and with this being that caliber of a song, I'll say it right now as well - I have literally been listening to this under five minute song for over a half hour. Great track, J. T.
I specifically wanted to touch on this original track - "You Got Me Down" - for two reasons. The first of course, is because its excellent and the second is that it's the only track that features just The Buckshot Hunters. Sometimes, when an album features the amazing guests that this one does, it's all to easy to overlook the top notch quality musicians that are the core of the group. With Ian and Arnfinn flipping the lead and rhythm guitar work back and forth, Morten and Jon laying down their usual smokin' rhythm, and J. T. blowing out some powerful vocals and harmonica leads, the music's in good hands with The Buckshot Hunters.
With this one starting off with a sultry sax lead by Jimmy; outstanding heartfelt vocals and back up vocals from J. T. et al; four scorching guitar solos from the disc's three amazing guitarists; Morten and Jon - with some organ support from J. T - working their magic on the rhythm; and additional tandem saxes between Jimmy and Deanna; "You Better Believe" this original is another of many notable tracks.
The disc closes with a track written by Mike Zito and it's title "Sweet On Me". It features a lot of different guitar work but not the type of guitar you might associate with Mike. It's a slow, smooth ballad highlighted by acoustic, baritone and bass guitars - all played by Morten; relaxed rhythm guitar by Mike; softly soulful vocals by J. T.; more tight rhythm with superb accordion and organ leads by J. T.; and a monster minute long sax solo by Jimmy that closes it all out.
Other tracks on "Blue Eyed Soul Volume 1" include: "Anything I Can Do" (Nicholson/Andersen), "Stay With Me All The Time" (Johannessen/Lauritsen), "Please Help Me Now" (Nordli), "Lovers Holiday" (Fields) and "Be My Girl" (Lauritsen).
Aside from the music, I also found the words "Volume 1" in the albums title to be quite exciting. That can only mean one thing - there will be some more "Blue Eyed Soul" in our futures. Bring it on J. T.
If you haven't yet gotten a copy of "Blue Eyed Soul Volume 1" for airplay, or if you just want to learn more about J. T. Lauritsen And The Buckshot Hunters, please contact them at www.jtlauritsen.com. As usual, please tell them their buddy the Blewzzman sent you.


Peter "Blewzzman" Lauro
Blues Editor @ www.Mary4Music.com
2011 Keeping The Blues Alive Award Recipient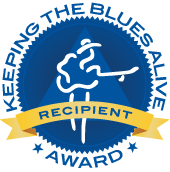 Click Here To Return To The CD Review Index
Click Here For The Blues Portal
Click Here For The Indie Portal
Click Here To Visit Our Music Gift Shop


---
Want your CD reviewed?
Click HERE to email us for information.






*All logos and trademarks in this site are property of their respective owner.
Additional content © 1998-2020 Mary4Music.com. All Rights Reserved.