Blues CD Reviews 77


Russ Green
"City Soul"
Cleopatra Records
Publicity: Blind Raccoon
By Peter "Blewzzman" Lauro © July 2018
Having made his mark as an Assistant Director in TV and Film, with such credits as: ER; Prison Break; Hard Ball; The Break Up; and many more, Russ Green is now hoping to make a similar mark in the recording industry and thankfully, he has chosen our genre - the blues!
Where he used to hang out with people like: Paul Newman; Tom Hanks, Daniel Craig, Vanessa Williams; Bruce Willis; and dozens more, he's now hanging out with the likes of: Sugar Blue; Billy Branch; John Primer; Laurie Bell; and Big Llou Johnson - just to name a few.
With his debut release, "City Soul", Russ Green's jump into the blues pool will be making more than one splash. Not only will his exceptional and soulful voice establish him as a force to be reckoned with as a soul blues singer, but he's laying it all out there on the blues harmonica as well.
"City Soul" is a tribute to the city of Chicago, the city he once again calls home. The album was recorded there and features some of the areas best session players, as well. Joining Russ Green, on vocals and harmonica, are: Giles Corey on guitar; Marvin Little on bass; Ricky Nelson on drums; Vince Agwada on slide guitar; Joe Munroe on Hammond B3; and special guest Eric Bibb on vocals and acoustic guitar on "Goin Down South." The disc contains ten all original tracks.
There's no better way of making a first impression than to open a disc with the first track smokin'. Russ Green not only did that, but he did it with a song appropriately titled "First Thing Smokin'". With everyone in full jam mode behind him, the track opens with Russ blowin' a harp as hard, and as good, as any I've heard and for the next four minutes, there's no turning back.
Having had relationships end, even one in the arms of his best friend, has been rough for Russ. So rough that he's finding it difficult to still "Believe In Love". With Marvin, Ricky and Joe running the tight rhythm on the bass, drums and Hammond, this one puts the emphasis on Russ' masterfully smooth, emotional and soulful singing style. That, and the killer mood setting, melancholic harp leads easily make this one of the disc's best.
Although the track features the full band, from what I'm hearing here on "Goin' Down South" - which features Eric Bibb on vocals and acoustic guitar - Russ Green may have just found a partner should he ever decide to do a Piedmont Blues style duo album. Should it happen, I want a copy.
This next track tells a compelling story about a few of today's depressing social issues. Russ' use of gripping lyrics help emphasize the seriousness of the matters as he describes the lives of three different people in very similar situations. One involves a drug and pimp dependent prostitute, another involves a homeless veteran and the third involves a teenage girl being abused by her mother's dirtbag boyfriends. Sadly, they're all riding on the "Train Of Pain".
The title of this one - "Lint In My Pocket" - pretty much sums up the storyline. As Russ tells it, "some people are born with silver and some people are born with gold, but I came into this world with a plastic spoon and it was dirty and it was old......". He paid his dues, now he's singin' the blues. Great rhythm with a bit of a funky groove and a lot more excellent harp leads.
Other tracks on "City Soul" include: "The Edge," "Lover Man," "Up From The Bottom," "Something New," and "Love To Give."
If you haven't yet received a copy of "City Soul" for airplay, please contact Betsie Brown at www.blindraccoon.com, and to find out more aboutRuss Green, just go to www.russgreenmusic.com. Whomever you contact, please tell them their friend the Blewzzman sent you.


Peter "Blewzzman" Lauro
Blues Editor @ www.Mary4Music.com
2011 Keeping The Blues Alive Award Recipient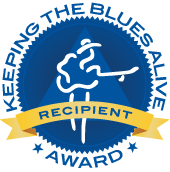 Tom Hambridge
"The NOLA Sessions"
Superstar Records
By Peter "Blewzzman" Lauro © June 2018
Having just completed a review of Buddy Guy's latest release, here I am, right back working on one from his producer, writer, drummer and good friend, Tom Hambridge. "The NOLA Sessions" is Tom's eighth release and at the risk of being redundant, I'm going to use a very similar line to a statement I made about Buddy's CD. In as much as Tom has recorded so much good music, I'm going to put myself out on that limb and say this could very well be some of his best work yet.
I'm not even going to attempt to tell you about Tom's music awards and achievements for two reasons: First of all, being a blues fan, you should already know about most of them and secondly, this would wind up being the longest review I've ever done. That said, it's easier to say it this way - Tom Hambridge has not won a Tony or an Oscar... YET!
On "The NOLA Sessions", which includes thirteen all original tracks, Tom Hambridge - on drums and vocals - is joined by: Allen Toussaint on piano and vocals; Max Norman on upright bass; Wendy Moten on background vocals; John Fohl and Rob McNelley on electric guitar: Tommy MacDonald and Calvin Turner, Jr on bass: Kevin McKendree on piano and B3; Sonny Landreth on slydeco electric guitar; Shane Theriot on electric and acoustic guitar; David Torkanowsky on Wurlitzer and piano; Ivan Neville on B3; Nathaniel Smith on cello; the Naughty Horns, who are John Culbreth on trumpet, Ian Bowman on tenor sax and Nick Ellman on baritone sax; The McCrary Sisters who include Regina, Ann, Alfreda and Deborah McCrary on background vocals; and SaRachel - who are actually Tom's daughters Sarah and Rachel Hambridge - on background vocals.
The disc opens with a duet between Tom and the late Allen Toussaint. It was recorded in 2015 and is one of Allen's last recordings. It's titled "Blues Been Mighty Good To Me", and it's a testament to the impact the music has had on their lives - the blues has been mighty good to them both. It's a slow, smooth, number with a jazzy feel that features a masterful performance from the trio of Tom, Allen and Max on the drums, piano and bass. Vocally, Tom and Allen are so satiny soulful and with Wendy sounding like a one-woman choir on the background vocals, it's all so heavenly sounding. Beautiful performance of a beautiful song.
If there was ever a song everyone should hear - especially with all the angst and bitterness so many people seem to be caught up in these days - it's this one. It's a super feel good song that's very appropriately titled "I Love Everything". With the Naughty Horns blaring, SaRachel joyfully and melodically harmonizing, and the band in a funky Mardi Gras party vibe, Tom's declaring his love for people, places, cool breezes, cars, food, inanimate objects, smiles and even situations....yes indeed, he loves everything.
As he sits and reminisces about a lost good friend, Tom discovers that it's not the things you take with you, it's "What You Leave Behind". In this particular case it was lots of precious memories. The emotional presentation of the wonderfully warm lyrics combined with the solemn sounds of the Naughty Horns and Ivan's B3, all give this one a hymnal feel. This is just one of several on this disc that just may garner Tom a BMA song of the year nod.
Simply because "the more you don't give a shit, the easier it is to sleep" Tom refuses to allow the "Little Things" to bother him. This is one of four tracks that feature only the trio of Tom, Sonny and Tommy, and having said that, you can correctly assume that the rhythm and slide guitar work is smokin'.
Think of one of those rockin' Gospel songs where you've heard: the vocalist pouring his heart out with shouts and screeches of "Save Me"; the backup singers right there with, and almost out doing him; a thunderous rhythm; piercing piano and guitar leads; and horns just blasting away. This one is that on steroids.
"A Couple Drops" is one of those songs with such incredible lyrics that I just feel like sitting here and typing them all out. But I'm not going to so you'll just have to get the disc and listen. With powerful descriptions attached to them, Tom references a whole lot of strong things. There are some, like Muhammad Ali and Smokin' Joe Frazier, that will make you smile; there are others, like the Viet Cong and opinions based on the color of skin, that will make you cringe; and there are other simpler - nonetheless, still strong - one's, like the smell of gas, rusty razors and the smell of jasmine. What Tom doesn't mention, but you'll hear it anyway, is the very strong music accompaniment that perfectly fits the sometimes eerie, sometimes bizarre, yet always deep and powerful lyrics. More song of the year material for sure.
On "Me And Charlie", a song about a trucker, you won't hear any silly "10-4 good buddy" lyrics. What you will hear are real trucker lyrics like "I got a Slim Jim and a piss jar, two cans of Red Bull and I'm ready to ride". That's how it's done, breakfast lunch and dinner with no wasted rest stop time. Musically, it's another of the four power trio smokers.
Other tracks on "The NOLA Sessions" include: "Bluz Crazy," "The End Of The Road," "Whiskey Ghost,", "Masterpiece," "Trying To Find It," and "Faith."
Interesting enough, when I opened my review of Buddy Guy's disc, I made a comment that with this release, many other artists in the genre would surely be thinking "Oh God, there go five or six categories in any upcoming blues awards programs right out the window." Having said that, let me now add that between them, I honestly feel that Buddy AND Tom, will be making many acceptance speeches.
For more on Tom Hambridge, just go to www.tomhambridge.com and/or search his name on Facebook and Twitter. However you get to him, please let him know that the Blewzzman sent you.


Peter "Blewzzman" Lauro
Blues Editor @ www.Mary4Music.com
2011 Keeping The Blues Alive Award Recipient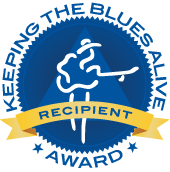 Marty Stokes
"Down On My Knees"
USEPPA Records
By Peter "Blewzzman" Lauro © June 2018
"Down On My Knees" is Marty Stokes' fourth release and the third that we here at Mary4Music have had the pleasure of working with. Also, since Marty is a fellow Floridian, I've also had the pleasure of seeing him and his band perform on many occasions. Florida, being the blues hotbed that it is, has more festivals, clubs, juke joints and tiki bars than one can count, and Marty's pretty much played them all - and more than once at that. Things like that don't happen by accident.
The Marty Stokes Band consists of: Marty on vocals and rhythm, lead, slide and acoustic guitars; Jennifer Mazziotti on saxophone; Daryl Best on bass; and Rick Whiteman on drums. Special guests include: John McLane on B3; Summer Mendez Kilgore on vocals; and JP Soars on guitar and cigar box guitar. "Down On My Knees" contains thirteen tracks of which eleven are Marty Stokes originals.
Being one of my favorite guitar players in the genre, as soon as I read in the credits that JP Soars was featured on "Do You No Harm" I knew it would be one I'd love and would ultimately mention. That said, just like Frazier and Ali, Marty was right there going toe to toe with him.
So if you're going to do a song about a powerful hurricane, it had better have a powerful force behind it. On this absolutely flawless rendition of Albert Castiglia's "Hurricane Blues", Darryl on bass and Rick - with a chest thumpin' drum lead, saw to it that there indeed was. That, along with Jen's fierce sax leads and Marty's frantically paced slide guitar licks, created a sense of urgency.....it was time to batten down the hatches.
For so many reasons, "Stop" (Lonnie Brooks) is my favorite track of the lot. Right off the bat, Marty's slow, scorching, note bending guitar intro immediately told me that this one was going to be some pure, straight up, unadulterated and smokin' slow blues. Then Marty starts belting out some of his best soulful and emotional vocals and just as I'm thinking "whoa", Summer takes over and that angelic voice of hers just stopped me in my tracks. That's when I decided to sit back, put the head phones on, start the song over and just lose myself in it.....three or four times over. Now as good as I just made that all sound, it couldn't have happened without some monster rhythm going on and Darryl, Rick, Jennifer and John were all over that. Off the top of my head, I don't seem to recall how Lonnie's original version of this song went, but I honestly believe I may have just heard the best rendition ever recorded. Those few replays were unquestionably the best 20-25 minutes of music I've heard all week...and maybe even longer.
Inasmuch as the subject on "Whiskey Drinkin' Woman" is obviously a woman intoxicated by whiskey, take it from me, it will be the guitar work on this one that'll intoxicate you. With a very rich bass line pushing it, Marty and JP are killing it. From the plain old rhythm chords - and there's really nothing plain about them at all; to the scorching solo swaps; to the crazy amount of sound JP gets out of that two string cigar box; to Marty's skillful slide; - this is one is all about the guitars.
Like women, men appreciate being told they are loved as well. It doesn't need to be said often but it does need to be said from the heart. Here, listen to how Marty likes to hear it.....
"Tell me that you love me,
and not just like some old friend.
Tell me that you love me baby,
and not just like some old friend.
You don't have to tell me every day,
I just want to hear it 'Every Now And Then.'"

This is another one of my favorite situations where one of the best slow blues songs on the disc is also the longest song on the disc, it's like doubling my listening pleasure. For the better part of seven minutes you'll hear Darryl, Rick and John locked into just the perfect rhythm groove this type of song calls for; Jennifer crushing it on slow, sultry sax leads; and Marty - dare I say on disc's best - putting on a ninety second guitar solo that could hold up against any I've ever heard. Killer stuff!
The disc closes with "Pack Two Bags (Reprise)." It's a minute-and-a-half instrumental continuation of the non-instrumental track with the same title. The song coming to an abrupt end, just as it was peaking, caused my jaw to drop. I was thinking WTF, did my speakers break? If this was Marty's way of leaving the listener wanting more - IT WORKED! It's an all out power trio type thing with Marty, Rick and Darryl lust laying it all out. Phew!
Other tracks on "Down On My Knees" include: "Back Trackin'," the title track "Down On My Knees," "Pack Two Bags," "Pick Up The Phone," "Inside The Bottle," "I Found A Love," and "It Ain't About You."
For a lot more about Marty Stokes, -www.martystokesband.com - is the place to go. Once you do, as always, please tell him his friend the Blewzzman sent you.


Peter "Blewzzman" Lauro
Blues Editor @ www.Mary4Music.com
2011 Keeping The Blues Alive Award Recipient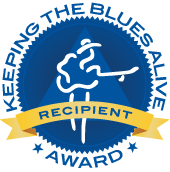 Buddy Guy
"The Blues Is Alive and Well"
Silverstone/RCA Records
Publicity: Blind Raccoon
By Peter "Blewzzman" Lauro © June 2018
So, with the release of Buddy Guy's new CD titled "The Blues Is Alive And Well", I'm guessing that the rest of the genre's artists are pretty much thinking "Oh God, there go five or six categories in any upcoming blues awards programs right out the window". And from what I just heard, that should be a very legitimate concern. With all of the great music Buddy has put out over the last six or so decades, you might think it would be going out on a limb by saying that this could be some of his best work ever, but you can go ahead and put me on that limb.
On "The Blues Is Alive And Well", Buddy Guy - on guitar and vocals - is joined by: Tom Hambridge, the albums' producer, on drums, percussion and background vocals; Rob McNelley on rhythm and slide guitar; Kevin McKendree on keyboards; Willie Weeks and Tommy MacDonald on bass; Emil Justian on harmonica; The Muscle Shoals Horns which include: Charles Rose on trombone and horn arrangements, Steve Herrman on trumpet, Doug Moffet on tenor sax and Jim Hoke on baritone sax; and Regina McCrary, Ann McCrary and Rachel Hambridge on background vocals. Special guests on the album include a few names you may just be familiar with: Keith Richards and Jeff Beck on guitar; James Bay on guitar and vocals; and Mick Jagger on harmonica. With Buddy and Tom having penned and/or collaborated on them, fourteen of the disc's tracks are originals with the fifteenth being a Sonny Boy Williamson cover.
The disc opens with a slow, soulful ballad that could actually be considered a prayer. Unlike Robert Johnson, who made that infamous deal with the Devil, Buddy is trying to make his own deal with the Lord. Realizing he's in the twilight of his life, Buddy appears to be pleading with the Lord to just send him down "A Few Good Years" (Hambridge/Fleming). Good luck with that Buddy! With the emotional and sincere way in which you asked, I think the Lord may send them to ya.....especially if He's a fan of the blues.
Close your ears, Lord. Here we are on the very next song and as he refers to the devil being in him, Buddy's claiming to be "Guilty As Charged" (Hambridge/Fleming). Alrighty then! Musically and vocally, Buddy's on top of his game right here. With Tom, Rob and Kevin lighting up the rhythm behind him Buddy's just killing it on the guitar and vocals, especially with those patented, escalating, falsetto screeches of his..... "I'm GUILTY! I'm GUILTY as charged. This is classic Buddy Guy right here.
Those of you who subscribe to SiriusXM radio have already had a taste of - no pun intended - "Cognac" (Guy/Hambridge/Fleming). Since it features Keith Richards and Jeff Beck joining Buddy in on some back and forth monster guitar licks, this one will surely be on most of the other stations playlists as well.
On the title track, as Buddy hears the back door slam while coming in the front, he's quickly faced with the reality that "The Blues Is Alive And Well" (Hambridge/Nicholson). It's not as if anything Buddy does needs much help, but with that said, the masterful job of the Muscle Shoals horns, added to the always amazing keyboard work from Kevin, this one does rise to the next level. Whether he gets those extra few good years or not, once Buddy reaches heaven's gate the joy on his face will show that he's "Blue No More" (Hambridge/Johnson). This is a wonderfully soft and slow duet featuring Buddy and James Bay doing an absolutely beautiful job of sharing the very soulful and emotional vocals and the soothing blues guitar leads.
The first two minutes of "You Did The Crime" (Hambridge/Fleming) start off with a very slow and deep bass line by Willie, light and timely cymbal taps by Tom, and a trance inducing piano and harmonica performance by Kevin and Mick, that I'd have been fine with this being an instrumental. Then Buddy joins in and softly, yet strongly, starts belting out some slow blues and something good suddenly got better.
For those of you who like full throttle, smokin' blues rockers, this one will have you saying "Ooh Daddy" (Hambridge/Fleming). With Tom and Willie leading the frantic rhythm pace, Kevin wailing away on those keys and Buddy and Rob slugging it out on guitar, this one's three plus minutes of all hell breaking loose.
With all that's going on here; the fabulously soulful horns; the outstanding and profound rhythm; and some of Buddy's most scorching guitar work; the lyrics somehow dominate on "End Of The Line" (Hambridge/Fleming)

I'm the last one to turn out the light,
The last one to call it a night.
When the clock on the wall says late,
I still got one more to play.
But I feel sometime,
Like I'm the end of the line.

But the times been good to me,
I'm as young as an old man can be.
Well I'm way past seventy-one,
But I still can get this damn job done.
But I feel sometime,
Like I'm the end of the line.

The last man standing on an empty stage,
If life was a book, I'd be the last page.
Even though I've got one foot in the grave,
I won't be quiet and I won't behave.

So many of my friends have gone,
Maybe my time ain't long.
I promise till the day I die,
I'm gonna keep these blues alive.
But I feel sometime,
Like I'm the end of the line.

The message Buddy's delivering came through these ears very loud and clear. He knows he's reaching the end of his line and he knows he's the end of the line of the legendary blues greats. Hang in there Buddy, the Lord's gonna answer that prayer and give you a few good years.
Other tracks on "The Blues Is Alive And Well" include: "Bad Day" (Hambridge/Davis), "Whiskey For Sale" (Hambridge), "Old Fashioned" (Guy/Hambridge), "When My Day Comes"(Hambridge/Sweeney), "Nine Below Zero" (Williamson), "Somebody Up There" (Hambridge/Fleming), and "Milky Mutha For Ya" (Guy/Nelson).
If you haven't yet received a copy of "The Blues Is Alive And Well" for airplay, please contact Betsie Brown at www.blindraccoon.com and to find out more about Buddy Guy, just go to www.buddyguy.net. Whomever you contact, please tell them their friend the Blewzzman sent you.


Peter "Blewzzman" Lauro
Blues Editor @ www.Mary4Music.com
2011 Keeping The Blues Alive Award Recipient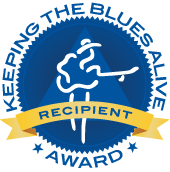 Tas Cru
"Memphis Song"
Subcat Records
By Peter "Blewzzman" Lauro © June 2018
Prelude
A few years ago I came up with the idea of having an annual "Memphis Reunion" sometime around August and September of each year. The idea grew from the fact that having gone to Memphis once or twice a year for the last eighteen years, I missed the great friends from all over the country that I only see while there for the International Blues Challenge in January and the Blues Music Awards in May. That said, from his declaration in the disc's liner notes, it's obvious that Tas Cru feels the same as I do. Here are his thoughts: "There are very few places in America that mean more to blues lovers, past and present than Memphis. It's a blues Mecca - the birthplace of Sun and Stax and home to the International Blues Foundation and the Blues Hall Of Fame. There is Beale Street, with its legends memorialized with their names engraved on brass notes that dot its crowded sidewalks. There too is BB King Boulevard, that hallowed ground that honors the king of the blues. We are drawn there from near and far - a blues family who twice each year gathers for what seems to me like a big ol' blues family picnic (aka the Blues Music Awards and the International Blues Challenge). We eat and drink, listen and dance, play and sing. We celebrate together as we celebrate being together. We sing our Memphis song - all day and most of the night with voices that grow hoarse and rough from exhaustion. And then, long after our picnic is done and we have returned to our homes, we hear its call. 'Come home daddy/momma you been too long gone. Come on home and sing your Memphis song'". Amen, Tas!

Review
Tas Cru's latest release is titled "Memphis Song" and it's a collection of twelve original songs. On the disc, Tas Cru - on vocals and guitars - is joined by: Bob Purdy on bass; Dick Earl Erickson on harmonica; Andy Rudy on piano and clavichord; Ron Keck on percussion and drums; Sonny Rock and Andy Hearn on drums; Guy Nirelli and Bill Barry on organ; Mary Ann Casale on lead and background vocals and acoustic guitar; and Donna Marie Floyd-Tritico and Patti Parks on backing vocals. Additionally, featured artists on the title track include Victor Wainright on piano and Pat Harrington on slide guitar. Now let me tell you a bit about some of my personal favorites.
Obviously, for the story it tells, the title track is surely one of the disc's best. As mentioned in the prelude, it's all about that magical and musical city of Memphis calling us back home to sing that "Memphis Song". Just as the city itself does, the song's opening immediately casts a spell upon you with the combination of Mary Ann's acoustic guitar notes and and Dick's harmonica chords. Then, shortly after Tas joins in with an emotional and soulful presentation of the song's message, you'll be wanting to immediately start your own Memphis reunion. Add to that: Tas and Pat Harrington killing it on lead and slide guitar throughout; BMA winner Victor Wainright deepening that spell your in with a monster piana (as he says it) lead midway through the song; and a very deep, intense rhythm being maintained by Bob Purdy and Andy Hearn on the bass and drums; Tas Cru and Mary Ann Casale may just have themselves a 2019 "Song Of the Year" nomination with this one. I'll be shocked if not.
People say he's crazy, 'cause he plays the blues. Yeah, they say he's crazy and call him a simple fool. Call him what you will, Tas Cru is here to testify that he is indeed a "Fool For the Blues". Aren't we all? From start to finish, this one is three-and-a-half minutes of all out heat. Guy Nirelli (organ), Sonny Rock (drums) and Bob Purdy (bass) have the rhythm in three alarm mode; and Tas, with some very powerful back up support from Donna and Patti, is belting the hell out of the vocals and scorching the hell out of those guitar leads. Killer track!
Assembling a percussionist, two organists and three different drummers to team up with bassist Bob Purdy on various tracks, leaves no doubt that Tas was looking for a rhythm rich sound for this project. "Daddy Didn't Give You Much" is just one of the many tracks on which you'll hear just how well that panned out. In fact, right here, Andy Hearn and Ron Keck - both at disc's best - are just killin' it on the kit and congas. Speaking of disc's bests, the boss is at it as well. Several of the dozen or so times I replayed this track were with the head phones on while mainly focusing on the vocals. Whoa! That Tas Cru can sing!
Attention men! Here is a public service announcement from Tas Cru. Simply put, "Don't Lie To That Woman". As many of us have already learned - and probably the hard way at that - this is some sound advice. This one's a slowed down, laid back, kind of swampy sounding blues tune. It features Tas doing some fine acoustic pickin' while playfully talk-singing and story-telling; lots of crisp, timely, finger snapping; melodic back up vocals; soft rhythm; and silky soft piano leads. Knowing that, like him, most of us "Can't Get Over Blues" could have been a great reason for Tas to close out the disc with it's longest and most bluesy track. For six-and-a-half minutes Tas, the ladies, the rhythm guys and the harmonica player all just wrap themselves around a very cool foot tappin' knee slappin, head bobbin' groove and before you know it, right around six minutes and twenty fives seconds in you'll be hitting the replay button for more.. Other excellent tracks on this very well written, very well performed and very well produced album include: "Heal My Soul," "Give A Little Up," "Have A Drink," "That Look," "One Eyed Jack," "Queen Of Hearts" and "Feel So Good".
Should you like to purchase a copy of "Memphis Song", or possibly need one for airplay, contact Tas at tascrumusic@gmail.com, and to find out more about him - especially his involvement with children and his "Blues In The Schools" programs - just go to www.tascru.com. And as I know you will, please tell him his buddy the Blewzzman sent you.

Epilogue
Following up his last album, "Simmered And Stewed" - which was nominated for a Blues Music Award in the "Best Emerging Artist Album" category - with such another exceptional album, it's this listeners opinion that Tas Cru is no longer emerging - he has emerged! With still very close to a year until the next Blues Music Awards, put the Blewzzman down as expecting four nods for Tas Cru and "Memphis Song".


Peter "Blewzzman" Lauro
Blues Editor @ www.Mary4Music.com
2011 Keeping The Blues Alive Award Recipient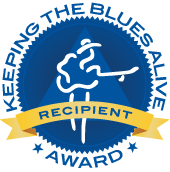 Rockin' Johnny Burgin and Mike Mettalia
with Mary Lane, Milwaukee Slim and Little Jerry Jones
"Chicago/The Blues Legends/Today"
West Tone Records
By Peter "Blewzzman" Lauro © June 2018




Prelude


As I read the album's liner notes, written by Rockin' Johnny Burgin, they sounded to me like a mission statement. As Johnny explains, Mike Mettalia - from Mike Mettalia and Midnight Shift fame - contacted him with the idea of recording a traditional blues album that featured some under-recorded, overlooked, veteran blues singers on the Chicago scene. Knowing just the right people to turn to, they sought out: Milwaukee Slim, a perennial guest front-man who rarely ever booked shows under his own name: Little Jerry Jones, who other than having a few single releases in the 60's never quite became a household name in the blues community: and Mary Lane, who although has appeared at many Chicago Blues Festivals and is an inductee into that city's Blues Hall of Fame, has also escaped national familiarity. With that said, since I was just introduced to three blues artists I was unfamiliar with, the results of the project have this listener thinking "Mission Accomplished!" On top of that, I'm also thinking that if Mike and Johnny follow the necessary process, I may have just listened to one of the nominations in the "Best Traditional Blues Album" category at next year's Blues Music Awards. Remember, you heard it here first.



Review




Now that you know some of what this project is about, let me tell you all about the rest of the credits and some of the music. Joining Rockin' Johnny Burgin - on lead and slide guitar and vocals - and Mike Mettalia - on harmonica and vocals - are: Mary Lane and Milwaukee Slim on vocals; Little Jerry Jones on vocals and lead and rhythm guitar; Illinois Slim on lead and rhythm guitar; Jeff LaBon and John Sefner on bass; and Steve Dougherty on drums. With very close to seventy minutes of good ol' straight up blues, the disc features fifteen tracks with two Mike Mettalia, two Mary Lane and one Jerry Jones originals.

The disc opens with a straight up Chicago blues shuffle titled "Hurt My Feelings" (Morris Pejoe) and after just one verse into Mary Lane's vocals I was both shaking and scratching my head. The shaking part was the result of sheer amazement over this woman's unique and wonderful voice and the scratching part was a result of the bewilderment I was experiencing from never having heard of her. Thanks to Johnny and Mike are surely in order. Musically, it's exactly what this traditionalist loves; the rhythm guys - Jeff and Steve - locked into a tight groove on the bass and drums; equally tight rhythm guitar by Illinois Slim; smoking hot blues guitar leads by way of Rockin' Johnny; and equally smoking hot harp leads courtesy of Mike Mettalia. Give me sixty-five more minutes of this (which they did) and I'm a happy listener.

So, with Johnny just killing it on what may very well be the disc's best guitar work and belting out what is also some of the disc's most soulful and emotional vocals, if you said right here that "Things Gonna Work Out Fine"(Sam Maghett), you'd be 100% correct. With a strong rhythm and a few harp leads helping out, this one's all about Rockin' Johnny Burgin, and things did indeed work out fine.

With the title of this one being "Midnight Call", ya think you might know who wrote and sings it? Good guess, it is indeed Mike Mettalia of the Midnight Shift Band. Similar to the above track, with the help of more great rhythm and a few killer lead guitar riffs by Illinois Slim, this one's all about Mike with his gravely vocals and fiery harp leads.

The opening, low down and gritty guitar licks on "Let's Make Love Tonight" had me saying "Oh Yeah!" Then I noticed the length of the song and I said "Hell Yeah!" The disc's slowest, grittiest and bluesiest track was also the disc's longest track, and I now knew that I had over seven more minutes of pure listening pleasure ahead of me.....and that's not counting the replays. Keeping with the pattern of passing the lead around, it's now Jerry's turn to shine. On a song which he wrote, Little Jerry Jones does just that with a knockout one-two punch on the vocals and guitar.

"Poppa Tree Top" (Little Miss Cornshucks) is another of Mary Lane's masterful performances. I'm in such awe over this women's voice that I'm making it a point to either find her, or some of her recordings, while I'm in Chicago for three days in September. Watch out Mary, there may not be any hell hounds on your trail but there is a Blewzzman for sure. Also highlighting this one are the crisp, precise and profound harmonica notes and chords being blown around by Mike Mettalia. They're that high end Jimmy Reed stuff that is by far my favorite style of harp playing. What another great track.

With this being the second song he's sung on, Milwaukee Slim kicks things off by leaning into the mic and saying "Alright, I'm ready again y'all" followed by a chuckle which caused me to chuckle as well. It's Mike Mettalia's other original track and it's called "Unemployment Risin'". After singing the hell out of the song, Slim once again ad-libs....."Was that alright? Ya know with the time I had to prep on it I think I did pretty good." C'mon Slim - ya nailed it. The track also features the usually strong rhythm and a heck of a slide guitar performance by Rockin' Johnny.

Other tracks on "Chicago/The Blues Legends/Today", which I've already suggested could be next year's Traditional Blues Album of the Year, include: "Sloppy Drunk" (James A. Lane), "Don't Want My Lovin' No More" (Mary Lane), "Hotcha" (Junior Walker), "Smokestack Lightnin'" (Chester Burnett), "I'm Leaving You" (Chester Burnett), "I Always Want You Near" (Mary Lane), "Next Time You See Me" (Forest Harvery), "Goin' Down Slowly" (Jimmy Oden), and "Dust My Broom" (Elmore James). I'd like to strongly suggest getting your hands on a copy of "Chicago/The Blues Legends/Today", and to do so, just click the following link - https://store.cdbaby.com/cd/rockinjohnnyburginwithmikemett. Additionally, you can find more on Mike Mettalia at www.mnightshift.com; Rockin' Johnny Burgin at www.rockinjohnnyburgin.com; and all ya gotta do is search FB and you'll find both Mary Lane and Milwaukee Slim. Once you do all that, please tell everyone the Blewzzman sent you.



Peter "Blewzzman" Lauro
Blues Editor @ www.Mary4Music.com
2011 Keeping The Blues Alive Award Recipient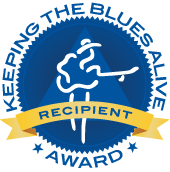 Blind Lemon Pledge
"Evangeline"
OFEH Records
Publicity: Blind Raccoon
By Peter "Blewzzman" Lauro © May 2018
I've known of Blind Lemon Pledge for just about a decade now, and during that period I've heard every one of his previous releases. With that said, it's this listener's opinion that "Evangeline" - his sixth and latest release - is by far his best and most serious.
Blind Lemon Pledge is actually James Byfield, and right out of the gate that stage name should give you some insight to his creativity. As I was preparing for this review, my biggest challenge was reducing the hundred or so descriptive words I wanted to use in my introduction of him down to a non-redundant handful. Since he writes all his own music and plays all the instruments on all the tracks, I guess calling him extremely talented are a few good ones to start with. Then as I think about the lyrics of the songs I just heard, combined with all of his other works I've listened to over the years, words like intelligent; truthful; playful; clever; bizarre; creative; poetic; humorous; zany; and so many more come to mind.
"Evangeline" opens with a melancholic, chain gang style chant that's more commonly known as a field holler - the kind that originated by the call and response of plantation slave workers. Some consider it one of the earliest forms of African American music and the predecessor of the blues. With his emotional and heartfelt vocal presentation, the timely and realistic feel of his hand claps and his skillful use of a three-string cigar box guitar, one might get the impression that Blind Lemon Pledge actually worked down on "Buley's Farm".
This next song is a bittersweet ballad about the negative side of a positive situation. Having realized his goal of leaving that farm for an opportunity to fulfill his dreams, the reality of having to leave his "Jennie Bell" is a tough cross for him to bear. The sincerity in his vocals, once again leads the listener to believe this was another real-life experience for Blind Lemon Pledge. The track also features an absolutely beautifully done soft and melodic acoustic guitar performance.
With those farm days now behind him, Blind Lemon Pledge has now settled in N'awlins where he meets someone similar to that character from the crossroads lore. Like that devil, "Brimstone Joe" is no one to be making deals with. With a catchy chorus line, an uptempo rhythm and a great French Quarter piano groove, this one becomes a great foot tappin' sing-a-long.
Put your dancin' shoes on, get out your castanets and shakers and get ready to cha cha cha. If the profoundly progressive percussion on "The Language Of Love" doesn't get you shaking all your shakeables you could very well be dead.
One of the most recognizable phrases of affection was from that scene in Jerry McGuire when Jerry goes into a long-winded speech to Renee Zellweger and her reply was "You had me at hello". On the other hand, even that coin has another side. As Blind Lemon Pledges says to the woman who is throwing him out as a result of all the times he made her cry; the many lonely nights she was alone; and all those times he'd lie......."You Had Me At Goodbye". With its outstanding guitar work and its folksy/country feel, this is the kind of song a Blake Shelton would have a number one hit with.
Until now, I've pretty much been hitting mostly on Blind Lemon's vocal intensity and his outstanding songwriting. On the closing and title track, "Evangeline," both of those are still evident but what impressed me most on this particular track was his masterful acoustic slide guitar performance.
Other tracks on this most interesting release include: "Midnight Assignation," "Go Jump The Willie," "Ham And Eggs" and "How Can I Still Love You?"
If you haven't yet received a copy of "Evangeline" for airplay, please contact Betsie Brown at www.blindraccoon.com, and to find out more about Blind Lemon Pledge, just go to www.blindlemon-pledge.com. Whomever you contact, please tell them their friend the Blewzzman sent you.


Peter "Blewzzman" Lauro
Blues Editor @ www.Mary4Music.com
2011 Keeping The Blues Alive Award Recipient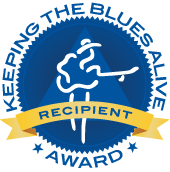 Click Here To Return To The CD Review Index
Click Here For The Blues Portal
Click Here For The Indie Portal
Click Here To Visit Our Music Gift Shop


---
Want your CD reviewed?
Click HERE to email us for information.






*All logos and trademarks in this site are property of their respective owner.
Additional content © 1998-2020 Mary4Music.com. All Rights Reserved.