Blues CD Reviews 76



Peter V Blues Train
"Running Out Of Time"
Self Release
Publicity: Blind Raccoon
By Peter "Blewzzman" Lauro © April 2018
The Peter V Blues Train is a quartet that consists of: Peter Veteska on guitars and vocals; Alex D'Agnese on drums; Aron Louis Gornish on keys; and Sean Graverson on bass. On "Running Out Of Time", the band's third release, they are joined by: Danny Walsh on sax; Jeff Levine on B3 and piano; Tom Adams on piano; Coo Moe Jhee on bass; Eddie Jackson on congas and vocals; Kelley Dewket on vocals; and Gary Neuwirth on harp. Of the disc's eleven tracks, seven are originals.
"Cherry On The Cream" (Richard Ray Farrel), cream of the crop and creme de la creme are a few different ways of saying the best of the best. They're terms that are usually associated with something, or someone, very fine. That said, in this case it's both. You see, the writer uses the song title to describe a woman, who's so sweet she knocks him off his feet and yet this listener is associating it with the musicians on this flawless track being the best of the best.
All too often, my reaction to a band doing a cover of an often-done blues standard is "ho hum, again?" Then, every once in a great while I'll here a rendition of that cover that will make me think "Wow! This was a great version" and I'm thankful that the band reminded me just how great the song was. This is that rendition of "Worried Life Blues" (Big Maceo Merriweather). Aron, Alex and Sean - on the organ, drums and bass - have the pulse and the heartbeat of the song at the perfect slow blues level and Peter is just killing it with his gut wrenching vocals and sizzling blues guitar licks.
On the title track, "Running Out Of Time", the tone switches from slow and low down blues to all out rockin' blues. It features a full throttle, smokin' rhythm along with Peter and Aron going toe to toe on piercing guitar and organ leads. Lyrically, this original track is about a break up. Having been involved in situations of that matter over the course of my lifetime, I'm familiar with how the ensuing conversations may go. That said, "What happened to us, where did our love go? We used to kiss but now all you do is piss me off" is a line I wish I'd had used. Too funny!
The jazz in Peter V's background is quite evident on an original titled "Time To Collect". It's a funky and jazzy instrumental oddly reminiscent of the intro to the "Sanford and Son" TV show. As you'd expect, it's highlighted by some of the disc's best rhythm work from Alex and Sean and it features many outstanding organ and sax leads by Aron and Danny.
"Freedom", another original, is also another slow blues scorcher and for that reason alone, it'd be sacrilegious of me not to mention that. With the appropriately soft and tight rhythm in place, Peter is at disc's best as he vocally and instrumentally belts the hell out of some blues.
On this down home, front porch, acoustic style blues number, the band does an excellent cover of Bonnie Rait's "Love Me Like A Man". Peter's acoustic pickin' is spot on, the rhythm is its usual excellent, and on their only performance, Kelley Dewket on the vocals and Gary Neuwith on the harp, are a natural together and will be the cause of me doing some Googling when I'm done here. Good stuff!
Other tracks on "Running Out Of Time" include: "Stay On Track," "Buzzed Busted And Blue," "Youngblood," "Time For Me To Go," and "Lay Down My Friend."
If you haven't yet received a copy of "Running Out Of Time" for airplay, please contact Betsie Brown at www.blindraccoon.com and to find out more about Peter V Blues Train, just go to www.petervbluestrain.com. Whomever you contact, please tell them their friend the Blewzzman sent you.


Peter "Blewzzman" Lauro
Blues Editor @ www.Mary4Music.com
2011 Keeping The Blues Alive Award Recipient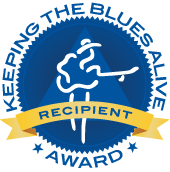 Breezy Rodio
"Sometimes The Blues Got Me"
Delmark Records
By Peter "Blewzzman" Lauro © April 2018
While "Sometimes The Blues Got Me" is Breezy Rodio's fourth blues album (his first on Delmark), counting releases in other genres it is collectively his sixth release. Having reviewed his last one titled "So Close To It", and having just been blown away by this one, I cannot even begin to imagine this talented singer, guitarist and songwriter performing anything but the blues. With the album's title insinuating that the blues has got him, and the natural that he is with the music, I doubt there'll ever be any turning back.
On this project, Breezy Rodio - on vocals and guitar - is joined by: Sumito "Ariyo" Ariyoshi and Luca Chiellini on piano; Chris Foreman on organ; Light Palone on acoustic and electric bass; Lorenzo Francocci, Gregg Essig and Rick King on drums; Ian Letts on tenor sax; Constantine Alexander and Art Davis on trumpet; Ian "The Chief" McGarrie on alto, tenor and baritone saxophones; Joe Barr on background vocals; Billy Branch on vocals and harmonica; John Lauler and Brian Burke on acoustic bass; Simon "Harp: Noble on harmonica. With well over an hour's worth of music, "Sometimes The Blues Got Me" features seventeen old school tracks with ten of them being penned by Breezy.
If you're going to do old school blues there's nothing like opening with a song that B. B. King did back in the early fifties - "Don't Look Now, But I've Got The Blues" (Lee Hazlewood). This rendition is a perfect introduction to the band and a great way to set the mood for what's to come: solid, powerful vocals; scorching guitar licks; and penetrating, horn-enhanced rhythm.
Being a fan of big bands, "I Walked Away" (J. Leblanc) was an obvious favorite of mine. I haven't even started writing about it yet and I've already replayed it five times. This one's straight off a '40's or '50's musical soundtrack. You know the kind I'm talking about - the one's where a crooner the likes of a Bing Crosby, Frank Sinatra, Eddie Fisher or a Dean Martin effortlessly belting the hell out of a song while being backed up by the likes of a Glenn Miller, Count Basie, Duke Ellington or Dorsey Brothers orchestra. Now I'm not saying that this ensemble is equal to any of them but I'm also not saying it isn't. The whole horn section - with the arrangements as well - are absolutely fabulous; the rhythm is profound; the piano playing is lively; and that fabulous crooner's working some magic with his guitar as well. Killer stuff!
You don't need to read the credits to know this one's another of B. B.'s classics, the opening guitar intro on "Make Me Blue" (King/Josea) immediately establishes that. Then, just as you'd expect from a B. B. song there is a lot more impressive guitar work; heartfelt vocals; significant rhythm; melodious piano; and soulful horns.
".....the blues just won't let me be, sometimes I got the Blues, 'Sometimes The Blues Got Me'" - and on this original track, this is indeed one of those times. "You think that I'm a star, because I play guitar"....."You think that I'm so cool, because I play the blues".....Actually Breezy, I think you're a star because of how good you play that guitar and I think that you are cool because of how good you play those blues. Lyrically, vocally and musically this one is a masterpiece. If the blues had a top forty chart this would be one of those five week number one hits - it's certainly got my ultimate "this is song of the year material" compliment.
This instrumental is another of the disc's best tracks. With the band locked into a very tight and relaxed groove behind him, this one's pretty much all Breezy. Had I walked into a friend's house in the middle of this song and asked "Who's this you're listening to?", if that friend's reply were "It's a recently discovered track of Albert King's that's never been released before", I would have believed it. Coming from a person who thinks that Albert King is a 1+ on his all-time favorite guitar player list, other than to say "You have got to hear this track," there's nothing else I need to tell you about "A Cool Breeze In Hell".
Any fan of the genre knows quite well that "Chicago Is Loaded With The Blues" (Clifton James) and now that Breezy has become a fixture on the scene, that statement is even more evident. This is classic slow blues done with the perfect ensemble to do it with: guitar and harmonica for those scorching blues licks - which Breezy and Billy really do scorch on; drums and bass for the required slow and tight rhythm - which Rick and Brian are quite tight on; and piano for that very high-end tickling - which Luca is so fine at. A fitting and nicely done closing track.
If there were ever a CD where every track deserved praise, this is it. That said, I'm pretty sure I made a point of the fact that this is a must have release for every blues freak out there. Those other outstanding tracks are: "Change Your Ways"; "Wrapped Up In Love Again" (Albert King); "Let Me Tell You What's Up"; "I Love You So" (King/Bihari); "You Don't Drink Enough;" "The Power Of The Blues;" "Doctor From The Hood;" "Blues Stay Away From Me;" "Fall In British Columbia;" "Not Going to Worry;" and "One Of A Kind." If you haven't yet received a copy of "Sometimes The Blues Got Me" for airplay, please contact Betsie Brown at www.blindraccoon.com and to find out more about Breezy Rodio, just go to www.breezyrodio.com. Whomever you contact, please tell them their friend the Blewzzman sent you.


Peter "Blewzzman" Lauro
Blues Editor @ www.Mary4Music.com
2011 Keeping The Blues Alive Award Recipient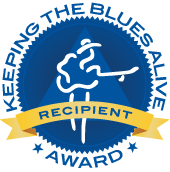 Orphan Jon
"Abandoned No More"
Rip Cat Records
By Peter "Blewzzman" Lauro © April 2018
Blues musicians are known for choosing catchy words to use as part of their name and more often than not, that's all it is - a catchy word. That said, Jon English is not one of them. You see, having experienced abandonment as a child, the word "orphan" may very well have been tagged on him rather than chosen by him. Whatever the case, by calling the band Orphan Jon, he has obviously embraced the moniker and by calling his CD "Abandoned No More" he's obviously, and thankfully, in a much better place right now as well.
Orphan Jon consists of: Jon English on vocals; Bruce Krupnik on guitar and cigar box guitar; Tony Jack Grisby on bass; and Stan Whiting on drums. Guest artist's on the project include: Barry Levenson (the disc's producer) and Johnny Main on guitar; JR Lozano on drums; Mike Malone on piano; Mike Sandberg on percussion; and Hank Van Sickle on bass. "Abandoned No More" contains twelve original tracks with all of them penned or collaborated on by Jon.
Wanting to be influenced by what I hear and not what I read, I never read one sheets or liner notes prior to having listened to a CD at least twice. That said, I have to tell you that I couldn't agree more with Barry Levenson's comment stating that "Jon English is one of the finest vocalists I've heard in a long time." After those first few listens, I was thinking the exact same thing.
The opening track is an impressive introduction to the band. It's a smoker that features the nucleus of the band, with some extra "Backbone" being provided by percussionist Mike Sandberg, just totally rockin' out. Right out of the box I'm being blown away by Jon's vocal skills, range and note holding abilities.
The term "Vicious Circle" is never used to reference anything good. Never! In this case the viciousness being circled around is that of a man not treating his woman right and that same woman not treating her man right. Who's at fault depends on who you ask. Hence, that vicious circle. This one features Jon and Bruce just killing it on the vocals and lead guitar, and considering the extraordinary talent these two have - combined with their long history together - you're going to hear me say that quite often. Also outstanding is the rhythm coming from the hands of Tony Jack and JR, on the bass and drums, and a stellar performance by guest pianist Mike Malone.
Jon, I want to personally thank you and Bruce for writing this song, because it perfectly echoes my thoughts on the music as well - "Leave My Blues Alone."
"Bring it more to date
Is what you say you want to do
But you ain't supposed to change it
It's supposed to change you."
To those words, I say "Amen brothers!"
As a matter of fact, ALL of what you say in this song is so worthy of repeating that I'm tempted to sit here and type out the lyrics word for word. However, with the intense passion and absolute conviction with which you present them, and the fact that I've never in my life heard such a perfect song so perfectly sung, I believe they need to be heard by listening to you sing them. Additionally, the solemn mood Tony Jack, Stan and Mike create on rhythm and percussion and the eerie, spine tingling guitar licks by Barry are all masterful as well. At eleven minutes long - plus all the replays - I've just taken about an hour to write these few paragraphs and it was indeed an hour well spent. If this recording makes it into the hands of the right people I'm betting that I just heard next years song of the year nominee sung by next years vocalist of the year nominee.
Musically, this one's a bit different from the rest but nevertheless, it's another of this disc's many highlights. "Only She Will Do" starts out with a slow, mystery movie type beat and then out of nowhere it turns into an upbeat, jazzy, bossa nova type groove. And then there is that vocalist..... have I told you how masterful he's been yet?
When bands contact me asking if I'd be interested in hearing their music for possible review, my reply is very up front concerning the fact that although there can be exceptions, over the top rock blues AND acoustic blues are not in my wheelhouse. Knowing that, you now understand that moving me with an acoustic song takes some doing and "Memories Of Me And You" just moved me. On this acoustic duet, Jon and Bruce do as outstanding a job performing it as they did writing it. Nice job, guys!
Other songs on this most impressive release include: "Blood Moon," "Dance For Me Girl," "Drive Me Crazy," "Love Night," "Medusa," "Cold Man Blues," and "Sowin' Seeds."
Of the approximately 50 reviews I do each year I occasionally advise my readers that the particular CD I'm reviewing is a must have CD. Yeah, you guessed it - this is a must have CD.
By now, most blues radio hosts should have a copy of the disc but should you not, just contact Todd Glazer Promotions at toddg@gci.net. The rest of you just go visit Orphan Jon at www.orphanjon.com. As usual, please tell everyone that Pete the Blewzzman sent you.


Peter "Blewzzman" Lauro
Blues Editor @ www.Mary4Music.com
2011 Keeping The Blues Alive Award Recipient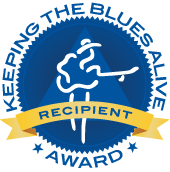 The Bush League
"James RiVAh"
Publicity: Blind Raccoon
By Peter "Blewzzman" Lauro © March 2018
So, with The Bush League having been together for well over ten years now, longevity is obviously well established; and with this being the band's fourth release, it's apparent that consistency is in order as well. Hopefully, breaking out onto the national scene is next in the band's grand scheme of things, and from what I just heard - "James RiVAh," their strongest effort yet - may very well be the vehicle to take them there.
The Bush League are: John Jason "JohnJay" Cecil on vocals; Royce Folks on bass; Wynton Davis on drums; and Brad Moss on lead and rhythm guitar. For this project some very special guests include: Trenton Ayers (The Cedric Burnside Project) on lead guitar; Jeremy Powell (Southern Avenue) on trumpet and keyboards; Suavo Jones (Ghost Town Blues Band) on trombone; Paul Biasca on sax; Vince Johnson on harp; Ari Morris on synthesizer; and mostly everyone, including Calvin Lauber, Andrew McNeil and Kenya Watkins on stomps, hand claps and hollers.
"James RiVAh" contains twelve tracks with ten of them being band originals. With the band's energetic style of play, The Bush League pride themselves on the fact that they "push the boundaries of what the blues can be." Simply put, what they say they actually play is "shiny new dirty ol' blues."
The disc opens with "River's Edge," a song that not only pays tribute to the James River - which flows through the band's home town of Richmond, VA - but it pays tribute to the band's mission statement, as well. This smoker does indeed push the boundaries of the blues...and yet this traditionalist just loves it. With "rough" and "aggressive" being just a few of the words some have used to describe the Bush League's music, this could very well be one of the tracks that inspired those descriptions. It features Royce, Wynton and Brad, living up to the consummate definition of a "power trio" with rough and aggressive musicianship and JohnJay aggressively belting out some very rough and powerful vocals.
Going from the above track to this song speaks volumes for the band's versatility. Calling it a complete opposite style of play is a gross understatement. It is a beautifully written, tenderly performed ballad that should be the anthem for anyone wanting to make a wedding proposal. Just follow these simple directions: record this song; get on your knees; take out the ring; then play her the song. I promise that without you having said a word, she will "Say Yes." Replay this six-and-a-half minute long song of the year candidate a few times over and I'll also promise you that this just might be the best 20 - 30 minutes you'll have all week. It was for me.

"Is anybody going to the mall?
'cause I gotta take this tuxedo back"
My baby she left me at the altar,
and she ain't never coming back."
Oh, it gets worse....you see,
"There's going to be some extra cost,
because the cuff links they was lost."
C'mon JohnJay say it ain't so. Could this really happen after she said yes? This song is titled "Tuxedo Blues" and if the sullen story that John's soulfully telling is true, it's quite sad but if it's not, it's an absolute riot. Although it's a slow, traditional blues style song, Royce and Wynton do take the rhythm on an interesting roller coaster ride. Additionally, being the only track he appears on, Vince nearly steals the show with some monster harmonica playing. I know I'll be Googling him later.
As JohnJay tells it, "You can keep your champagne and your chardonnay. Hold off on that Wild Irish Rose and that Beaujolais." When he wants to have a good time just give him his "Moonshine". With its constant strong rhythm present, this one features some excellent guitar and piano work from Brad and Jeremy.
Once you hear these lyrics you'll understand that the song was perfectly titled. It's about the frustrations of man dealing with his expectations of what should happen by the second, third, fourth and in this particular man's case, most likely the fifth, sixth, seventh and more dates. As he tells it..."You keep promising me, that I'm gonna see it".....but that just ain't happening". Sounds like it's time for that "Cold Shower." As with the title track, this one features the nucleus of the band doing what they do best - pushing boundaries.
The disc closes in signature Bush League style. It's unquestionably the disc's most ambitious effort. It features just about everyone listed in the credits doing just about anything they want to do and as fast and hard as they want to do it. It ends with JohnJay exclaiming "There it Go!" (apparently a local Richmond, VA slang term) and indeed, there it went!
Other tracks on "James RiVAh" include: "Kokomo Me Baby," (Fred McDowell) "Show You Off," "Catfish Blues," (McKinley Morganfield), "Kick Up Your Heels," "Long Gone," "Hearse."
If you haven't yet received a copy of "James RiVAh" for airplay, please contact Betsie Brown at www.blindraccoon.com and to find out more about The Bush League, just go to www.thebushleague.com. Whomever you contact, please tell them their friend the Blewzzman sent you.


Peter "Blewzzman" Lauro
Blues Editor @ www.Mary4Music.com
2011 Keeping The Blues Alive Award Recipient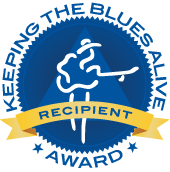 Laurie Morvan
"Gravity"
Screaming Lizard Records
Publicity: Blind Raccoon
By Peter "Blewzzman" Lauro © March 2018
Since it happens time and time again, it's obviously not an accident that Laurie Morvan has a pretty good track record getting recognition of her releases. In 2008, the year the Laurie Morvan Band made it to the finals at the International Blues Challenge, the band's "Cures What Ails Ya" CD was a finalist for the Blues Foundation's Best Self Produced CD award. Then in 2010, with their very next release titled "Fire It Up," the band not only got another nod but they took home the gold as well. Fat chance of that happening again, right? Wrong! In 2012 "Breathe Deep," got them their third consecutive nomination making it all the way to the semifinals. That's quite a nice run.
Now Laurie is back with her sixth release - "Gravity" - and the fact that she's teamed up with one of the best producers in the genre, along with some of the best musicians in it as well, it wouldn't surprise me if there was a different Blues Foundation award in her future.
On "Gravity," playing all guitars, singing all lead vocals and writer of all of the twelve tracks, Laurie Morvan is joined by: Mike Finnigan on B3 organ; Jim Pugh on B3 organ, Wurlitzer and piano; Barry Goldberg on piano; Bob Glaub on bass; the disc's producer, Tony Braunagel on drums and percussion; and Lisa Morvan, Maxayn Lewis, Kudisan Kai, Leslie Smith and Ricky Nelson on background vocals.
The opening track is titled "My Moderation" and with its catchy chorus line of "my moderation needs some moderation," Laurie has obviously decided that the phrase everything in moderation includes moderation itself. Like most of what you're going to hear on "Gravity," this one is a smoker. With Laurie and Mike going toe to toe on the guitar and organ and Tony and Bob rockin' the rhythm on drums and bass, there's no relenting here.
"Money Talks," is a cleverly written track. You see, although money talks, Laurie can't seem to get into a conversation with hers because it waves bye-bye. Due to lots of scorching blues guitar licks, for my particular taste this one features some of Laurie's best guitar work. Add in some fancy tickling of the ivories by Barry; Tony and Mike - the dynamic duo of the blues - doing their usual exceptional work on the drums and organ; and very well sung, energetic lead and background vocals and this one's another winner.
The chorus line on this one contains some of the most poignant lyrics I've heard in sometime: "It's backed up on easy street for a long while, but there ain't no traffic on 'The Extra Mile.'" Ain't that the truth. At the risk of dissing the band (they really do have a lot going on here), Laurie pretty much takes this rocker and runs with it. Powerful lyrics being powerfully sung while putting on an equally powerful guitar performance. Nice job Laur!

"The Man Who Left Me" was the first man I ever loved
He put the sun in the sky and the stars above.
I thought he loved me but I learned to live with tears
When he walked right out that door after five years.

You see the man who left me
Never knew how hard I cried.
He never saw my pain
That I hid beneath my pride.
He could have known me better
But you know he never bothered.
You see the man who left me was my father.
Nothing I could have said about those emotional and melancholic lyrics would have come across as worthy so I just had Laurie say them for me. The eerie effect created by the masterful rhythm and percussion are the perfect backdrop for the the songs dark subject matter. All that, added to a hymnal like lead and background vocal presentation give this one "song of the year" credentials.
This is one of those songs where after you hear the story it tells you find yourself hoping it wasn't written from a real life experience but in actuality, you can't help but feel that it was. It's about a woman in a totally wrong relationship and she's having a rough time figuring out if she's tough as nails or just "Too Dumb To Quit." On top of singing her heart out, between the pedals and the guitar slide Laurie puts on another masterful performance on the guitar. With the keyboards being an essential part of all twelve tracks, I gotta get a plug in for the monster job Jim Pugh's doing with them on this one.
Other tracks on "Gravity," include: "Twice The Trouble," "Stay With Me," "Gravity," "Dance In The Rain," "Gotta Dig Deep," "Shake Your Tailfeathers," and "I Want Answers."
If you haven't yet received a copy of "Gravity" for airplay, please contact Betsie Brown at www.blindraccoon.com and to find out more about Laurie Morvan, just go to www.LaurieMorvan.com. Whomever you contact, please tell them their friend the Blewzzman sent you.


Peter "Blewzzman" Lauro
Blues Editor @ www.Mary4Music.com
2011 Keeping The Blues Alive Award Recipient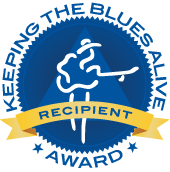 Reverend Raven & The Chain Smokin' Altar Boys
"My Life"
Nevermore Records
Publicity: Blind Raccoon
By Peter "Blewzzman" Lauro © March 2018
My relationship with Reverend Raven & The Chain Smokin' Altar Boys dates back to when I did a review of his "Big Bee" CD. It was my first exposure to the band and I opened my review by saying "how can you not like a band called that? I don't know about you, but if I'm cruising the blues bins at the local record mart, this one's going in my cart on the name alone. Anyone creative and daring enough to call his band Reverend Raven & The Chain Smoking Altar Boys has gotta have some talent..... and man this band does." That was back in 2007 and since then, besides doing other reviews and attending many of the bands live shows, I've also had the pleasure of becoming very good friends with Richard "Reverend" Raven.
"My Life" is the bands eighth release and it celebrates their twenty year existence. The CD contains sixteen all original tracks that cover several styles of blues, and although they are songs that the band has played throughout their tenure, the fact that they were remixed and rerecorded with a new, vast and very talented lineup gives it a whole new feel.
Joining The Reverend - who plays guitar, slide guitar and sings lead vocals on all tracks - are: Cadillac Pete Rahn, Madison Slim, Benny Rickun and Westside Andy Linderman on harmonica; Big Al Groth on saxophone; Andre Maritato, Brad Bill and PT Pederson on bass; Vic Spann, Spencer Panosh, Bobby Lee Sellers Jr., and Craig Panosh on drums; Ron Kovach on organ; Jimmy Vogelli on organ and harmony vocals; Mickey Larson on piano; Danny More on piano and organ; and Jeff Roberts on rhythm guitar.
Since every song on the disc is outstanding and worthy of mention, it was difficult for me to narrow it down to the usual handful I like to touch on. With that said, I decided that I'd try to pick a reasonable number of tracks where I can mention as many of the players and voila.....the following six tracks feature everyone involved on the project.
"Creature Of Habit" kicks off with a thirty second intro featuring Brad and Rick burning up the rhythm with Cadillac Pete simultaneously blowing similar heat through his harp and then right on cue, all hell breaks loose. The Reverend starts belting out that slick style of deep and powerful vocals he's known for; the organ comes in and intensifies the rhythm; and the guitars start wailing and kick things up another few notches. There you have it, an all out smoker that's sure to please the movers and the shakers.
"Bad Little Girls" features a whole different ensemble with no different results. It opens with Reverend Raven and Madison Slim going toe to toe on guitar and harp and thankfully that takes place throughout much of the track. With three bassists and four drummers, the rhythm match ups on all of these tracks are nothing short of stellar. This time it's Andre and Spencer, with the keyboard assistance of Micky, setting the potent pace.
On "My Life" the Reverend tells of sailing the seven seas in search of a woman who was just right for him. Being a fellow sailor, I know that during his long stint in the United States Navy that he may very well have sailed those seas and furthermore, knowing his wonderful and beautiful wife, I'm also aware that he did indeed find his perfect woman. Musically, it's another masterpiece. It features Reverend Raven smokin' some slide guitar; Danny Moore pounding out some of the disc's best barrelhouse style piano; more of the what's becoming the very usual intense rhythm - this time by PT and Bobby Lee on the bass and drums; and with it appearing on thirteen of the sixteen tracks, Benny Rickum doing a heck of a job on what's apparently the bosses favorite instrument - the harmonica.
Two instrumental segments of "Here Comes My Baby" collectively account for nearly three minutes (4:16 total time) of the track and from what I just heard, I want them spliced together, quadrupled in length and played over 2-3 times. WOW! Reverend's at disc's best with some all out rippin' guitar licks; PT and Spencer - yes, yet another different but powerful rhythm equation - are all over that; and on his only musical appearance, Jimmy V is certainly making his presence know. Killer track, to say the least.
"Looking For Love" is only one of three tracks without the Mississippi saxophone but that's cool, it features a real sax instead. With another crazy good mix of those rhythm guys carrying on behind them, this one features several very outstanding, back and forth, lead performance between the Reverend on guitar, Big Al on sax and Danny on piano. It culminates with the trio absolutely killing it at tracks end. I've never quite been a fan of this expression but if there was ever a time to do it, this is it....."SOMEBODY SCREAM!"
Inasmuch as my enthusiasm should be making it quite clear as to how crazy I am over this album, this next track is what totally sealed the deal for me. It is titled "I'll Do You Right", and those who know me know that there is no better way than to do me right than to do it with slow blues. PT, Craig and Danny have the rhythm right where it needs to be so that Reverend Raven can belt out some emotionally soulful vocals along with him and Westside Andy tagging off on some downright gut wrenching blues guitar and harmonica licks. This one was at least fifteen to twenty minutes (with several replays, that is) of pure blues bliss for me.
Other tracks on "My Life" include: "Handyman", "Bee Hive Baby", "I Want To Love You", "Once The Women Start Talking", "Praying For A Princess", "Big Bee", "Slow Burn", "Someday When I'm Dead And Gone", "She's Moving On" and "I'm Your Honeyboy".
If you haven't yet received a copy of "My Life" for airplay, please contact Betsie Brown at www.blindraccoon.com and to find out more about Reverend Raven & The Chain Smoking Altar Boys, just go to www.reverendraven.com. Whomever you contact, please tell them their friend the Blewzzman sent you.


Peter "Blewzzman" Lauro
Blues Editor @ www.Mary4Music.com
2011 Keeping The Blues Alive Award Recipient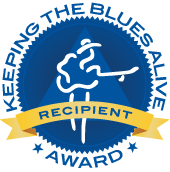 Click Here To Return To The CD Review Index
Click Here For The Blues Portal
Click Here For The Indie Portal
Click Here To Visit Our Music Gift Shop


---
Want your CD reviewed?
Click HERE to email us for information.






*All logos and trademarks in this site are property of their respective owner.
Additional content © 1998-2020 Mary4Music.com. All Rights Reserved.