Blues CD Reviews 61



Tough Deal
"Don't You Fold"

By Peter "Blewzzman" Lauro © December 2013
Although the band is loaded with seasoned veterans, "Don't You Fold" - which features fourteen all original songs - is Tough Deal's debut CD. Tough Deal are made up of Kathy Gregory on vocals, Mark Saurs on guitar, Mike Souder on guitar and vocals; David Aldrich on bass and vocals and Carl Taylor on drums. Additionally, John Howe is featured on the harp on "Been So Long".
"Two Doors Down" is one of the disc's several shuffles - a style that features what appears to be the bands forte.....sassy, melodic and wide ranging vocals, tight rhythm grooves and two outstanding guitarists tossing the rhythm and lead back and forth.
"Enough" is another track which features something I just can't get enough of - Kathy's voice. On this one, she backs up her velvety soft leads with her own even softer, whispering back up harmony.
The only thing more sultry than this tracks lyrics are the way they're sung. If you think hearing Kathy say "Put Your Hands On Me" sounds suggestive, just wait till you hear what else she has to say and how sexy she sounds while saying it. Phew! Saying this is one hot track now takes on a whole new meaning. As a matter of fact, everything about this song is sexy. David and Carl have a sensuous slow dance groove going on rhythmically and Mark and Mike are doing things on guitar that range from slow and steamy to scorching and spine chilling. Several replays of this seven and a half minute song have just given me one of the best hours of my week. With this being my last review of the year, "Put Your Hands On Me", has just joined my list of song of the year contenders.
I have no clue as to why, but this instrumental is called "W. C. Fields". Maybe it's because of the fun it sounds like the guys are having on this frolic like jam. One thing is for sure, as the lead gets passed around everyone's sounding sharp - especially David who gets in quite a nice bass solo.
Although not an instrumental, "Again" is all about the instruments. Musically, the guys are all at the top of their game. Carl's whacking the drums at a pace like I may not have ever heard before, David's beating up his bass and Mark is killing it on the slide guitar.
It's not like Tough Deal needs it, but John adds some snap with some smoking harp playin' on "Been So Long". This is one of a few tracks that features Mike on vocals and with everyone in full jam mode, it's a rocker.
Other tracks on "Don't You Fold" include: "Almost Here, Almost Gone", "Don't You Fold", "Love On The Line", "Lost My Job", "Someone Special", "Had Me Some Money", "The Truth" and "O Baby Please".
When it comes to the blues, Tough Deal is the real deal. To find out more about the band just go to www.toughdealbluesband.com. Once you do, please be sure to tell them the Blewzzman sent you.
Peter "Blewzzman" Lauro
Blues Editor @ www.Mary4Music.com
2011 Keeping The Blues Alive Award Recipient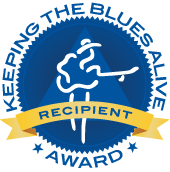 Bill Blue
"Mojolation"

By Peter "Blewzzman" Lauro © December 2013
"Mojolation" is the first studio release in thirty years from blues guitarist, singer and songwriter, Bill Blue. As the story goes, Bill tired of life on the road and moved to Key West, FL. However, it wasn't to retire. At nearly seventy, Bill still performs six nights a week at the local venues. It was there where he met Ian Shaw, an award winning British record producer who had also relocated to Key West from London. And, as the saying goes.....the rest is history.
Along with Bill Blue on electric & acoustic guitar, resonator, harmonica & lead vocals, "Mojolation" features many world class musicians who have played with the likes of Bob Dylan, Paul Simon, Steve Windwood, Joe Cocker, Reba McEntire and many more. They are: Richard Crooks on drums; Mat Backer, Michael McAdam, "Caffeine Carl" Wagoner, and Larry Baeder on guitar; Francois Gehin, Dan Simpson, and Drake Leonard on bass; Ericson Holt on piano and Hammond organ; and Deb Hudson on backing vocals. Also featured are: Rob Cutts on tenor sax; Jason Chapman on trumpet; Adam Seely on alto and baritone sax; and Ed Leone & Christian Kollar on trombone. Collectively, they are known as the "Funky In The Middle Horns".
"Mojolation" opens with a track titled "It's Gotta Change" and from what I'm hearing, I don't want it to. This is downright unadulterated, raunchy and rocking blues at it's best. Bill's raspy, scratchy and gritty vocals seem to be a perfect match for his spirited slide guitar style. I'm sure his vocals, accompanied by Deb's melodic backup, are apparently going to highlight many tracks.
This track features a total of three guitarists. Sounds to me like a hell of a good reason to call it "Guitar Whore". When they all get cranking things get pretty steamy. Michael and Matt are slugging it out on slide and lead respectively and Bills rockin' out on rhythm. Somewhere in there you can actually hear a few harmonica riffs outta Bill as well.
I think this could be another one of the tracks Ian was referring to when during a conversation between us he mentioned that "some of the tracks are a little guitar heavy". Yes, this one has four guitarists, but no, it's not called "Guitar Orgy". It's title is "Sing Like Thunder". Oddly enough this track does features some of the disc's best rhythm with Richard and Drake creating some of that thunder on drums and bass. Guitar wise, the one-two punch of Michael and Carl are a knockout. Michael sets it up beautifully with his lead slide work then the "Caffeine" kicks in and kills it with scorching blues guitar licks. Bill? With all the goings on around him he's belting the hell out of the vocals. An absolutely great track.
"Who Do You Think You Are?" is one you won't be able to stay still for. The rhythm's rockin', the guitars are smokin' and the horns are blarin'. I'm sure this one always fills the dance floor.
The owner is so mean and the place has the worst barbecue you've ever seen. And that's exactly why Bill won't be going to that "Barbecue Store" no more. However, that mean old bastard who can't cook was a great influence for a hell of a song. No pun intended, this one's another 'smoker'. Bill's at his best on vocals, is again tearing it up on slide guitar and gets a lot of help with the heat by some fiery piano playing from Ericson.
Settling down a bit, "Who Let The Stranger In?" is one of the discs two acoustic tracks. It's pretty much all about Bill telling a story vocally and putting on a masterful performance on acoustic guitar.
Other tracks on "Mojolation" include: "Brand New Man", "Poor Boy Blues", "I Ain't From Mississippi", "Ain't It Funny", and "On The Road For Big Boy".
If, like myself, you are a member of the blues community who had never heard of Bill Blue before, then you need to do as Ian Shaw did and 'discover him'. You can do that by going to www.facebook.com/BillBlueMusic and liking his page. And then you'll tell him the Blewzzman sent ya.
Peter "Blewzzman" Lauro
Blues Editor @ www.Mary4Music.com
2011 Keeping The Blues Alive Award Recipient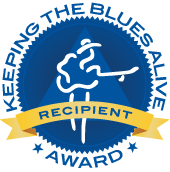 Buck 69
"No Medicine Like The Blues"

By Peter "Blewzzman" Lauro © December 2013
It's been six years since I've last heard from Buck 69, and as the saying goes - good things are worth waiting for. The band is back with their second release and it's title is something I'd like to hear my doctor say one day...."No Medicine Like The Blues".
With minor personnel changes, the nucleus of the seven piece blues rock-band has pretty much stayed in tact over the years. However, this particular project includes several special guests. On "No Medicine Like The Blues", Buck 69 consists of: Tom Clawson on vocals & rhythm guitar; his son Alex Clawson on lead & rhythm guitar, bass, drums, vocals and back up vocals; Candice Coleman Lange on vocals and back up vocals; John Sevilla on lead & rhythm guitar, bass, drums and back up vocals; Randy Paredes on lead and slide guitar; B.J. Love on keyboards; and David Alan on drums. The special guests include: Johnny Neel on keyboards; Ryan Sondergeld, Stan Stahl and Olaf Gerhardt on horns; Betsy Cranston on cello; Brian Davidson on guitar; Dennis Gulley on bass; Daryl Burgess on drums, and Bobbie Clawson on back up vocals.
Lots of good musicians, playing lots of different instruments, making lots of good music - sixteen tracks and seventy minutes of it to be exact. Now let me tell you 'bout a few.....
The CD opens with your basic full throttle smoker called "These Blues". It features a ferocious rhythm pace led by David on drums with John not only helping the cause on bass but tearing it up on lead guitar as well. Stealing a title of a movie, this one's fast and furious.
I always enjoy it when one of the best songs on a CD also happens to be the longest. I feel like it's a double treat - something very good and lots of it. This is the case on the title track, "No Medicine Like The Blues". It's mostly a slow blues song - which makes it even more enjoyable - on which Tom does an excellent job of belting out some very soulful lyrics. Midway through it's nearly nine minutes, John picks up the pace from his absolutely amazing, slow, scorching blues leads to an even more amazing two minute lead that's mind blowing hot. Very good stuff!
"Without My Baby" features the lovely, melodic and wide ranging vocals of Candice. It's a gentle song with delicate - yet wonderfully done guitar and keyboard highlights by Alex and B. J. and soft, mellow rhythm by David and John.
This track contains some very topical, very disappointing and very true lyrics. As Tom sees it, 'There ain't no "Hard Times" coming, they're already here'. Hungry people in the cities, politicians lie and steal, no jobs to find since they've been moved overseas... and on and on. Very well done vocally and the slide guitar adds a bit of a country sound to it. As a matter of fact, it's my thought that given to an artist such as Trace Atkins, this one could be a smash hit on the country charts. I'm already considering it for a song of the year "Blewzzy Award".
"Just An Old Blues Man" features cool, well sung lyrics, outstanding rhythm, scorching lead guitar and melodic back up vocals....and yet it's a duet. With Tom belting out the vocals, it's the extremely talented John Sevilla doing everything else. Pssst, Tom - John needs a raise.
With all the different musicians who play many different instruments, it's the music that's pretty much been the highlight of many of the songs I've mentioned. However, on "I Pray For Me", it's the vocals that steal the song. The contrast between Tom's powerful, deep and slightly graveled voice and the equally powerful, higher pitched, angelic sounds of Candice and Bobbie on back up is a perfect blend. This is the kind of song that listening to once is like being teased. It just leaves you wanting to hear it again and again... which is exactly what I've done. Easily one of the disc's best.
Here I am, over an hour later and I'm still hearing lots of smoking music. It's the closing track - which I think may sum up how long Buck 69 is able to endure this frantic pace - "All Night Long". Musically it's similar to the opening track but only much faster and a lot more furious. David and John are rhythmically out of control and the guitar slugfest between Alex and Randy on lead and slide is some of hardest rocking tandem playing these ears have ever had the pleasure of hearing.
The other nine very good tracks on "No Medicine Like The Blues" include: "Ugly Teacher Blues", "Dead End Road", "That's Life", "Love Ain't Easy", "Tell Me Why", "Carry On", "Don't Shave My Beard (When I Die)", "Soakin' Up The Blues" and "My Car".
To find out more about Buck 69, just go to www.buck69.net. While you're there, I strongly suggest that, besides telling them the Blewzzman sent you, you look into getting your hands on a copy of "No Medicine Like The Blues".
Peter "Blewzzman" Lauro
Blues Editor @ www.Mary4Music.com
2011 Keeping The Blues Alive Award Recipient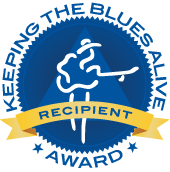 Herbie D And the Dangermen
"Dangerous With Blues"

By Peter "Blewzzman" Lauro © November 2013
Herbie D And The Dangermen are an acoustic driven band who play genre crossing music while leaving little doubt as to their influence - a mixture of blues traditions. The band consists of: Herbie Desseyn on acoustic guitar, resonator and lead vocals; Chris Gifford on upright bass and backing vocals; Art Martin on saxophones, flute and backing vocals; and Michael "Sal" Salazar on drums and percussion. Additionally, on one track each, are Erin Fossa on backing vocals and Jay Shenk on viola. "Dangerous With Blues" is the bands second release and it contains seven originals and a cover.
On the opening track titled "I'll Have Another", the band does quite a good job of creating the mood for the songs story. It's closing time at the juke joint and with the smell of cigarettes and bourbon filling his nose, all Herbie wants to do is pick up his pay and go home.....until she walked in. As one thing leads to another, going home becomes the furthest thing from Herbie's mind. As Herbie tells the story his tone of voice pretty much makes his carnal intentions quite clear and each time Erin says "I'll have another", the sexiness of her voice sounds like a seal of approval. From the very high alto and flute notes to the very deep sounds of the baritone, Art is all over this one.
"Three Of A Kind" is an instrumental that features Chris and Michael in a tight bass groove with Art and Herbie taking turns on Alto and Acoustic Guitar leads. Real good stuff.
Although the song contains a vocal verse, "Franklin County Shine" is pretty much a concerto performed by Herbie and Jay - virtual maestros on the acoustic guitar and the viola. I think the guys may just have created a whole new style of blues.....classical.
During one of their gigs, Herbie finds himself attracted to this pretty little thing in the audience. So he slides on over and with each line of crap he starts to give her the band goes into a chorus of "He's Full Of It". Lyrically it's a riot but musically it's a smoker. Outstanding rhythm behind some amazing guitar picking and several hot tenor leads all highlight this one.
"Danger Man" is a cover of a song by one of my very early blues influences - David Bromberg. With some good backing, Herbie does a great job vocally describing just how dangerous he is. Once again Art is magnificent on the horns.
Other tracks on "Dangerous With Blues" include: "All The Guys Want To Be Your Man", "Dance Your Blues Away" and "Devil On My Shoulders".
Herbie D And The Dangermen will be representing the River City Blues Society in the 2014 International Blues Challenge in Memphis and since I'll be going, this is one of the bands I'll be on the lookout for. You should as well. You can find out more about them at www.herbiedandthedangermen.com. When you check them out, please tell them the Blewzzman sent you.
Peter "Blewzzman" Lauro
Blues Editor @ www.Mary4Music.com
2011 Keeping The Blues Alive Award Recipient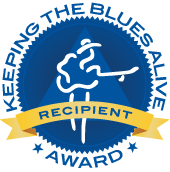 Zoe Schwarz Blue Commotion
"The Blues Don't Scare Me"
33 Records
By Peter "Blewzzman" Lauro © November 2013
Over the dozen or so years we've been doing this, there have been many artists that have had multiple CDS reviewed by us. However, I believe Zoe Schwarz is the first artist to ever have two done in the same year. As long as they're as good as this, Zoe, you just keep 'em coming as fast as you can.
With the exception of an additional bass player and back up vocalist, the members of Zoe Schwarz Blue Commotion have remained in tact and they are back with their second release titled "The Blues Don't Scare Me". Those musicians are: Zoe Schwarz on vocals; Rob Koral on guitars; Si Genaro on harmonica, backing vocal and rap; Pete Whittaker on Hammond organ; Pat Davey and Rodney Teague on bass; and Paul Robinson on drums & percussion. Also appearing on several tracks are: Ian Ellis on tenor sax; Andy Urquhart on trumpet; and Sue Hawker on backing vocals. This project contains eleven original tracks and, as with their first CD, a Billie Holiday cover.
"I Believe In You" is such a well sung, well performed and well produced song that it's sound had me thinking I was listening to the opening of a new James Bond movie. It's a song of that caliber. Had that been the actual case, it could have been as big a smash as Shirley Bassey's "Goldfinger". Zoe's vocals are compelling, the rhythm is intense and what Rob and Pete are doing on the guitar and organ is mesmerizing. This was the most enjoyable six and a half minutes of my week.....so far.
The fancy guitar pickin' that opens "Liberated Woman" had me thinking it was going to be an acoustic track and then...BAM!...all hell broke loose and I found myself shaking wildly to a full fledged smoker. This time it's Peter and Paul, on the percussion and organ that are setting the manic pace. With several outstanding guitar and harp leads by Rob and Si, and Zoe being her usual flawless self on vocals, this is another of the discs best - and I'm only on the second track.
From the way she's belting the hell out of this one, as you hear Zoe very matter-of-factly say "The Blues Don't Scare Me", you've just got to believe her. Once again, the rhythm guys are rockin' this one and Si could very well be at disc's best on the harp. Another very impressive track.
For many reasons, "I'll Be Your's Tonight", is obviously going to be this discs 'replay special'. I'm barely finishing the second sentence and I'm already on the third listen. Everyone in the band is in such a relaxed groove and as they feature each instrument they are all meticulously played. Every note of this song is absolutely perfect. And then there's Zoe....WOW! I could listen to her sing this song all night long.....especially the part where she sultrily says "Kiss me now, and I'll be yours tonight". Her range is complete and everywhere, her style is moving, her emotion is convincing and her voice is immaculate. With the 2013 "Blewzzy Awards" just a few months away, this is the one to beat for song of the year.
This one's called "Just Another Day" but the way Zoe sings it it's by far not just another song. It's about the boring and unfulfilling life of an assembly line factory worker who after working a miserable shift returns home to her equally boring and unfulfilling home life. And yet Zoe makes it sound like something I'd want to listen to while in an amorous situation. This may just be one of the sexiest voices these ears have ever had the pleasure of hearing. Phew! Oh yeah, the band.... they were their usual masterful selves.
"Billie's Blues" is another monster track. As a matter of fact, because I may be starting to sound redundant, I'm going to have to make this the last track I mention. How many more times can I say how magnificent Zoe's voice is or how she repeatedly blows me away? By the same token, there just isn't enough praise that I can give these wonderful musicians.
To use an aforementioned song as a reference, this was certainly not a "boring and unfulfilling shift" for me and this was, by far, not "just another review". I can't ever remember being this satisfied while working on a review.
To learn more about Zoe Schwarz Blue Commotion - and American blues enthusiasts really should - just go to www.bluecommotion.com. I already know you'll tell her the Blewzzman sent you but also tell her he can't wait for the American tour.
Here's a little extra treat I'm sure you'll enjoy... www.youtube.com/watch?v=Q1hNHjhGPaw&noredirect=1
Peter "Blewzzman" Lauro
Blues Editor @ www.Mary4Music.com
2011 Keeping The Blues Alive Award Recipient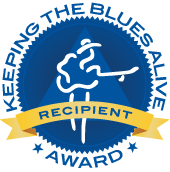 GeorgieBonds
"Stepping Into Time"
8th Train Records
By Peter "Blewzzman" Lauro © November 2013
If there's any truth to the expression "You've got to pay your dues if you want to sing the blues", then Georgie Bonds should be given a receipt stamped "Lifetime Member - Paid In Full". Without getting into a word for word description of his bio, saying he's got as many lives as a cat pretty much sums it up in a nutshell. Prison, redemption, budding career in music, near death experience, resurgence of career, another severe illness, another recovery. Sounds to me like rather than calling this comeback disc "Stepping Into Time", that Georgie should have gone with "Stepping Into A Better Time". In any event, Georgie's back, he's feelin' good and sounding great.
On "Stepping Into Time", Georgie Bonds - on the vocals - is joined by: Neil Taylor on lead, rhythm and slide guitars; Andy Haley & Russ Joel on drums; Kenny Githens & James White on bass; Walter Runge on organ and piano; Buddy Cleveland on harmonica; Harry Jacobson on lead guitar; Joey Stout on piano; Dave Renz on tenor sax, and Randy Phister on congas. The CD contains twelve tracks of which ten are originals written by Georgie (4) and bandmates (6).
The opening track is a two minute a capella version of "St. James Infirmary" and the strength, emotion and style associated with Georgie's vocals had me thinking I could listen to a whole CD of this. Very well done.
This track's a tale from Georgie's redemption period. Singing with some grit and some growl, he tells a true story about the years he spent as "The Blacksmith". The rhythm section are all over this one with Andy doing a hell of a job making the bass drum sound like a hammer repeatedly pounding on an anvil. A few heated harp leads also highlight this one.
Mother kills her children, a husband kills his wife. Brother killing brother, cut down in the prime of life. People keep on asking what's giving me the blues, read all about it, pick up the "Daily News". Powerful lyrics, powerfully sung. With his highly emotional deliverance and amazing range on the vocals, Georgie nails this one. Led by the constant pulse of the organ, the rhythm section creates that perfectly eerie sound that's a masterful accessory to the songs sullen lyrics. Add in some slow bluesy harp leads and a few scorching blues guitar riffs and this one's easily the discs best track.
This song may very well be about a time in Georgie's life where he had a near fatal reaction to a prescribed medication. Apparently, ready to meet his maker, he got sent back being told to get on with living because "Dyin' Is The Easy Way". On this percussion fueled, funk filled smoker everyone in the band's on fire. Andy and Walter are duking it out on the drums and organ, James and Randy are toe to toe on the bass and congas and Neil's wailin' away on lead guitar. Musically, this one's a monster.
Using hot sauce as a guide, "Calling Your Name" would be labeled 'mild' while everything else I've heard so far would be labeled 'lava'. However, that's not a bad thing. This is an absolutely beautiful song featuring some soft guitar notes, subdued rhythm, gentle piano playing, and mellow and very melodic vocals. Excellent track.
Another incredibly good track is "Out Of the Fryin' Pan". With Andy and James providing him with some rich rhythm Neil kills this one with some of his best work on the lead guitar. One of the discs slower, bluesier tracks.
Other tracks on "Stepping Into Time" include: "What More?", "Lord, Oh Lord", "Going Shopping", "I Need Somebody", "Hurricane Blues" and "Dimples". What I especially liked about these songs were that many of them were close to, or well over, five minutes long.
Here's to hoping that Georgie Bonds stays healthy and keeps on singing the blues, for his sake, and for the blues community as well.
For more on Georgie, check him out at www.georgiebonds.com. And when you do, please tell him the Blewzzman sends his regards.
Peter "Blewzzman" Lauro
Blues Editor @ www.Mary4Music.com
2011 Keeping The Blues Alive Award Recipient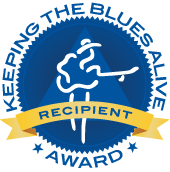 Connie Hawkins and the BluesWreckers
"Wired Up And Fired Up"
By Peter "Blewzzman" Lauro © October 2013
I'm assuming that if you can't judge a book by it's cover, you shouldn't be able to judge a CD by it either. Right? Not necessarily so! Being a huge fan of ladies who sing the blues, I took one look at the expression on this gorgeous redhead's face and I immediately knew I'd soon be smiling as I listened to her belting the hell out of some smokin' blues.... and I was right. Connie Hawkins And The BluesWreckers did indeed get me "Wired Up And Fired Up".
Connie Hawkins And The BluesWreckers are made up of: Connie Hawkins on vocals; her husband Steve Hawkins on guitar and vocals; Mark Broderson on Hammond B3 organ; Steve "Little Butterfield" Clarkson on harmonica; Evin Moore on bass; and Sean Sharp on drums. "Wired Up And Fired Up" is their debut CD and along with a Percy Mayfield and a Smokey Robertson cover it includes eight originals, all written by Steve.
While claiming to be "Too Cool For The Room", Connie shouts out a warning to the men in the room to watch out because she "might be coming after you". However, while making this so called threat, she's boasting about how good she looks in her tight jeans and heels with her hair and nails just right. Then there's the ten karats of diamonds on each of her hands and the pink caddy outside. Damn Connie, come and get me. With Connie nailing it vocally, this smoker is led by the incredible rhythm of Mark, Evin and Sean on the Hammond, bass and drums. A smoker from every aspect.
Connie's sounding something like a character from The Sopranos TV show as she says she "woke up this morning, had a shotgun in my hand". That can only mean one thing - "Bad Intentions". An interesting contrast to this song is that as serious and threatening as the lyrics are Connie sings them in a quite sexy, sultry and seductive tone. Throw in some amazing, string bending, blues guitar work out of Steve and a few harp leads that validate the "Little Butterfield" nickname for Steve and this is easily one of the discs best.
"Not Trustworthy" starts off with a fierce rhythm groove that never relents, it's got several smokin' organ, harmonica and guitar leads and it features a catchy vocal chorus that just makes you want to sing along with "sooooo looooong, sooooo looooong ba...by bye bye" making it one of the best all around tracks.
Some of the Hawkins' best work together can be heard on a track called "Some Things Have Got To Change". Vocally, Connie's on top of her game singing with a sassitude as best as I've heard and hubby Steve's killing it on the guitar.
All disc long I had been hoping to hear this voice do a slow, bluesy ballad and thankfully one came on the last track, "Who's Loving You". Starting off slow, with Connie softly stretching and holding the notes, and culminating with her reaching the highest of highs, this track truly showcases her versatile range. That, along with well done back up harmony and dynamic guitar work from Steve make this quite a beautiful number.
Other tracks on "Wired Up And Fired Up" include: "Narrow Road", "Mad At You Baby", "Blues In My Life", "Short Loving Man" and "Don't Miss The Water".
Here's a cute little anecdote concerning the CD. Liking a track she was hearing while I had the CD playing in my car, my wife asked who it was we were listening to. So I just handed her the CD case and the first thing she said was "wow, I'm getting my hair done like that". Therefore, this could turn out to be the most expensive review I've ever done.
For more about Connie Hawkins And the BluesWreckers, just go to www.conniehawkinsandtheblueswreckers.com. And this time, in addition to telling her that Pete the Blewzzman sent you, also tell her that Blewzzlady Rose just loves her look.
Peter "Blewzzman" Lauro
Blues Editor @ www.Mary4Music.com
2011 Keeping The Blues Alive Award Recipient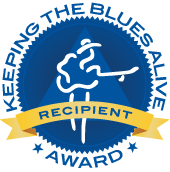 Little Mike & The Tornadoes
"Forgive Me"
ELROB Records

By Peter "Blewzzman" Lauro © October 2013
Being one who prefers to be impressed by what I hear versus what I read, I usually don't pay much attention to band bios or resumes. Especially the part that says "shared the stage with"....the sound guy can say that. However, every once in a while I will read one that does get me to say "Whoa!" And Little Mike's did just that.
Going as far back as 35 years ago, at a mere 22 years old (which by blues standards is ridiculously young) Little Mike & The Tornadoes were the go to band for touring artists performing in New York. The guys have backed up the likes of Walter Horton, Otis Rush, Bo Diddley, Lightning Hopkins, Big Mama Thornton and eventually became the touring band for Pinetop Perkins, Hubert Sumlin and Jimmy Rogers. That's what I'm talking about.
Having taken a hiatus in order to properly raise his family, Little Mike's ready to once again make some noise and "Forgive Me" is some of his best noise yet. It features eleven tracks of all original music. On the CD "Little Mike" Markowitz on vocals and harmonica is joined by: Troy Nahumko and Warren King on guitar; Cam Robb on drums; Chris Brzezicki on bass; Jim McKaba on piano and organ; Sonny Rhodes on lap steel guitar; Ace Moreland on background vocals; and a smokin' unnamed horn section.
I really enjoy it when the opening track of a CD is an instrumental. Personally, I see it as the perfect way to introduce the band to the listener, and at just under seven minutes, "Opelousas Rain" was a heck of an introduction. The spotlight got passed around quite smoothly and each musician presented themselves with crystal clear highlights. Nice work.
The pulse responsible for the tight groove on "Wait A Minute Baby" is led by Jim on the organ and some spectacular horn blowin'. Some fancy guitar leads by Troy, a scorching harp lead and smooth vocals by Little Mike all make this one another of the discs best.
There's nothing I like better than hearing a good singer performing a slow heartfelt ballad and Little Mike nails it on "Nothin' I Wouldn't Do". This one's easily his best of many very good vocal performances. Musically, the band behind him is equally perfect on the song - soft rhythm, steady background horns with an occasional slightly higher tone and a slow, very soft and quite bluesy harp and guitar lead. This one's the disc's replay special.
More of Little Mike's best singing can be heard on a slow shuffle title "You Don't Love Me". This is traditional blues vocals at their best. Also at his best is Troy during one hell of a minute and a half guitar lead. With more great rhythm, interjected with piano and horn leads, and it all adds up to another great track.
Mike's sounding quite lonely as he sullenly asks "has anyone here seen 'My Little Therese"'? The pain he's feeling from missing her is not only evident in his melancholy vocals but it's clearly heard through his crying harp as well. This one's about as low and slow as it can go. At five minutes into the track Jim puts on a virtual three minute piano lesson ranging from the very deep left hand bass tones to the very high piercing notes of the right hand pinkie, with all kinds of fancy finger work in between. Backed by a soothing rhythm, Mike and Jim excel on this one. Eleven and a half minutes of pure listening pleasure.
The CD closes with a track called "Traveling Blues" and if you happen to be listening while driving your car, you just might find yourself traveling a little too fast. This one rocks. Cam and Chris are setting the frantic pace on rhythm and Little Mike's in hot pursuit on harp. Jim's piano leads are fierce and Troy's guitar leads are fiercer. Excellent vocals by Little Mike rounds out the disc's hottest track.
Over the weekend I had the great pleasure of catching Little Mike & The Tornadoes put on a downright ass kicking show during which he mentioned there's a new CD forthcoming. Here I am just finishing work on this one and I'm already excited about hearing the new one.
For more information on this one, that one and all his other CDs, check Mike out at www.littlemikeandthetornadoes.com. And although you already know this, please tell him his friend the Blewzzman sent you.
Peter "Blewzzman" Lauro
Blues Editor @ www.Mary4Music.com
2011 Keeping The Blues Alive Award Recipient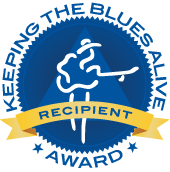 Jeff Jensen
"Road Worn And Ragged"
Swingsuit Records

By Peter "Blewzzman" Lauro © September 2013
"Road Worn And Ragged" sounds like it could be a descriptive term common to most bands who travel countless miles on some of America's highways and byways as they trek from gig to gig - and indeed it is. However, it also happens to be the title of Jeff Jensen's third release.
On it, Jeff - on vocals and guitar, is joined by: Bill Ruffino on bass; James Cunningham on drums; Chris Stephenson on organ; and special guests - fellow Memphians and very good friends, Victor Wainwright on piano and Brandon Santini on harmonica. "Road Worn And Ragged" contains ten tracks of which six are written or co-written by Jeff.
The CD opens with quite an aggressive, original production, titled "Brunette Woman". On it, Jeff seems to be bothered by a problem I've heard other men speak of having as well. You see, he has a brunette woman who's hair turns red in the sun and everything was beautiful until the preacher said they were one. On this smoker you're going to hear amazing sounds that will be quite common throughout the disc. Those are the sounds of Jeff and Brandon tearing it up on guitar and harmonica as they've done over the past several years. These two extremely talented young musicians are the modern day rendition of Buddy Guy and Junior Wells.....and every bit as good.
"Good Bye Portland", is a soft shuffle that was co written by Jeff and a gentleman who's writing style will be clearly noticed on the song - Reverend Billy C. Wirtz. The song is based on Jeff relocating from Portland - a place where folks say God is dead, to Memphis - a town where Elvis is alive instead. Great story telling style vocals, tight rhythm and beautiful piano playing by last years winner of a BMA for being the best on the instrument - Victor Wainwright - all highlight this true story.
Being the name of this song makes the word a noun. However, when it's used as a verb, one of it's meanings is "to make lively" and it just doesn't get any more livelier than on this free for all instrumental called "Pepper". All hell's breakin' loose on this one. James sounds like he's running for his life on the drums, Bill sounds like he's the one chasing him on the bass and Chris is pushing it to the extreme on organ as the rhythm section goes completely wild. And then there's Jeff, playing some of the fastest, furious guitar you'll ever hear.
Talk about originality. Jeff took a Willie Dixon penned song that Howlin' Wolf made popular and turned it into his own. The song is called "Little Red Rooster".....with pepper! This is by far the most contemporary version of this traditional song I've ever heard and maybe ever will hear. Another hot track with everyone doing what they do best. Speaking of best, this one features some of Jeff's best guitar work.
"Crosseyed Cat" is a Muddy Waters cover and it's highlighted by something that Muddy did with: Little Walter, George Smith, James Cotton, MoJo Bufford, Carey Bell and Jerry Portnoy (among others), and that's Jeff Jensen and Brandon Santini teaming up to sound as good as any of those duos on the guitar and harmonica. These guys are a musical match made in heaven.
One of Jeff's best vocal performances can be heard on an original, melancholy ballad, titled "River Runs Dry". Ranging from low and soft to high and powerful, with his emotions at such a level of sincerity, he just nails this one. Although I use this term a lot as my ultimate compliment, I can't ever imagine it sounding redundant. This is "song of the year" material.
Other tracks on "Road Worn And Ragged" - which will surely be one of the finalists when I pick the winner of the 2013 Blewzzy Award - include: "Heart Attack And Vine", "Gee Baby", Raggedy Ann" and "Thankful".
If you want to hear for yourself just what it is that's got me so excited, then go to www.jeffjensenband.com and have a listen for yourself. And while you're there, tell him his good friend the Blewzzman sent you.
Peter "Blewzzman" Lauro
Blues Editor @ www.Mary4Music.com
2011 Keeping The Blues Alive Award Recipient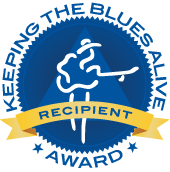 Catya
"Kiss Me Like You Mean It: Original Blues"
Catya's Music

By Peter "Blewzzman" Lauro © September 2013
Released in 2012, "Kiss Me Like You Mean It" is Catya's debut recording. After listening to it as many times as I did back then, I was sure this disc would be one of the choices I'd have to choose from while voting in the "Best New Artist Debut" category for the 2013 Blues Music Awards. However, when the list was released to the members, you can just imagine my disappointment when it wasn't even there. It'll happen one day, I'm sure of it.
"Kiss Me Like You Mean It" contains fourteen tracks that were all written by Catya. Being the diversified performer that she is, Catya plays live shows as: a soloist; a duet; a trio; and a full band. That translates into an equally diverse writing and singing style, of which you will hear on this disc.
Playing guitar, bass and singing all vocals, Catya is joined by: Sue Orfield on tenor sax; John Franken and Dan Schwalbe on guitar; Randy Sinz on upright bass; Rob Stupka and Rich Sickels on drums; Mike Vlahakis on B3 organ; and Curtis Blake on harmonica.
Sue's sultry sax intro on the opening and title track were already having an affect on me and then Catya's slow, sexy and seductive invitation of "Kiss Me Like You Mean It" had me wanting to reach right out and do exactly as she asked. Phew! Talk about getting caught up in a song, this one had me. And it gets better as it goes along. Midway through the song Sue and Mike team up on nearly a two minute sax and organ tear that totally blew me away. It just doesn't get any better than this. An incredible song, incredibly done.
"Missing What I Never Had" sounds somewhat like an oxymoron, doesn't it? How can you really miss something you never had? However, when you hear Catya tell her man she's missing "that look in his eye" and other signs of love and emotion he never displayed, it all seems to makes sense. This one's highlighted by great guitar leads from John, and Rob at discs best on the drums.
Sadly, it's pretty common that during the performance of a slow song at a live show, the audience can sometimes be heard talking over the song. Being a veteran of countless lives shows, I've had the displeasure of witnessing that exact behavior. On the other hand, I've witnessed bands play a song in such a compelling, spell binding way that you could hear a pin drop in the room. This is one of those performances. Catya's vocals, Rich and Randy's rhythm and Sue's tenor playing are all hypnotic on "When He Goes".
Some of Catya's best vocals can be heard on "How Can It End like This?". Her soulful and emotional delivery on this very beautiful and very bluesy ballad is goose bump inducing, and her range - which is everywhere - is absolutely fascinating. On top of that, along with Rich on the drums, Catya's helping out the smooth rhythm groove on bass. And since scorching sax leads and the pulse of a B3 organ always enhance a song of this type, Sue and Mike are doing just that. Great track!
With Randy and Rob laying down a soft rhythm behind her and Sue adding a few relaxed sax solos, "Ain't It Time" Is a beautifully done song which is highlighted by Catya's smooth vocals and acoustic guitar strumming.
The last track on the disc is a bonus track that's performed by Catya's Trio. It's Catya, Sue and Randy slowin' down and getting mellow and sounding as good as any jazz trio these ears have heard on a soft, jazzy number called "Just Can't Stop". A great ending to a great CD.
Other tracks on this phenomenal recording - which by the way, is dedicated to the men who gave Catya the blues and the women who gave her a clue - include: "If Romeo Was Married", "Good Coffee Or Good Beer", "I Say Baby", "Cobra Man", "I Heard The Door", "You Got It", "Keep Me Warm Daddy" and "Penny On A Track".
To find out more about this talented lady you've got to go to www.catya.net. Once you're there, please tell her the Blewzzman sent you.
Peter "Blewzzman" Lauro
Blues Editor @ www.Mary4Music.com
2011 Keeping The Blues Alive Award Recipient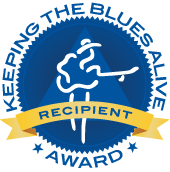 Mr. Sipp
(The Mississippi Blues Child)
"It's My Guitar"
Baby Boy Records

By Peter "Blewzzman" Lauro © September 2013
Taking his pseudonym into consideration, I'm thinking that when asked where he's from, Castro "Cat Cole" Coleman - a.k.a. Mr Sipp - might just respond with "Mrs. Sippi".
Having played on over 50 national gospel recordings, Mr. Sipp is now ready to make his mark in the blues genre. Once some of his work on "It's My Guitar" - his debut release - gets heard, the blues community will be welcoming him with open arms. The disc consists of eleven all original tracks and on it, The Mississippi Blues Child sings all of the lead vocals and plays all of the instruments. That surely made listing the credits easy. Yes sir, when God was giving out talent Mr. Sipp apparently got in line a whole lot of times.
The opening track - "Can I Ride" is a perfect introduction to this virtual one man band. Mr. Sipp's vocals are impressing, his guitar work is awesome and he's also got his own groove going on with the drums, bass, organ and percussion instruments. What a talent.
OK, so the name of this song is "It's My Guitar", it's on the CD titled "It's My Guitar" and it was written by and is being performed by a guitar player (amongst other things). Although it's needless to say, I'll do it anyway.....this track does feature some of the discs best guitar work. Having said that, let me add this - Mr. Sipp the guitarist did give Mr. Sipp the drummer some. This one's an all out smoker.
I've said this before, I'll say it now and you'll hear it again sometime soon - I just love when my favorite track on a CD happens to also be the longest. That's the case with "If You've Got A Good Woman" - it's six minutes of pure listening pleasure and that still wasn't enough for me. I just finished minute eighteen and am going back for six more. This one features some to the discs most scorching guitar leads and some of it's most soulful, sincere and emotional vocals. Absolutely amazing song.
The lyrics to "They Got Me Messed Up" are an absolute riot. You see, those words are coming from a preacher who's referring to some of the women of the congregation. A quite funny and very funky track that features several great vocal changes by Mr. Sipp.
The opening chords of "Miss Jones" are somewhat reminiscent to the opening of B B King's hit "How Blue Can You Get". But the similarities don't stop there. Mr. Sipp sounds as good on his guitar as B B does on Lucille and he's belting the hell out of this song the way B B belted the hell out of that one. And on top of that, he's nailing it on the piano and organ. Great track and easily one of the discs best.
According to Mr. Sipp a woman does not want a "Yes Man". Oh yeah, she wants a man that'll take her to the movies and get her hair and nails fixed but at the end of the day she wants a man who knows who wears the pants and will put her in her place if it ever comes that time. Hmmmmm, I need to let my wife hear this song. Mr. Sipp's tearing this one up on the guitar and smokin' it on the rhythm with some fancy drum and organ playing. Nice added touch of vocal harmonizing by some unnamed backup singing ladies.
Other outstanding tracks on "It's My Guitar" include: "If Loving You Is Crazy", "Hey, Hey, Hey, Hey", "The Woman I Love", "Why You Do Me This Way", and "My Blue Jig" .
Take it from me, sooner or later, you blues fans are going to be hearing about Mr. Sipp, so why not just go to www.mrsippthemississippiblueschild.com and make it now. There you'll be able to learn a lot more about this multi talented young man, look into purchasing the CD and of course, tell him who sent you - his friend the Blewzzman.
Peter "Blewzzman" Lauro
Blues Editor @ www.Mary4Music.com
2011 Keeping The Blues Alive Award Recipient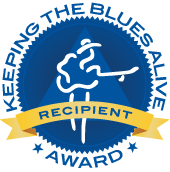 Big Daddy Wilson
"I'm Your Man"
DixieFrog Records

By Peter "Blewzzman" Lauro © August 2013
Any woman hearing Big Daddy Wilson say "I'm Your Man", even though he was actually saying the title of his new CD, would probably respond with "Damn right you are". Man, this guys got it goin' on. Big Daddy is a distinguished and handsome looking, statuesque man who's smooth and soulful voice accentuate the package. On top of all that (like he needs more, right?) he's quite a talented composer of compassionate, emotional, spiritual and heartfelt lyrics who sounds crazy good when he sings them.
On this, his ninth recording, Big Daddy Wilson on lead vocals & diddley bow, is joined by: Staffan Astner on electric & acoustic guitars, Sven Lindvall on upright & electric bass and tuba, Per Lindvall on drums & percussion, and Peter Hallstrom on upright piano, Hammond B3 organ & backing vocals. Additional musicians on various tracks include: Petra Wahlgren on violin & viola, Andre DeLange on backing vocals, and Eric Mossnelid on clarinet.
The opening track is something many touring musicians come down with - "Travelin' Blues". On this original song you can sense the fatigue in his voice and the lonesomeness in his heart as Big Daddy sings about returning home to his woman. The deep bass lines seem to magnify the sullen mood.
This Eric Bibb song, is a beautifully inspirational piece that has some of the most tenderhearted lyrics these ears have ever heard. It doesn't matter who you are because everyone in this life could use some support from others. That someone to "Hold The Ladder" so to speak. Great rhythm, percussion and guitar leads and something you'll be hearing me say quite often during this review - outstanding lead and backup vocals.
Big Daddy knows exactly how to tell a woman "I'm Your Man". No, he hasn't got gold and diamond rings or drive around in long black limousines. But if you're done with getting hurt, you're afraid of getting burned, you want to feel special every day and have someone who'll give you a hand, then yes - he is your man. The lyrics and vocals are once again magnificent but additionally this is one of the best musical compositions as well. The brothers Lindvall are providing the rich rhythm, Peter's killin' it on both the piano and organ, and Staffan is at discs best on electric guitar. Great stuff!
This one, another original, is an all out smoker. With Sven and Per taking charge, this rhythm fueled, gospel style song will surely get your adrenalin flowing. Heck, it had me rocking in my chair shouting "My Day Will Come", my day will come, my day will come, my day will come.......
The opening line to "Please" - another Big Daddy penned song - is "Please, let this little song touch your heart"....and it will. Instrumentally, it's flawless. The finesse with which Staffan and Petra use making the strings of the guitar and violin embody the sound of a hymn is masterful. And Wilson's voice, ranging nicely between falsetto and baritone, is absolutely hypnotizing.
Although the musical accompaniment on "I'm So Glad" is absolutely magnificent, especially the heavenly sounding organ and violin backgrounds, I just got totally lost in the lyrics and their presentation. Whomever the woman is that Big Daddy wrote this song for is one very luck lady. The sincerity and emotion Big Daddy exudes is totally overwhelming and chill inspiring. What an absolutely loving song!
Other songs, that I could have spent the whole day listening to and writing about, on "I'm Your Man" include: "I Wanna Be Your Man", "Hurricane", "Oh Carolina", "Born Loser", "Baby's Coming Home" and "Show Dog".
One of the first things I did when I checked out Big Daddy Wilson a bit more by going to www.bigdaddywilson.com was to check out his tour dates. Unfortunately, most of us Americans won't be able to seem him just yet - which is all the more reason to pick up the CD. Please, when you do that, tell him the Blewzzman sent you.
Peter "Blewzzman" Lauro
Blues Editor @ www.Mary4Music.com
2011 Keeping The Blues Alive Award Recipient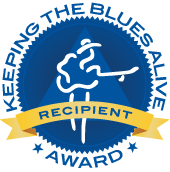 Little Jonny And the Giants
We Got It Goin' On
Cornbread Records

By Peter "Blewzzman" Lauro © August 2013
Before getting into this review I took a quick stroll through Little Jonny's website. It was there that I saw a blurb from Jonny that I found somewhat amusing. It seemed that he was quite excited that this CD, "We Got It Goin' On", had made Blues Junctions top 20 CDs of 2013 (thus far, anyway). However, what impressed him even more was the fact that The Giants were in a group that included Duke Robillard, Finis Tasby, Kim Wilson, Ronnie Earl, The Four Jacks, et al. Although appreciating and admiring his humbleness, I related that to the likes of Mickey Mantle and Roger Maris getting excited to be in a group that included Duke Snider and Willie Mays. Get used to it Jonny, this talented bunch you've assembled belongs with those other guys.
"We Got It Goin' On" features Jon "Little Jonny" Lawton on vocals and guitar, Aki Kumar on harmonica, Bob Welsh on piano, Doug James on tenor & baritone saxophones, Frankie Ramos on tenor sax, Kid Anderson on B3 organ & guitar, Marty Dodson on drums, and Vance Ehlers on bass. A pair of the tracks are older live recordings that include Sid Morris on piano and another pair from a previous session include Frank DeRose on bass and Carlos Velasco on drums. The disc's fourteen tracks are an even split of Jon's originals and covers.
Right from the opening notes of the opening track, Howlin' Wolf's "I Didn't Know", the band immediately slips into the tightest of grooves. With steady horn arrangements and sharp piano highlights leading the massive rhythm behind them, Little Jonny on lead and Kid on rhythm guitars are absolutely awesome together. All that, with Jon's silky, smooth vocals make this one of the best.
"I Want You Bad" is another monster track loaded with lots of hot rhythm. This time it's Doug on baritone, Marty on the drums and Kid on the B3 organ causing all the fuss. Add in a few ripping piano leads from Bob, several nice tenor fills from Frankie and some smoking guitar riffs from Little Jonny and you've got back to back winners opening the disc.
"Not No More" makes it three in a row. This time the profound rhythm is led by Vance, very possibly being at discs best on bass. Aki and Bob get in a several harp and piano leads and Little Jonny's just nailing the hell out of it on guitar and vocals.
"No Other Man" is one of the two previously recorded tracks. It's also the discs slowest, lowdown and dirtiest blues track of the lot. That generally means slow, pain induced, melancholy vocals joined by scorching guitar leads that magnify the mood. And that's exactly what this one is. My kind of stuff, squared.
He may not have been the best harmonica player ever, but there's no one who can play the higher end of the harp as good as Jimmy Reed could. Yet, I'm sitting here listening to Aki come as close as I've ever heard on a song called "I Wish You Would Love Me". In spite of the precision instrumentation behind him and the outstanding vocals accompanying him, Aki runs away with this one.
"Stop Puttin' Me On" is the other of the songs recorded live at the Poorhouse Bistro back in 2006. Inasmuch as everyone backing him up is spot on, this one's all Jonny. It's done in that throwback style reminiscent of some fifties classics and Johhny nails it with his sentimental vocals and phenomenal guitar playing. Replays required.
So the harmonica player's name is Aki and this song - which is written by him - is an instrumental called "The Aki Daki Stomp". Are you getting my drift? It's a hot shuffle with solid rhythm and everyone getting in a good share of instrumental leads... especially the harmonica player.
Other tracks on "We Got It Goin' On" include: "Let's Rock", "Worried", "Hey Little Lee", "Kiddio", "Mellow Down Easy", "Trace Of You" and "Stop Puttin' Me On".
You can check out Little Jonny And The Giants by going to www.littlejonny.net. If you're a baby boomer, not only will some of the graphics put a smile on your face, but they'll quickly give you an idea of just how long Jonny's been into the music scene. While you're there, please tell Jonny the Blewzzman sent you.
Peter "Blewzzman" Lauro
Blues Editor @ www.Mary4Music.com
2011 Keeping The Blues Alive Award Recipient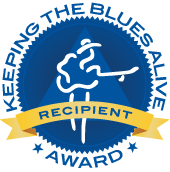 Lara & The Bluz Dawgz
Devil Moon
Lock Alley Music

By Peter "Blewzzman" Lauro © August 2013
"Devil Moon" is the debut release of the Nashville, TN based band Lara & The Bluz Dawgz. Having members who originally hail from Canada to Louisiana and from New York to New Mexico, you could say their reach spans the country from top to bottom and from left to right. They are: Lara Germony on vocals; Gregg Germony on bass; Dan Nadasdi on keys; Al Rowe on guitar; Ray Gonzales on drums; and Reggie Murray on saxophone. The disc contains all original music with several band members collaborating on some while Mr. & Mrs Germony took part in the lot. Being one who believes that the way to make a blues band better is to add a sax or a keyboard, and since Lara & The Bluz Dawgz did both, I'm looking very forward to doing some listening.
There's nothing like listening to the opening track of a CD and thinking you're hearing everyone already at discs best. Now that's what I call making a good first impression. Lara's smoothly singing her heart out, the guitarist, pianist and saxophonist are lighting up when highlighted and the rhythm guys are wailin' away. "Working Overtime" just told me I'm in for a hell of good listening session.
On "Devil Moon", the discs title track, everyone's still working their masterful magic but they're doing it softer and slower allowing Lara to showcase her lovely voice and magnificent vocal style. This beautiful ballad is a perfect platform for her to display her wonderful range. Very good listening.
When Lara's says "Step On Up", the band doesn't need to be told twice.....especially Al. Fueled by some ferocious rhythm, he becomes some kind of a guitar god and runs away with this one.
I don't think Lara let the band know that the name of this song was "Waitin' On You", 'cause they're not waitin' on anyone. As a matter of fact is sounds like they're having a race and at various times Dan and his piano are in the lead, then Al and his guitar take it and before you know it, it's Reggie and his sax out front. Of course Ray and Gregg are responsible for the wicked pace on the drums and bass but it's Lara who's actually belting out the blues. Phew, this one's a smoker.
I always love when my favorite track on this disc also happens to be the longest track on the disc, and that's the case with "Baby I'm Through With You". Although those are words no one ever wants to hear, the song sure is. This is low down dirty blues as fine as you can find it. With it's deep and moody rhythm, it's smoldering guitar leads and it's melancholic, heartfelt vocals, the blues just doesn't get any better than this. But wait...it does. Those blues filled, high end notes coming from the piano and those sultry and steamy sax highlights take it to a whole other level. Song of the year material, for sure.
Grab a bus, take a car, come from wherever you are. Grab your boat, catch a plane, jump upon a fast track train. This place Is rockin", there ain't, no stoppin', stoppin' us now. You said a mouthful there Lara. "This Place Is Rockin". And it's all because Dan's goin' wild on the piano, Ray's out of his mind on the drums, Gregg's bouncing all over the place on bass and Reggie & Al are dukeing it out on the sax and guitar. Monster track worthy of several replays.
Other tracks on "Devil Moon", this awesome debut effort by Lara & The Bluz Dawgz, include: "Anywhere But There", "Rude Dawg", "Some Kinda Evil", "Corporate Monkey Cage", "Your Stupid Friend", and "Can't Shake You".
If you liked what I had to say as much as I liked saying it, then check out Lara & The Bluz Dawgz at www.laraandthebluzdawgz.com. When you do, please tell her the Blewzzman sent you.
Peter "Blewzzman" Lauro
Blues Editor @ www.Mary4Music.com
2011 Keeping The Blues Alive Award Recipient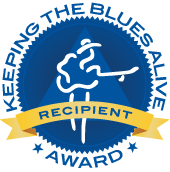 Click Here To Return To The CD Review Index
Click Here For The Blues Portal
Click Here For The Indie Portal
Click Here To Visit Our Music Gift Shop


---
Want your CD reviewed?
Click HERE to email us for information.






*All logos and trademarks in this site are property of their respective owner.
Additional content © 1998-2013 Mary4Music.com. All Rights Reserved.