Over the years I've made no secret of my very narrow minded views when it comes to the blues. Yes, I do understand that interpretation deviates, but on the other hand, the more it does the less I usually like it. Therefore, you can just imagine what went through my mind when I saw the name ZEN BLUES QUARTET. Taking into consideration the definition of the word "Zen", and knowing that it's also a slang street name for lysergic acid diethylamide - more commonly referred to as LSD - I couldn't help but wonder what kind of far out interpretation I was about to hear. Then the first track, "WHAT A LIFE", began to play and all my fears were immediately dispersed. This was going to be a good trip after all.
The ZEN BLUES QUARTET consists of: MIKE FINNIGAN on the B3 Organ, Keyboards and Vocals; JOHN MARCH on Guitar; TIM SCOTT on Bass and Vocals; and STEVE FERRONE on Drums. Special guests on "AGAIN AND YET AGAIN" include: BILL CHURCHVILLE, Trumpet and Horn Arrangements; REV. DAVE BORUFF, Alto and Tenor Saxophones; ED WYNN, Tenor and Baritone Saxophones - collectively known as the L. A. HORNS; CARMEN GRILLO, Background Vocals; CURTIS SALGADO, Harmonica; and MARTY GREBB, Rhodes Piano.
The bands connections to Tower of Power and the Average White Band are very evident on "POWERFUL STUFF". This is rhythm and blues precisely the way it's supposed to be done. It's this type of stuff that every music student should be made to listen to. The only way to properly compliment this track is to say it is a perfectly written, perfectly sung and perfectly performed song.....THIS is powerful stuff!
It took getting all the way to the closing, and title track, to finally hear what I would call "Zen" music. No further explanation necessary.
It's only five weeks and three reviews into the new year, but if the type of stuff I've been listening to thus far is any indication of what's yet to come, then bring it on.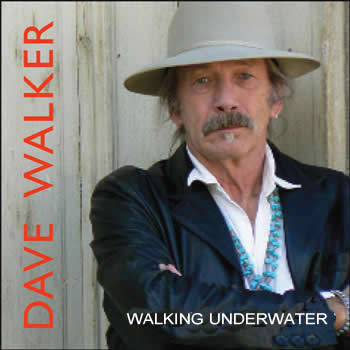 Dave Walker
"Walking Underwater"
Iron Horse Entertainment
BY PETER "BLEWZZMAN" LAURO, © January 2008



As I listened to "WALKING UNDERWATER", by DAVE WALKER, I found myself thinking that what I was listening to was such good stuff and I couldn't believe that I had never heard of this artist before. Wondering why, I just had to find out if there were more of his music that I might be able to get my hands on. As it turned out, having done stints with Savoy Brown, Black Sabbath and Fleetwood Mac, and having recorded several dozen discs, I've probably heard DAVE more times than I could imagine.

On DAVE WALKERS newest release - "WALKING UNDERWATER" - DAVE, on vocals, guitar and writer of most tracks, is joined by: ROBERT BRITTEN on piano, organ and guitars; MIKE GILLAN on drums; CRAIG HALL on bass; SHEAMUS CONLEY on lead guitar; JIM LEWIS on lead and slide guitar.

On the opening track, "LITTLE SUSIE & MR. TIGHT", it just took the opening guitar chord by JIM for me to decide I was going to like this disc. Then, DAVE started singing and my decision was reaffirmed. He's got one of those very articulate, attention commanding, yet melodic voices, that were made for singing.

For reasons I'm finding difficult to explain, this is one of the more interesting discs I've listened to in many a year. The conviction with which some of the songs are sung brought back memories of the way RICHARD HARRIS presented "MACARTHUR PARK", and the chills I'd get from hearing PROCOL HARUM do "A WHITER SHADE OF PALE". Meanwhile, instrumentally, MIKE OLDFIELD'S "TUBULAR BELLS" occasionally came to mind.

I can see I've got my work cut out here. Choosing just a few tracks to comment on is going to be a challenge. "I CAN MAKE IT ON MY OWN", the next track, is a good place to start. Nothing fancy here and nothing fancy needed.....just five minutes of DAVE intriguing me with his vocals, while JIM works his magic on guitar with the rhythm section getting my fingers snappin' and my foot tappin'. Great stuff!

Phenomenal would be the word I'd pick, if only given one, to describe the title track - "WALKING UNDERWATER". This is one of the songs I had in mind when I made my earlier references. With this year's Blues Music Awards still several months away, I've already got one of my nominations for the following years "Song of the Year". ROBERT on piano, SHEAMUS on guitar, MIKE on drums and DAVE on vocals are astounding.

"BLACK STEEL BLUES" takes it up a few notches. This one's three and a half minutes of smoke caused by wailing guitar (SHEAMUS), thunderous rhythm (JIM & CRAIG) and fierce piano and organ (ROBERT). And yes, DAVE had something to do with it as well. This one easily reached 7-8 replays.

At just under three minutes, "RABBITS FOOT CHARM" is an all too short - but oh so very sweet shuffle. With a smooth, soft rhythm going on behind them, DAVE on vocals and ROBERT on piano run with this one. Once again, the replay button came into play.

"CRAZY BABY", "WEEP NO MORE", "BLUES FROM THE BOTTOM", "GIRL TROUBLE" and "HARD HEADED WOMAN" make up the rest of the tracks - which if I had the space, I could sit here and talk about all night long - on "WALKING UNDERWATER".

I can't see how, but if I haven't made myself perfectly clear yet, let me just come right out and say it - ya gotta get this disc. I've just got done picking the winner of the 2007 BLEWZZY AWARD - which will be announced soon - and here I am, three weeks into `08 and thinking "WALKING UNDERWATER" may very well be this year's disc to beat.

Check DAVE out at www.aboutdavewalker.com/. From there, you know the drill.....You tell him the Blewzzman sent ya and you're here to buy the disc.








The Blues Experience with Cash McCall
"The Vintage Room"
Dixon Landing Music
BY PETER "BLEWZZMAN" LAURO, © January 2008



What a great way to start off the new year. After having our most successful and productive year ever at www.Mary4Music.com, and having reviewed and helped to promote forty five CD'S, it stands to reason that we should start off 2008 - our 10 year anniversary - with something special and exciting, like working with the kin of Blues Royalty. I'm talking about ALEX DIXON, the grand son of WILLIE DIXON, the late blues legend who had no problem telling the world "I am the blues".

On their debut CD, "THE VINTAGE ROOM", members of THE BLUES EXPERIENCE include: CASH MC CALL - with well over 30 years experience, much of it with WILLIE, on vocals and guitar; ALEX DIXON on piano; STEVE BELL - son of another late legend, CAREY BELL, on harp; BILL "YOUNG BLOOD" LEARNED and KATY J on rhythm guitars; BRADY WILLIS on bass; VINNIE THREATS on drums; JOHN RISTROM on guitar; DYLAN COOPER on upright bass.

On "THE VINTAGE ROOM", listeners shouldn't expect to experience any attempts to reinvent the blues, any attempts to reinterpret the blues or any attempts to redefine the blues....and thank God for that. What you can expect is a sincere and very successful attempt to carry on the tradition of the blues in the way that WILLIE DIXON, and many of his legendary associates, meant it to be.

"THE VINTAGE ROOM" offers eleven tracks of which ten are DIXON penned - seven by ALEX and three by WILLIE. The opening track of "HELLUVA TIME" is an ALEX original that is very reminiscent of "WANG DANG DOODLE". It's an invitation, by name, to many past and present blues legends, to come to a party where instead of "wang-dang-doodling, they'll be having a "hell-uva-time". CASH is stellar on vocals and STEVE is very impressive on harp. Good opening track.

Classic WILLIE D is up next. THE BLUES EXPERIENCE did such an admirable rendition of "I JUST WANT TO MAKE LOVE TO YOU", I'm thinking the originator of this one would feel proud of these guys.

Maybe it's just me, but another track reminding me of something gramps did is "SLICE OF THAT PIE". I could swear I hear some of "SPOONFUL" in here somewhere. This track is the first to give you a good taste of ALEX on piano. Great rhythm by BRADY and VINNIE, and more hot harp by STEVE also highlight this one.

"MAKE A FOOL OF ME" is one of several smokers on the disc. STEVE leads the jam on this one with ALEX, BRADY and VINNIE once again unrelenting on rhythm. Of course, CASH gets his licks in as well.

What kind of a tribute to WILLIE DIXON, which indeed this disc is, would it be without "I'M READY"? Well, the THE BLUES EXPERIENCE certainly agree and they certainly were ready to hit this one. The track is very short but oh so well done. CAREY - who obviously was a strong influence on his son - would be real proud of STEVE BELL on this one.

Other tracks on "THE VINTAGE ROOM " include: "GYPSY WOMAN", "CATCH ME BEFORE YOU GO", "MAMA", "BRING IT ON HOME" and a vocal and instrumental version of "ONE TOUCH".

If you're a fan of WILLIE DIXON, you'll want to grab a copy of "THE VINTAGE ROOM". Additionally, you'll want to keep your eyes and ears open for future work, be it performing or producing, by ALEX DIXON. The whole purpose of him and his wife MELISSA, forming DIXON LANDING MUSIC is to "reach out to the little known or undisclosed musician/artist and to bring back the Chicago Blues feel that his grandfather helped create." AMEN! It doesn't need to be reinvented, reinterpreted or redefined...... it just needs to be kept alive.

To learn more about THE BLUES EXPERIENCE, and the company's mission in general, shuffle on over to www.dixonlandingmusic.com and tell them you came to see what the Blewzzman's fussin' about.






Click Here To Return To The CD Review Index
Click Here For The Blues Portal
Click Here For The Indie Portal
Click Here To Visit Our Music Gift Shop


---
Want your CD reviewed?
Click HERE to email us for information.






*All logos and trademarks in this site are property of their respective owner.
Additional content © 1998-2008 Mary4Music.com. All Rights Reserved.