I was so impressed with HAMBONE WAY, the first CD by DAN READING that I personally told him that I thought it might be a tough CD to follow up with other releases. Well, I am sitting here right now listening to DAN'S latest release ACOUSTIC SOUP and it seems that maybe I was wrong and underestimated this young mans talent.
One easily noticeable difference between the two CD's is that where HAMBONE WAY was mostly originals, ACOUSTIC SOUP is mostly covers. However, with his clever style of play and his unique, bordering on bizarre interpretation, even DAN makes covers sound original. His vocals and the way he delivers a song seem to be a blend of two of my early influences into the the blues - DAVID BROMBERG and BUZZY LINHART. I am sure that he is way too young to even know who those men are, but as I sit here listening to ACOUSTIC SOUP, DAN READING has certainly brought those names to mind.
Again, on ACOUSTIC SOUP, DAN READING does all the vocals, plays the drums, the lead and rhythm guitar and provides auxiliary percussion. Joining him musically are RONNIE SMITH on keys, GENE QUAID on bass and MIKE STACEY on slide guitar.
DAN READING'S sense of humor again shines on this CD especially on 'WILD THING' and 'TWELVE OUNCE CURLS' an obvious follow up the hilarious 'BEER GOGGLES' which appeared on his last CD.



Big Walker - "Still Dream Walking"
BY PETER "BLEWZZMAN" LAURO, © JUNE, 2003



If you had a CD by every musician that DERRICK 'BIG' WALKER has been associated with you'd have quite an impressive blues music collection. The names that appear on his bio page make you think you are reading an encyclopedia of the blues. He has played with LUTHER TUCKER, ALBERT COLLINS, EDDIE RAY, LOWELL FULSOM, BIG MAMA THORNTON, JIMMY MCKRACKLIN, SONNY RHODES, PERCY MAYFIELD, JIMMY DAWKINS, ZORA YOUNG, MIKE BLOOMFIELD and many others. Many years after having taken saxophone lessons from NOEL JUKES and BOBBY FORTE (who were JIMMY WITHERSPOON and B. B. KINGS sax players), and harmonica lessons from the great PAUL BUTTERFIELD, BIG WALKER himself now teaches music in Sweden.

On his new CD 'STILL DREAM WALKING', BIG WALKER not only wrote most of the songs, but he plays the harmonica, the saxophone and sings most of the vocals, and the outcome is simply magnificent. It is quite obvious that he absorbed much of the talent that he surrounded himself with earlier in his career.

The opening cut on the CD - 'DREAM WALKING' immediately had me listening closely as I distinctly and pleasantly noticed a MUDDY WATERS resemblance. This influence continued right into the next track, 'IF I HAD ONE WISH', and appears on several other cuts throughout the CD.

Singer ZORA YOUNG adds some serious, down home blues vocals on 'I KNEW THE FIRST TIME' and the humorously written 'I DON'T WANT TO SEE (WHAT I SEE ON MY TV)', and the Legendary JIMMY DAWKINS adds some searing guitar solos on 'I NEED MY PRESCRIPTION' and 'STARS IN THE SKY'. The environmentally friendly 'MY FAVORITE TREE' and the real bluesy ballad 'I'M GOING TO WRITE A LETTER' are two more favorites on this CD.

I highly recommend this cd, however, at this time I do not know if 'STILL DREAM WALKING' will be released in the States. It is being distributed in the United Kingdom by Armadillo Records.








EG Kight - "Southern Comfort"
BY PETER "BLEWZZMAN" LAURO, © MAY, 2003



"High Flying Kight" may not be the name of this CD, but when it's released, it may very well be the term that describes EG's spirits after it hits the streets and ultimately climbs the charts. "SOUTHERN COMFORT", the new CD from EG Kight is sure to be a hit. I have been following her career very closely since the transition from country to blues and with each new release, she takes another step toward making her mark on this genre. This woman never ceases to amaze me with her singing, song writing and playing - what a total music package!

"SOUTHERN COMFORT", in what is becoming traditional EG style, is a nice mix of several blends of the blues. It's almost like the perfect blues cocktail with a good base of slow, bluesy ballads and rollicking, rocking blues with a twist of country and a pinch of gospel. Ahhhhhhh, pour me another please.

My favorite cut on the CD is the title cut - "SOUTHERN COMFORT". Everything on this song is just the way I like it to be. EG's sultry singing of the greatly written lyrics, combined with some smoking guitar and piano work by MICHAEL PIERCE and PAUL HORNSBY make this a sure candidate for a "song of the year" nomination.

Other excellent cuts from this CD include "SAD, SAD SUNDAY", another very well performed and real bluesy cut with some searing guitar by BILL HINDS; "IF IS A MIGHTY BIG WORD" contains some excellent horns led by sax man MARCUS JAMES; "LET THE BLUES MOVE YOU" (to a better attitude) did just that, but then again the blues always does that to me. This is unquestionably the rockingest song on the CD. It had me pounding my keypad like I was playing a piano. TIM STARNES on harp added some nice jump to this cut; "SOMEBODY'S GOTTA GIVE" with some excellent harmony and background vocals by JACKIE CURTIS, WILLIE MORRIS & EG made this a very enjoyable experience. As the song was ending I was just short of throwing my hands in the air and shouting "hallelujah "; As for "ANGEL FROM MONTGOMERY" (one of only 3 songs on this CD not written by EG) I can only say this - pass me the tissues please; "LUCKY IN LOVE", was custom made for EG's voice and singing style. This is the second CD on which she records this song written by her good friend SALLY TOWNES.

Special guest performers on "SOUTHERN COMFORT" include CHRIS HICKS on guitar, CHUCK LEAVELL on Piano, PAUL HORNSBY on Hammond B3 and LEE ROY PARNELL on guitar. The nucleus of EG KIGHT'S wonderful band are BILL HINDS & LEE ANDERSON on guitar, JOHNNY FOUNTAIN & FRANK MCGEE on bass, MICHAEL BOYETTE on the Hammond B3 and the always amazing and possibly the best drummer in the business, GARY PORTER.



You can check out EG Kight on the web at: www.egkight.com/

Click HERE to purchase "SOUTHERN COMFORT" from Amazon.com






Little Luke And The Loose Cannon Band - "Shootin' The Groove"
BY PETER "BLEWZZMAN" LAURO, © APRIL, 2003


Think of the blues then think of the cities that you associated with the blues. Surely places like Memphis, Chicago, Austin, St Louis, New Orleans and Casper, Wyoming come to mind right? CASPER WYOMING? Well, maybe not just yet, but if LITTLE LUKE AND THE LOOSE CANNON BAND have anything to do with it, Casper, Wyoming will someday be on that list.

LITTLE LUKE AND THE LOOSE CANNON BAND consists of JEFF 'LITTLE LUKE' LUCAS who is phenomenal on the Hammond B3 organ, keyboards and vocals; AMY GIESKE on bass and singing some very sexy, sultry vocals; GREG WEHLER playing the hell out of the guitar; NICK SMITH & JIM KOOP sharing and sometimes simultaneously on the drums; And, Rounder Records recording artist 'SAX' GORDON BEADLE ripping away on the tenor sax.

The CD is appropriately titled "SHOOTIN THE GROOVE", because it is quite evident that this band was in a serious groove at the time of the recording. The mix of diverse influences is quite interesting. The songs, mostly originals by JEFF & AMY, bounce back and forth between swing, jazz and sultry blues with a little gospel and some bosa nova added to a lot of DOCTOR JOHN style of funk.

Every cut on this CD is interestingly different and very good. My favorites were "Valley Of Love" because of the uplifting jazzy, gospel type sound; "Kool with Koop" because of the amazing keyboards; "Lose at Love" for it's very sultry vocals; "Festive Dog" which had me dancing the cha-cha all over the house; And "Can't Kill The Thrill" which has some excellent saxophone.

It is bands like LITTLE LUKE AND THE LOOSE CANNON BAND that make me happy to be a part of this website and happy to be doing what I do. You can check out more about the band at their website..... Little Luke and the Loose Cannon Band -- High Voltage Bluz!



You can check out Little Luke and the Loose Cannon Band on the web at: www.littlelukeband.com/

Purchase "Shootin' The Groove" directly from us: Click To Purchase






Elam McKnight - "Braid My Hair"
BY PETER "BLEWZZMAN" LAURO, © MARCH, 2003


I have to admit I changed my mind several times before I decided to write this review. As with any CD I receive for review, I listen to it several times before I make any decisions. If I decide I did not like the CD, I do not review it. If I decide to review it, then I listen several more times before I write my review. "BRAID MY HAIR" was unique in such a way that I couldn't decide if liked it or not. It seemed that the 50% of this CD that I liked, I 'really' liked and that the 50% I didn't like, I 'really' didn't like. This indecisiveness led me to keep listening, and I am glad I stuck with it, simply for the quality of the musicians. In spite of not liking some of the selections on this CD, there are quite a few very well talented musicians.

Although ELAM MCKNIGHT lists CHARLEY PATTON, ROBERT JOHNSON, MUDDY WATERS, "SON" HOUSE, R. L. BURNSIDE, B. B. KING, ELMORE JAMES, JOHN LEE HOOKER, "MISSISSIPPI" FRED MCCOWELL, LEVON HELM, TONY JOE WHITE, STEVIE RAY VAUGHN and JIMI HENDRIX as his influences, as I listened I heard a lot more of the later two gentleman than the first eleven - this possibly being my disenchantment with the CD. However, the musicians that ELAM has selected to appear on this CD are an extremely talented bunch, and are clearly what I liked about the CD. They are: ELAM MCKNIGHT, Vocals/Electric and Acoustic Guitar/Dobro/National Resonator; HYPNOTIC CASEY LUTTON, Guitar; STEVE JOHNSON, Drums; MICHAEL THORN, Bass; CEDRIC BURNSIDE, Drums; GARY BURNSIDE, Bass; ZACH REYNOLDS, Harmonica; RONNIE GODFREY, Piano and Organ; MARCELENA OWENS/LAWRENCE THOMISON, Background Vocals.

Cuts that I clearly preferred on this CD were the title cut, "BRAID MY HAIR" - killer harp, "ONLY GAME IN TOWN" - excellent piano and slide guitar, "MS. MAUREEN" - superb drums, "TERRAPLANE BLUES" - more killer harp and good vocals and "SUGAR CANE" - great background and lead vocals.

I think that "BRAID MY HAIR" definitely rates a listen, especially since most peoples taste of the blues are a bit broader than mine. The quality of the musicians alone makes it worth the effort. In my opinion, the harp player Zach Reynolds may very well steal the show here.


Visit ELAM MCKNIGHT on the web at: www.bigblackhand.com/

Click HERE to purchase "BRAID MY HAIR" from Amazon.com






The New York Blues and Jazz Society CD
BY PETER "BLEWZZMAN" LAURO, © FEBRUARY, 2003

I have lived in enough cities and I have traveled around enough to witness my share of what are called "local bands." Everyone, in every small city across America and around the world, has their favorite "local band." We all have a band we like to see on a regular basis, in our own favorite little club, in our own little part of the world, that we feel is great and if they could only get a break they could be famous. Is this not true? Now, take this thought and multiply it by NEW YORK. To try and imagine the amount of local talent that could be found in NEW YORK CITY would boggle the mind. Think about it -- One of the largest cities in the world -- the city that never sleeps -- do you think they might have a few good 'local bands" there? Of course they do and you can hear some of them on an excellent CD called......................................

NEW YORK BLUES AND JAZZ SOCIETY 'COMPILATION VOLUME 1'

On this CD there are 18 songs performed by 18 different bands, featuring approximately 100 very talented musicians (see CD jacket below for the credits). The Volume 1 in the title leads me to believe, that there will be subsequent releases with other NEW YORK bands. This, I already look forward to. The mix on the CD was pretty close to 50% Jazz and 50% Blues. Since I am the BLEWZZMAN, not the JAZZMAN, there should be no secret as to the cuts I preferred. However, there is not a bad song on the CD.

The first note of the first cut, "MEDDLIN' WITH EDLIN", is a blaring blast from the horn section and from that note on, this CD has and never looses your attention. The song is performed by SWINGADELIC, a swing blues and jazz band. The swing mode continues into song two with a song called NEW YORK", by the FINS. This band from New Jersey is credited with bringing the big band blues sound to the east coast. On this cut there's is also some excellent guitar work. DAVE KEYES, winner of the Blues Foundation's International Blues Challenge -- 2000, does some real good piano work and singing on song four called "LAY DOWN SWEET MARY".

It took till cut six before I heard some of the real bluesy stuff, and I liked this cut a lot. ASTRONAUT LOVER", by ROB PARAROZZI AND THE HUDSON RIVER RATS, features some excellent harmonica, piano and good blues guitar work. This was one of my particular favorites on this CD. The blues groove continues into an excellent song by JUSTIN MARCUS, called "LOUISIANA LADY". If you like slide guitar, some of the best you'll hear will be on this song, and the piano is also excellent. This was another personal favorite of mine on this CD. Cut eight, by THE KERRY KEARNY BAND, brings some of the rootsy side of the blues to the CD. The song, titled "I WENT TO SEE THE LORD (BUT HE WASN'T HOME)", features some great vocals and acoustic guitar.

BC IN BERGEN, with the SECRET AGENTS BAND, perhaps perform the best song on the CD. It was my personal favorite and was called "HARD MAN'S HAND", song twelve. This song had it all, the harmonica, the guitar, the vocals and the style. Cut 13 called "THAT'S RIGHT", by DENNIS GRUENLING AND JUMP TIME rounds out my list of favorites on this CD. On this song there are some real smooth vocals and great William Clarke style harmonica playing.

Other bands performing some excellent music on the CD include MICHAEL HILL'S BLUES MOB, CALVIN OWENS, RON LEVY (yes, that Ron Levy), THE MELVIN SPARKS BAND, THE MATT MILLER QUARTET, HIGHWAY 13 BLUES BAND, NIKKI ARMSTRONG AND WHOLE LOTTA BLUES, ED ALSTROM, AND ACID CABARET, CHAZ DEPAOLO and ROB MCKINNON.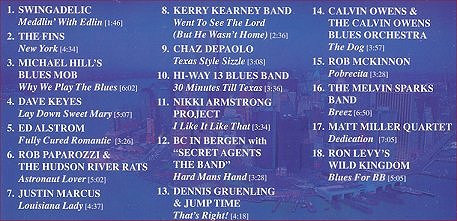 Purchase this CD directly from us: Click To Purchase

You can visit The New York Jazz & Blues Society on the Web at: www.nybluesandjazz.org/






Highway 41 - "Funksway"
BY PETER "BLEWZZMAN" LAURO, © FEBRUARY, 2003


Highway 41 is a local band from right here in my home town of Port St. Lucie. I have had the pleasure of seeing them perform many, many times. The band consists of Richard Mac on lead guitar, Jimi Hayz's on piano and vocals, Brian Coke on drums and vocals and Barry Barnes on bass. Their new CD, "FUNKSWAY", is a collection of six of their most requested songs. Unfortunately, none of the songs are originals, but nevertheless, they are some extremely well done covers.

As you listen to the first cut on this CD, also my favorite cut, a cover of B. B. King's "THE THRILL IS GONE", you immediately notice the Santana and Fleetwood Mac influences on this band. This particular version of BB`s song is a real sultry instrumental version with wonderfully surprising addition of a flute. I'd have to think even the King himself would enjoy hearing this cover of his masterpiece. "THE THRILL IS GONE", is the song that for many people, started them liking the blues. Cut two is a very well done version of the ALBERT COLLINS hit, "IF YOU LOVE ME LIKE YOU SAY". Many musicians, especially guitar players, will tell you that ALBERT had one of the most difficult styles of play for anyone to copy. This is why you rarely see bands do his covers.......or at least do his covers and do them well. HIGHWAY 41 took on the task very nicely. The next two tracks are CLAPTON'S "FURTHER ON UP THE ROAD", and HENDRIX'S "LITTLE WING", two very bluesy songs performed by blues oriented rockers - perfect songs for HIGHWAY 41's style of blues. Song five, "EUROPA", is my other favorite on this CD. This is perhaps my favorite instrumental of all time and is a song that is very dear to my heart. The Gato Barbieri version of this song happens to be my wedding song. In my opinion, this song - second to none - is the sexiest song ever recorded. Using the word 'amazing' to describe what guitarist Richard Mac does with this song is an understatement. BOB DYLAN'S song, also done by JIMI HENDRIX, "ALL ALONG THE WATCHTOWER", rounds out this excellent and very highly recommended CD.



You can get in touch with HIGHWAY 41 via email at highway41band@aol.com






Pat Pepin - "Pat Pepin"
BY PETER "BLEWZZMAN" LAURO, © FEBRUARY, 2003


When it comes to the blues, I have many "favorite things" I like hearing as I listen to the music. Two of those "favorite things" are really good female blues singers, and a real good blues saxophone player. PAT PEPIN is both of those. On her namesake CD, "PAT PEPIN," Pat mixes in several well known cover songs made popular by members of her gender, along with five very well written originals. On the first two tracks of the CD, "I'M READY" and "LEFT ME LONELY," both originals - Pat immediately sends the message that she can definitely belt a blues song both vocally and on her horn. After that, there is no looking back, the CD just continues to shine. Of the four cover songs that Pat chose to put on this CD, two of them are by two of my favorite ladies of the blues, and a third is one of my favorite blues songs performed by a lady. Those songs are: "LET THE HEALING BEGIN", written and made popular by the wonderful Miss EG KIGHT; "AT LAST", written by Harry Warren and Mack Gordon and so soulfully done by the great ETTA JAMES; "HAVE MY HUSBAND", written by Dorothy La Bostrie and so humorously sung by DENISE LASALLE. Taking and doing these songs, considering the caliber of talented people who wrote and sang them originally, shows the self confidence that Pat Pepin exudes.

Last year, Pat had the privilege of representing the Maine blues society as their candidate for the International Blues Challenge in Memphis, TN. The band plays the Northeast area of the country and if you ever get up that way, look into giving them a listen. Joining Pat on this CD are: Jan Sturtevant on keyboards and additional vocals; Scott Perrow on drums; Scott Elliot on bass; Steve James on guitar; Tom Obomsawin, also on bass, guitar and piano.

Recently, I was very fortunate to hook up with Pat as she passed through Florida, and did we have a ball. Very good friends of mine, and very good blues men, PAT RAMSEY AND THE BLUES DISCIPLES

(also reviewed at this site) happened to be in town for a weekend show. After introducing the two Pats, I was able to get him to ask her to join them on stage. One she got up there, PAT RAMSEY