Blues CD Reviews 101


Johnny Rawls
Walking Heart Attack
Catfood Records
Publicity: Blind Raccoon
By Peter "Blewzzman" Lauro © September 2023

Although each release - be it a recording, a movie, or any other production where awards are given - needs to be judged on its own individual merit, not on the track record of the artist, the actor, the producer, etc; there are certain ones that are just too easy to assume will be acknowledged with some type of a nomination. That's pretty much how I feel about a new Johnny Rawls album. With the Blues Music Awards (even going as far back as when they were called the W.C. Handy Awards), the Blues Blast Awards, and the Living Blues Awards, consistently acknowledging Johnny with many nominations and wins, he not only has the track record, but his products consistently deliver the goods.
Johnny's latest release is titled Walking Heart Attack and, since he's back on Catfood Records, Johnny - on vocals and guitars - is once again being backed up by the 'Cats at Catfood', a.k.a. The Rays. They are: Dan Ferguson on keyboards; Richy Puga on drums; Johnny McGhee on guitar; Bob Trenchard on bass; Andy Roman on sax solos; Nick Flood on baritone, tenor and alto saxes; Mike Middleton on trumpet; and Frank Otero on trombone. Other performers include: Jon Olazabal on percussion; Janelle Thompson and Shakara Weston on background vocals. Six of the disc's ten tracks are originals or collaborations of Johnny, and/or the 'top cat' himself, Bob Trenchard.
The opening and title track - "Walking Heart Attack" - is one of the three collaborations between Johnny and Bob, and a simple look at the picture on the front of the jacket pretty much tells it all. But just in case you need more details, here's Johnny take: "Every mother's nightmare, every man's dream; Sexy long legs and skintight jeans. Built like an angel, eyes like a cat; Way too hot, ain't got no thermostat. She looks good from the front, and better from the back; That girl's a walking heart attack." And yet, as deadly as she very well may be, why do I think Johnny just might not care? Musically, the Rays are in a very funky, dance floor filling groove - and if she's out there, and Johnny's watching, his palpitations could already be starting.
As he did on his I Miss Otis Clay release back in 2019, Johnny once again pays homage to his longtime friend and music associate, with a masterful vocal performance of "Trying To Live My Life Without You" (E. F. Williams), a song made famous by Otis. When it comes to great rhythm sections, names like Layton & Shannon; Baker & Bruce; Watts & Wyman; and so many others come to mind; and when it comes to great horn sections, some of them that have a city or state, and a whole bunch of others who have the name of the band they were with in front of the word horns, all come to mind. Then you have The Rays - with the keys, the drums, the bass, the guitar, and half a dozen various horns - who are unquestionably as good as all of the above rhythm and horn sections put together. That said, they brought all that to this, and pretty much all of these tracks.
On one of his originals, Johnny thanks God for being "Free" and he sings of the many blessings that come along with that. His emotional vocals, the angelic backing support from Janelle and Shakara, and the heavenly organ vibe Dan's got going on, all give the song a soothing spiritualistic feel.
Another of the compilations is one called "Tell Me The Truth". Sadly, while asking for it, Johnny might not actually want to hear it. You see, from the picture he's painting about his woman's wanton ways, the answer will be an obvious "Yes!" when he asks, "Tell me baby are we through?". The song gets its blues edge with a handful of stinging guitar leads from Johnny McGhee; while the always outstanding horns of Andy, Nick, Mike and Otto and the smokin' rhythm and percussion groove that Richy, Bob and Jon are in, all add the funk. Another musical gem.
The disc closes with "Mississippi Dreams", a beautiful song written for Johnny by his writing partner Bob. The song offers Johnny a platform to honor his home state and the fond memories associated with it. Speaking of Mississippi, Johnny - as far as I know - is the only person to be mentioned on two markers along the famed "Mississippi Blues Trail". More great vocals and vocal harmony and a scorching sax solo from Andy are just a part of this one's many highlights.
Other tracks on Walking Heart Attack - an album I'm predicting you'll see listed on several blues award programs, in several categories, include: "Born All Over" (D. Malone & J Copeland); "Heal Me" (D. Procell); "One More Sin" and "Lies" (two more compilations); and "Hungry Heart" (B. Springsteen).
To find out more about Johnny Rawls just go to - www.johnnyrawlsblues.com - and should you have not yet received your copy of Walking Heart Attack for airplay, please contact Betsie Brown at www.blindraccoon.com. Remember, wherever you go and whomever you contact, please let them know The Blewzzman sent you.
Peter "Blewzzman" Lauro
Blues Editor @ www.Mary4Music.com
2011 Keeping The Blues Alive Award Recipient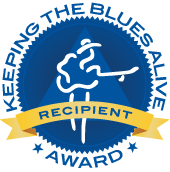 Tom Hambridge
Blu Ja Vu
Quarto Valley Records
Publicity: Blind Raccoon
By Peter "Blewzzman" Lauro © September 2023

Every once in a while, I'll read something on the liner notes or the one sheet that accompanies an album, and I feel like I should share it as stated. That said, here are a few lines from Jim White, a former writer for the Pittsburgh Post-Gazette who now writes for Blues Roadhouse: "When you have a musical career as a singer and drummer that includes writing over 1000 songs, producing 100 albums, and working with everyone from Chuck Berry and Bo Diddley to Buddy Guy - two things come to mind. You must be exceptionally talented. You must be Tom Hambridge." BTW, he's also worked with: Mick Jagger, Gregg Allman, B.B. King, Carlos Santana, Van Morrison, Keith Urban, Johnny Winter (whom you'll hear more about later), and on, and on, and on.
If the saying about time flying being associated with having fun holds water, then I must be having a ball, because I cannot believe it has been over five years since I reviewed The NOLA Sessions, Tom's last release.
Just like that last release, Tom's ninth - Blu Ja Vu - also features thirteen original tracks and gang of great musicians. Joining Tom - on drums, percussion and vocals - are: Buddy Guy, Christone "Kingfish" Ingram, and Joe Bonamassa on guitar and vocals; Josh Smith on guitar; James Cotton on harmonica; Chuck Leavell, Kevin McKendree and Jon Coleman on keyboards; Glenn Worf and Tommy MacDonald on bass; Rob McNelley on lead and rhythm guitars; Bob Britt on guitars; and Emil Justin on background vocals.
What better way could there be to kick things off than with a song that features your long-time good friend, band mate and client? Absolutely none! That's exactly why Blu Ja Vu opens with the great Buddy Guy joining Tom on a song titled "Ain't It Just Like Love". The duet features Tom and Buddy taking turns sharing barbs that relate to the pros and cons of love. Musically, it goes without saying - as will the rest of the tracks, as well - that the rhythm Tom and Tommy (bass) are banging out is nothing short of thunderous; and where there's Buddy there's always gritty guitar licks and they don't get much grittier than what he's laying down right here. Additionally, as he was on that NOLA Sessions release, Kevin McKendree is all over the Barrelhouse, honky-tonk piano runs. Fabulous opening track.
Other than changing the guitarist from Buddy to Joe Bonamassa - therefore making the runs a bit edgier, not much changes on the very next track titled "That's My Home". With the lyrics centering around the subject of life on the road as a traveling musician - or as they say "our address keeps on changing", Tom's point of view is that where he lays down his suitcase is his home, while Joe's is wherever he lays down his guitar is his home.
The third of three vocal duets, has Tom hooking up with a young man who is surely doing his part to keep the blues alive, Christone "Kingfish" Ingram. Lyrically, the guys take their turns making points as to why the "Blues Don't Care". Just a few are: "It makes no difference if you're wrong or right".....; "You can try to run but there's no escape, it's the middle finger on the hand of fate.....; "You can buy insurance to ease your mind, lock up your woman and hide your wine".....; none of which will matter because "the blues is gonna get you some way somehow, the blues don't care and the blues don't play fair". Music wise, with "Kingfish" keeping it real, this is the most traditional of the 'Guitar Guru' tracks.
So when Tom was going over the pre-recording instructions for "Brother John Boogie", it wouldn't shock me if he told the guy to give this one all they've got and then give it some more. It's a raucous instrumental with everyone in full throttle mode, with the late and great James Cotton providing the runaway train vibe on his smokin' chromatic harp blowin'.
This one should cause you to want do one of two things: get up and start dancing or packing a bag and hitting the road - and with many of the places and things Tom addresses on "Get Out Of Town", the second of those choices may be hard to resist. This is 'Route Sixty-Six' taken up several notches - lyrically, vocally and musically.
"Smarter Than I Was" is about learning something the hard way. It's a gloomy tale about a woman who took Tom's soul to a darker side. As he tells it, "Halfway there, I got wise... I may not look it but I'm smarter than I was." The intense rhythm and percussion create a strong supernatural vibe with stunningly perfect guitar accompaniments by former Ft. Lauderdale homie, Josh Smith.
As I approach seventy-five years of age, I've lived through my share of eras that were the cause for many protest songs to be written, but "Johnny Winter" is by far the most unique of these types of songs. What's that you say, Pete? A song titled Johnny Winter is a protest song? "Yep, it sure is!" On this song, Tom is downright pissed off as to why Johnny Winter is not in the "Rock 'n' Roll Hall Of Fame". As a matter of fact, on a trip to Cleveland, Tom actually wanted to know who was in charge, because he actually wanted to kick this person's...... I mean give this person a piece of his mind. Also, with some very Johnny like guitar licks, Rob McNelley pays homage to him in his own special way. Fun, and very true song.
Other tracks on this killer project include: "Wear You Out"; "Sick With Love"; "Automatic"; "Symptoms Of Love"; "Meet Me In Chicago"; and "End Of the Line".
On a side note, should you be submitting a contemporary blues release to any of the various award associations, this is the one to beat!
To find out more about Tom Hambridge just go to - www.tomhambridge.com - and should you have not yet received your copy of "Blu Ja Vu" for airplay, please contact Betsie Brown at www.blindraccoon.com. Remember, wherever you go and whomever you contact, please let them know The Blewzzman sent you.
Peter "Blewzzman" Lauro
Blues Editor @ www.Mary4Music.com
2011 Keeping The Blues Alive Award Recipient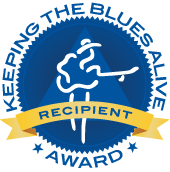 Teresa James & The Rhythm Tramps
Rose-Colored Glasses Vol. 2
Blue Heart Records
Publicity Blind Raccoon
By Peter "Blewzzman" Lauro © September 2023

It's always cool when you listen to a release filled with great music and the words "Vol. 1" appear in its title. That pretty much tells you that more of what you're enjoying will one day be on its way. That said, exactly two years ago to the month, with the release of Rose-Colored Glasses Vol. 2 from Teresa James & The Rhythm Tramps, that day has arrived.
Along with some long-time Rhythm Tramps, Vol. 2 features a few returning members from the Vol. 1 ensemble and some other special guests as well. Those responsible for this fabulous music are: Teresa James, of course, on lead and background vocals, piano and Wurlitzer; long time band mate, life mate and co-producer, Terry Wilson on bass, percussion, B3, Clavinet, rhythm guitar and background vocals; Billy Watts on lead guitar; Brannen Temple and Richard Millsap on drums and percussion; Tony Braunagel, Herman Matthews and Jay Bellerose on drums; Kevin McKendree on piano; Bennett Salvay on B3; Vince Melamed on keys; Matthew Quave on strings; Gregg Sutton on guitars and background vocals; Paulie Cerra on sax; and Matt Lomeo on harmonica. With eleven penned by Terry and/or Terry and Teresa, and one penned by bandmates Gregg Sutton and Vince Melamed, all of the twelve tracks on Rose-Colored Glasses Vol 2 are originals.
The opening track, titled "I'd Do It For You", features exactly four artists but if you listen closely, you'll hear at least twice that many instruments. As a matter of fact, combining his bass and percussion work with the many different sounds he's creating on the B3, Terry Wilson sounds like at least six himself. Add to that Brannen Temple, on drums and some of his own percussion as well, and you now have the largest two-piece rhythm section ever assembled. As good as it is, all that smokin' rhythm needs is a few smokin' guitar runs and Billy Watts is all over those. Then there's the boss lady laying down her patented sultry and always soulful vocals. Using lines like.....
"I wouldn't do it for money, but I'd do it for love";
"I'd wake up early in the morning and bring you breakfast in bed, stay up all night long just to hear what you said";
"If you ever get sick I'd cure your ills, I'd bring you medication and take care of all your bills";
"I'd do it for you!"
.....Teresa is putting together a nice resume as 'a keeper'.
It is pretty hard to wonder if someone you know was born in a different era would still be in the same profession or not, especially with the way technology has changed over the decades. That said, give one listen to "The Idea Of You" (Gregg Sutton & Vince Melamed) and I think you'll agree with me that had Teresa been born one hundred years ago, come the nineteen forties and fifties, she'd be singing to sold out jazz clubs all around the country. Regardless of the era she was born in, Teresa James was born to sing. Musically, the soft and soulful ballad features Tony Braunagel (drums) and Terry (bass) in a hushed rhythm vibe; ditto for the songs composers, Gregg (guitar) and Vince (keys); and Matthew Quave, on his only appearance, giving the song its pulse with an absolutely beautiful performance on the strings.
When a woman alluringly tells you "I want to get to know you better. I want to get to know what it's like to get to hold you all night and squeeze you just right", "That's What I'm Talking About". Actually, that's what Teresa is talking about on another song that has me thinking what a lucky guy Terry is. Along with the usual great rhythm, Billy and Paulie put on a fabulous mid-song run where the guitar lead perfectly melds into the sax lead. Another great track.
Continuing with the feel good, love song vibe, Teresa proudly claims "I Don't Need Another Reason To Fall In Love". From there she segues into several flattering similes about why her man is enough. Just like Terry being a lucky guy, Teresa's apparently a lucky lady as well. With Kevin on the piano and Bennett on the B3, it's the keyboards lighting this one up.
"The Heart Wants What It Wants" is another wonderfully written, wonderfully sung and wonderfully performed love song. With a relaxed and laid-back rhythm - featuring Jay on drums and Terry on bass, guitar and keys - behind her, Teresa totally shines on this one.
As she so often does, Teresa is once again making herself totally irresistible. Should you be looking for a "Brand New Flame" she'll confidently tell you "I'm a hot one". And although she doesn't want to have your kid, she's certainly up for doing some practicing... if you get my drift. This one has Richard on the drums, hooking up with Terry on the bass, for a different rendition of the always strong rhythm; and with Terry on clavinet, Teresa on piano, and Bennett on the B3, it is indeed another keyboard forward production.
Other tracks on another fabulous effort from Teresa James & The Rhythm Tramps include: "Better Angels"; "Lean On Love"; "Flip Flop"; "Ain't Nothing For Certain"; "Just Don't Think About It"; and "Second Chances".
To find out more about Teresa James & The Rhythm Tramps just go to - www.teresajames.com, and should you have not yet received your copy of "Rose-Colored Glasses Vol. 2" for airplay, please contact Betsie Brown at www.blindraccoon.com. Remember, wherever you go and whomever you contact, please let them know The Blewzzman sent you and that he's hoping there'll be a Rose-Colored Glasses Vol. 3.
Peter "Blewzzman" Lauro
Blues Editor @ www.Mary4Music.com
2011 Keeping The Blues Alive Award Recipient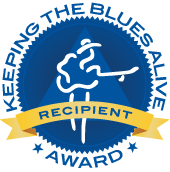 Click Here To Return To The CD Review Index
Click Here For The Blues Portal
Click Here For The Indie Portal
Click Here To Visit Our Music Gift Shop


---
Want your CD reviewed?
Click HERE to email us for information.






*All logos and trademarks in this site are property of their respective owner.
Additional content © 1998-2023 Mary4Music.com. All Rights Reserved.