Blues CD Reviews 100


EG Kight
Sticks & Strings
Blue South Records
By Peter "Blewzzman" Lauro © September 2023

Since crossing over from country to the blues with Come In To The Blues, her debut blues release back in 1997, Sticks & Strings is the tenth release in the genre for singer, songwriter and guitarist EG Kight. Of those, this is the fifth that we at Mary4Music have had the pleasure of working with.
For this project, the usual trio of EG Kight on vocals and guitar; Ken Wynn on lead guitar, dobro and background vocals; and Gary Porter drums, percussion, harmonica and background vocals; are joined by special guest Sean Williams on bass; and last but certainly not least, making her recording debut, Miriam Kight - or as EG calls her, 'Mama'. Of the disc's ten tracks, nine are EG originals and/or compilations between EG and her long-time writing partner Tom Horner; Nannette Alexander; Johnny Neel; and Doug Jones.
The opening track is titled "Talk To Me". It's one EG wrote that deals with the lack of communication in a relationship. Tired of not knowing where they stand, she lays down the final ultimatum of "Talk to me, tell me what's on your mind.....either love me, or leave me behind". From the similar theme of many of the disc's other tracks, I'm thinking he chose to leave her behind. Musically, the song features EG's patented smooth and sassy, note holding vocal style; Ken - with a 'who needs an electric guitar to play some killer blues' attitude - on fabulous acoustic lead guitar runs; deep acoustic bass lines from Sean; and in addition to his usual dynamite drumming (he knows he's my favorite), Gary is blowin' out some serious blues on his harmonica. I've always known he played some harp, but I now no longer think of it as his second instrument.
On a track titled "If You Have No Reservations", EG is making a gentleman the so called "offer you can't refuse". At first she's a bit subtle but as the song progresses, she goes full blown hot to trot. As the story goes, EG is addressing a longtime friend who had been repeatedly mistreated by his woman. Now that the woman is out of the picture, EG's pitch is "If you have no reservations, how 'bout making one with me? I can tell that you're lonely, I might be someone that you need. You never know what might happen, you never know where it can lead." Nice set up, but the deal closer has to be when she tells him........"Baby your healing could begin tonight". How does a guy say anything but 'okay' to that? Especially with the very sultry and sincere approach she's using. Musically, it's slow acoustic blues at its best, with Gary and Sean in a smooth rhythm groove and Ken nailing the killer blues guitar leads. From every aspect, this is one heck of a track.
If you were to ask every musician you know - or maybe even every musician in the world, for that matter - how many would you think might answer "God, Goats And Guitars" to a question that asks what three things gets them through tough times? My answer to that is one. The God part is certainly relatable, and the guitar (or other instrument) is a no brainer for a musician, but the goats - that has to be the one and only EG Kight........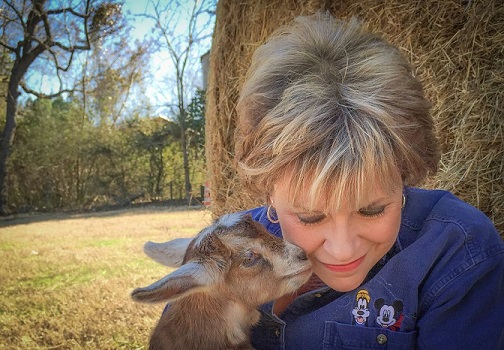 Living on their farm together in rural Georgia, no one knows that better that EG's mama so there could not be a better song for Miriam Kight to make her recording debut on harmony vocals. As radio folk start receiving their copies of Sticks & Strings, at three-and-a-half minutes long, this one's gotta be the spin getter.
It took just the twelve second guitar and harmonica intro Ken and Gary laid down on the opening of "My Baby's Hidin' Something" for me to think "Oh yeah!, more slow blues". Then EG comes in belting out dirty, cheating, low down man lyrics, taking us right smack down the middle of blues alley.
There's "Two Sides To Every Story" and they're usually the right and the wrong or the truth and the lies, and that's exactly what's got EG worried....."His lies are being heard". That said, as it always does, EG knows the truth will come out. The track features a catchy sing-a-long chorus line with fabulous vocal harmonies between EG, Ken and Gary.
Other tracks on another great EG Kight release include: Gregg Allman's "Come And Go Blues"; "Already Gone"; "All Things Considered"; "Changes Coming Down"; and "I Won't Ever Give Up".
On a side note, at a recent festival in Florida I saw this ensemble put on an hour-long live set of these and similar songs, and quite honestly, nobody pulls off a three-piece acoustic blues set like EG, Ken and Gary do.
To purchase and/or get your hands on a copy of Sticks & Strings for airplay, and to find out more about EG Kight, just go to her website - www.egkight.com. When you do, please tell her that her buddy the Blewzzman sent you.
Peter "Blewzzman" Lauro
Blues Editor @ www.Mary4Music.com
2011 Keeping The Blues Alive Award Recipient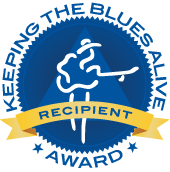 Sandy Carroll
Love On It
Blue Heart Records
Publicity: Blind Raccoon
By Peter "Blewzzman" Lauro © August 2023

Love On It is Sandy Carroll's fifth release, and her first on Blue Heart Records. Other than the label changing, not much else has since my review of her Blues & Angels back in 2018. Once again, her Grammy Award winning husband Jim Gaines produced the album and many of the great musicians from that release are back as well. Joining Sandy Carroll, on the vocals, are: Mark Narmore on piano; Steve Potts on drums; Will McFarlane on guitar, bass and background vocals; Kimberlie Helton on background vocals; Dave Smith on bass; Rick Steff and Ernest Williamson on organ; and Buddy Leach on saxophone. All of the disc's twelve tracks are originals.
The opening and title track is an uptempo, uplifting number called "Love On it". It's Sandy's Rx for anything that may be giving you the blues, all ya gotta do is put a little love on it. This Gospel-esque rocker features Steve and Will thumpin' out a jumpin' rhythm on the drums and bass; hot guitar and piano highlights from Will and Mark; and hymn style vocals from Sandy as she reassures us that once you put a little love on it, "everything's gonna be alright".
On a track titled "Don't Rattle Them Bones", the bones Sandy refers to are the bones of skeletons - particularly of those so called 'skeletons in the closet'. The song addresses a person in a relationship wanting to know about the other person's past relationships. As Sandy bluntly states "When it's in the past, it's dead and gone......Those broken bones, they can break a heart...... Best leave them be, keep them in the dark......Forgotten secrets don't need to be found." Yes indeed, some things need not be said. Musically the song is a duet with Sandy singing the well written and truthful lyrics and Mark on the guitar and keyboards.
"Soul Of The Heart" is a soft ballad on which Sandy puts her heart and soul into an absolutely breath-taking and emotional vocal performance. Her many voice changes, along with fabulous melodies from Kimberlie, make this one of the disc's best vocal tracks. Musically, with the band is an easy rhythm groove behind her, the song is highlighted by the deep sax grooves, and mid song sultry solo, from Buddy.
On an inspirational song titled "Gonna Come A Day", the message Sandy is sending is that as difficult as life can sometimes be, you should never loose hope..... "There's gonna come the day, could be in the middle of the night, when you realize everything's gonna be alright.
So just hold on, that train is comin' 'round the bend, help is on the way, there's gonna come a day." Equally as therapeutic as those and the rest of the reassuring lyrics are, is Sandy's heartfelt and relaxed delivery of them. Just listening and letting it all sink in could very well be the start of that day for someone. Ahhhh, the power of music! Speaking of which, with subtle highlights from Ernest on the organ and strong yet calm drum and bass work from Steve and Dave, the rhythm groove could not have been more perfect.
Because of a severely broken heart, this one features Sandy declaring a "Code Blue" on herself. On top of that diagnosis, by cleverly using many medical terms and references, she's also laying out her own treatment and recovery plan. My favorite part of that regimen is her having a lobotomy to erase the memory of him. That said, I'm thinking Sandy might want to stick to wonderfully writing and beautifully singing songs, rather than haphazardly performing medical procedures. The sultry vocals and jazzy instrumentation sound like something you'd hear coming out of Birdland or The Blue Note, but the lyrics are whispering Saturday Night Live. Great track for sure.
Other tracks on this very well performed and well written release include: "Heart Full Of Honey"; "Hurt So Hard"; "Baby Blue" "Blindsided; "Tryin' To Feel Heaven"; "Preacher Man; and "Gotta Hand It To You".
If you've not yet received a copy of Love On It for airplay, please contact Betsie Brown at - www.blindraccoon.com - and should you like to find out more about Sandy Carroll, her website is - www.sandycarroll.com. As usual, wherever you go and whomever you speak with, please tell them the Blewzzman sent you.
Peter "Blewzzman" Lauro
Blues Editor @ www.Mary4Music.com
2011 Keeping The Blues Alive Award Recipient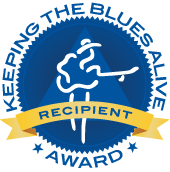 Willie J. Campbell
Be Cool
Blue Heart Records
Publicity: Blind Raccoon
By Peter "Blewzzman" Lauro © August 2023

It's sad that award winning bassist Willie J. Campbell, who played with countless award winning musicians and bands, is not around to witness the huge success I'm sure Be Cool will achieve. Having literally played with everyone who is someone in the blues, Willie passed away a short time before the release of his debut solo album.
Be Cool features twenty incredibly talented musicians joining Willie, and I can't help but wonder how many others would have wanted to be a part of this project had they known it would be their last chance to play with this legendary bassist. The band consists of: Willie, of course, on bass; Kid Ramos on guitar; Brian Templeton on lead vocals, background vocals and harmonica; Jimi Bott on drums, tympani and percussion; and Brooks Milgate on keyboards. The special guests include: Mondo Cortez, Anson Funderburgh, Mike Morgan and Joe Louis Walker on guitar; Shawn Pittman on guitar, acoustic guitar and lead vocals; David Hidalgo on guitar, lead and background vocals; Joe "Mack" McCarthy on horn and horn arrangements; Sax Gordon on tenor sax; Janiva Magness and Sugaray Rayford on lead vocals; Pat McDougall on piano; Johnny Ramos on background vocals; Jason Ricci on harmonica; Kim Wilson on lead vocals, vocals and harmonica; and Jimmie Wood on lead vocals, chains, and harmonica. Based on those names alone, you should have already stopped reading and started shopping for the CD. You can read the rest when you get back...................
Be Cool is a joint production of Kid Ramos, Brian Templeton and Willie. Of the disc's fifteen tracks, all but four of them are originals, and/or compilations, from various band members and guests.
Since Willie, Jimi Bott and Brooks Milgate are the only bassist, drummer and keyboard player of this large group, anytime there is any mention of the intense rhythm on a particular track, they'll be the reason for it. That said, "No More" (B. D. Templeton), is one of those tracks. With Willie and Jimi holding down the bottom on this rocker, it's Brooks who sets it on fire with his scorching piano leads. Additionally, being one of several tracks that features all four guitarists, this one has Anson Funderburgh lighting it up on the solos; and, on his only appearance on the instrument, Jimmie Wood doing pretty much the same on the harmonica leads. Last, and just the mention of his name tells you it's not least, as he does on everything he sings, Brian Templeton is singing the hell out of 'his' song.
Slow, lowdown and gut wrenching blues is certainly "wheelhouse material" for pretty much everyone involved with this project and "Can't Stay Away" ((M. C. Robinson) is easily some of the best of that. Just reading the credits and seeing Janiva Magness - vocals (4), pretty much tells you right off the bat it's going to be a powerful and compelling vocal presentation. Add to that another stunning blues guitar performance from Anson; magnificently moody rhythm and piano chords so common to these songs; and make it be the longest song of the lot; it's sure to get my go to compliment of 'this was six-and-a-half minutes of pure slow blues bliss'.
An instrumental titled "Docksidin'", is a rhythm fueled smoker that's sure to fill the dance floor. Willie, Jimi and Brooks, this time on the B-3, are all over this one. Once again, it's another of the several guitar orgies, this time with Kid - the song's composer - running lead on the scorching solos.
On a ballad which he wrote, Brian - while singing his heart out - takes us in a direction towards church. Even the song's title - "Forever Shall Be" - has a Gospel feel.
"Standby" (B. D. Templeton) is a rhythm and blues filled smoker powered by the fiery horns of Sax Gordon and Joe McCarthy. While being backed by Joe's soaring trumpet leads, Sax lays down several scorching tenor runs. Talk about powering things along, the track features Sugaray Rayford on the vocals and Joe Louis Walker on guitar.....'nuff said.
On a laid back bluesy number he wrote, "Devil On My Shoulder", Shawn Pittman not only showcases his outstanding vocals skills, but he does some fancy pickin' on the acoustic guitar as well. Lyrically, the line that follows "I've got a devil on my shoulder" is "and an angel by my side". With Anson and Kim nearby, both tearing it up on the lead guitar and the harmonica riffs, at this particular moment he has two.
The opening of "She's A Twister" (Templeton/Ramos), starts off with a raunchy guitar lead in from Kid, followed by a thunderous drum entrance from Jimi, crazy and wild piano pounding from Brooks, then Kim Wilson joining in with some good ol' rock 'n' roll vocals......and that's all within the first fifteen seconds. Right then and there you know the song is not about a woman who likes to dance to a Chubby Checker recording. No Sireee! This song is about a woman who is like the kind of twister that comes with an EF Rating. And from the way this one rocks out, it could very well be an EF 5.
Backed by some N'awlins style rhythm, boogie woogie piano playing, and lots of well synchronized hand clapping, Kim Wilson, both on vocals and harmonica, does a fabulous rendition of Huey P. Smith's nineteen fifties rock 'n' roll classic called "You Can't Stop her".
Other tracks on the outstanding release are: "You Better Let Go" (B. D. Templeton, D. S. Ramos, W. J. Campbell, J. J. Bott); "This Time" (L. F. Perez, D. K. Hidalgo); "Drone" (B. D. Templeton); "My Fault" (I. P. McLagan, R. D. Stewart, R. D. Wood); "One Man Chain Gang" (J. Wood, D. S. Ramos); "Use As Needed" (B. D. Templeton); and Albatross" (P. A. Green).
If you've not yet received a copy of Be Cool for airplay, please contact Betsie Brown at - www.blindraccoon.com - and should you like to follow the Facebook page for Be Cool, here is the link - https://www.facebook.com/profile.php?id=100007901795927. Should you join the group, please leave a comment that the Blewzzman sent you.
Peter "Blewzzman" Lauro
Blues Editor @ www.Mary4Music.com
2011 Keeping The Blues Alive Award Recipient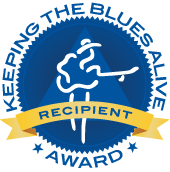 Joel Astley
Seattle To Greaseland
Blue Heart Records
By Peter "Blewzzman" Lauro © August 2023

As far as longevity goes, since it was less than ten years ago when Joel Astley formed his first band, calling him a 'new kid on the block' might not exactly be out of order. However, if I were to do so, I'd add an asterisk at the end of the term, with the follow up explanation clarifying he is a 'new kid on the block with veteran credentials'. Reason being, in that short period of time, Joel has amassed eighteen "Best of the Blues" awards from his home state's Washington Blues Society. Some of those include: Best Harmonica Player - five out of the last six years; Best Male Vocalist - three out of the last five years; Best Songwriter - three out of the last four years; and Best Performer - this year. Now, taking all that talent and teaming it up with the "Gurus of Greaseland", it may not be too long before this new kid takes over the block.
On his all original, debut release titled Seattle To Greaseland, vocalist and harmonicist Joel Astley is joined by: Johnny Burgin on guitar; Kid Andersen - the disc's technical maestro - on keys and electric guitar; June Core on drums; Randy Bermudes on bass; and Jill Dineen and Marina Crouse on backing vocals.
Some of the lyrics on "Karma Wheel" made me realize that Joel and I may just have more than blues in common. The song addresses patience, and how hard it is to sometimes have - especially when waiting for that damn slow karma wheel to roll around. As Joel tells it, "When somebody gets the best of me, the first thing I want to do is get 'em back. But every time, it gets me into more trouble than when I started. I found, it's better to just sit back and let karma do the work. But I tell ya, it's so hard to be patient." Tell me about it! With two stunning solos, the first by Kid and the second by Johnny, this one is drenched with scorching blues guitar licks.
It's one thing about having to wear hand-me-downs and play with toys that other older kids played with before you, but Joel's clever take on everything he owns being owned before, takes being a "Secondhand Kid" to a whole other level. The song is loaded with humorous metaphors with my favorite being "I wrecked a car back when I was a kid, they thought I was gonna die and I almost did. But the doctors topped me off with some blood from a donor, seems even the blood in my veins has a previous owner". Musically, the track features Kid (keys), June (drums) and Randy (bass) in a fiercely funky rhythm groove while Johnny and Joel lay down smoking blues leads on the guitar and harmonica, respectively.
"Takin' It With Me" finds Joel in a state of denial. Since he believes that no one has factually been able to prove it, and "The only one's who know for sure ain't talkin' about the road that lies ahead" he's not buying into that you can't take it with you thing. Being hellbent on taking it with him, "his last check's gonna bounce, because he's draining all his accounts; and his next of kin won't have to fight over his will, because all he's leaving is a funeral bill". It goes without saying that the talented bunch behind him are nailing it musically, but with the smack he's dishing out, and the swagger he's using to do so, this one's all about the fabulously delivered witty lyrics. One of several testimonials to his songwriting and vocalist awards.
Randy's substantial bass lines lead this rhythm fueled, dance floor filler. On this smoker, Joel tells us about a woman whose ability to bring bath water to a boil just by getting in it, and to set off smoke alarms just by walking by. Those characteristics, and many more are why she's "Hot As Hell". Also hot as hell are the sizzling guitar runs by Johnny and the fiery chromatic harp lead from the boss himself.
As the title of this rocker might lead you to believe, this song is not about what road weary musicians, more often than not, do with their rides. When Johnny uses the term "Down To The Rims", it's not his vehicle he's going tot ride to that point, it's his lifestyle. Another well written, well sung track with a little extra lift from the ladies on harmonies.
Please, if you're driving when this one comes on, it's okay to shout out "HALLELUJAH!', but do resist the desire to stand up and start clapping your hands when you do. Trust me, you're gonna wanna - Joel, Jill and Marina are. It's titled "No Brighter Gold" and I think I pretty much described it already.
Other tracks on Seattle To Greaseland - which should surely render some nominations at future awards ceremonies - include: "Born Cryin'"; "Candy Shop"; "Just Right"; "Work With What You Got"; and "Bobby's Place".
If you've not yet received a copy of Seattle To Greaseland for airplay, please contact Betsie Brown at - www.blindraccoon.com - and should you like to find out more about Joel Astley, just go to - www.joelastley.com. Remember, wherever you go and whomever you speak with, please tell them their friend, the Blewzzman, sent you.
Peter "Blewzzman" Lauro
Blues Editor @ www.Mary4Music.com
2011 Keeping The Blues Alive Award Recipient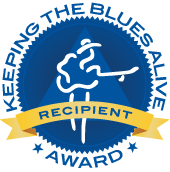 Tony Wessels and the Revolvers
Reloaded
Self-Released
By Peter "Blewzzman" Lauro © August 2023

Reloaded is the second release from the Atlanta, Ga, based Tony Wessels and the Revolvers. As Tony tells it, the name of the band was derived from so many talented musicians rotating in and out of his various projects, that they actually became Revolvers. This particular project features eighteen of them. That said, those Revolvers joining lead vocalist and bassist Tony Wessels on Reloaded include: Stevie Vegas on drums, percussion, vibe and mojo; Daniel "Mudcat" Dudeck, Richie Mays and Jody Worrell on guitar; Stephe "Hobo" Reid and Kathorah Wylie on harmonica; Steve Cunningham on guitar and lapsteel; Mat Abercrombie on guitar, backing vocals and 'creativity'; Robert Meadows on keyboards; Rick Gilbert and Art McNaughton on drums; Danny Bermel on violin; Clark Hunt on trumpet; Ethan Levitt on saxophone; and Alex Wessels, Ry Wessels, Cindy Mills and Michael Ray on backing vocals. Of the disc's eleven tracks, five are originals of Tony's.
If there were ever a way to use music as a definition of a word or term, this disc's opening track would definitely define the true meaning of "making it your own". It's a cover of Brownie McGhee's "Move Across The River", and I honestly think that if the late bluesman were around today and heard this rendition, he might actually say "That's not my song". The track features the smokin' rhythm and percussion coming from the hands of Tony and Stevie being elevated by the hands of Robert's fabulous piano and organ leads; scorching lead and slide guitar runs by Richie; and the exceptional lead and harmony vocals by Tony, Cindy and Michael, give the song it's uplifting Gospel vibe. If what's on the other side is anything as good as this song sounds, I'd also like to move across the river. This is how you open an album!
The first of Tony's originals is an instrumental titled "Walking With Jody". It's a short two-and-a-half minute long number that sounds like something that came out of two musicians fooling around in a studio. Since it involves Jody Worrell's only appearance on the disc, I actually believe that's what may have happened. If it indeed is, I applaud their decision to record and go with it. The track features Jody masterfully maneuvering around his guitar and Tony laying down a fabulous walking bass line.
Another of Tony's originals is a song titled "Broken Man". It's a very laid back, unadorned effort by three outstanding musicians - Tony (bass), Rick (drums) and Richie (guitar) - creating outstanding music. It's also a a great track for Tony to showcase his completely unique and dynamite vocal style, which is puzzling for me to describe. No matter how hard I try, I keep coming up with think Ricky Nelson sings the blues. It works!
Just like my take on the Brownie McGhee's cover, this is not your Muddy Waters "Got My Mojo Working" (Preston Foster). With the help of seriously smokin' keyboard work from Robert; fiery sax and trumpet leads from Ethan and Clark; thunderous rhythm from himself and Stevie on the bass and drums; and strong vocal support from some of his kin - Alex and Ry Wessels; this crew does indeed have their own mojo working.
Speaking of Muddy, while, keeping it close to it's original adaptation, the Revolvers definitely do justice to his "Blow Wind Blow". Although Tony doesn't have Bob Margolin or Jerry Portnoy by his side, he does have Danny nailing the slide guitar leads and Stephe blowin' the hell out of the harp.
On another original track, "Moving On", the two Revolvers who appear for the first and only time do indeed make their presence known. As a matter of fact, I'm just gonna give it to them - putting on the disc's most impressive drum performance, and giving the track it's pop with his killer fiddle presentation - Art and Danny stole the show.
Other tracks on Reloaded, which could be the vehicle that puts Tony Wessels and the Revolvers on the radar, are: "Key To The Highway" (B. Bronzy and C.Segar); "Sweet Home Blues" (W. Bunch); two more of Tony's originals, "Smiling Woman" and "Changed"; and "Cotton (S. Hopkins).
If you've not yet received a copy of Reloaded for airplay, please email Tony Wessels at pawessels@bellsouth.net, and should you like to find out more about Tony Wessels and the Revolvers, their Facebook Page is https://www.facebook.com/profile.php?id=100046418272636. Remember, when you contact Tony, please tell him his friend the Blewzzman, sent you.
Peter "Blewzzman" Lauro
Blues Editor @ www.Mary4Music.com
2011 Keeping The Blues Alive Award Recipient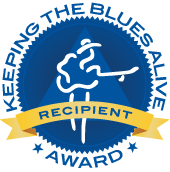 Franck L. Goldwasser
Who Needs This Mess!!??
CrossCut Records
Publicity: Blind Raccoon
By Peter "Blewzzman" Lauro © July 2023

Not having heard any of his most recent music, for me, Franck L. Goldwasser is a blast from the past. My last recollection of his music goes back to the days when the late Randy Chortkoff stormed into the music business with his hugely successful Delta Groove Productions. Artists appearing on that label were virtually the who's who of blues music, and Franck Goldwasser was one of them. Fast forward some nearly twenty years later and it seems like not much has changed for Franck, he's still hanging around with some of those old label mates.
On his latest release titled Who Needs This Mess!!??, Franck Goldwasser - on vocals, guitar and harmonica - is joined by: R.J. Mischo and Charlie Musselwhite on harmonica; Kirk Fletcher on guitar; Sugaray Rayford on vocals; Jim Pugh on keyboards; Ralph Carter, the disc's producer, on bass; and Johnny Morgan on drums and others. Of its fifteen tracks, fourteen were written/co-written by Franck.
The disc's opening track - "Don't Give Up On Me Baby" is one of eleven that feature the nucleus of the band: Franck, Ralph, and Johnny. That said, this pretty much lays out what you can expect throughout most of the recording - gritty vocals, smokin' blues guitar and licks, and intense rhythm - and from what I'm hearing, that suits me just fine. Lyrically, the song is about Franck attempting to serve penance with the all too familiar plea of "Don't give up on me baby, 'cause I ain't giving up on you. Don't give up on me baby, please don't say that we are through. If you had to quit me baby, my whole life would go to ruin." Regrettably, of course, always realized after the fact.
An instrumental called "Skwurley" is one of the three tracks that feature R.J. Mischo, and he and Franck pick right up on the chemistry they had together back in the day. The smoker is an all-out slug fest. Think of a tag-team match with all four wrestlers in the ring at the same time, with the guitarist and the harmonica player going toe to toe in one corner, and the drummer and the bassist going toe to toe in the other corner. Hey, I say it like I hear it. PHEW!
Although this one is playfully titled "Disküm Baåb Uleh Shun", it is the furthest thing from one. As a matter of fact, the track is done with lots of certainty and confidence. This foot tappin', head bobbin', hand clappin' instrumental features Franck showcasing his wide range of guitar styles; R.J. blowin' some nice straight up blues harp; Ralph in a deep bass groove; and Johnny nailing the percussion on the drums and that "other stuff" (as hinted at in the credit). Very cool track.
This one is titled "Had A Dream Last Night" and hearing that the dream featured "Donald Trump being kicked out of the NRA; Kanye West telling him Donnie don't you worry, you'll always have a place to stay; and Ben Carson being run out of the KKK"; my only thoughts on the song is that Franck might want to be careful just what he consumes before going to bed.
The third instrumental of the lot once again features the basic trio doing absolutely nothing "basic". It's titled "Sobby Doggy Boogy" and unlike "Disküm Baåb Uleh Shun" I don't have a clue about what this title means. What I can tell you is that it features Franck showcasing some fancy slide guitar skills; Ralph, masterfully turning his bass into a synthesizer while sounding like he's playing a tuba; and more excellent percussion from Johnny. Traditionally, I'm not a big fan of blues trios, but these guys - most likely because they don't see a need for 'power' to be a part of the term trio, as most trios do - are crazy good together.
The title track, "Who Needs This Mess!!??" is actually where the official reunion takes place. It features; Sugaray Rayford addressing the issues of living in our materialistic, life in the fast lane world, which ultimately leads up to him soulfully and powerfully - as you'd expect - shouting out "Who needs this mess?"; Charlie Musselwhite making a harmonica sound like not too many people other than Charlie can; the perennial go-to guy on most blues releases coming out of the west coast - Jim Pugh, working his magic on the keyboards; Kirk Fletcher alternating stinging guitar leads with the boss; and - yes, those guys, of course - Ralph and Johnny working their repeated rhythm magic.
Simply because there was a lot of good music before it, I'll refrain from saying that Franck saved the best for last. However, I will say that the last track - "Bleedin' Heart" (B. Robinson & E. James) - was by far my personal favorite. This 'bonus track' was originally recorded live at The Waterfront Festival (2014), and at nearly seven minutes of downright scorching slow blues, it is indeed a bonus. With a full and fabulous band behind him, Franck belts out the disc's best gut-wrenching vocals and lays down its most serious and smokin' blues guitar licks.
Other tracks on the outstanding Who Needs This Mess!!?? include: "I Don't Want Your Love (I Just Want Your Lovin')"; "What Am I To Do?"; "Paris Woman"; "Monkey Junk"; "If I Could Holler"; "Dumb & Dangerous"; "Sweet Cream"; and "Raggmazazz".
If you've not yet received a copy of Who Needs This Mess!!?? for airplay, please contact Betsie Brown at - www.blindraccoon.com - and should you like to find out more about Franck L. Goldwasser, just go to - www.bluesisgold.com. Remember, wherever you go and whomever you speak with, please tell them their friend, the Blewzzman, sent you.
Peter "Blewzzman" Lauro
Blues Editor @ www.Mary4Music.com
2011 Keeping The Blues Alive Award Recipient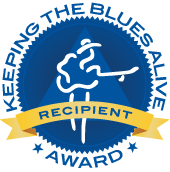 Mark Cameron
Nasty Business
Blue Heart Records
Publicity: Blind Raccoon
By Peter "Blewzzman" Lauro © June 2023

By no means do I want to make Mark Cameron sound old, because he truly isn't - especially by blues standards. That said, with the release of Nasty Business, Mark has now had releases in five different decades. Equally impressive is in addition to having had five previous releases in other genres, and this being his fifth in the blues, Nasty Business is Mark Cameron's tenth release. That's some quite respectable longevity in what most musicians know is indeed a 'nasty business'.
For this project, the nucleus of the band is: Mark Cameron on guitar and vocals; Sheri Cameron on saxophone, percussion and vocals; Rick Miller on harmonica and vocals; and Dan Schroeder on drums. Additional guest performers include: Nick Salisbury on bass; Tommy Barberella on keyboards; Tonia Hughes, Sara Renner and Teresa James on vocals; Zack Loxier on trumpet and trombone; Ian Schroeder on baritone sax; and Greg Schutte on drums.
The gritty opening track is titled "Sorry" and it addresses thing's that Mark regrets ever getting involved in. With respect to a job he said he'd work at the rest of his life; a shiny new car he bought that came with four thousand years of payments but is falling apart after one whole week; and a supposedly long-term relationship where the word long never actually came into play; Mark's answer is "Sorry, but I've changed my mind". Musically, along with a little extra help from Ian on the baritone sax, Dan and Nick are in a roaring rhythm groove on the bass and drums; Rick's smokin' the harmonica leads; and Mark is nailing the lead and slide guitar runs. Perfect way to kick things off.
On this track, Mark not only believes that the blues is a language, but he proves it as well. That said, while unsuccessfully attempting to reach out to his woman, the only way Mark knows how to get his message through is to leave out the middleman - words - and to use the "Language Of the Blues". Examples of that are when he states: "When I say.... and then he cuts loose with a few stinging guitar notes.... I know that's what you heard"..... "Or something like"..... and then Rick wails out a blues harmonica riff..... "now we don't need no damn words"..... he truly believes he made his point - through the blues. Now I know what I'm doing wrong, I need to learn an instrument to get through to the Blewzzlady. Musically, along with the excellent guitar and harp highlights, this swinging track features Nick and Greg in a strong rhythm groove on the bass and drums, getting lot of horn help from Sheri's sax and Zack's trumpet and trombone. Additionally, although unlike Mark they do have to use words, the ladies all sound fabulous on the backing vocals.
"That's A Fact" is a tale of a broken relationship that does, in fact, have Mark experiencing severe heartaches and pain. The deep, dark vibe the band is laying down is the perfect backdrop for the songs painfully presented melancholy lyrics. The combination of Mark's emotions, and the stinging background and harmony vocals, combine to make this one of the disc's best sung songs.
So, we already know the song was made into a western movie, now think about Jimmy Dean narrating an episode of Murder She Wrote. If you've come up with something like 'Big Bad John' shaking down seedy suspects, then you've got an idea as to how this one sounds. With a soundtrack behind him that would suit most mystery movies to a tee, Mark cleverly and fictitiously dramatizes the tale of what goes on at "Nick's Place" - a joint located up at the 'Pole'.
Mark and Teresa are quite the sultry couple on a duet titled "Combination". The song tells the story of a man and woman both wanting their relationship to regain the magnetism that originally brought them together. It seems that they've gotten so out of touch with each other that they're turning all the wrong dials. On the other hand, with the emotion and sincerity they both exude, there's no doubting this one will have a happy ending as they leave no doubt in my mind that they'll eventually find the right combination to each other's heart. From the easy-going rhythm and percussion; to the smooth guitar runs; its lyrics; and the sexy vibe it emits; everything about this song is absolutely masterful.
There are many numbers of reasons why someone might think "Life Is Good". However, not many of those people may understand it if you said "Life is good when you got the blues". As a matter of fact, anyone outside of the blues community might think you're nuts. That's okay, all that matters is that we understand exactly what Mark means when he says it. Musically, the track is a very well done acoustic duo with Mark shining on the vocals and guitar, and Rick shining on harmonica. Nice job guys.
Other tracks on what, in my opinion, may be one of Mark's best releases include: The title track, "Nasty Business"; "What's For Supper"; "Everything"; and "Voodoo".
If you've not yet received a copy of Nasty Business for airplay, please contact Betsie Brown at - www.blindraccoon.com - and should you like to find out more about Mark Cameron, just go to - www.markcameronmusic.net. Remember, wherever you go and whomever you speak with, please tell them their friend, the Blewzzman, sent you.
Peter "Blewzzman" Lauro
Blues Editor @ www.Mary4Music.com
2011 Keeping The Blues Alive Award Recipient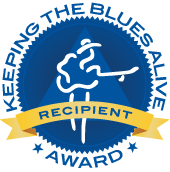 Little Freddie King
Blues Medicine
Made Wright Records
By Peter "Blewzzman" Lauro © June 2023

These words may have been being spoken long before this, but my earliest recollection of the term was back in 1972 when I first heard David Bromberg sing "You've got to suffer if you want to sing the blues" on a song so titled. As a matter of fact, if they were used before then, it wouldn't surprise if it was Little Freddie King who used them. After all, having: been shot and stabbed several times; been involved in a near fatal bike crash that pressed his spine; survived a stomach ulcer that the doctors predicted would kill him; accidentally electrocuting himself; lived through Hurricane Katrina and of course, the pandemic; Freddie's actually been living those words most of his eighty-three years.
All that said, Little Freddie King - one of the last bluesmen of his generation - appears to know that the only way to overcome all that adversity is with a heaping does of Blues Medicine, his appropriately titled ninth release. For the project, Little Freddie King - on vocals, electric and bass guitar - is joined by the disc's producer and long time band mate "Wacko" Wade Wright on drums and tambourine; Robert Louis Di Tullio, Jr. on harmonica; and Robert J. Snow, Sr. on electric bass. Additionally, special guests include: Vasti Jackson on slide guitar; Ricky Stelma on organ & piano; and Dominick Grillo on tenor sax. Of the disc's ten tracks, eight are Little Freddie and "Wacko" Wade originals/collaborations.
With blues having spread such a large umbrella over the last few decades, when I hear songs like this I can't help but wonder how many of the genres newer fans - the ones who were introduced to it by contemporary and rock blues - have never heard anything like this? The song is called "Crazy Woman" and it just doesn't get more real deal and old school than this. It features Wade (drums), Robert Loius (harmonica), Robert J. (bass), and Ricky (piano) all making their instruments sound bluesy as hell, while Freddie growls out lyrics about a mistreating woman. Isn't that how this whole blues thing started?
"Fatherless" is a duet that features a couple of McComb, Mississippi homeboys - Little Freddie on lead guitar and vocals and Vasti Jackson on slide guitar - putting on an absolutely flawless performance. Although this isn't how it happened, it sure sounds like it was recorded on a front porch back home in McComb. Lyrically, Freddie tells a truthful and heartfelt tale of the wrong path he went down after his father left. As hard as his mother tried to keep him in line, that road got much bumpier when she passed. My guess would be that may have been the era of the shootings and stabbings. Thankfully, that was long ago and here we are now, listening to a master bluesman.
"We Are Through" is as simple as it gets - guitar, drums and bass - and yet there is nothing simple sounding about it. Wade and Robert J. are locked into a deep rhythm groove and Freddie's guitar tone is right there with them. Vocally, Freddie's again using that patented gritty, baritone voice to sing about - yep, you guessed it - another mistreating woman.
Topically and musically, "Two Timer" has a lot in common with the disc's opening track - "Crazy Woman". The ensemble is identical and it's another down home, foot tappin' track with killer high end Jimmy Reed type harp blowin' from Robert Louis, and similar high end, right hand piano leads from Ricky. Of course, having me think I need to go back to the opening paragraph and add 'heart breaks' to that long list of Freddie's hardships, he's having more woman problems.
"Coke No Ice" is a laid back instrumental with a cool blend of soft jazz and slow blues. It's so laid back that I got the impression the song didn't need any producing at all. It sounded like five musicians sitting around a studio just improvising and when it was all over, because of how perfect it came out, I saw them smiling at each other from here. Instrumentally - with Freddie laying down his best guitar work; Dominick (on his only appearance) and Ricky working magic together on the sax and piano respectively; and Wade and Robert J. in their usual tight rhythm pocket - this is easily the disc's best track.
With a similar vocal and singing style, Freddie's all over this rendition of Jimmy Reed's "Caress Me Baby". Of course, if you'e gonna do a Jimmy Reed cover, it better feature some killer harmonica playing and for that, Robert Louis was indeed up to the task. Although it's Jimmy's lyrics Freddie's singing, it's a refreshing change to hear him singing about a woman he wants to love instead of loathe.
The disc closes with a hot instrumental titled "Two Wheel Cadillac" and it's indeed the most uptempo track of the lot. It's got a "What'd I Say" vibe, and similar to the way that song was led by fabulous piano playing from Ray Charles, this one's led by fabulous organ playing by Rick Stelma.
Other tracks on this wonderfully traditional blues release include: "Dust the Bible" (W. & J. Bailes); "Canal St. Corner Bar"; and "Don't Worry About Me".
If you've not yet received a copy of Blues Medicine for airplay, please email "Wacko" Wade Wright at - wackowade@yahoo.com - and should you like to find out more about Little Freddie King just go to - www.littlefreddieking.com. Remember, wherever you go and whomever you speak with, please tell them their friend the Blewzzman sent you.
Peter "Blewzzman" Lauro
Blues Editor @ www.Mary4Music.com
2011 Keeping The Blues Alive Award Recipient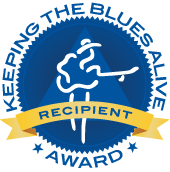 Mark Telesca
Brand New Day
Mosher Street Records
By Peter "Blewzzman" Lauro © June 2023

Without getting into his personal life, I'm just going to say that Brand New Day, Mark Telesca's new release, could not have been more appropriately titled. Those of us who know him well, and we are many, know exactly what I'm talking about.
When Mark - on vocals and guitars - was putting the band together for this project, he didn't just assemble some of the best players on each of their respective instruments, he assembled some of his best friends as well. Those maestros are: Grammy and Blues Music Award winner Jason Ricci on harmonica; Blues Music Award winner Jimmy Carpenter on saxophone; Blues Music Award nominee and International Blues Challenge winner JP Soars on guitar; master keyboardist Bob Taylor on piano and organ; the very versatile Dave Bertok on drums; and Marc Loren, the disc's co-producer, on background vocals. Of the disc's eleven tracks, eight are Mark Telesca originals.
The opening track - "Big Feet" - kicks off with Jason being typical Jason by blowing the hell out of a harp while being backed by a thunderous rhythm from Mark on the bass and Dave on the drums. From that moment on, this rhythm fueled smoker never relents. Lyrically, I get the feeling this song was written out of a real-life experience and if I'm correct, I wouldn't want to be that big footed person. That said, the word "feet" happens to be a clever metaphor and its use ingeniously melds humor and sarcasm. To get an idea of what the song actually addresses, think Pinocchio.
On the soulful "Never Can Tell", Mark shares some of his thoughts about having had some unfortunate down time. Wearing his heart on his sleeve - the heart he's singing out - his words on the opening verse explain a lot:
"I got my guitar, and I'm going down to the club;
Maybe I'll play some music, maybe I'll find some love.
You know I've been sitting too long, in this old rockin' chair;
It's time I get up and get back to work, you know I ain't no millionaire.
I can't help to think to myself, I'm stuck somewhere between heaven and hell':
You never can tell, oh you never can tell."

Being one of those songs that was written from the heart and tells such a warm and truthful story, the lyrics just need to be shared. That said, showing love for his friends that did just that for him, Mark shares these thoughts:
"I've got these people, yeah they're good friends of mine;
They call me every once in a while, to make sure I ain't left behind.
I always tell them I'm gonna be okay;
See, I don't want to make nobody to worry, even if I have a bad day.
I can't help to think to myself, I'm stuck somewhere between heaven and hell':
You never can tell, oh you never can tell."

Yes, there are more, but you're just going to have to listen for yourself. Musically, Jimmy brings a lot of soul to the mix with his poignant sax runs; and the coming together of the background vocals, the tambourine and the impromptu hand claps magically become the cherry on the top of the ice cream.
While Mark is masterfully muffling his vocals on this outstanding rendition of "Burning Hell" (John Lee Hooker), the bands making some fire of their own. This foot stompin', hand clappin', barn burner features Dave's most profound drum pounding; Jason administering his patented havoc on a harmonica; and JP, arguably the best guitarist in the business, scorching the hell out of the slide guitar runs.
Although it's one of Mark's originals, "The Way You Move" sounds like a song The Band, The Mavericks, or a dozen other Americana bands could have had a hit with. It's one of those songs that features a handful of stellar musicians, not doing anything extraordinary other than mastering their individual instruments. Tracks like this are what allow a vocalist to shine, and shine is what Mark did.
"Rain On Me" is a similar type of song but because of a few fantastic harmonica riffs from Jason, it does have a bit of a bluesier edge. Once again, it's a rhythm rich track led by brilliant organ work from Bob, with Mark and Dave proving to be quite the formidable duo on the bass and drums.
Thinking it was odd to close with the title track, my mind completely changed once I heard it. This is why I only write about recordings and don't produce them. I hope it's okay for me to take the liberty to say this, but this beautiful, uplifting song was obviously inspired by, written for, and is being sung to Mark's wonderful, beautiful and inspirational wife Karene. It is indeed a "Brand New Day" for them both.....with lots more ahead.
Other tracks on this dynamite disc include: "I Pray For You"; "Mrs. Robinson" (Paul Simon); "Higher Ground" (Stevland Morris, a.k.a. Stevie Wonder); "Like A Fool"; and "Ain't Never Gonna Be The Same".
On a personal note, I'd like to say that it's always great to listen to and write about quality music, by quality musicians, but when those quality musicians are your friends, it becomes something special.
If you need a copy of Brand New Day, please contact Mark Telesca through his website - www.marktelesca.com - and when you do, please tell him his friend the Blewzzman sent you.
Peter "Blewzzman" Lauro
Blues Editor @ www.Mary4Music.com
2011 Keeping The Blues Alive Award Recipient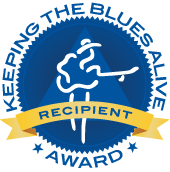 Click Here To Return To The CD Review Index
Click Here For The Blues Portal
Click Here For The Indie Portal
Click Here To Visit Our Music Gift Shop


---
Want your CD reviewed?
Click HERE to email us for information.






*All logos and trademarks in this site are property of their respective owner.
Additional content © 1998-2023 Mary4Music.com. All Rights Reserved.