Blues CD Reviews 85


Frank Bey
"All My Dues Are Paid"
Nola Blue Records
Publicity: Blind Raccoon
By Peter "Blewzzman" Lauro © Dec. 2019

From time to time, I read such a compelling statement on a one sheet or jacket liner notes that necessitates a need to share it. This is one of those times and here is that statement: "In a time when American Idol-type vocal gymnastics too often pass for soul, Frank Bey is a perfect reminder of what soul singing is really all about: communication, warmth and emotional sincerity." Rick Estrin.
"All My Dues Are Paid" - quite a matter of fact title - is Frank Bey's sixth release and it's his second on the Nola Blue Label. The thirteen track disc was produced and co-produced by Kid Andersen and Rick Estrin and was recorded at Kid's Greaseland Studio - a place where some of the best musicians in the business have been known to hang out. During these sessions those who were hanging out to back up Frank's lead vocals included: Jim Pugh on organ, piano, Rhodes and Wurlitzer; Eric Spaulding and Nancy Wright on tenor sax; Jack Sanford on baritone and tenor sax; Rick Feliciano on trombone; John Halbleib on trumpet; Alex Peterson, Derrick "D'mar" Martin and Paul Revelli on drums; Jerry Jemmott on bass; Paul Olguin on lead bass guitar; Martin Windstad on percussion and congas; Kid Andersen on guitar, baritone guitar, vocals, percussion, organ and Wurlitzer; Vicki Randle on congas and percussion; Don Dally and Kimberly Kistler on strings; Lorenzo Farrell on organ and Wurlitzer; Aki Kumar and June Core on handclaps; and Lisa Leuschner Andersen, Willie Walker, Rick Estrin, D'Mar, Loralee Christensen and Dennis, Walter and Dwayne Morgan - collectively known as The Sons Of the Soul Revivers on vocals......Phew! That was tough and I hope I got 'em all.
Until now, when it came to making a statement with an album title, I always thought that the loudest ever made was by Willie Dixon with "I Am The Blues" (1970). That said, Frank Bey declaring "All My Dues Are Paid" also packs quite the punch. On the title track - which he collaborated on with K. Murray, R. Estrin and K. Andersen - Frank tells of the days of being black and poor while living in the south; along with being used, abused and played by friends who were nothing more than parasites and snakes. Through it all, and later medical issues as well, Frank always kept on pushing and although no one else did - he knew that there was no way to stop Frank Bey. With several bass's, several horns and several percussionists teaming up, the rhythm groove is relentless, and with super background support from the ladies, Frank's singing it just like he lived it. Song of the year credentials are all over this one.
Since it's been forty years ago that George Jones had a monster hit with "He Stopped Loving Her Today" (B. Braddock/C. Putnam), Frank Bey's version has me thinking that if Nola Blue Records sent it to country radio, lightning could very well strike twice. After all, the song constantly pops up on surveys as one of the greatest country songs of all times and - with the heart and soul Frank's putting into it - I'm loving the idea. The sullen rhythm groove Jim, Jerry and Alex are in; the heavenly sounding strings of Don and Kimberly: andLisa's angelic humming are all perfect accompaniments for the songs melancholy mood.
It may be a Nightcats song but Kid and Rick hit the nail on the head giving it to Frank to sing. He's not only singing "I'll Bet I Never Cross Your Mind" (R. Estrin) like he wrote it, but like he lived it and knows exactly who he's singing it to, as well. Needing to recall what the original version sounded like I just took a quick visit to YouTube and came to the conclusion that although quite similar, I'm liking the feel Jim adds with the organ vs a piano and the sultriness Nancy added with her style on the sax. Great track.
He's sung blues, he's sung soul, he's sung country and now, on this big band style track, Frank Bey's singing some jump jazz. Although I'm not suggesting it (:>), it wouldn't surprise me if Frank could rap as well. With some of the disc's most smoking rhythm by a double dose of the Pauls on bass and drums and Lorenzo on keys; Jack, Eric and John nailing the horn arrangements; and Kid killing it on the guitar; "Never No More" (P. Mayfield/D. Malone) is indeed the dance floor filler.
How can a song with relatively sad lyrics sound so wonderful and uplifting? Just give a listen to Frank singing "If It's Really Got To Be This Way" (A. Alexander/D. Fitts/ G. Nicholson) and you'll know exactly how. On the only track with just a four piece band behind him, Frank Bey absolutely shines on this beautifully done vocal presentation.
Every time I hear this song, I can't "Imagine" (J. Lennon) ever hearing a more enlightening song with such hopeful lyrics. With his more powerful, more soulful and more heartfelt rendition, Frank - and this amazing group of musicians performing it with him - take the song to a whole other level.
Other incredibly done tracks on "All My Dues Are Paid" include: "Idle Hands" (R. Biancol/M. Kane); "One Of These Days" (W. Troinai/H. Hoye); "Calling All Fools" (R. Estrin); "It's A Pleasure" and "One Thing Every Day" ( M. H. Schermer); "Ha Ha In The Daytime" (P. Mayfield); and "Perfect Day" (L. Reed).
My track record when making statements like I'm about to make is quite respectable. That said, with a handful of past BMA winners involved on this project, don't be surprised should you see Sallie Bengtson walking to the stage to pick up Nola Blue's first Blues Music Award come May. Remember where you heard it!
Although this legendary artist is very well known to most of you, should you like to learn more about Frank Bey just go to www.frankbeymusic.com. Also, should you have not yet received your airplay copy of the album that Frank Bey is calling "one of the best I have ever recorded", please contact Betsie Brown at www.blindraccoon.com. Remember, wherever you go and whoever you contact, please let them know the Blewzzman sent you.


Peter "Blewzzman" Lauro
Blues Editor @ www.Mary4Music.com
2011 Keeping The Blues Alive Award Recipient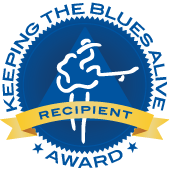 Click Here To Return To The CD Review Index
Click Here For The Blues Portal
Click Here For The Indie Portal
Click Here To Visit Our Music Gift Shop


---
Want your CD reviewed?
Click HERE to email us for information.






*All logos and trademarks in this site are property of their respective owner.
Additional content © 1998-2022 Mary4Music.com. All Rights Reserved.