Blues CD Reviews 84


Vaneese Thomas
"Down Yonder"
Segue Records
Publicity: Blind Raccoon
By Peter "Blewzzman" Lauro © September 2019

Although I reviewed Vaneese Thomas's last CD and have had the pleasure of working with her on a music showcase in Memphis, until reading the one-sheet accompanying this disc, I was totally unaware of her film and television accomplishments. That makes it understandable why some of the many musicians appearing on "Down Yonder" - her eighth release - are currently enjoying success in that arena, as well.
Joining Vaneese - the projects co-producer and writer/co-writer of its twelve tracks - on lead and background vocals are: Shawn Pelton on drums and percussion; Paul Adamy, Conrad Korsch and Will Lee on bass; Al Arlo on acoustic and electric guitars; Vaneese's hubby and disc's co-producer, Wayne Warnecke on dobro and percussion; Tash Neal on dobro and electric guitar; Robbie Kondor on keyboards and organ; Charles Hodges and Paul Mariconda on organ; Marc Franklin on trumpet; Tim Ouimette on trumpet and flugelhorn; Lannie McMillian and Ken Geoffree on tenor saxophone; Kirk Smothers and Rick Kriska on baritone saxophone; Katie Jacoby on violin; sister Carla Thomas and Berneta Miles on background vocals; and Kevin Bacon on lead vocals.
Feeling as if the failing relationship is somehow her fault, the pain Vaneese is experiencing is quite evident on "I Tried". Although Vaneese may have never actually lived through this anguish, hearing her sing this one will have you betting she has. If there was ever a time where a vocalist was in character, it's right here. Everything about this song is perfect: the sullen rhythm groove Shawn and Paul are laying down; The delicate yet stinging guitar notes Al slips in at just the right times; The soul of Marc, Lannie and Kirk's horns; and of course, with extreme emotion and unbelievable range and tone, the virtual singing lesson that Vaneese is putting on. Too early for best track compliments? I think not!
Still in that guilty frame of mind, this track finds Vaneese traveling down the "Highway Of Regret" - where there is no doubt in my mind that traffic is quite heavy. With this being Katie Jacoby's only appearance on the violin, that alone makes this one worthy of mention. With a simpler music groove going on, Katie adds a bit of country soul to the track.
Having been mistreated too many times before, it's time for Vaneese to now come with instructions: "Handle Me Genty". This slow blues ballad starts off with her somewhat asking it softy but eventually leads up to it becoming a firm demand - "handle me gently, handle me slow!" - with that exclamation added for emphasis. This one features outstanding blues guitar by Al and beautiful tandem work on the keyboards by Robbie on the piano and Charles on the organ.
This track centers around some so-called "cold cases" - particularly some unsolved murders that took place in Mississippi and still remain a mystery today. It's a duet that features Kevin Bacon joining Vaneese in sending out the message that it's time to break the chain of this "Legacy Of Pain". Although aware of his music endeavors, this is my first - and I must say very impressive - exposure to Kevin's vocal abilities.
Now if you were to Google search "classic, old school Memphis Soul", although it should, I'm one hundred percent sure that a link to this track would not come up. That said, I do believe I just made my point. "Last Kiss" truly does define classic old school Memphis Soul.
The title track, finds Vaneese feeling wonderfully peaceful as she comes full circle by heading back home, "Down Yonder". This Gospel style song - with its well-sung lead and harmony backing vocals and uplifting lyrics - was a beautiful way to close the album. Helping out nicely was some fine acoustic and lead guitar performances by Al and Tash and an excellent piano performance by Robbie.
Other tracks on this most excellent album include: "Ebony Man"; "Wake Me"; "Second Chance"; "Mama He Loves Me"; "Lies"; and "Gone".
Somehow, with many Blues Music Award nominations, Vaneese has yet to step into the winner's circle. Yes, it is indeed a crowded field of deserving talent, but yes indeed I do believe that "Down Yonder" just might be the vehicle to deliver the gold.
To find out more about the Vaneese Thomas and her newest release - "Down Yonder", just go to www.vaneesethomas.com. Also, should you have not yet received your copy for airplay, please contact Betsie Brown at www.blindraccoon.com. Remember, wherever you go and whoever you contact, please let them know the Blewzzman sent you.


Peter "Blewzzman" Lauro
Blues Editor @ www.Mary4Music.com
2011 Keeping The Blues Alive Award Recipient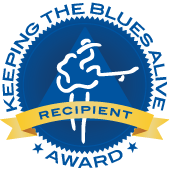 Click Here To Return To The CD Review Index
Click Here For The Blues Portal
Click Here For The Indie Portal
Click Here To Visit Our Music Gift Shop


---
Want your CD reviewed?
Click HERE to email us for information.






*All logos and trademarks in this site are property of their respective owner.
Additional content © 1998-2022 Mary4Music.com. All Rights Reserved.