Blues CD Reviews 81


Dee Miller Band
"Leopard Print Dress"
Self Released
Publicity: Blind Raccoon
By Peter "Blewzzman" Lauro © January 2019

"Leopard Print Dress" is the third release from The Dee Miller Band. The band is based out of Minnesota and unless you're from there, or attend the International Blues Challenge on a regular basis, you may not be aware of how supportive Minnesotans are of the blues. Considering the state ranks somewhere around number twenty in the population charts, it's my opinion there isn't any other state that has more fans in Memphis during the event. If you don't believe me just be at the top of Beale Street at 3:00 PM on IBC Friday and you'll see. That's where the masses...and I do mean masses... of the Minnesota Blues Society gather for their annual IBC photo. Speaking of that, The Dee Miller Band will be competing at this year's event as the representative of that very society.
The Dee Miller Bands consists of: Dee Miller - The Duchess of the Blues - on vocals; Craig Clark on vocals and guitar; Eric Meyer on bass and vocals; Jesse Mueller on keyboard and Mike DuBois on drums. Additional musicians on the project include: Toby Marshall on Hammond organ; John Pinckaers on piano; Paul Mayasich on steel slide guitar; Steve Clarke on tenor sax; Kevin Nord on screech trumpet, tenor sax, trumpet and trombone: Steve "Boom Boom" Vonderharr on blues harp; Dylan Saifer on slide guitar; and John Wright on tambourine; Covering several style of blues, the album contains two originals mixed in with eight very interestingly done covers.
One sure way to get "Hot And Sweaty" is to head to a crowded dance floor and uncontrollably shake your booty to some sizzling music. This is that sizzling music! This original track features everything you need to get moving: hot and sweaty rhythm with some wild organ and piano leads and a powerfully infectious chorus line in which Dee encourages everyone with "Let's get hot and sweaty, c'mon baby get ready". Great way to open up.
Showing the bands versatility, Dee and the guys took The Eagles' "Take It To The Limit" (Henley/Meisner/Frey) and totally turned it into a hymn. With John Pinckaers' absolutely beautiful piano performance leading the peaceful rhythm mood, it's the vocals that shine on this one. With admirable supporting and background vocals going on with and behind her, Dee puts on an impeccable display of range as she absolutely belts this one out of the park.
The original and title track - "Leopard Print Dress" is another one you could easily get hot and sweaty to. Lyrically, this smoker is pretty much a self-promo for what you can expect at a Dee Miller show. It starts off with Craig setting it up with...
"Well she walked into the club, people were all in a rage.
There she was, like a wildcat out of the cage.
She had the joint jumping, my heart beating out of my chest,
Everybody loves the lady in the leopard print dress." Then Dee takes over from there with...
"Well they call me the Duchess, I'm shootin' straight from the hip.
When I take the stage you know it's gonna be a number one hit.
I'm belting out the blues, you know I do my best,
I said they call me the Duchess, I'm the lady in the leopard print dress."
And right there is a big reason why I will have the Dee Miller Band circled in my IBC program.

This track credits Kelly Hunt as the composer but there are other songs out there with the same, or very similar names, that were written by others. That said, I will tell you this is NOT your Gene Autry version of "Back In The Saddle". That horse of his couldn't run fast enough to keep up this pace. After one hell of a boogie woogie piano intro by Jesse Mueller, Dee belts out the very sound advice of "Snap on your seat belt and hold on tight, we're gonna go for a ride tonight" - and once the horns kick in and set the rhythm on fire, there's no looking back.
One of the first bands I started following after moving to Florida nearly forty years ago was Junior Drinkwater and the Thirst Quenchers". Junior's rendition of "Last Two Dollars" was one that forever makes me think of him whenever I hear the song. With a powerful and soulful voice very similar to Juniors, after hearing Craig belt out his version of the song I've got to thank for him for not only killing it but for reminding me of my old friend and putting a big smile on my face as well.
Perhaps the most beautifully done track of the bunch is "Midnight In Harlem" (M. Mattison/D. Trucks). It's one of those stop what you're doing, sit back, relax, focus completely on the music and just allow it to work its magic on you kind of ballad. Everything about this song from the heavenly vocals of Dee and the background singers as well; to Boom Boom's velvety harp leads; to the soothing rhythm; to the faint tambourine in the background; is mesmeric.
Other tracks on this dynamite disc include: "Strongest Weakness" (B. Bramlett/G. Nicholson), "I Sing The Blues" (E. Bridgeman/P. Wooten), "Black Cat Bone" (K. C. Douglas/A. Collins) and "Steppin'" (B. & R. Carruthers).
I know that a lot of the musicians I heard on this disc will not be a part of Dee's IBC ensemble but with that said, if whomever she brings bangs out anything like I just heard here, I know they'll be going deep into the competition.
To find out more about Dee Miller please go to www.deemillerband.com, and if you've not yet received a copy for airplay please contact Betsie Brown at www.blindraccoon.com. Regardless of whom you contact, please tell them the Blewzzman sent you.


Peter "Blewzzman" Lauro
Blues Editor @ www.Mary4Music.com
2011 Keeping The Blues Alive Award Recipient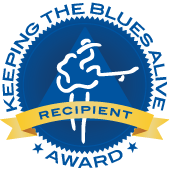 Deuce 'n a Quarter
"Rear View Mirror"
225 Entertainment
By Peter "Blewzzman" Lauro © January 2019

I know I've said this before but one of my biggest rewards of doing these reviews is the fact that I get to hear so much good music, from so many local/regional bands, that a large percentage of blues lovers may never get to hear. Another one of those rewards is the fact that I can hopefully do something about that by spreading the word to as many of those blues lovers that I possibly can. One of those bands is Deuce 'n a Quarter from Ohio and their new CD is titled "Rear View Mirror".
Deuce 'n a Quarter - who's name is derived from the 1959 Buick Electra - have only been together for four years and in that short time they've assembled quite an impressive resume: In just a few weeks they will be heading to Memphis as the Columbus Blues Alliance's representatives at the International Blues Challenge for the second time in those four years; Their 2015 release - "Take The Journey" - received the "Best Blues CD" award at the Ohio Music Awards; and this, their third release, also received the "Best Blues CD' award at the Ohio Music Awards in 2018. Just like that Buick Electra, this band knows how to roll.
Deuce 'n a Quarter are: Brian Peters on vocals and harmonica; Jeffrey Allen on lead and rhythm guitar; John Sipher on keyboards; Andre Scott on drums; and Ron Holmes on bass. Additional musicians on the project include: Mike Roberts on saxophone; John Hill on trumpet; Holly Moretti and John Henry Hill on background vocals; and Brian Skeel on bass. "Rear View Mirror" consists of twelve tracks of which nine are Brian Peters and J. A. Denune originals.
Can you imagine going into a bank and asking for four quarters and the teller saying "here ya go, that will be three dollars, please." Although that actually won't happen, those constantly struggling to make ends meet will get the point Brian is making on "Dollar Cost Three". With it's troubling lyrics so painfully and realistically sung; it's melancholic mood set by the somber rhythm; and it's harrowing harmonica leads; this is the consummate slow blues song.
Since his passing, the number of bands that have released a CD with a song paying tribute to the late and legendary B. B. King is in itself a tribute to the King of the Blues. "One Note" is Deuce 'n a Quarter's contribution to the cause. With Brian powerfully belting out the homage paying lyrics, the song features what you'd expect from a song B. B. himself would do - enthusiastic rhythm, powerful and soulful horns and stinging guitar licks.
"Mississippi Phantom" may musically be the disc's best track. Andre and Ron are smokin' it on the drums and bass; Jeffrey's mesmerizing guitar licks are as good as it gets; and Brian is belting the hell out of the vocals, and blowing the hell out of the harp. Treat yourself by turning up the volume and hitting replay a few times.
Those of us who have had to cope with weather related disasters are all too familiar with the term "Riding Out The Storm". But just like Brian says, "The thing about storms is they have a short life, the sun will come up and you'll get on with your life." Although it may take longer for some than others, that's exactly what happens. The tracks thunderous rhythm could not have been more perfect.
Speaking of thunder, Deuce 'n a Quarter do such an amazing job on "Thunder Rolls" (P. Agler/G. Brooks) that it wasn't till near the end of this seven-and-a-half minute song when I realized I was listening to a cover of a Garth Brooks hit. The guys turned the song into a slow blues number that featured a completely mellowing rhythm led by a masterful display of finesse from John on the piano keys, delicate yet deliberate blues guitar leads, and emotionally charged vocals. This is the ultimate definition of making a cover song your own.
A rocker titled "She Kissed Me" has the feel of a Chuck Berry/Jerry Lee Lewis hybrid. John's tickling the hell out of those high note ivories, Jeffrey's teasing us with stringing along some of those one note guitar chords that are so reminiscent of Chuck, Brian's belting out some good ol rock 'n' roll, and Andre and Ron giving the track that fill the dance floor beat. Oh yeah!
Other tracks on "Rear View Mirror" include the title track - "Rear View Mirror" (Abrahamson/Purcell), "Going Down," "Glad It's You," "Hey Babe," "Chasing Time" and an extended version of "One Note."
To get your hands on a copy of this excellent album, and to learn a lot more about Deuce'n a Quarter, simply go to www.deucenaquarter.com. When you do, please tell them that the Blewzzman sent you and that they can bet on seeing me at their IBC performance in two weeks in Memphis.


Peter "Blewzzman" Lauro
Blues Editor @ www.Mary4Music.com
2011 Keeping The Blues Alive Award Recipient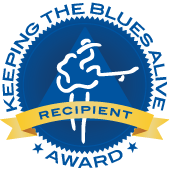 Earl & The Agitators All Star Band
Featuring Scott Holt
"Shaken & Stirred"
Foghat Records
By Peter "Blewzzman" Lauro © December 2018

"Shaken & Stirred" is the second release from the Foghat spin off band known as Earl & The Agitators. The band - which was born out a passion for rock, blues and country music - consists of: Foghat founding member Roger Earl on drums; Foghat alumni Bryan Bassett on lead, slide and bass guitars, Craig MacGregor on bass and Rodney Quinn on bass and vocals; ten year Buddy Guy alum Scott Holt on lead guitar and vocals; Tony Bullard on guitar; and Mark Petrocelli on percussion.
"Shaken & Stirred" contains eighteen tracks totaling nearly eighty minutes of smokin' music. Of them, six are band originals and five are bonus tracks recorded live at Club Arcada in St. Charles, IL. According to the band, the recipe used in the creation of their music involves taking some old Chess and Sun Records 45's and tossing them into a blender with a dollop of thundering drums, thumping bass and searing electric guitars. Now you know what you're in for.
The disc opens with "Upside Of Lonely" (Hambridge/Nicholson/Thackery), one of the very few songs ever recorded that attempt to make being lonely a good thing. The song uses a list of mostly lame but somewhat humorous situations that can now take place in your life since being dumped by your lady. They include: always having ESPN on and being able to watch the game all day; eating pizza three times a day and never having to watch your weight; never having to hear from a mother-in-law; being able to drop dirty clothes on the floor and letting the trash pile up outside the door; and of course, that all important ability to now smoke a big ol' cigar in the living room. All envious things indeed. Musically, It's a shuffle that features Roger and Craig in a strong rhythm groove, and Scott - doing another of the things that being lonely affords him to do more of - play smokin' guitar leads any time he dam well likes.
On an original track that asks the question "Where's the Rock n' Roll?" the answer is easily quite evident - RIGHT HERE! This one's six minutes of what put Foghat on the music map in the first place - very hard driving rhythm, seriously smoking slide guitar and profound vocals. Oh yeah, your rock n' roll is right here baby.
Bordering on a ballad and being a bit more into the slow blues arena than the rest of the tracks, "Love Isn't Kind" - another of the originals - is one of my personal favorites. Unlike the upside of lonely, this one's all about the downside of love. "It will break your heart and laugh while it dies; it feeds on the pain and on the tears in your eyes. It will twist you up and break you inside; it feeds on your tears and the sound of your cries." are just a few of love's sometimes vicious characteristics. Wearing his heart on his sleeve and his sorrow so evident, Scott owns this one. Musically, there are several extended guitar stand outs that, by my taste, are some of the best on the disc.
By far, the original "Honey Do List" is the funkiest track of the bunch. From the short opening drum solo quickly followed by some heavy bass lines, Roger and Craig are all over this one. Definitely one for the mover and shakers.
Staying in the rhythm driven mode is a track titled "Runaway Tra......opps, excuse me - the music took over my thoughts.....it's actually "Lonesome Train" (Burnette/Burnett/Moore/Suotsky). Think of a steam engine with four men vehemently shoveling coal into the fire.
Before hearing "Sunday Morning Coming Down" (K. Kristofferson), if you had told me that I'd be hearing this group of rockers doing a country song I'd probably have my doubts about that. That said, they didn't just do it - they nailed it. From the vocals, to the slide guitar and right down to that get-a-long-little-doggies type rhythm, these Johnny Cash loving rockers were all over this one. Can Earl and the Agitators playin' the Grand Ole Opry be far away? Probably very far but on the other hand, from what I just heard, I wouldn't rule out a full tilt country album.
There's probably not a boomer aged TV fan out there that doesn't remember the "Peter Gunn Theme" (H. Mancini) but I promise you this - from the original, right through all it's covers , even Emerson, Lake and Palmer's masterpiece - you'll never hear a more aggressive version than this. On this seven-and-a-half minute live version, the horns, keyboards and synthesizers have been laid to rest and the rhythm, percussion and guitars have been cranked up several notches. WOW!
Other tracks on "Shaken & Stirred" that are literally shaken and stirred include: three other originals titled "I'm Coming Home," "Fallen Angel" and "All Because Of You"; "Guess Things Happen That Way" (J. H. Clement); "High Heal Sneakers" (R. Higginbothom); "Linda Lu" (R. Sharp); "Gone Dead Train" (Nitzsche/Titelman); "Love Me Love You Baby" (W. Dixon); "Shakey Ground" (Hazel/Bowen/Boyd), "Wild Horses" (Jagger/Richards); and "Knock On Wood" (Cropper/Floyd).
With the 2019 Blues Music Awards nominees about to be announced on January 9th, I'm thinking I just reviewed one of the nominations for the "Best Rock/Blues Album" category. If I'm correct, it's got my vote.
Www.earlandtheagitators.com is where you now need go to get your hands on a copy of "Shaken & Stirred" and to find out more about the band. When you do, Please tell the guys - and Linda Too - that the Blewzzman sent you.


Peter "Blewzzman" Lauro
Blues Editor @ www.Mary4Music.com
2011 Keeping The Blues Alive Award Recipient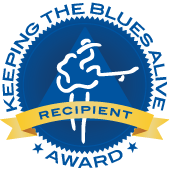 Bobby BlackHat
"Put On Your Red Shoes"
Bobby BlackHat Productions
By Peter "Blewzzman" Lauro © December 2018

"Put On Your Red Shoes" is Bobby BlackHat's sixth release and I am honored to say that I have reviewed every one of them. As a matter of fact, Bobby is so much a part of Mary4Music that when you go to our website and search his name, it almost comes up as much as when you search mine. Since 2006, in addition to reviewing a CD of his on an average of every two years, Bobby has also had a song on three of our "Mary4Music Presents: Keeping the Blues Alive" compilation discs and he's been the recipient of two "Blewzzy Awards".
The premise of "Put On Your Red Shoes" is: "something old; something new; something borrowed; and something blues." That said, of the disc's twelve tracks: some of the ten originals are from previous releases; the rest of the ten originals are newly written tracks for this project; two of the tracks are covers; and all of them are something very blues.
The Bobby BlackHat Band is: Bobby BlackHat Walters on harp, vocals and percussion; Brian Eubanks on bass and background vocals; Tom Euler on guitar and background vocals; Michael Belmar on drums and background vocals; and Lucy Lawrence Kirkpatrick on keyboards. Special guests include: Cal Hamlin on organ and background vocals; Larry Berwald on guitar and pedal steel; and Lucius Bennett III as a featured and background vocalist.
More often than not, It's just about impossible for a listener to know if an artist's original songs were written from a true life experience or if they're purely mythical. On the other hand, knowing Mrs. BlackHat as well as I do, you can take it to the bank that the disc's opening track, "I Smell Another Man On You," is indeed mythical. Right from the opening exchange of blues licks coming out of Bobby's harp and Tom's guitar, this nearly six minute track is loaded with the blues - especially during the two-and-a-half minute mid song tirade that Larry, Lucy and Bobby respectively release on their slide guitar, piano and harp leads. Then there's Bobby, and that patented Baritone voice of his, crooning out the disc's melancholy lyrics and yessiree, this is something blues.
Grey hair has forever been symbolic of wisdom. As a matter of fact, in just about every one of the many versions/translations/editions of the bible, proverbs like "Gray hair is a glorious crown; it is found in the ways of righteousness." can be found. Even Bobby BlackHat's a believer. As he tells it......
"This Grey Beard" I've earned throughout my life;
oh the stories it can tell, happiness, joy, pain and strife.
This grey beard, this grey beard, this grey beard of mine."
Everything about this song is absolutely beautiful: the heartwarming and sometimes humorous lyrics; Bobby's sincere and heartfelt vocals; and Larry and Tom's fabulous acoustic guitar duet. Excellent performance and production.
I've seen and heard Bobby perform "Put On Your Red Shoes" many, many times and each and every one of those times, the excitement those red shoes create has always been evident in Bobby's voice. That said, on the verse that Lucius is featured on, he takes the excitement to a whole other level. Damn guys, I gotta get the Blewzzlady a pair of them red shoes.
Admittedly - yet not necessarily proud - it's been a while since I've been to a Sunday mass. With that said, during all the years that I was a church goer, I don't ever remember a harmonica being a part of the choir. This instrumental rendition of Leonard Cohen's "Hallelujah" is now making me wonder why. With a delicate and heavenly rhythm and acoustic guitar performance in the background, Bobby takes us to church with what is by far the most hymnal like performance these ears have ever heard from a harmonica player. Bobby, take a bow my friend.
Waking up in the morning and seeing the "Grim Reaper" looking down at you is not a good sign. Inasmuch as the story being told here is heavyhearted, it's presentation is applaudable. Bobby's voice and singing style are so suited for these type of songs and he flat out nails it on this one. Additionally, the eerie rhythm created a perfectly bleak and sinister mood and the chilling harp and guitar leads totally gave this track it's life.....or should I say death?
I just love it when I hear an album from a harmonica player that features a song from one of my all-time favorite harmonica players - Jimmy Reed. On "You Got Me Running", Bobby not only does justice to the harp leads but he's also killing with his up-tempo vocals. The track also features an outstanding organ performance from Cal and a guitar standout that is some of Tom's best work.
So earlier in this review I said something to the affect that I was 100% sure that the particular song I was discussing was mythical. Now I'm telling you that I'm 100% sure that this song is about a true life experience. On what I feel has become Bobby's anthem, I do believe him when he says "'I Hear Mama's Voice', she talks to me every day. Although mama's dead and gone she still has a lot to say." Of course it's symbolical, but it's a testament to the inspirational woman she was and the righteous characteristics she instilled in her son. Musically, it's as captivating as it is vocally and lyrically. Good job everyone and you too Mama BlackHat.
Other tracks on another stellar release by Bobby BlackHat include: "Overdose Of The Blues".....(which we all no there is no such thing), "Baby Mama Drama Blues," "May I Have This Dance?" "Back To Cleveland" and "When I Cry It's Ugly."
For more about my dear friend Bobby BlackHat - and to get a copy of "Put On Your Red Shoes" - just go to www.bobbyblackhat.com. Of course, he'll know the Blewzzman sent you but tell him anyway. Thanks.


Peter "Blewzzman" Lauro
Blues Editor @ www.Mary4Music.com
2011 Keeping The Blues Alive Award Recipient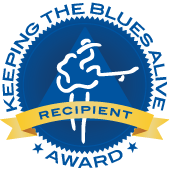 Click Here To Return To The CD Review Index
Click Here For The Blues Portal
Click Here For The Indie Portal
Click Here To Visit Our Music Gift Shop


---
Want your CD reviewed?
Click HERE to email us for information.






*All logos and trademarks in this site are property of their respective owner.
Additional content © 1998-2020 Mary4Music.com. All Rights Reserved.