Blues CD Reviews 78



J. P. Soars
"Southbound I-95"
Soars High Productions
By Peter "Blewzzman" Lauro © July 2018
It's always a thrill when I get to do a review of a CD that's not only excellent but it happens to be a CD from a very good friend as well. Living in South Florida for as long as I have, I've had the pleasure of having a long time friendship with J. P. and seeing his live shows more times than I can count - both as J. P. Soars and the Red Hots and as a member of Southern Hospitality.
On "Southbound I-95", his fourth release, J. P. - on vocals; electric guitar; acoustic guitar; slide guitar; two string cigar box guitar; viloa caipira - which is a Portugese folk guitar, and bass; is joined by seventeen outstanding artists of which many should be quite familiar names. They are: his long time friend and band mate, Chris Peet on drums, percussion, electric and upright bass; Travis Colby on organ, piano and Rhodes electric piano; Teresa James on background vocals; Jason Newsted and Greg Morency on bass; Lee Oskar on harmonica; Jimmy Thackery and Albert Castiglia on guitar; Paul DesLauries on slide guitar; Reza Filsoofi on setar, daf and tomback drums; Sam Harrison, Oscar Santiago and Jeremy Staska on percussion; Terry Hanck and Sax Gordon on tenor saxophone; Tino Barker on baritone saxophone; and Scott Ankrom on tenor and baritone saxophone and trumpet. That all adds up to a lot of performers, using a lot of instruments and creating a lot of good music.
Along with an Albert King and a McKinley Morganfield cover, "Southbound I-95" contains a very impressive thirteen J. P. Soars originals. Now let's go listen to some.
Pretty much everyone who spends a lot of time on the road will eventually come down with a case of homesickness and on the opening track - "Ain't No Dania Beach" - J. P.'s got the bug.....big time. I know for a fact that one of his favorite ways to spend a day off is relaxing while searching for shark's teeth on the beach - yep, Dania Beach! As he tells it, now matter how good he has it while away, "it ain't no Dania Beach". Adding Paul DesLauries' slide guitar to J. P.'s masterful play, plus a four man rhythm and percussion section, ya gotta know this is a good one.
If you've ever driven I-95 in Florida, no matter which direction you go, you'd better be going fast because the cars behind you sure as hell will be. As a matter of fact, as crazy as it may sound, the faster you go the safer you just might be. On this particular trip J. P. is heading "Southbound - I-95" and he's flat out flying. That said, so's the track. Chris Peet and Jason Newsted (Metallica) have the rhythm in overdrive; there's a tsunami pushing the surf groove J. P.'s laying down on guitar; and his anxious vocals make it quite clear there's a sense of urgency going on. A no holds barred smoker for sure.
"Shining Through The Dark" is the only track that features multi Blues Music Award Winner Terry Hanck on the sax and for that reason alone (but there are others too) it's worthy of mention. Being good friends, and pretty much neighbors, Terry and J. P. play often and quite well together. It's a catchy, danceable number that features soulful vocals from J. P., very melodious backup and harmony vocals from Teresa James, smooth rhythm from Chris Peet on both the bass and drums, and Terry laying down some of that Junior Walker Motown silkiness he seems to do oh so well. Real good stuff.
My regular readers know that I often say that the best way to make a good band better is to add a saxophone and a piano. On "The Grass Ain't Always Greener", with the addition of Sax Gordon (another Blues Music Award winner) on tenor; Tino Barker (Luther 'Guitar Junior' Johnson) on baritone; and Travis Colby (Roomful of Blues) on piano; the additions done in absolute grand style. Travis' relentless honky tonk style hammering of the keys along with the toe to toe slug fest taking place on the saxophones totally turn this one into a three-alarmer.
So just from the credits above it's pretty obvious that J. P. Soars can play pretty much play any kind of guitar but on top of that he can play any style of guitar as well. At any particular show of his, you'll surely hear doses of rock blues; soul blues; surf-abilly; gypsy jazz; and the style that always perks this listeners ears up - good old, straight up, slow blues - the kind he's killing it on right here with "When You Walk Out That Door" (Albert King). The track opens with a minute long scorching guitar lead by Jimmy Thackery who, after another few smokin' leads settles into a rhythm mode while J. P. takes over and just runs with it while playing and singing his heart out. It's the equation that always works for me - longest song, at seven minutes + most traditional blues song = best song on the disc.
"Deep Down In Florida" (McKinley Morganfield) features J. P. Soars and Albert Castiglia swapping crazy good guitar licks and lead vocals all with some of the disc's best rhythm and percussion - all at the hands of Chris Peet - going on behind them. Nuff said! For those reasons alone you you should right now be looking for a place to buy the disc.
"Across The Desert" is a gypsy jazz style instrumental that just features J. P. on guitars, Chris Peet on drums and upright bass and Lee Oskar on harmonica .....and did I really just say just? This is one that should be mandatory listening in music class. Simply paying attention will be a learning lesson in itself.
Other tracks on "Southbound I-95" include: "Sure As Hell Ain't Foolin' Me," "Arkansas Porch Party," "Satisfy My Soul," "Born In California," "Dog Catcher," "Troubled Waters," "Go With The Flow" and a radio edited version of "Sure As Hell Ain't Foolin' Me."
If you haven't yet received a copy of "Southbound I-95" for airplay, or if you just want to know more about J. P. Soars, hit him up at www.jpsoars.com. When you do, please tell him his friend the Blewzzman sent you.


Peter "Blewzzman" Lauro
Blues Editor @ www.Mary4Music.com
2011 Keeping The Blues Alive Award Recipient







J.T. Lauritsen & The Buckshot Hunters
"Blue Eyed Soul Volume 1"
Hunters Records
By Peter "Blewzzman" Lauro © July 2018
So a Knarr sails across the Atlantic from Norway, heads up the Mississippi River and docks in Memphis. A bunch of Vikings disembark and head toward Beale Street with what appears to be musical instruments on their burly backs. They walk into Club 152, set up their gear and start playing some Memphis Soul music as good as all get out. Ridiculous, right? Not really! Other than the part about the ship, the rest is as real as it gets. Although J.T. Lauritsen and The Head Hunters aren't really Vikings, their statuesque frames and rugged looks could land any one of them a role in a remake of "The Norseman"; during the International Blues Challenge, the band actually did played at Club 152; and their new CD titled "Blue Eyed Soul Volume 1" is full of some downright, damn good Memphis Soul. Of the disc's ten tracks, half are J. T. originals.
The Buckshot Hunters are: J. T. Lauritsen on vocals, Hammond organ, harmonica and accordion; Ian Fredrick Johannessen on rhythm, lead, slide and acoustic guitar; Arnfinn Tørrisen on rhythm, lead and tremolo guitar; John Grimsby on drums, percussion and backing vocals; and Morten Nordskaug on bass, acoustic guitar, baritone guitar and backing vocals. Many special guests on the project include: Dave Fields on lead, rhythm and acoustic guitar, and backing vocals; Paul Wagnberg on Hammond B3; Børge-Are S. Halvorsen on baritone and tenor sax; Jens Petter Antonsen on trombone and trumpet; Mike Zito on lead and rhythm guitar; Jimmy Carpenter on tenor sax; Deanna Bogart on tenor sax and backing vocals; and Ronny Aagren on backing vocals; That's a lot of music in the making right there.
Although the title of this original song might not indicate it, "Back Pain Shuffle" is actually a love song. With the pain being like the devil, J. T. has just the right medicine for it. It's not a pill, it's not a shot, and it's not a massage, it's simply the touch of his lady's hand that just makes the pain go away. You can actually tell how good he's feeling just by listening to this very soulful vocal performance. Musically, it features a powerful rhythm - led by John and Morten on the drums and bass - and lots of backup from the four piece horn section; and some killer guitar work from Mike Zito on lead, and not one, but two rhythm guitarists.
"Nothing Takes The Place Of You" (Toussaint McCall) may very well be the disc's best vocal track. It's an old school, sixties slow blues melancholy ballad that features J. T. absolutely singing his heart and soul out. He may have not written these lyrics but I'm telling you, J. T. is feeling their pain. On top of that, along with the rhythm of Jon and Morten, J. T.'s accordion and organ work wonderfully add to the songs heartbeat. Rounding out this one's' highlights are the magnificently melodic harmony and back-up vocals from Deanna and the masterful horn interludes from Børge-Are and Jens. I've said this in some of my previous reviews and with this being that caliber of a song, I'll say it right now as well - I have literally been listening to this under five minute song for over a half hour. Great track, J. T.
I specifically wanted to touch on this original track - "You Got Me Down" - for two reasons. The first of course, is because its excellent and the second is that it's the only track that features just The Buckshot Hunters. Sometimes, when an album features the amazing guests that this one does, it's all to easy to overlook the top notch quality musicians that are the core of the group. With Ian and Arnfinn flipping the lead and rhythm guitar work back and forth, Morten and Jon laying down their usual smokin' rhythm, and J. T. blowing out some powerful vocals and harmonica leads, the music's in good hands with The Buckshot Hunters.
With this one starting off with a sultry sax lead by Jimmy; outstanding heartfelt vocals and back up vocals from J. T. et al; four scorching guitar solos from the disc's three amazing guitarists; Morten and Jon - with some organ support from J. T - working their magic on the rhythm; and additional tandem saxes between Jimmy and Deanna; "You Better Believe" this original is another of many notable tracks.
The disc closes with a track written by Mike Zito and it's title "Sweet On Me". It features a lot of different guitar work but not the type of guitar you might associate with Mike. It's a slow, smooth ballad highlighted by acoustic, baritone and bass guitars - all played by Morten; relaxed rhythm guitar by Mike; softly soulful vocals by J. T.; more tight rhythm with superb accordion and organ leads by J. T.; and a monster minute long sax solo by Jimmy that closes it all out.
Other tracks on "Blue Eyed Soul Volume 1" include: "Anything I Can Do" (Nicholson/Andersen), "Stay With Me All The Time" (Johannessen/Lauritsen), "Please Help Me Now" (Nordli), "Lovers Holiday" (Fields) and "Be My Girl" (Lauritsen).
Aside from the music, I also found the words "Volume 1" in the albums title to be quite exciting. That can only mean one thing - there will be some more "Blue Eyed Soul" in our futures. Bring it on J. T.
If you haven't yet gotten a copy of "Blue Eyed Soul Volume 1" for airplay, or if you just want to learn more about J. T. Lauritsen And The Buckshot Hunters, please contact them at www.jtlauritsen.com. As usual, please tell them their buddy the Blewzzman sent you.


Peter "Blewzzman" Lauro
Blues Editor @ www.Mary4Music.com
2011 Keeping The Blues Alive Award Recipient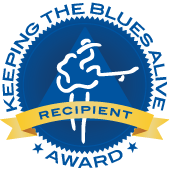 Click Here To Return To The CD Review Index
Click Here For The Blues Portal
Click Here For The Indie Portal
Click Here To Visit Our Music Gift Shop


---
Want your CD reviewed?
Click HERE to email us for information.






*All logos and trademarks in this site are property of their respective owner.
Additional content © 1998-2020 Mary4Music.com. All Rights Reserved.