Blues CD Reviews 76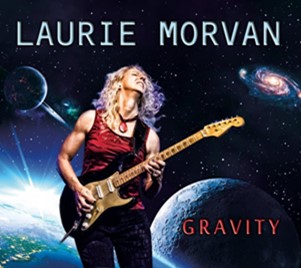 Laurie Morvan
"Gravity"
Screaming Lizard Records
Publicity: Blind Raccoon
By Peter "Blewzzman" Lauro © March 2018
Since it happens time and time again, it's obviously not an accident that Laurie Morvan has a pretty good track record getting recognition of her releases. In 2008, the year the Laurie Morvan Band made it to the finals at the International Blues Challenge, the band's "Cures What Ails Ya" CD was a finalist for the Blues Foundation's Best Self Produced CD award. Then in 2010, with their very next release titled "Fire It Up," the band not only got another nod but they took home the gold as well. Fat chance of that happening again, right? Wrong! In 2012 "Breathe Deep," got them their third consecutive nomination making it all the way to the semifinals. That's quite a nice run.
Now Laurie is back with her sixth release - "Gravity" - and the fact that she's teamed up with one of the best producers in the genre, along with some of the best musicians in it as well, it wouldn't surprise me if there was a different Blues Foundation award in her future.
On "Gravity," playing all guitars, singing all lead vocals and writer of all of the twelve tracks, Laurie Morvan is joined by: Mike Finnigan on B3 organ; Jim Pugh on B3 organ, Wurlitzer and piano; Barry Goldberg on piano; Bob Glaub on bass; the disc's producer, Tony Braunagel on drums and percussion; and Lisa Morvan, Maxayn Lewis, Kudisan Kai, Leslie Smith and Ricky Nelson on background vocals.
The opening track is titled "My Moderation" and with its catchy chorus line of "my moderation needs some moderation," Laurie has obviously decided that the phrase everything in moderation includes moderation itself. Like most of what you're going to hear on "Gravity," this one is a smoker. With Laurie and Mike going toe to toe on the guitar and organ and Tony and Bob rockin' the rhythm on drums and bass, there's no relenting here.
"Money Talks," is a cleverly written track. You see, although money talks, Laurie can't seem to get into a conversation with hers because it waves bye-bye. Due to lots of scorching blues guitar licks, for my particular taste this one features some of Laurie's best guitar work. Add in some fancy tickling of the ivories by Barry; Tony and Mike - the dynamic duo of the blues - doing their usual exceptional work on the drums and organ; and very well sung, energetic lead and background vocals and this one's another winner.
The chorus line on this one contains some of the most poignant lyrics I've heard in sometime: "It's backed up on easy street for a long while, but there ain't no traffic on 'The Extra Mile.'" Ain't that the truth. At the risk of dissing the band (they really do have a lot going on here), Laurie pretty much takes this rocker and runs with it. Powerful lyrics being powerfully sung while putting on an equally powerful guitar performance. Nice job Laur!

"The Man Who Left Me" was the first man I ever loved
He put the sun in the sky and the stars above.
I thought he loved me but I learned to live with tears
When he walked right out that door after five years.

You see the man who left me
Never knew how hard I cried.
He never saw my pain
That I hid beneath my pride.
He could have known me better
But you know he never bothered.
You see the man who left me was my father.
Nothing I could have said about those emotional and melancholic lyrics would have come across as worthy so I just had Laurie say them for me. The eerie effect created by the masterful rhythm and percussion are the perfect backdrop for the the songs dark subject matter. All that, added to a hymnal like lead and background vocal presentation give this one "song of the year" credentials.
This is one of those songs where after you hear the story it tells you find yourself hoping it wasn't written from a real life experience but in actuality, you can't help but feel that it was. It's about a woman in a totally wrong relationship and she's having a rough time figuring out if she's tough as nails or just "Too Dumb To Quit." On top of singing her heart out, between the pedals and the guitar slide Laurie puts on another masterful performance on the guitar. With the keyboards being an essential part of all twelve tracks, I gotta get a plug in for the monster job Jim Pugh's doing with them on this one.
Other tracks on "Gravity," include: "Twice The Trouble," "Stay With Me," "Gravity," "Dance In The Rain," "Gotta Dig Deep," "Shake Your Tailfeathers," and "I Want Answers."
If you haven't yet received a copy of "Gravity" for airplay, please contact Betsie Brown at www.blindraccoon.com and to find out more about Laurie Morvan, just go to www.LaurieMorvan.com. Whomever you contact, please tell them their friend the Blewzzman sent you.


Peter "Blewzzman" Lauro
Blues Editor @ www.Mary4Music.com
2011 Keeping The Blues Alive Award Recipient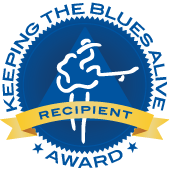 Reverend Raven & The Chain Smokin' Altar Boys
"My Life"
Nevermore Records
Publicity: Blind Raccoon
By Peter "Blewzzman" Lauro © March 2018
My relationship with Reverend Raven & The Chain Smokin' Altar Boys dates back to when I did a review of his "Big Bee" CD. It was my first exposure to the band and I opened my review by saying "how can you not like a band called that? I don't know about you, but if I'm cruising the blues bins at the local record mart, this one's going in my cart on the name alone. Anyone creative and daring enough to call his band Reverend Raven & The Chain Smoking Altar Boys has gotta have some talent..... and man this band does." That was back in 2007 and since then, besides doing other reviews and attending many of the bands live shows, I've also had the pleasure of becoming very good friends with Richard "Reverend" Raven.
"My Life" is the bands eighth release and it celebrates their twenty year existence. The CD contains sixteen all original tracks that cover several styles of blues, and although they are songs that the band has played throughout their tenure, the fact that they were remixed and rerecorded with a new, vast and very talented lineup gives it a whole new feel.
Joining The Reverend - who plays guitar, slide guitar and sings lead vocals on all tracks - are: Cadillac Pete Rahn, Madison Slim, Benny Rickun and Westside Andy Linderman on harmonica; Big Al Groth on saxophone; Andre Maritato, Brad Bill and PT Pederson on bass; Vic Spann, Spencer Panosh, Bobby Lee Sellers Jr., and Craig Panosh on drums; Ron Kovach on organ; Jimmy Vogelli on organ and harmony vocals; Mickey Larson on piano; Danny More on piano and organ; and Jeff Roberts on rhythm guitar.
Since every song on the disc is outstanding and worthy of mention, it was difficult for me to narrow it down to the usual handful I like to touch on. With that said, I decided that I'd try to pick a reasonable number of tracks where I can mention as many of the players and voila.....the following six tracks feature everyone involved on the project.
"Creature Of Habit" kicks off with a thirty second intro featuring Brad and Rick burning up the rhythm with Cadillac Pete simultaneously blowing similar heat through his harp and then right on cue, all hell breaks loose. The Reverend starts belting out that slick style of deep and powerful vocals he's known for; the organ comes in and intensifies the rhythm; and the guitars start wailing and kick things up another few notches. There you have it, an all out smoker that's sure to please the movers and the shakers.
"Bad Little Girls" features a whole different ensemble with no different results. It opens with Reverend Raven and Madison Slim going toe to toe on guitar and harp and thankfully that takes place throughout much of the track. With three bassists and four drummers, the rhythm match ups on all of these tracks are nothing short of stellar. This time it's Andre and Spencer, with the keyboard assistance of Micky, setting the potent pace.
On "My Life" the Reverend tells of sailing the seven seas in search of a woman who was just right for him. Being a fellow sailor, I know that during his long stint in the United States Navy that he may very well have sailed those seas and furthermore, knowing his wonderful and beautiful wife, I'm also aware that he did indeed find his perfect woman. Musically, it's another masterpiece. It features Reverend Raven smokin' some slide guitar; Danny Moore pounding out some of the disc's best barrelhouse style piano; more of the what's becoming the very usual intense rhythm - this time by PT and Bobby Lee on the bass and drums; and with it appearing on thirteen of the sixteen tracks, Benny Rickum doing a heck of a job on what's apparently the bosses favorite instrument - the harmonica.
Two instrumental segments of "Here Comes My Baby" collectively account for nearly three minutes (4:16 total time) of the track and from what I just heard, I want them spliced together, quadrupled in length and played over 2-3 times. WOW! Reverend's at disc's best with some all out rippin' guitar licks; PT and Spencer - yes, yet another different but powerful rhythm equation - are all over that; and on his only musical appearance, Jimmy V is certainly making his presence know. Killer track, to say the least.
"Looking For Love" is only one of three tracks without the Mississippi saxophone but that's cool, it features a real sax instead. With another crazy good mix of those rhythm guys carrying on behind them, this one features several very outstanding, back and forth, lead performance between the Reverend on guitar, Big Al on sax and Danny on piano. It culminates with the trio absolutely killing it at tracks end. I've never quite been a fan of this expression but if there was ever a time to do it, this is it....."SOMEBODY SCREAM!"
Inasmuch as my enthusiasm should be making it quite clear as to how crazy I am over this album, this next track is what totally sealed the deal for me. It is titled "I'll Do You Right", and those who know me know that there is no better way than to do me right than to do it with slow blues. PT, Craig and Danny have the rhythm right where it needs to be so that Reverend Raven can belt out some emotionally soulful vocals along with him and Westside Andy tagging off on some downright gut wrenching blues guitar and harmonica licks. This one was at least fifteen to twenty minutes (with several replays, that is) of pure blues bliss for me.
Other tracks on "My Life" include: "Handyman", "Bee Hive Baby", "I Want To Love You", "Once The Women Start Talking", "Praying For A Princess", "Big Bee", "Slow Burn", "Someday When I'm Dead And Gone", "She's Moving On" and "I'm Your Honeyboy".
If you haven't yet received a copy of "My Life" for airplay, please contact Betsie Brown at www.blindraccoon.com and to find out more about Reverend Raven & The Chain Smoking Altar Boys, just go to www.reverendraven.com. Whomever you contact, please tell them their friend the Blewzzman sent you.


Peter "Blewzzman" Lauro
Blues Editor @ www.Mary4Music.com
2011 Keeping The Blues Alive Award Recipient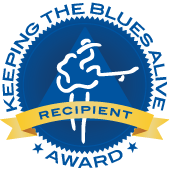 Click Here To Return To The CD Review Index
Click Here For The Blues Portal
Click Here For The Indie Portal
Click Here To Visit Our Music Gift Shop


---
Want your CD reviewed?
Click HERE to email us for information.






*All logos and trademarks in this site are property of their respective owner.
Additional content © 1998-2020 Mary4Music.com. All Rights Reserved.