Mary4Music.com Music Shop
Check Out Some of Our Other Jewelry!

Click on the Image

Guitar Hook-Up Electric Red/White - $11.95
Item# 31539-13
Great for musicians and music lovers alike, these unique Wall Hooks are a wonderful gift. The detail is exceptional in these hand made, hand painted guitars. The guitars are made of painted wood with careful attention to detail. The hooks are quite substancial in size. This hook measures 2.8 x 1.6 x 12.2" Great for hanging hats, lightweight coats, sweaters, and clothing.

Quantities are limited, if ordering more than one please email us regarding availability BEFORE sending payment via Paypal. Click HERE to email us.

THIS ITEM IS AVAILABLE FOR SHIPPING WITHIN THE U.S.A ONLY


Guitar Hook-Up Electric Blue/Black - $11.95
Item# 31539-14
Great for musicians and music lovers alike, these unique Wall Hooks are a wonderful gift. The detail is exceptional in these hand made, hand painted guitars. The guitars are made of painted wood with careful attention to detail. The hooks are quite substancial in size. This hook measures 2.8 x 1.6 x 12.2" Great for hanging hats, lightweight coats, sweaters, and clothing.

Quantities are limited, if ordering more than one please email us regarding availability BEFORE sending payment via Paypal. Click HERE to email us.

THIS ITEM IS AVAILABLE FOR SHIPPING WITHIN THE U.S.A ONLY


Guitar Hook-Up Explorer White/Black - $11.95
Item# 31539-21
Great for musicians and music lovers alike, these unique Wall Hooks are a wonderful gift. The detail is exceptional in these hand made, hand painted guitars. The guitars are made of painted wood with careful attention to detail. The hooks are quite substancial in size. This hook measures 3.4 x 1.6 x 11.8" Great for hanging hats, lightweight coats, sweaters, and clothing.

Quantities are limited, if ordering more than one please email us regarding availability BEFORE sending payment via Paypal. Click HERE to email us.

THIS ITEM IS AVAILABLE FOR SHIPPING WITHIN THE U.S.A ONLY


Guitar Hook-Up Explorer Aqua/White - $11.95
Item# 31539-26
Great for musicians and music lovers alike, these unique Wall Hooks are a wonderful gift. The detail is exceptional in these hand made, hand painted guitars. The guitars are made of painted wood with careful attention to detail. The hooks are quite substancial in size. This hook measures 3.5 x 1.6 x 11.4" Great for hanging hats, lightweight coats, sweaters, and clothing.

Quantities are limited, if ordering more than one please email us regarding availability BEFORE sending payment via Paypal. Click HERE to email us.

THIS ITEM IS AVAILABLE FOR SHIPPING WITHIN THE U.S.A ONLY


Guitar Hook-Up 5 String Bass Black - $11.95
Item# 31539-31
Great for musicians and music lovers alike, these unique Wall Hooks are a wonderful gift. The detail is exceptional in these hand made, hand painted guitars. The guitars are made of painted wood with careful attention to detail. The hooks are quite substancial in size. This hook measures 2.8 x 1.6 x 12" Great for hanging hats, lightweight coats, sweaters, and clothing.

Quantities are limited, if ordering more than one please email us regarding availability BEFORE sending payment via Paypal. Click HERE to email us.

THIS ITEM IS AVAILABLE FOR SHIPPING WITHIN THE U.S.A ONLY


Guitar Hook-Up Spanish Red - $11.95
Item# 31539-52
Great for musicians and music lovers alike, these unique Wall Hooks are a wonderful gift. The detail is exceptional in these hand made, hand painted guitars. The guitars are made of painted wood with careful attention to detail. The hooks are quite substancial in size. This hook measures 3.4 x 1.6 x 11.8" Great for hanging hats, lightweight coats, sweaters, and clothing.

Quantities are limited, if ordering more than one please email us regarding availability BEFORE sending payment via Paypal. Click HERE to email us.

THIS ITEM IS AVAILABLE FOR SHIPPING WITHIN THE U.S.A ONLY


Guitar Hook-Up Spanish Blue - $11.95
Item# 31539-53
Great for musicians and music lovers alike, these unique Wall Hooks are a wonderful gift. The detail is exceptional in these hand made, hand painted guitars. The guitars are made of painted wood with careful attention to detail. The hooks are quite substancial in size. This hook measures 3.1 x 1.6 x 11.8" Great for hanging hats, lightweight coats, sweaters, and clothing.

Quantities are limited, if ordering more than one please email us regarding availability BEFORE sending payment via Paypal. Click HERE to email us.

THIS ITEM IS AVAILABLE FOR SHIPPING WITHIN THE U.S.A ONLY


Guitar Hook-Up Acoustic Orange/Black - $11.95
Item# 31539-64
Great for musicians and music lovers alike, these unique Wall Hooks are a wonderful gift. The detail is exceptional in these hand made, hand painted guitars. The guitars are made of painted wood with careful attention to detail. The hooks are quite substancial in size. This hook measures 3.1 x 1.6 x 11.8" Great for hanging hats, lightweight coats, sweaters, and clothing.

Quantities are limited, if ordering more than one please email us regarding availability BEFORE sending payment via Paypal. Click HERE to email us.

THIS ITEM IS AVAILABLE FOR SHIPPING WITHIN THE U.S.A ONLY


Guitar Hook-Up Flying V Blue/Black - $11.95
Item# 31539-74
Great for musicians and music lovers alike, these unique Wall Hooks are a wonderful gift. The detail is exceptional in these hand made, hand painted guitars. The guitars are made of painted wood with careful attention to detail. The hooks are quite substancial in size. This hook measures 3.7 x 1.6 x 10.6" Great for hanging hats, lightweight coats, sweaters, and clothing.

Quantities are limited, if ordering more than one please email us regarding availability BEFORE sending payment via Paypal. Click HERE to email us.

THIS ITEM IS AVAILABLE FOR SHIPPING WITHIN THE U.S.A ONLY


Guitar Hook-Up Flying V White/Black - $11.95
Item# 31539-75
Great for musicians and music lovers alike, these unique Wall Hooks are a wonderful gift. The detail is exceptional in these hand made, hand painted guitars. The guitars are made of painted wood with careful attention to detail. The hooks are quite substancial in size. This hook measures 3.7 x 1.6 x 10.6" Great for hanging hats, lightweight coats, sweaters, and clothing.

Quantities are limited, if ordering more than one please email us regarding availability BEFORE sending payment via Paypal. Click HERE to email us.

THIS ITEM IS AVAILABLE FOR SHIPPING WITHIN THE U.S.A ONLY


Guitar Hook-Up Jazz Black - $11.95
Item# 31539-92
Great for musicians and music lovers alike, these unique Wall Hooks are a wonderful gift. The detail is exceptional in these hand made, hand painted guitars. The guitars are made of painted wood with careful attention to detail. The hooks are quite substancial in size. This hook measures 3.4 x 1.6 x 11.8" Great for hanging hats, lightweight coats, sweaters, and clothing.

Quantities are limited, if ordering more than one please email us regarding availability BEFORE sending payment via Paypal. Click HERE to email us.

THIS ITEM IS AVAILABLE FOR SHIPPING WITHIN THE U.S.A ONLY


Guitar Hook-Up Jazz Orange/Black - $11.95
Item# 31539-94
Great for musicians and music lovers alike, these unique Wall Hooks are a wonderful gift. The detail is exceptional in these hand made, hand painted guitars. The guitars are made of painted wood with careful attention to detail. The hooks are quite substancial in size. This hook measures 3.4 x 1.6 x 11.8" Great for hanging hats, lightweight coats, sweaters, and clothing.

Quantities are limited, if ordering more than one please email us regarding availability BEFORE sending payment via Paypal. Click HERE to email us.

THIS ITEM IS AVAILABLE FOR SHIPPING WITHIN THE U.S.A ONLY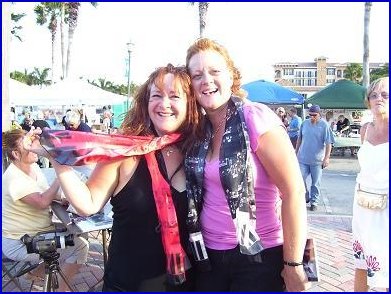 Musician Pat Pepin & Debbie (VP of the Fort Pierce Jazz & Blues Society), wearing our scarves
Top of Page
Please allow 2 weeks for delivery within the US. Deliveries outside of the US may take longer.

The Store Index is Located at the TOP of the page on the LEFT

Questions about our Shop? Click the Email link below to send us email.



Copyright ©1998-2013 Mary4Music.com. All Rights Reserved.